I have anxiously been waiting to share this tutorial all month! I'm seriously IN LOVE with this hairstyle. Figuring out this up-do was a pure mistake. I'm usually inspired by a hairstyle I see on a celebrity or a character in a tv show, but this time I was just messing around with my hair one night and totally happened upon it. It's a GEM I tell you! And guess what's even better? It's categorized as an EASY hairstyle. That's right. It's SOOO easy! Watch the video friends (and subscribe when you're there) because it's ahhhh-mazing.
Click here to view the video (redirect to YouTube)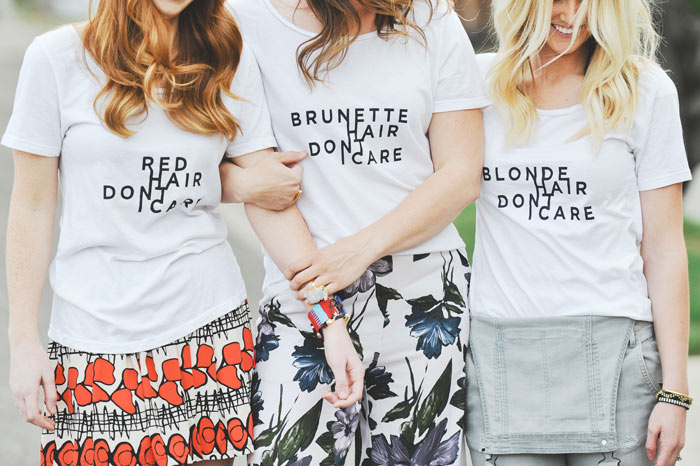 Are you as in love with these tee's as I am? My goodness– I NEED! Recycled Consign and Design is one of my absolute favorite boutiques. It's a mix of vintage furniture, home decor and some of the prettiest, most functional clothes you'll ever find. With both new and recycled pieces, full of handpicked treasures, you're bound to pretty much just fall in love.
These don't care hair tee's are hand dyed and the print is totally custom and exclusive to Recycled Consign and Design. They're the softest, most luxurious tee's and their slouchy fit will have you wearing them over and over. I pretty much live in mine. And by pretty much, I mean I absolutely do. Don't tell anyone please haha! Recycled Consign and Design is offering Twist Me Pretty readers a 25% discount on these fabulous tee's with the coupon code "twist30". So hurry and go snag one before they're gone!
Step by step instructions:
Section the top half of the hair up in a clip and with the bottom half, secure in a low side messy bun
Divide the top half into four equal sections, two in the front and two in the back.
The back two you're going to tie in a knot and place directly above the elastic. Secure the ends of the knot underneath the messy bun
Take the front two sections and tie a knot directly above first knot, secure ends underneath messy bun
Insert a bobby pin underneath the knots if you need to and finish by manipulating any pieces of hair. Spray with hair spray
Notes: It's best to start with second day curls, you want some type of texture in your hair so the style holds. This style will always look different because we're dealing with messy buns. In the video I can't see what's going on in the back of my hair, so the style in the video looks different from the style in the photos but either way the same technique was used. If you want a messier looking up-do, make the messy bun more messy. I am so excited to share with you guys one of my absolute favorite
Remember to use the hashtag #thirtythirtyhair if you're inspired by any of these hairstyles! I'd love to see how your style turns out!