How to wear a braided bun
It was 57 degrees this afternoon. We were all wearing shorts and sandals and even had a little picnic outside. You know when 60 degrees feels like summer you've been living in winter for far too long! I quickly threw my hair up in a braided bun today and loved how it turned out. Come check out the pin that inspired this hairstyle >>> click here and follow along! I don't know why I'm so obsessed with dutch braids lately, I hope you guys don't mind. Thank you for all your sweet comments and for posting your hairstyles to Instagram! You guys are doing so great and look so gorgeous- I die!
Step-by-step instructions for the Dutch braided bun
Dutch braid one side back angling towards the ear. Braid until it's wrapped around to the back and finish it off with a three-strand braid
Pancake the strands and tie off with a clear elastic
Repeat on the other side
Combine the two braids by pushing your finger through the braid on one side and pull the other braid up and through
Secure underneath with a bobby pin
Take a clear elastic and throw the rest of the hair up into a messy bun
I've styled this look a second way, so make sure to check out the video where I show you some braided bun hairstyles!
Thanks, friends! I hope you love this braided bun hairstyle as much as I do.
And now for our sponsors:
Brian and I have been eating super clean and lifting weights six times a week to get ready for the summer. We have some fun trips planned and just want to be in great shape and looking our best. I'm having a really hard time though losing fat. Brian's down to 8 percent body fat… I hate him. Why is it so easy for guys to cut?! Anyway, I'm building muscle just fine but no matter how intense my cardio or how often and clean I eat I just seriously cannot loose that sticky layer of fat that's right on top of my muscles. I want to introduce you to truDERMA, one of our sponsors here at Twist Me Pretty. truDERMA is a developer and marketer of high-quality nutritional supplements with an emphasis on wellness and performance. They are passionate about healthy living and helping others achieve life-changing goals. Their vision is to help people lead a healthier, happier life. I follow them on instagram and facebook and love the healthy recipes and motivating photos they always post!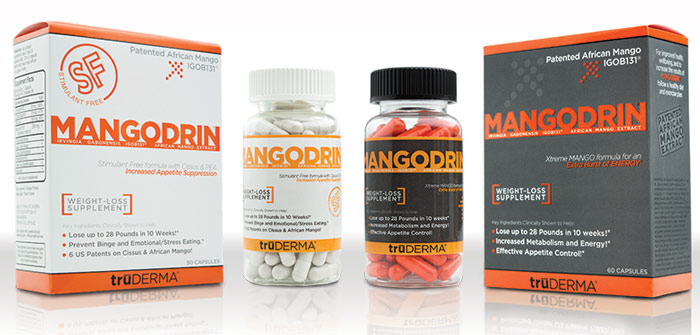 Anyway, one of truDERMA's most popular products is Mangodrin. We all know how tough it can be to lose belly fat. Mmmmiright?! Mangodrin is a top selling all-natural weight loss product that does just that! It's available in two different formulas: XTREME and Stimulant Free. The XTREME formula has caffeine and green tea extract for an added boost of energy, while the Stimulant Free formula has PEA and Cissus for added appetite control. The Stimulant Free formula can be taken at night to fight late night snacking and overeating. If you're eating healthy and are exercising regularly and just not seeing the results you want you should try Mangodrin. The reviews are amazing and it's available at Walgreens or truDERMA.