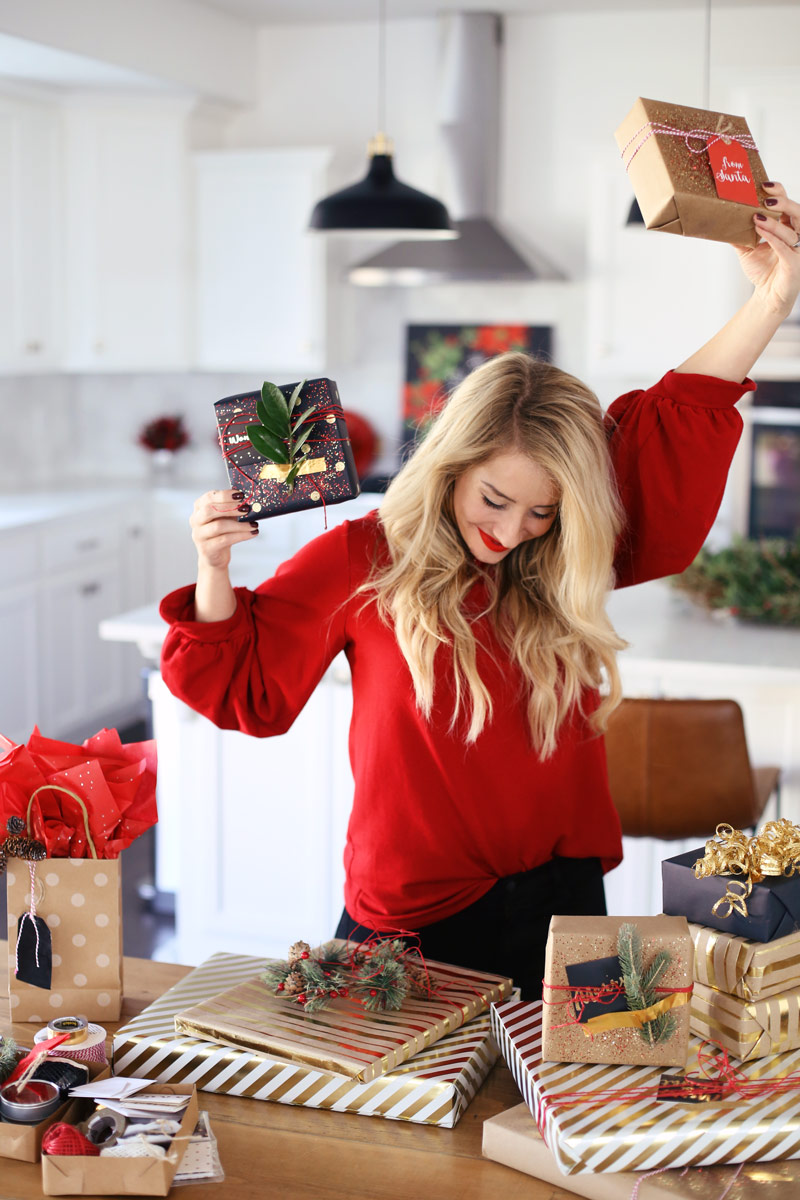 Are you guys so proud of me?! It's mid November and I'm basically done with all my Christmas shopping ?!! The past few years have been so busy during the Holiday's that it's been hard to slow down and enjoy the season. I wanna bake cookies and do Christmas crafts with my Savy girl! I wanna have time to go ice skating, see the Lights at Temple Square and watch Christmas movies with my kids without seeing that never ending to-do list in the back of my head!
This year I made a goal to be an early bird. I filmed all my Halloween tutorials in September and it was a DREAM come October. I've done all my Christmas shopping before December and I can't wait to actually enjoy the moments this Holiday season with my family!
So. Ya wanna know what we're giving everyone?! Today I'm sharing our favorite personalized gifts from Shutterfly + a few cute ways to involve the kids while wrapping.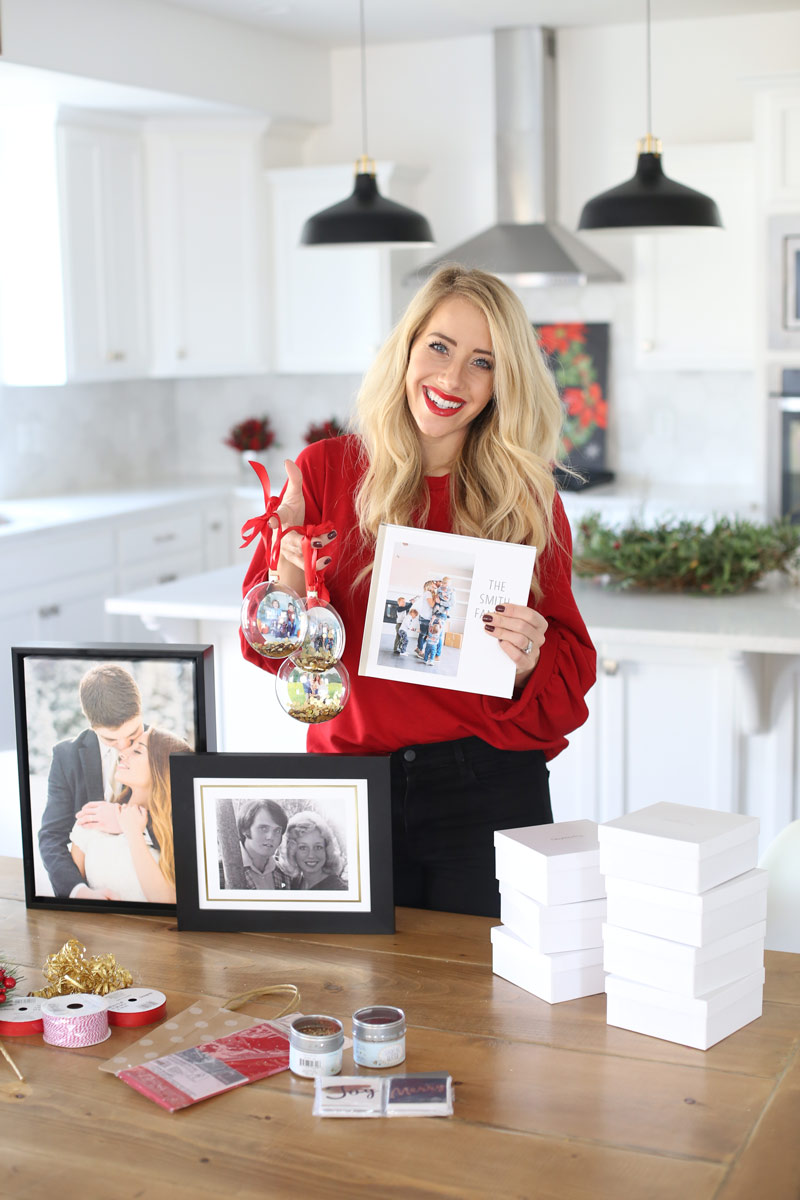 Have any of you used Shutterfly? We've been getting our family books and Christmas cards there for years but did you know they have an awesome personalized gift section too? Go scroll through their personalized ornaments… you'll die! Shutterfly has so many cute gift ideas that really transform the everyday moments into cherished memories!
For mine and Brian's siblings I uploaded individual family pictures for everyone and made little 2017 ornaments! The ones I picked out are timeless, with the red ribbon and gold glitter at the bottom. I'm a huge advocate of the sentimental gifts. They're timeless and cherished and these ornaments will be pulled out year after year.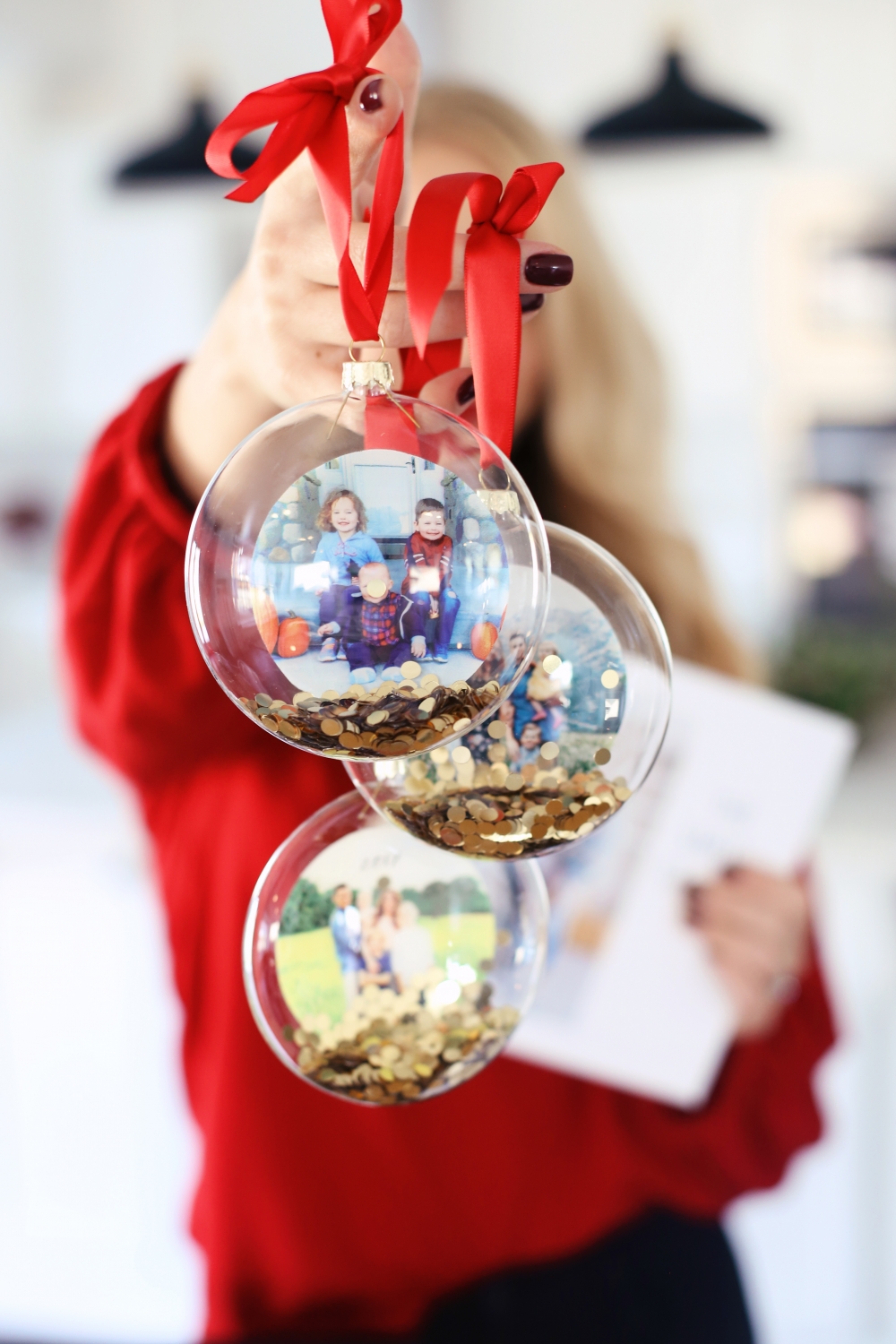 I ran across my parents engagement picture and knew I had to get it printed for their new home! Those black and white photos, they're priceless! And then my brother-in-law Zach got married to one of my best friends and because we were in Ohio we missed their wedding. They're also decorating a new space so I had one of their engagement photos printed on canvas and framed. Shutterfly does an amazing job with their prints and the frames are beautiful!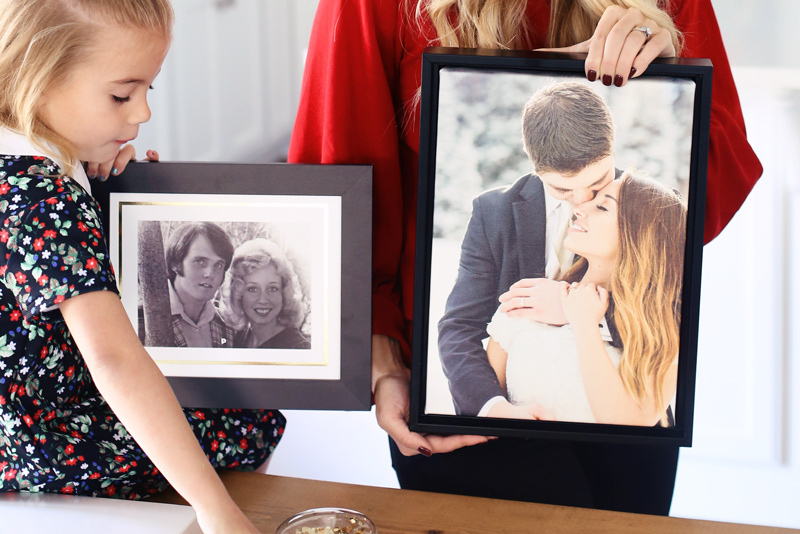 Grandparents next, they're usually the hardest to shop for because they have everything they could want or need! Do you feel the same way?! Seriously impossible sometimes! But what do grandparents adore? Quoting Savy, "Um… duh…" their grandchildren!!! The past few years we've been getting them little photo books printed from Shutterfly of our family throughout the year. They're just cute little coffee table books that can be subtly displayed and bragged on when company stops by. We've also done calendars and those have been a huge hit too! Upload a seasonal picture for each month or maybe a picture of the birthday kids!
We have thousands of pictures on our camera rolls, but how many of us actually take the time to print out our favorites? Shutterfly has magnets, mugs, calendars, Santa bags, ornaments, photo books, canvases, blankets, pillows —— the list goes on and on and on! And they make it so easy, even the picture books are a breeze. I just uploaded all my favorite pictures from Instagram and it curated the book for me. I swapped out a few things, added some text and voila! Done.
Okay okay, enough about sharing the memories. Now it's time to share a couple ways to get the kids involved in the wrapping party! Normally I'm in my sweats, rocking a messy bun and a sink full of dirty dishes, but I thought I'd spruce up just a little bit for ya!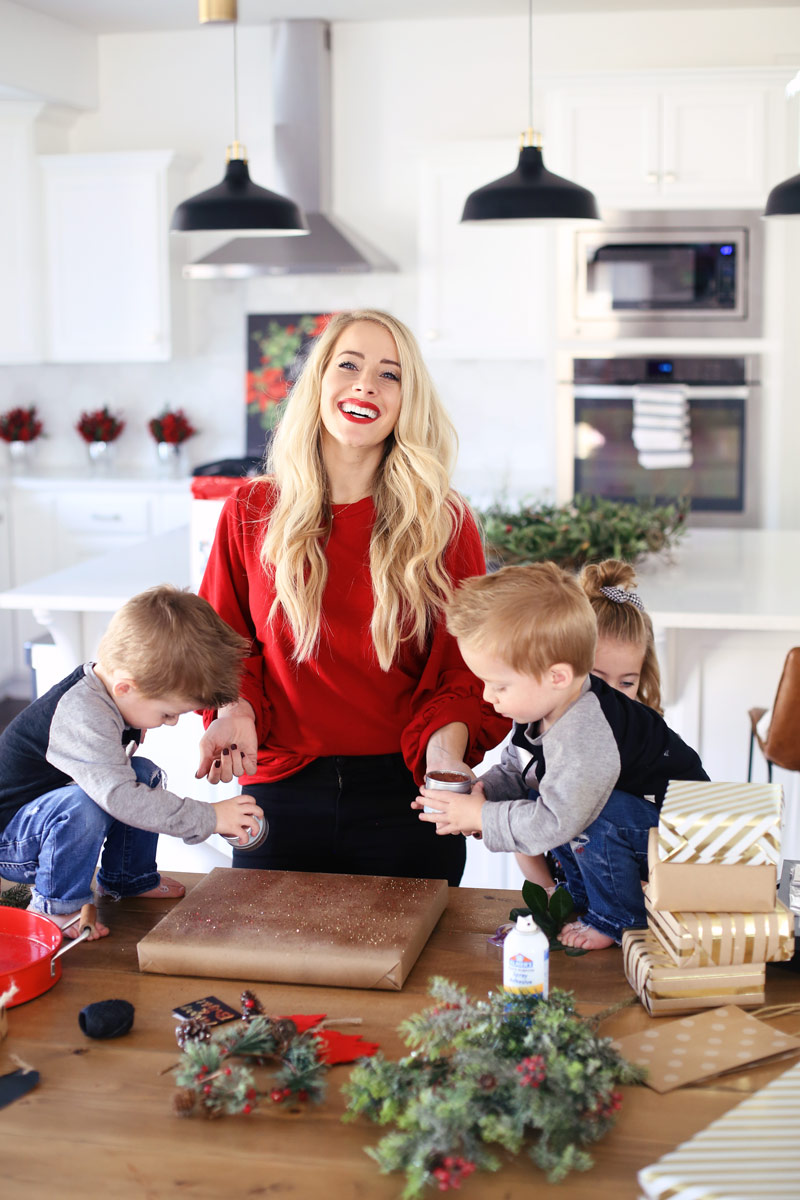 Oh my gosh those baby squats, literally the cutest thing. So we cleared off the table, turned on some Christmas music and got to work! I like to wrap everything in butcher paper, or really simple wrapping paper because the kids love decorating the packages with glitter or drawings. One year we drew reindeer on all the packages which was really cute!
If you're going to go the glitter route, snag some Elmer's spray adhesive, it makes decorating with glitter super easy. You'll just lightly spray the package and then everyone can start shaking out the glitter. I usually wrap my table in paper because the glitter can be hard to clean up + using the spray adhesive will make it even harder!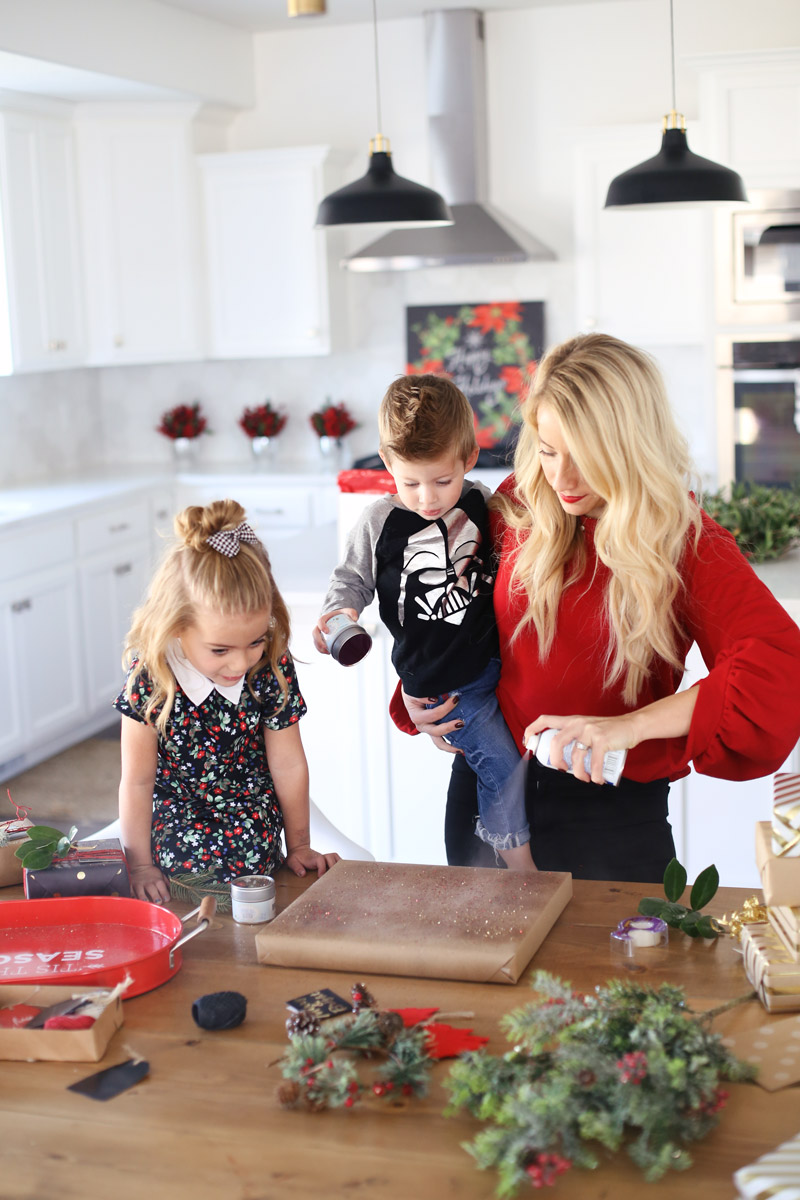 Then we'll wrap the packages in twine and secure a little tag on them with wash-tape. Again, the kids usually write the names on everything for me. Before school started I had Boston go outside and cut off some sprigs on our ever green tree!! Greenery, candy canes, pine cones, anything like that is super cute to attach to the gift with washi-tape.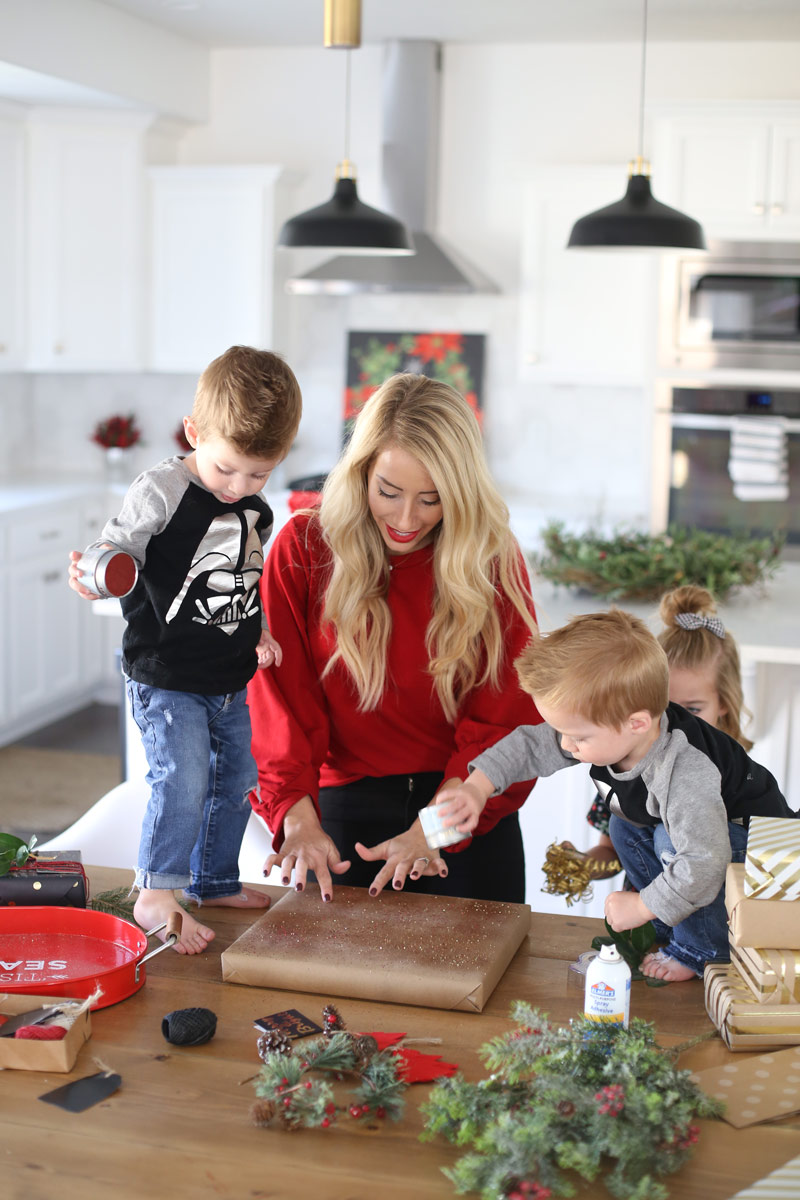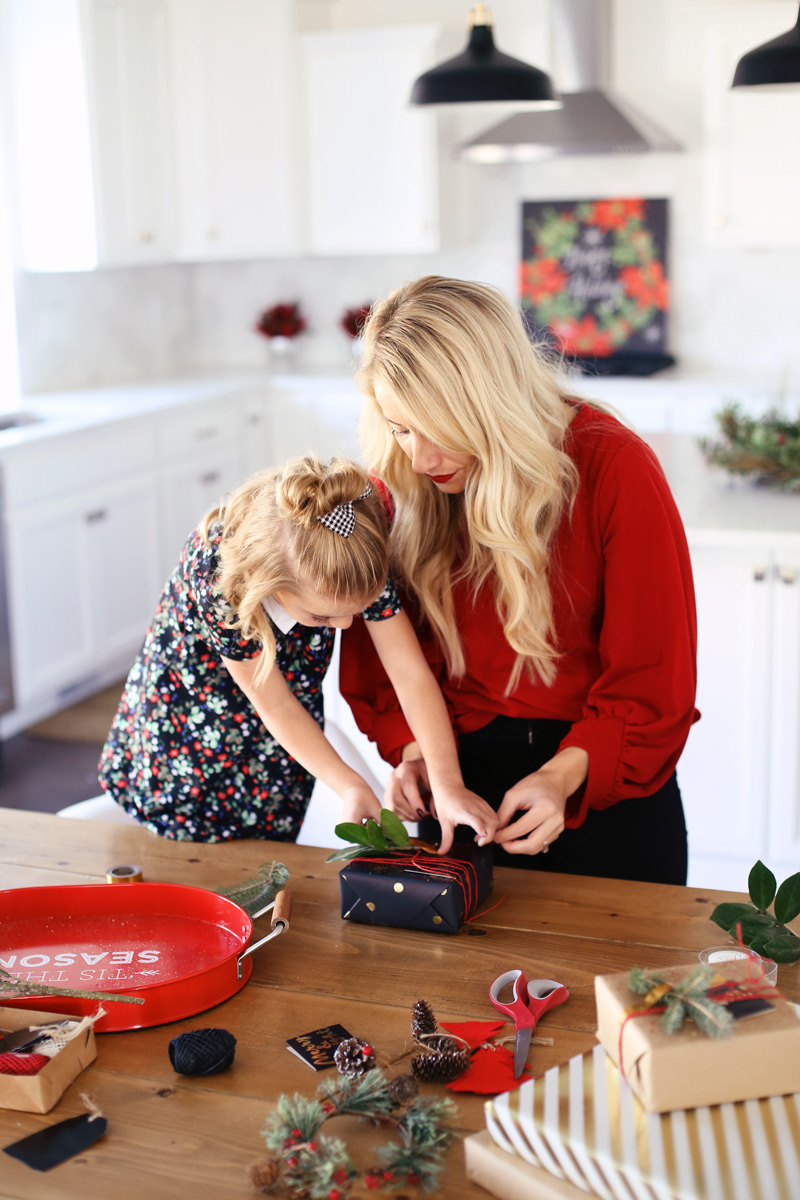 Another little tip if decorating with a bag: pinch the center of the tissue paper and pull up on the stack. Repeat several times depending on the size of your bag and hold them each in the center with one hand. Then flip your hand upside so the fluffy side is on top and push the paper into the bag. I worked retail for years and the one useful skill I took away was how to put tissue in a bag haha! You'll use more tissue but it'll look so full and nice!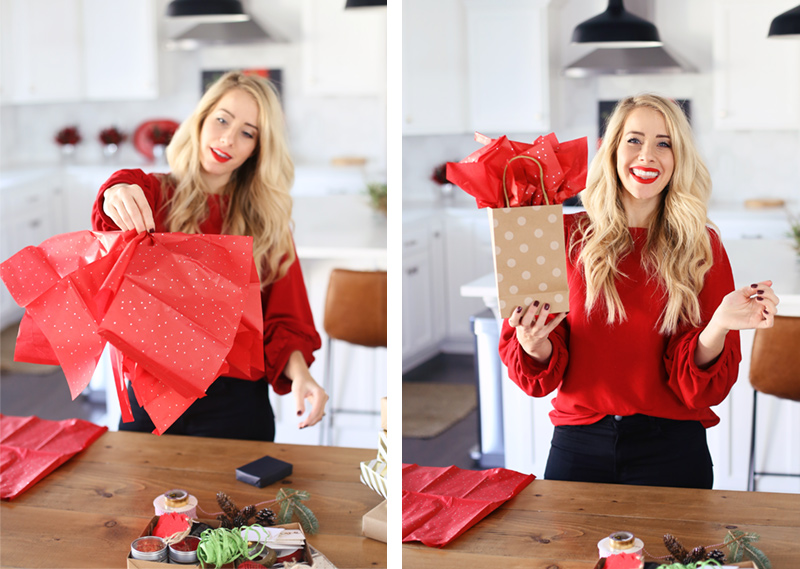 And there ya have it! Wrapping presents doesn't have to feel like a chore, and shopping for family members shouldn't feel like one either. Start working on your projects before December rolls around and give yourself grace to do less and just be present with your family more! What gifts do you like to give to your family? Are you the sentimental type like me?! Do you try to involve the kids, or do you just like to get it done and out of the way?!
Thanks Shutterfly for sponsoring this post, all thoughts and ideas are my own and I'm so grateful to work with brands who believe in my vision!