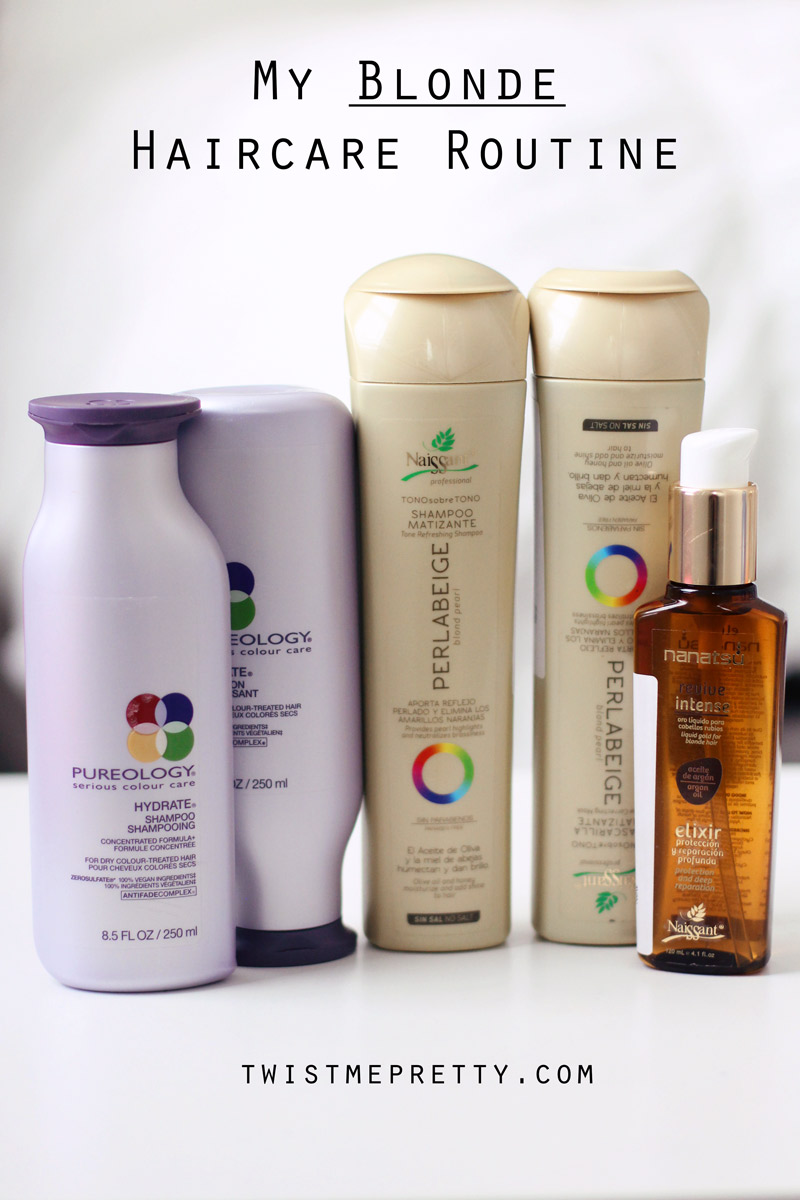 I've been getting emails like crazy about my blonde hair and how I take care of it so I thought I'd sit down and answer all of your questions. It's pretty much my first chatty mckathy video haha and it was really fun to make, very different from what I normally do. Let me know if you'd like to see these types of videos every now and then or if you're a strictly get to the point type tutorial gal!
Quick product recap:
Purple Shampoo and conditioner – Naissant Shampoo Blond Pearl and Naissant Treatment Blond Pearl. I love these because they don't dry my hair out like other purple shampoo and conditioners I've used in the past, the price point is just right and the color payout is amazing. You'll love them!
Pureology Hydrate is my favorite Shampoo and conditioner – ever. It makes my hair feel so hydrated, the shampoo suds up nicely which I really like and the conditioner has a peppermint smell to it and it just turns my hair into silk. In the video I also talk about the Redkin Extreme (this stuff is much more affordable) and I've also loved the Aveda Damage Remedy Shampoo and Conditioner. The damage remedy is really expensive too and I love it, just not as much as the Pureology. It doesn't sud up as nicely or make my hair feel as soft. I still wanted to mention it though because it's a great product and if you don't love Pureology you might give the damage remedy a try!
Oils:
The biggest bang for your buck and my current favorite oil is the Naissant Argon Oil Elixir. In the past I've used Bumble and Bumble Hairdressers Invisible Oil but it's more expensive and there's not a huge difference in the way it made my hair feel. The Aveda Dry Remedy Moisturizing Oil will always be a favorite product of mine. I actually use the argon oil elixir and the dry remedy oil together. The Aveda oil goes right into my ends to help keep them hydrated and reduce breakage and the argon oil goes all over, acts as a heat protectant and helps me manage frizz before and after styling.
I forgot to mention in the video, after I've towel dried my hair I use the Aveda Damage Remedy daily hair repair on my roots and ends. I do not ever skip using this product after I've washed my hair. It has some amazing proteins in it that really help build the hair back up and reduce breakage. It also helps detangle and acts as a heat protectant.
Anyway, go and watch the video, it explains everything in greater detail. Hope you enjoy!
xoxo
*This review was sponsored by Naissant but I am very picky in selecting brands to work with and used the product for months before committing to sharing it with you. I truly believe these are great products or I wouldn't recommend them.