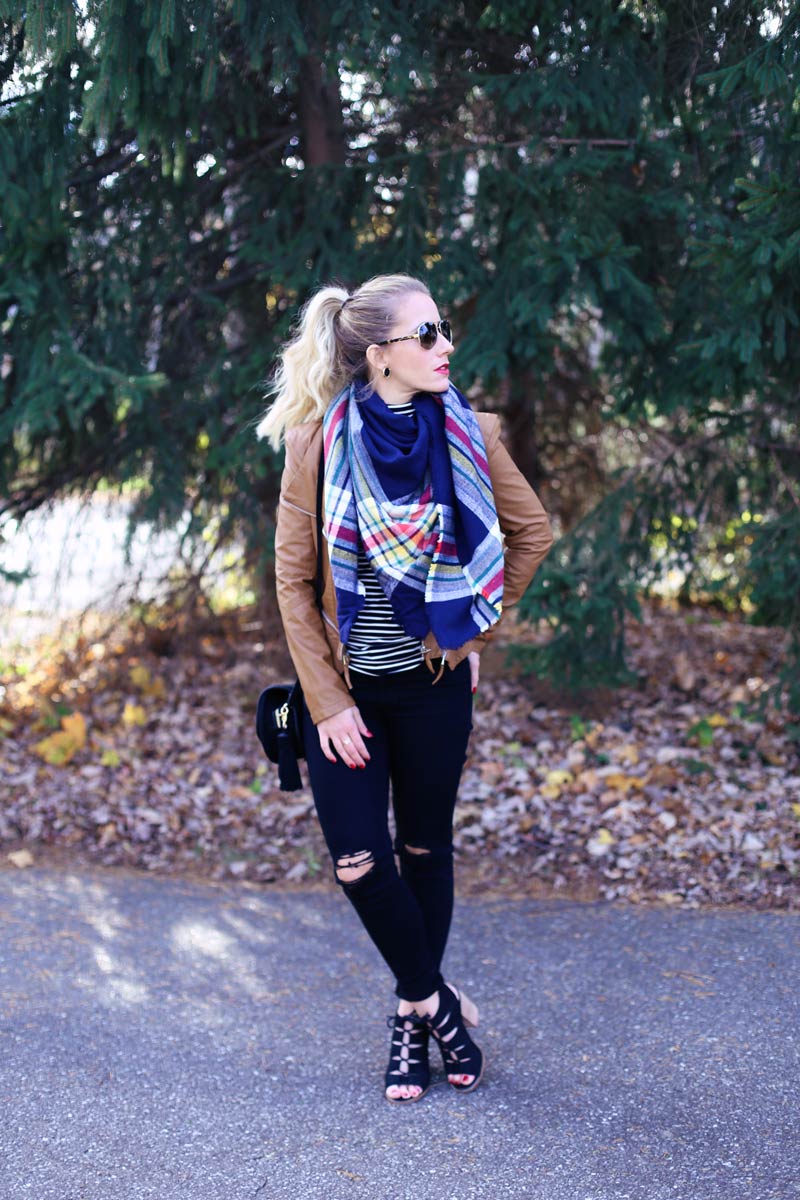 Well, hey hey!!! Are you guys ready for Thanksgiving tomorrow?! We were in charge of bringing Pumpkin pies to the feast… ohhhhhh no! The year before last I ruined two perfect pies by knocking them when pulling them out of the oven — HUGE mess. The filling went everywhere. And last year, I burnt the crusts. Bad. I don't know why I can't seem to get a pumpkin pie juuuuust right but inevitably it will end up disastrous.
Brian's been complaining about it so this year, it's his turn. He seems to think he can do better than me… a little healthy competition is good in any relationship, right?! He'll probably make the most beautiful pumpkin pies you've ever seen, avoiding all disasters, because he's lame like that. Make sure to find me on Snapchat (twistmepretty2) to see how they turn out. Is it bad that I'm secretly hoping he'll fail? Then next year we can go back to my messy fillings and burnt crusts HA!
But I remember watching my mom bake pumpkin pies as a little girl. I used to love how she'd curl the dough over the rolling pin and twist the edges with her fingers. My sister and I would always steal nibbles of dough… I'm nostalgic just thinking of it all. I need to up my pie game asap because those are memories I want to be creating for my kids.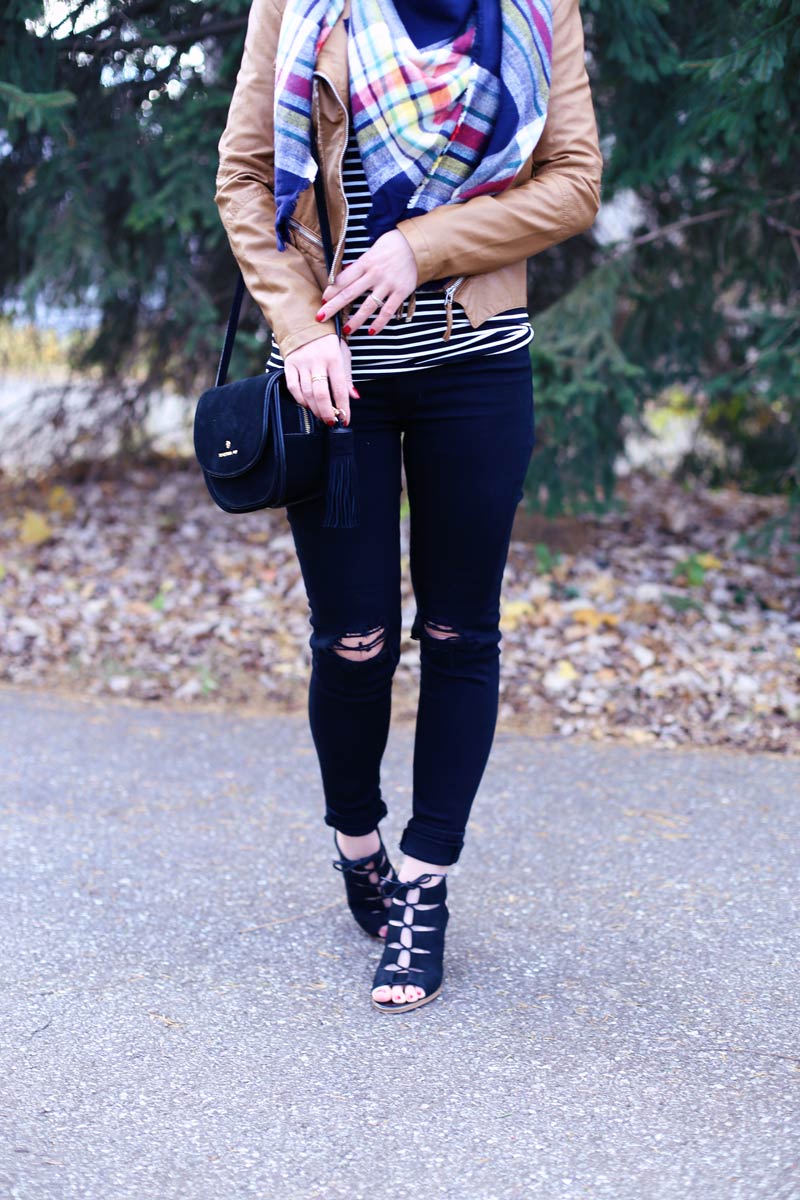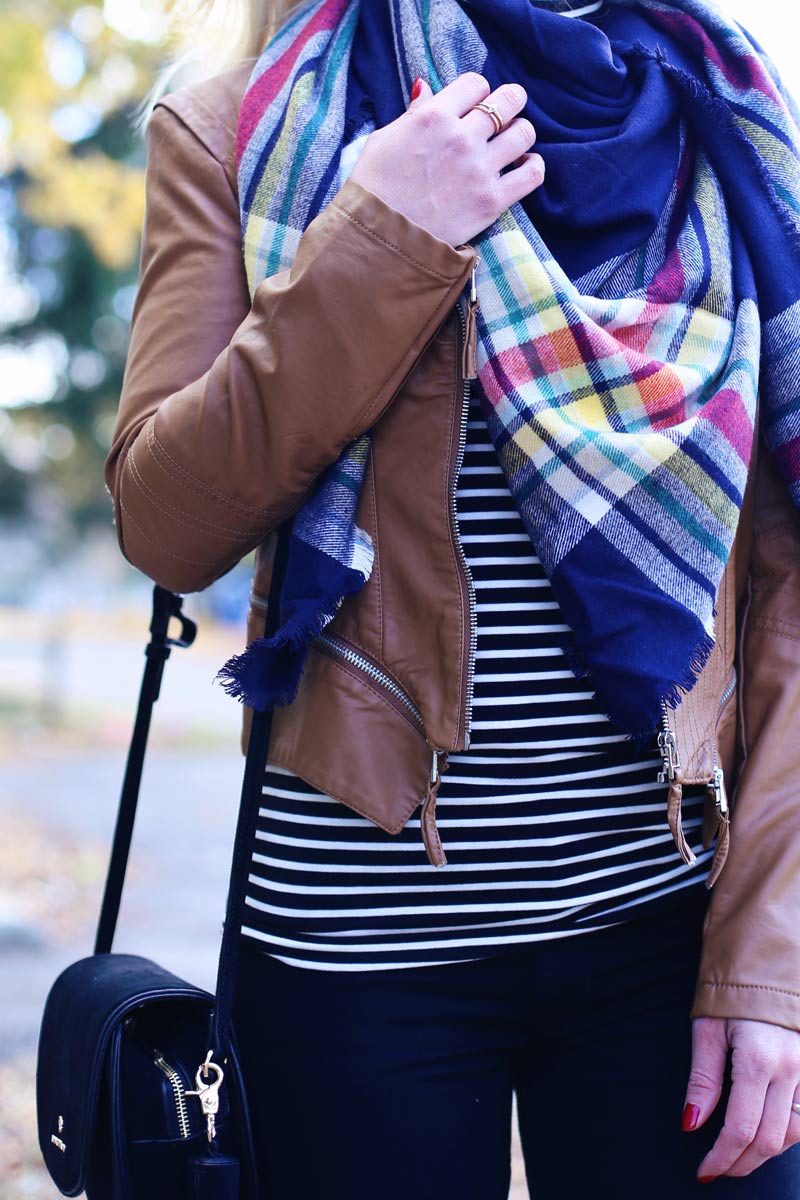 This outfit has been one of my favorites lately. I feel like each piece is a winter staple! You have your basic black jeans which I wear 90% of the time in the colder months… they're just so flattering and comfy. Plus they can dress up any casual outfit. If you don't have a good pair, it's time to invest. I love these ones here and they're on sale! I got mine at the Anniversary sale this summer; buying them full price is a joke. But when your jeans feel like jammies, you know you've found a good pair and this is an item I'm willing to splurge on. A cheaper option are these ones here.
Another item I'm okay splurging on is a good black bag. This suede crossbody bag is from Spartina 449, I LOVE their bags, and it will literally go with every outfit. Plus it has really pretty detailing on it, can you see the tassel?!
This leather jacket is another staple, something that goes with everything. It has a flattering cut so you can dress it up and layer it over a dress to church, or dress it down and throw some distressed skinnies and sneaks with it. Unfortunately, they only have the black left (but it's still super cute) and everything else I've found is really expensive, like this one here, but I'll keep an eye out for ya. I've also been obsessing over turtle necks lately and this striped one has been my fav. Wear it with a pencil skirt to church, layer it under a cute sweater or jacket, or wear it on it's own. I love turtle necks because then I can put my hair up in a high pony or bun and adding a cute blanket scarf to the ensemble makes it look like I've actually spent some time getting ready. BTW, I like to fold my blanket scarves corner to corner and then the point of the triangle goes on your chest and just wrap the tails back around. Super easy.
You can shop what I'm wearing below, or you can use my outfit as inspo when you're putting together pieces you already have! I hope you guys have such a fabulous Thanksgiving and I'll be sharing a bunch of holiday gift guides throughout the week so come check back in tomorrow morning.
LOVE YOU!
xo