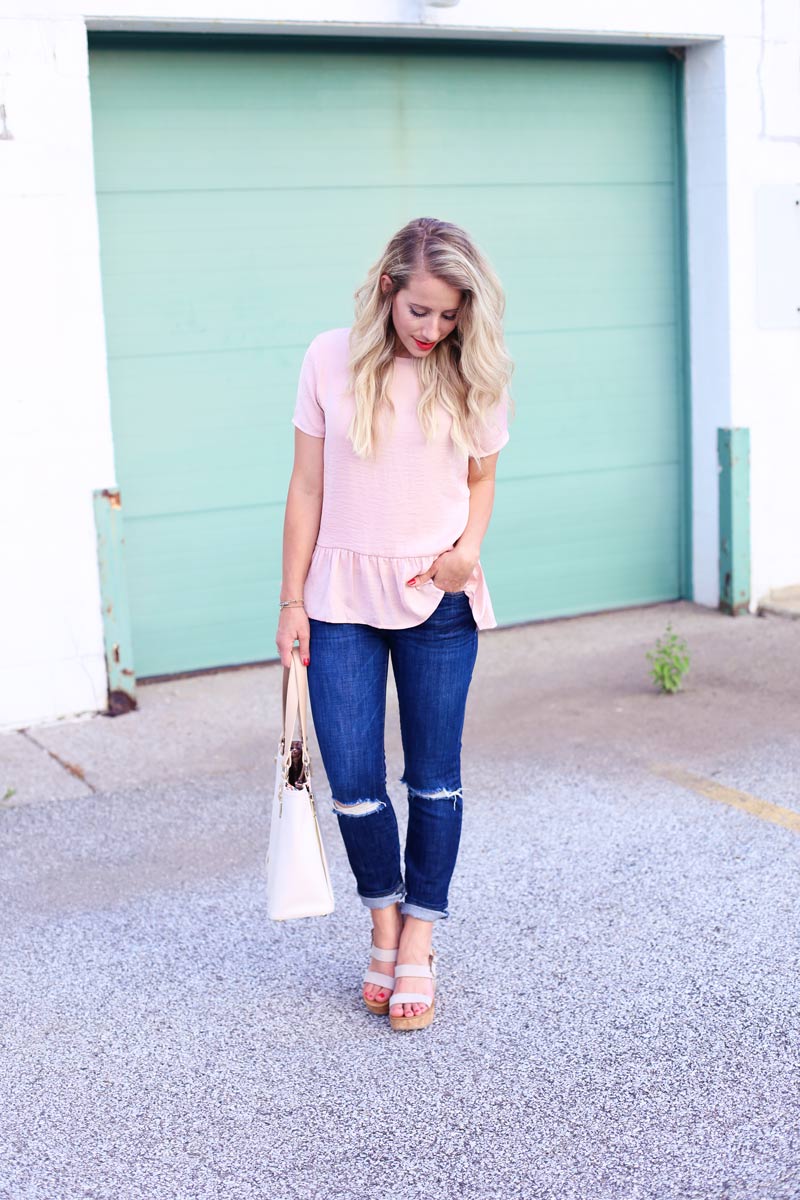 Guess how much I got these jeans for? I'll give you a couple clues… they're Current Elliot. They're semi-new. There's nothing wrong with them…
TWENTY FOUR DOLLARS!!!! If you don't know Current Elliot, these jeans typically retail over $250.
What type of black magic is this you ask?! It's a little online shop called thredUP. It's second hand but it's all designer and name brand products. Typically I don't shop second hand, mostly because I just don't have the time to shop in stores (I'm going to blame my four kids on this one) and you've usually gotta hunt for a bit before you find what you're looking for. And let's be honest. I don't have the time. But thredUP is online, so you can shop when it's convenient for you and it's super easy to browse through all their carefully curated items. I was a little nervous to get my package in the mail but when it came everything fit perfectly + it was all clean and in original packaging. My heart had been softened ha ha.
Their items are great complements to some of your more expensive pieces or a great way to get designer clothing for cheap. Or if you've just had a baby and none of your clothes fit you… that's the worst. You want to look nice and wear what you're comfortable in but who wants to spend $250 on a pair of jeans that are gonna be too big in a couple months? Or EVER?!
So you still need to search through the pages to find the good stuff but lemme tell you, there are hidden gems! And when you learn how to search and navigate their site it gets really quick. I usually go into women > designer and then I select my size of whatever it is I'm looking for. So designer shoes for example in a size seven. In two seconds I found these cute Marc by Marc Jacobs flats, goodness gracious these ETRO sandals and these Michael Kors wedges. And that was in a super quick search. They have great accessories and bags, expensive jeans for cheap, and sunglasses and maternity clothes even! So if you're on a budget, even if you're not, hop on over and see if anything catches your eye! Your wallet will thank you 🙂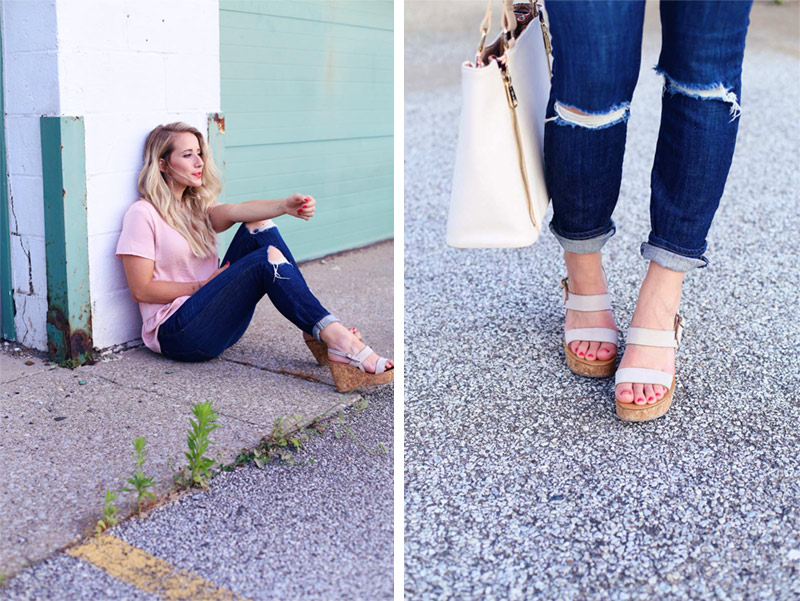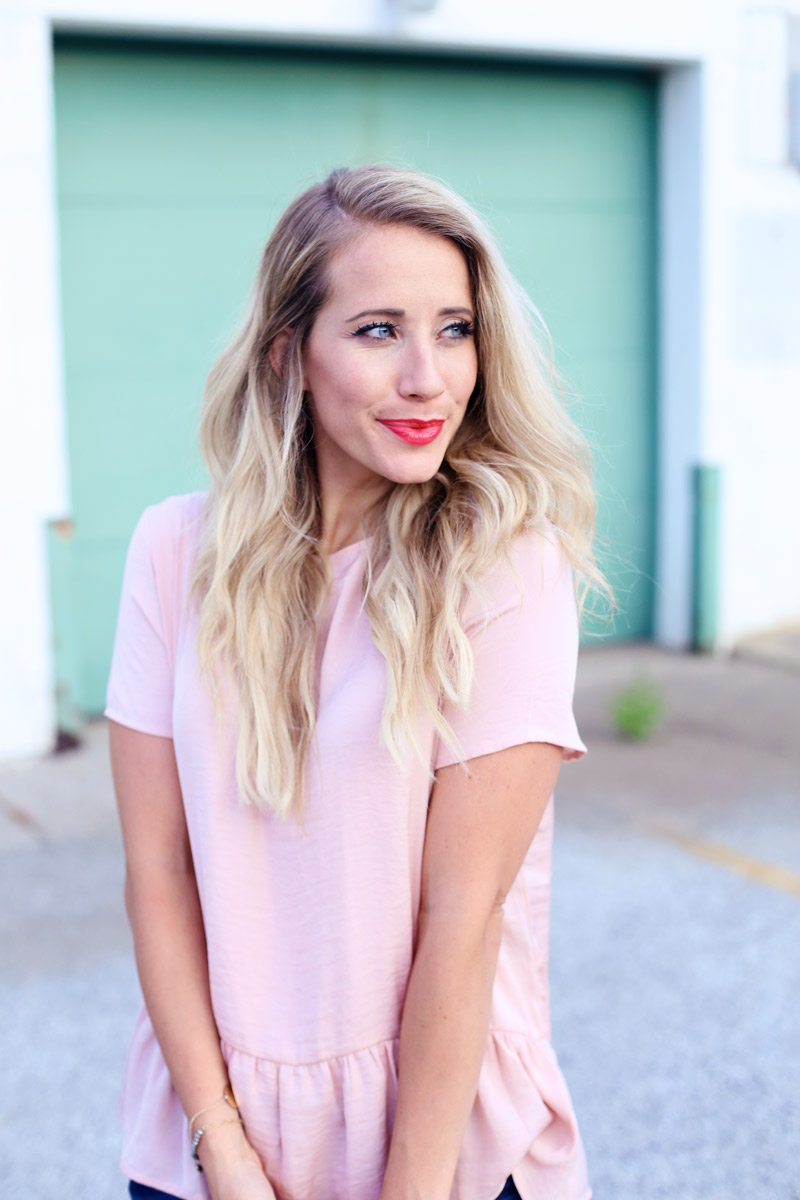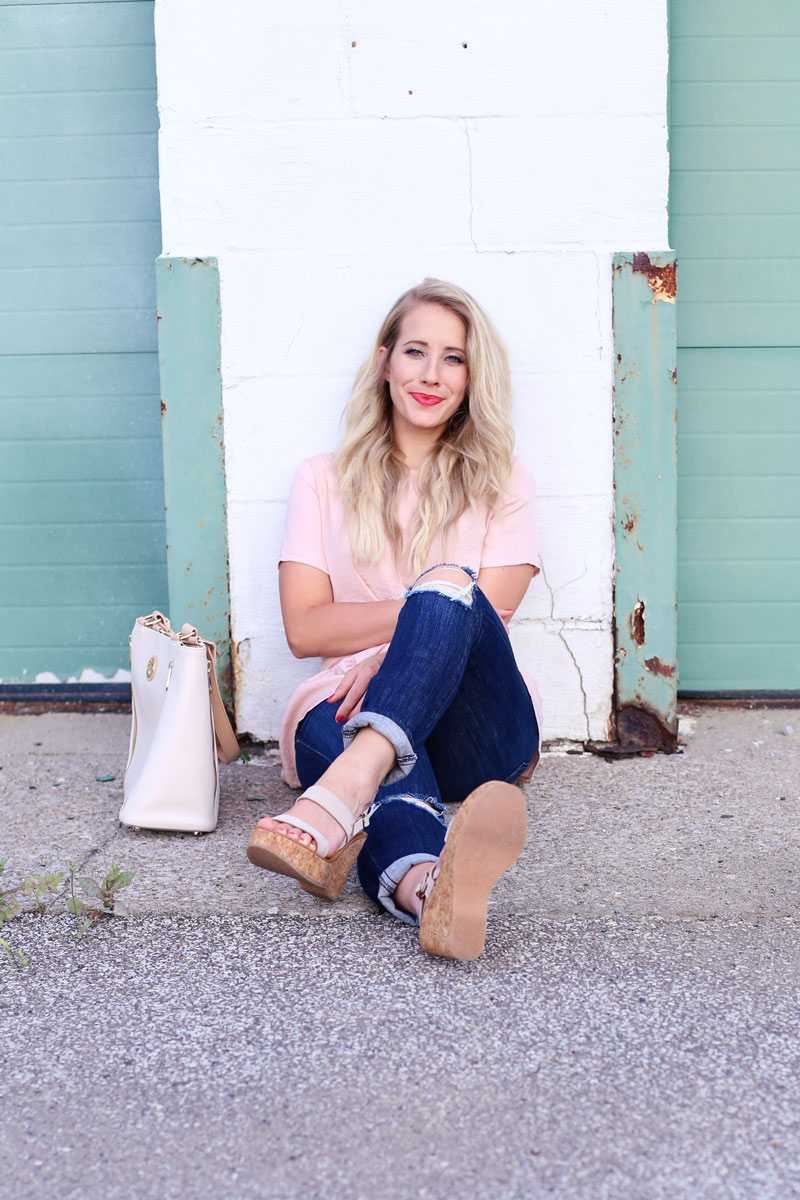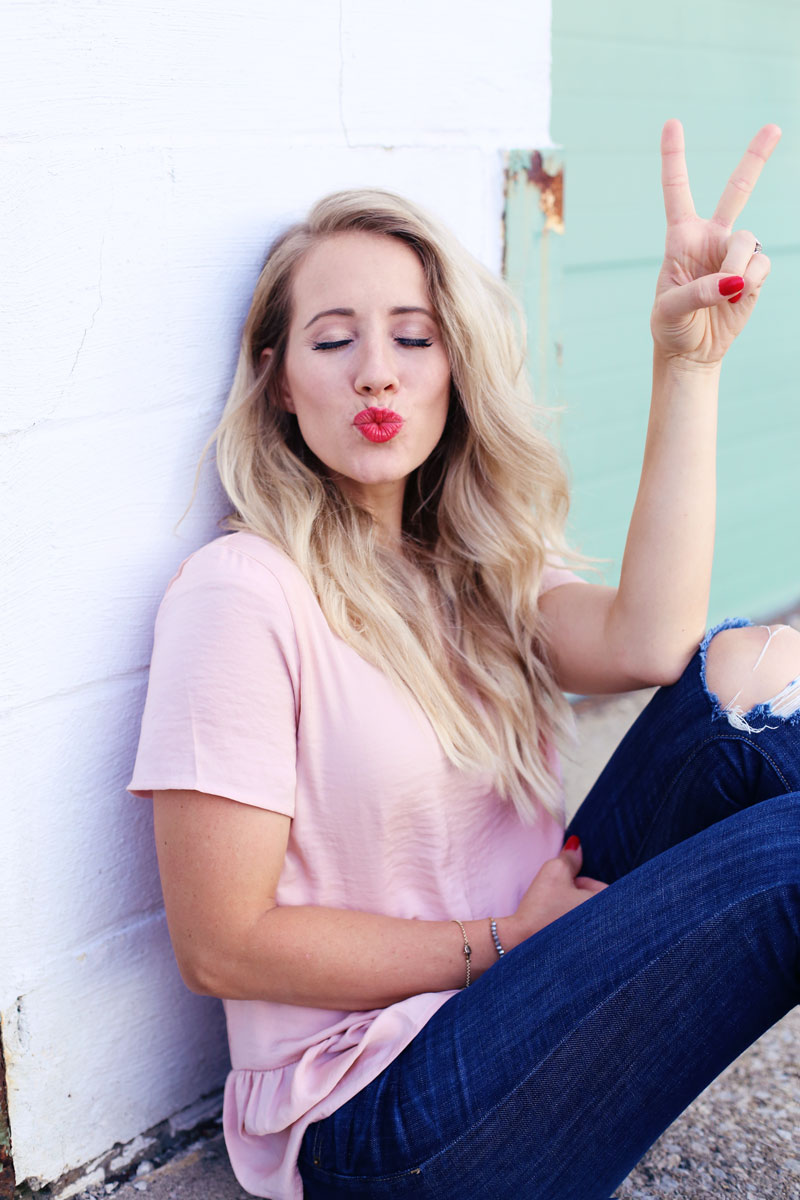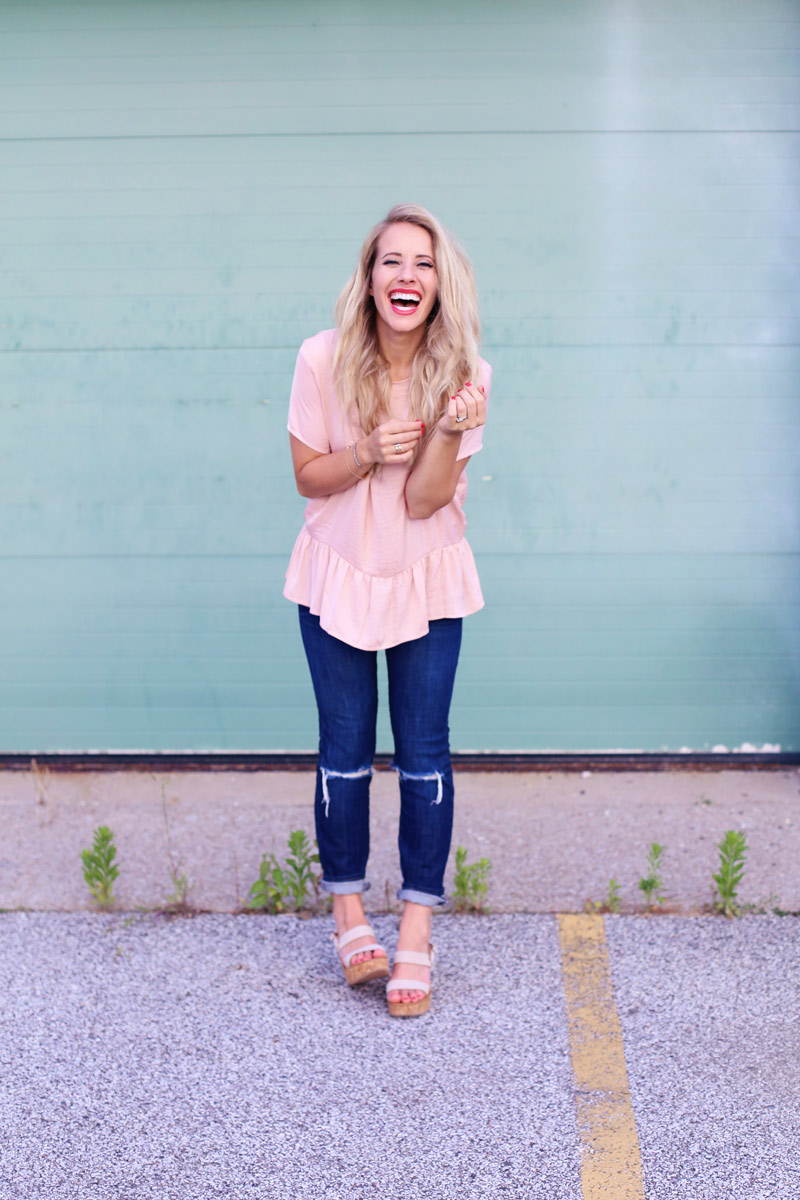 Current Elliot Jeans – c/o thredUP | St. Tropez Wedges – c/o ThredUP | Pink Peplum Tee – Target | Lipstick – LipSense in Strawberry Shortcake | Bracelets: c/o The Shine Project | Bag: c/o Spartina 449
COUPON CODE!!! UseTMP40 for 40% off first-time purchases, $50 max discount, valid through

Oct 1st!
And a little behind-the-scenes action with my babe.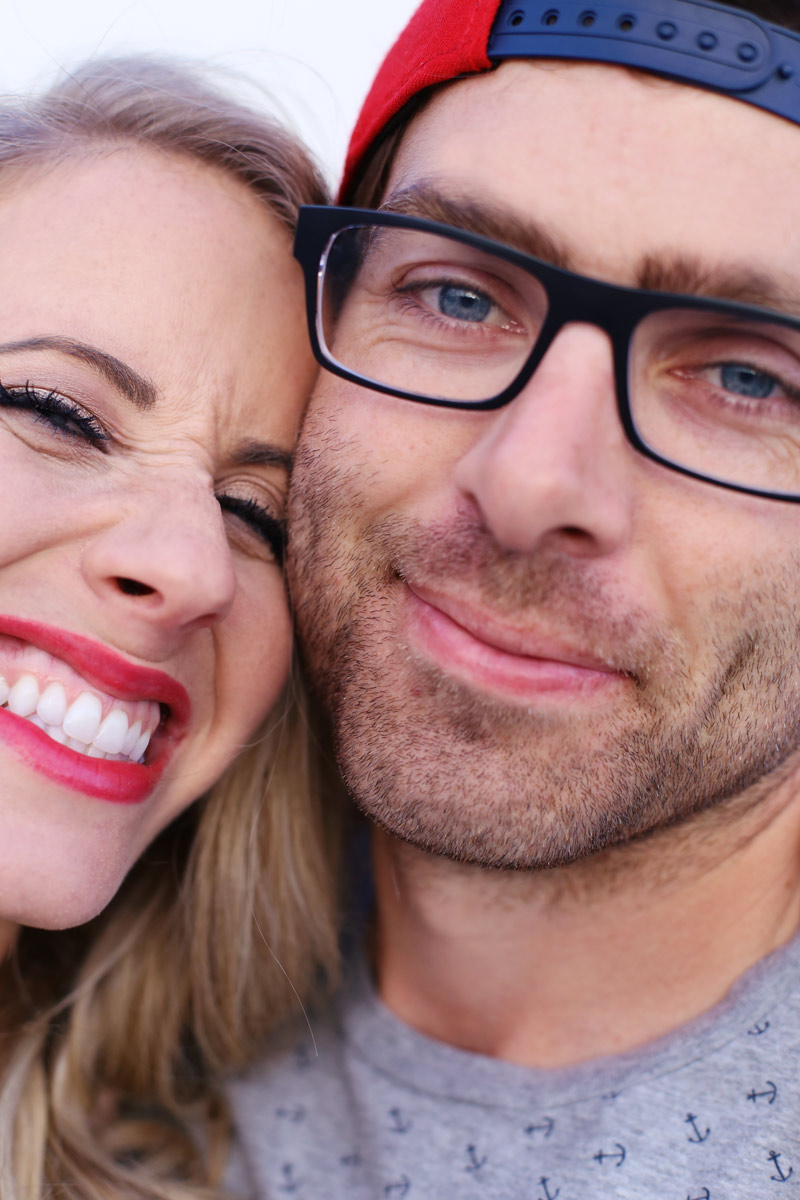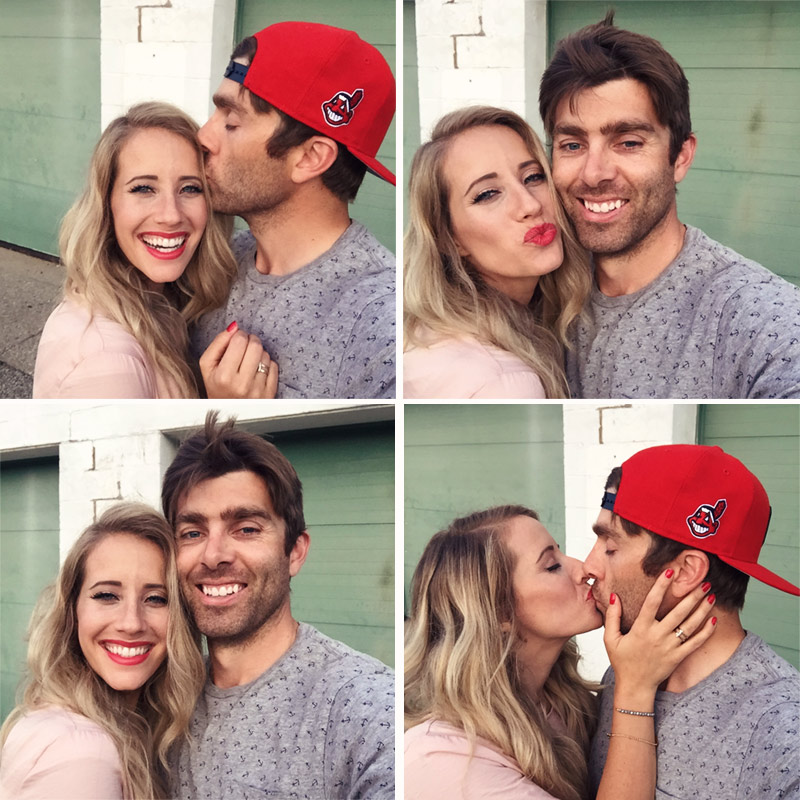 (iPhone collage. He's such a good sport for taking a billion selfies of us ha ha!)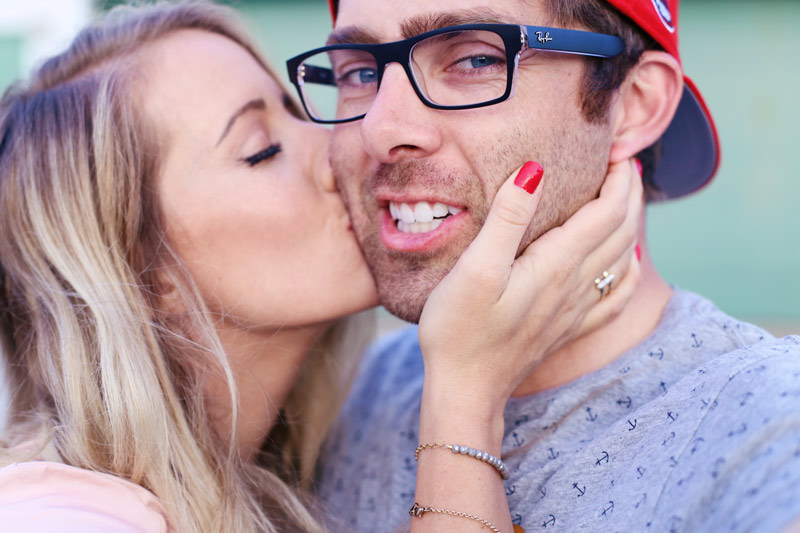 This post was made in collaboration with thredUP but like always, all opinions and thoughts are my own and I only bring brands and products to the blog that I've tried out and love.