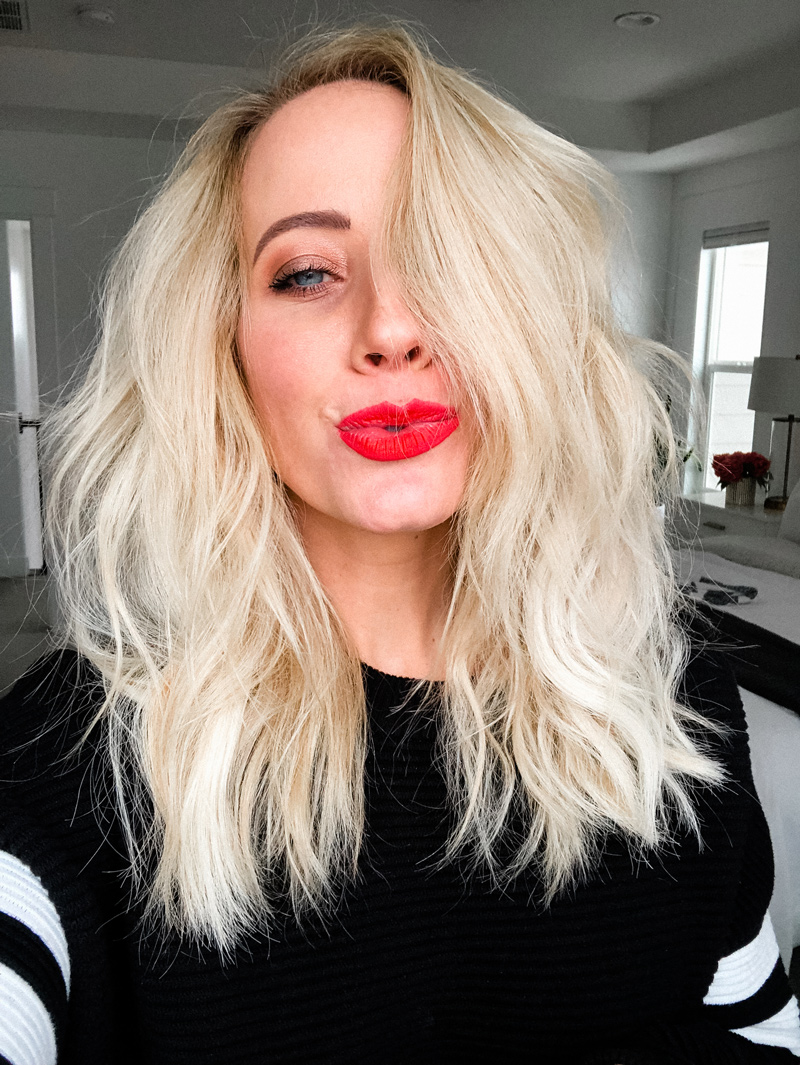 Well hello there loves, how have you been? I got my brows down yesterday + my sister came into town from Oklahoma so it's been a pretty great week for me!! If you missed it, last week I shared my Hair Routine and how to create a beautiful, every day look and today I'm sharing six super cute hairstyles that work well on medium length hair. These are a few of my go-to hairstyles that are fairly quick and easy + they work great on second day hair and you know I'm all about that life!
For the first time in… I think ever, I decided not to take pictures of the styles on my DSLR. I snapped a few selfies but you'll have to watch the video to see the rest of the hairstyles and TRUST ME — you don't want to miss them. They're so cute!! I'm definitely second guessing my decision to not take pictures of them!
Hairstyle #1
I love this hairstyle the day after I've washed my hair and I still have some curls left in my hair. The curls on the top sections usually fall out faster than the others so a quick dutch braid in the bangs and some dry texture spray gives this style the perfect, effortless look!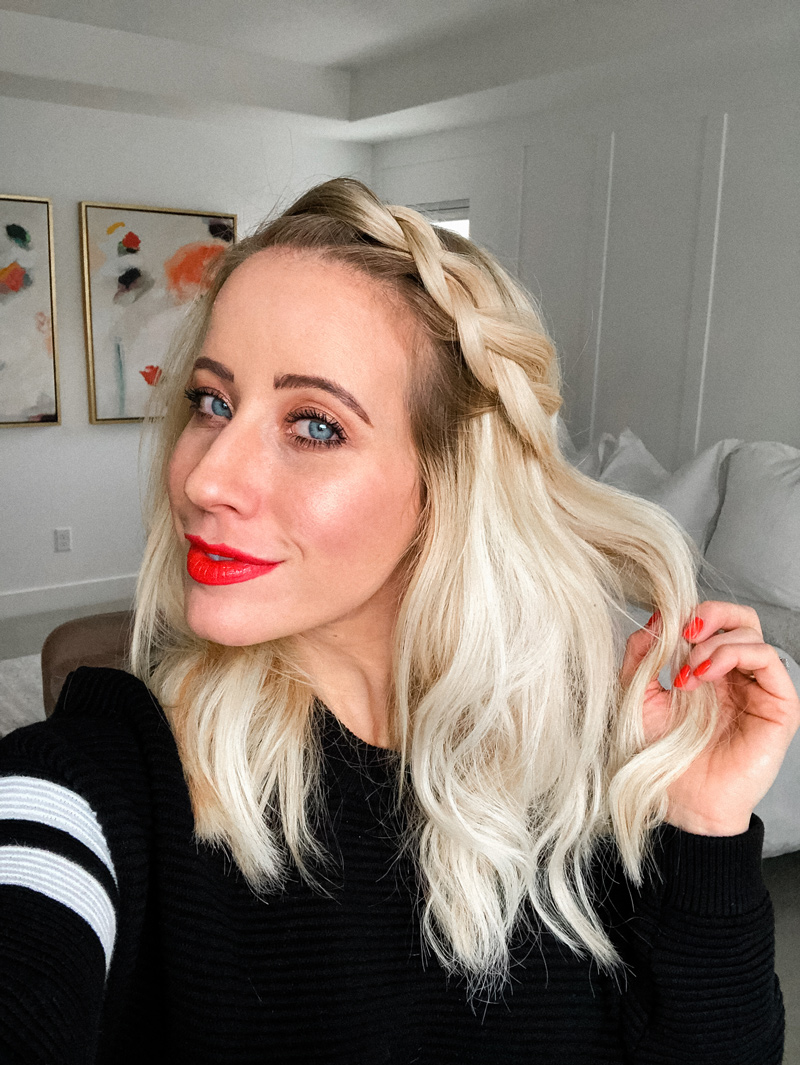 Hairstyle #2
I'm crying right now — this hairstyle is so cute and I don't have any pictures of it!!! It's two twists tied together with an adorable bow elastic in the back. Not that I'm going through my weekly hairstyles or anything but this one could definitely be day 3. You're pulling more hair that's fallen flat out of your face but you're still rocking those left over curls. If you need a tutorial on how I curl my hair check out this video here. I, of course, used my Flourish Trio Curling Wand and am legit OBSESSED!
Hairstyle #3
I've been wearing this dutch braid/top knot hairstyle a lot lately. That braid in the bangs is so cute!!! Add it with a cute bow scrunchie and you've got yourself a two-minute hairstyle that looks put together and totally adorable. What do you think?
Hairstyle #4
I'm sharing one of my all-time favorite ways to throw my hair half-up. Just snag those top layers of hair, fold them over and pin them in place.
Hairstyle #5
Playing on hairstyle #4 I'm adding onto that gorgeous half-up and creating this beautiful criss-cross ponytail. It's on of my favorite ways to dress up a ponytail and if you're living that pony life make sure to check out my 7 ponytail for spring and summer video.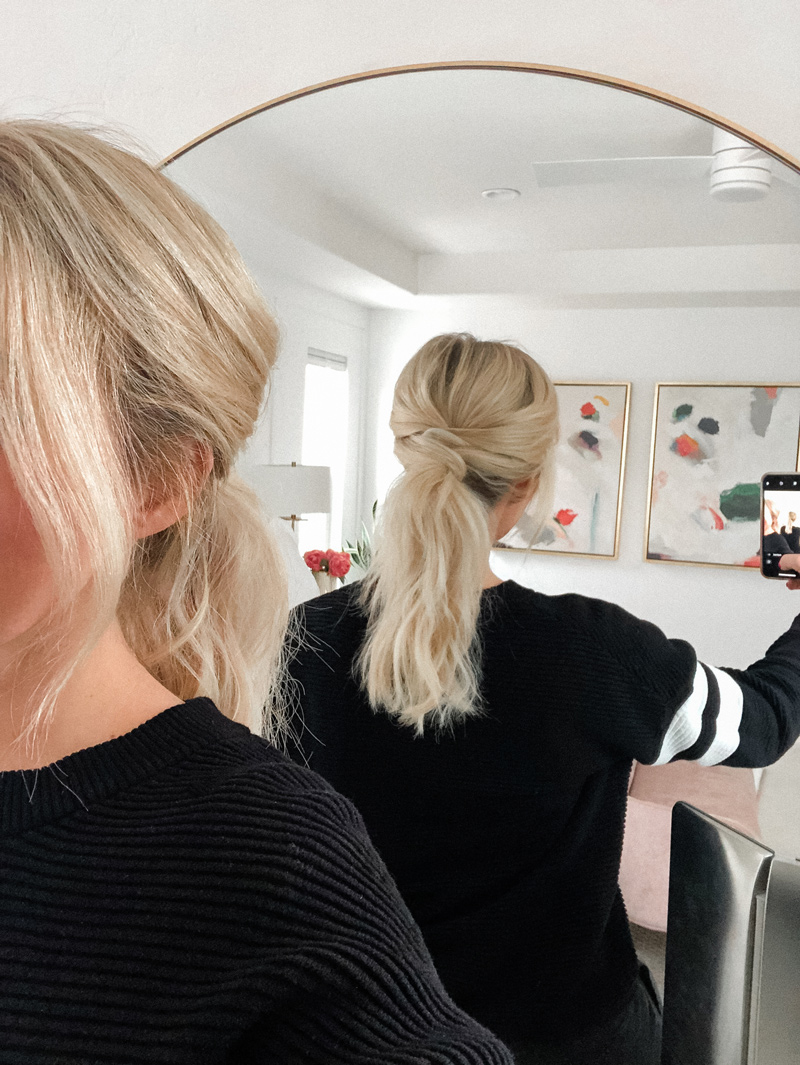 Hairstyle #6
And last but not least, the most beautiful rope twist into a messy bun. I'm dressing this hairstyle up with one of my hair scarves and I'm obsessed. I designed the hair scarves in my shop to be very narrow, long and drapey… is that a word?! Either way, they work so well in short hair and long hair, in braids and ponytails, to dress up top knots and side buns. I've been on such accessories kick lately and I hope you can see just how cute they are in literally all the styles!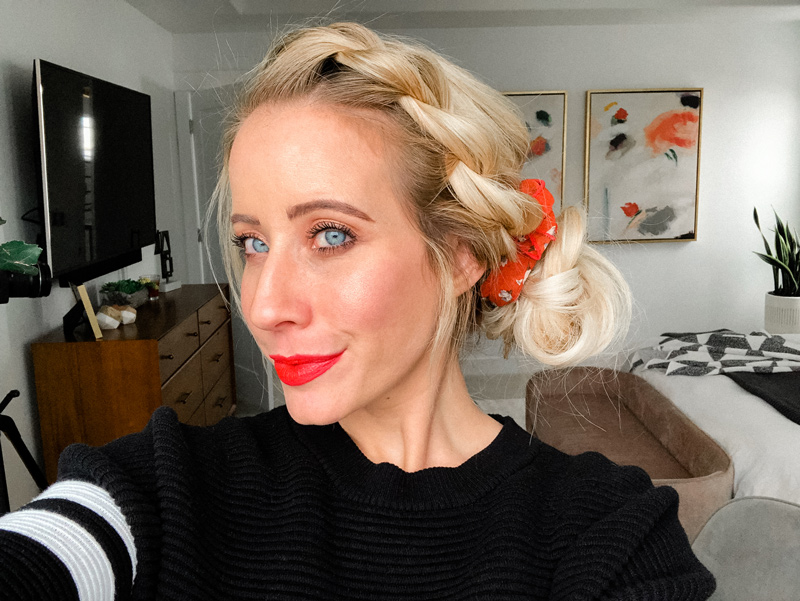 Watch the video and let me know what hairstyle was your favorite!!! I'd love to hear it in the comments below! Have you jumped on the scrunchie trend yet? Do you know how to wear hair scarves?! I have a video coming up in a couple of weeks on 10 ways to wear a hair scarf – I hope it gives you some inspiration if you're not sure how to style them!!!
Anyway, I hope you babes have a fun weekend planned, thanks so much for reading.