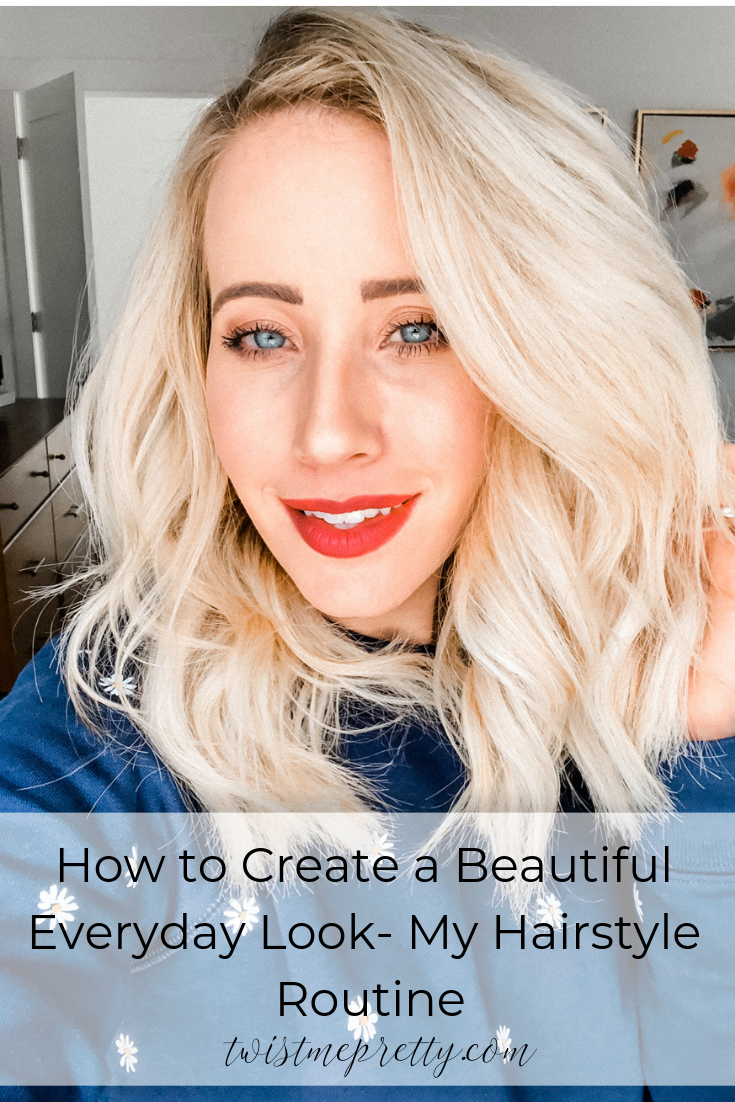 My Hair Routine-How to Create a Beautiful Everyday Look
What's up, my babes? Want to create a beautiful everyday look with your hair? Now that my hair is shorter, I thought I would share my favorite hair routine including the products I've been loving and general styling tips. The products I use help to create a voluminous look that is perfect for every day. So without further ado, here you go babes…
Shop the post

Step 1:

To start my hair routine I spread a quarter sized dollop of Aveda Damage Remedy throughout my towel-dried hair. It's a leave-in treatment made from quinoa protein used to your strengthen hair, protects against breakage and heat styling, and conditions and smoothes. This is a great all-around product for any hair type or texture type. This keeps my hair healthy!
Step 2:
Next, I spray this awesome Thickening Tonic by Aveda all over. If you need extra fullness, this product is for you. It also helps hold in your hairstyle.
Step 3:
After that I use the Kenra Root Lifting Spray. This product doesn't foam up like a mousse, so I like to spray it directly on my roots and blend it in with my fingers for more control. It's light-weight and doesn't add stiffness, but it still adds extra volume and body to my hair. I like me some volume!
Step 4:

The last product before blow drying is the Kenra Blow Drying Spray. It smells the BEST, decreases blow dry time, and provides heat and humidity protection. I mist it all over my hair.
Step 5:
Finally, I'm ready to blow dry my hair. I always use the precision nozzle with my blow dryer. It directs the heat exactly where I want and makes for a better blow out with less frizz and more volume. You're welcome for that tip! I like to use a $5 paddle brush from Bathpack while I blow dry. I lift portions of my hair up and dry my roots first. I work through all of my hair until it is dry.
Step 6:
I like to add 2 more products to my hair before I style it with a curling wand. The first is Klorane Protective Oil. It's pretty intense, so I spray it on my hands first and then comb it through my hair with my fingers. I work from mid-shaft down to the ends of my hair and avoid my roots.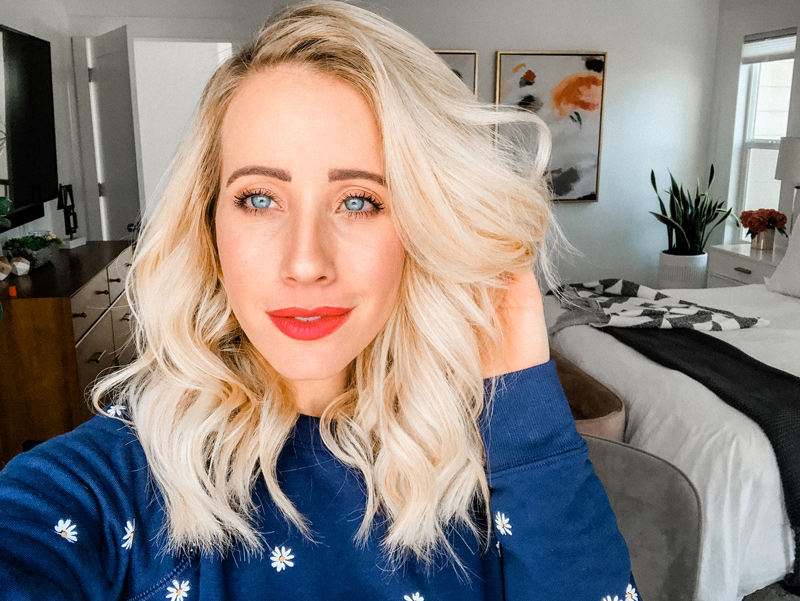 Step 7:
A Thermal Styling Spray is used next to protect my hair from heat and maintain my curls. I spray it on sections of my hair mid-shaft down.
Step 8:
I'm ready for curls! I curl my hair using a 1 inch (25 mm) curling wand. I LOVE this wand and you will too! It comes with 3 different sized barrels that you can trade out depending on the look you're going for. I heat the wand to 350 degrees, try to keep the heat as low as you can! Then, I clip up sections of my hair. I like these awesome clips. I take sections of my hair and wrap them on the wand pinching my hair about an inch down from my roots. I maintain the pinch while I curl. This technique creates a pretty, tousled look. I leave the last inch of my hair out from the wand and always curl away from my face. I let the curls slide off the barrel and don't set or stretch them. I keep curling around my head and when I'm finished, I comb through the curls lightly with my fingers.
Make sure to check out ShopFlourish.com — we've got new products coming out this Spring and I can't even WAIT to reveal what we've been working on!
Step 9:
TEXTURE!!! Give me all the texture!! I was using the Living Proof Dry Volume Blast but it doesn't even compare to the Oribe Dry Texture Spray. It's pricey but adds the best texture and volume without weighing down my hair and making it feel dirty and sticky.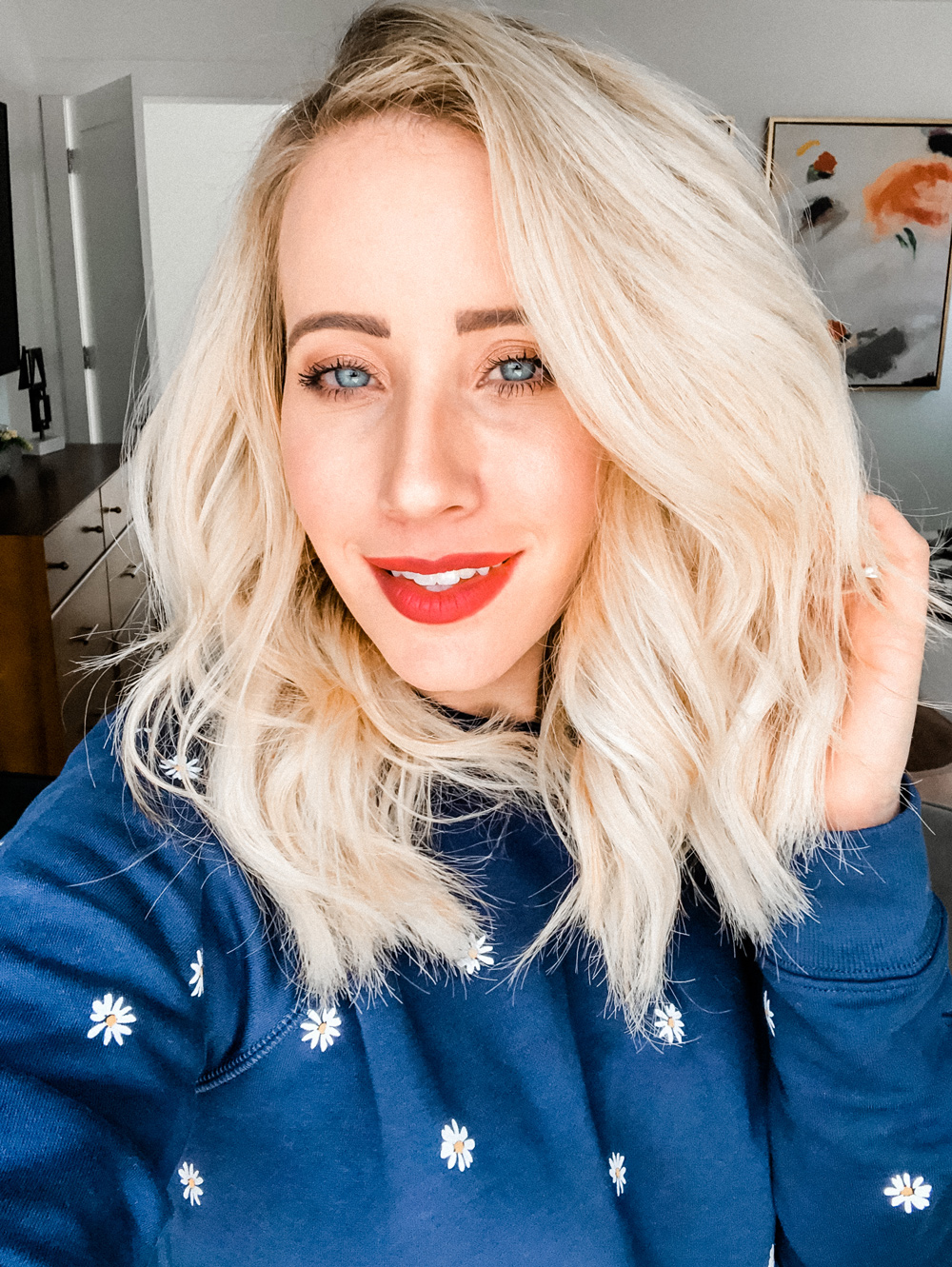 Step 10:
Ok, next I smooth the ends and unwanted frizzy parts of my hair with Kenra Taffy, wherever I want extra smoothness. It gives my hair a piecey, smooth look.
Step 11:
I'm almost done!!! I take a comb and tease my roots and then smooth over the front of the pieces. I want volume, not snarls.
Step 12:
Finally, I end with a quick spray of Kenra 25 Volume Spray. This is the absolute BEST hairspray out there. It's not heavy or sticky, yet it lifts and holds so well. It's so, so, so good!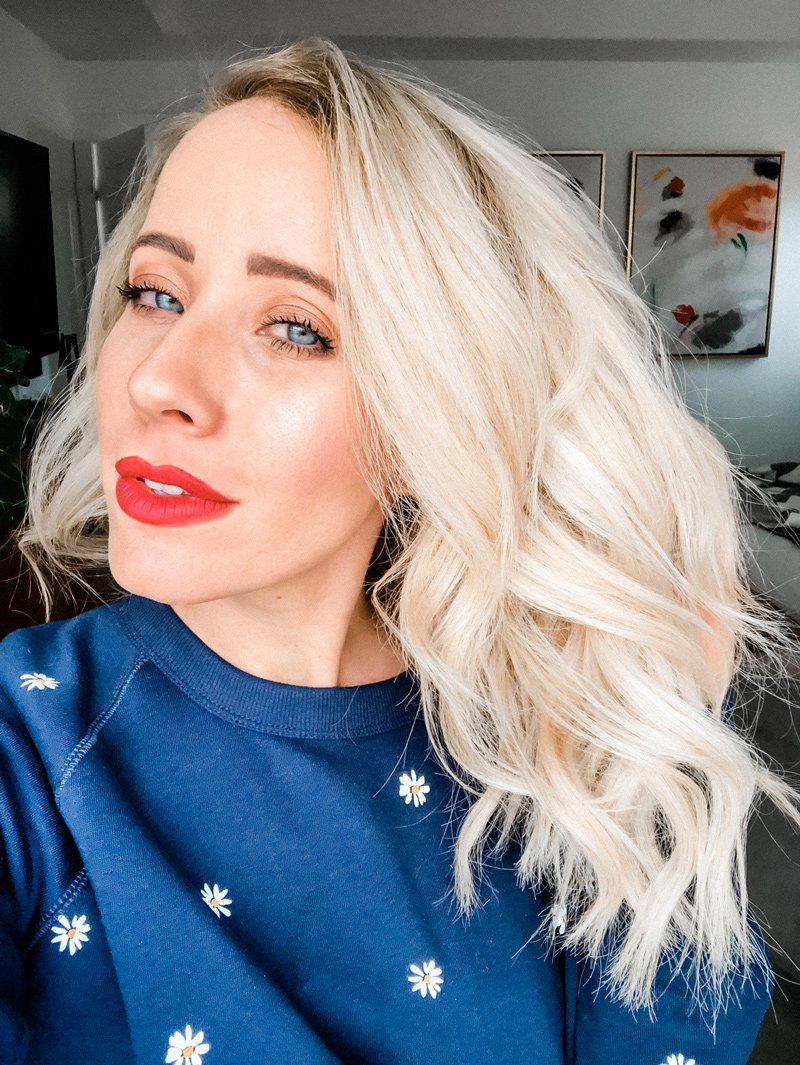 And that's my hair routine. Perfect, everyday hair that will last! I know it seems like a lot of steps but if you do it right on day one, you really don't have to mess with it much for several days. I just ride the texture and leftover curls in cute braids and ponytails! lLet me know what you think of this look and leave a comment below. If you like this look, you'll want to check out these posts…
7 Tricks to Get Flirty Curls Full of Volume for Short Hair
How to Curl your Hair with a Curling Wand
Shop the post