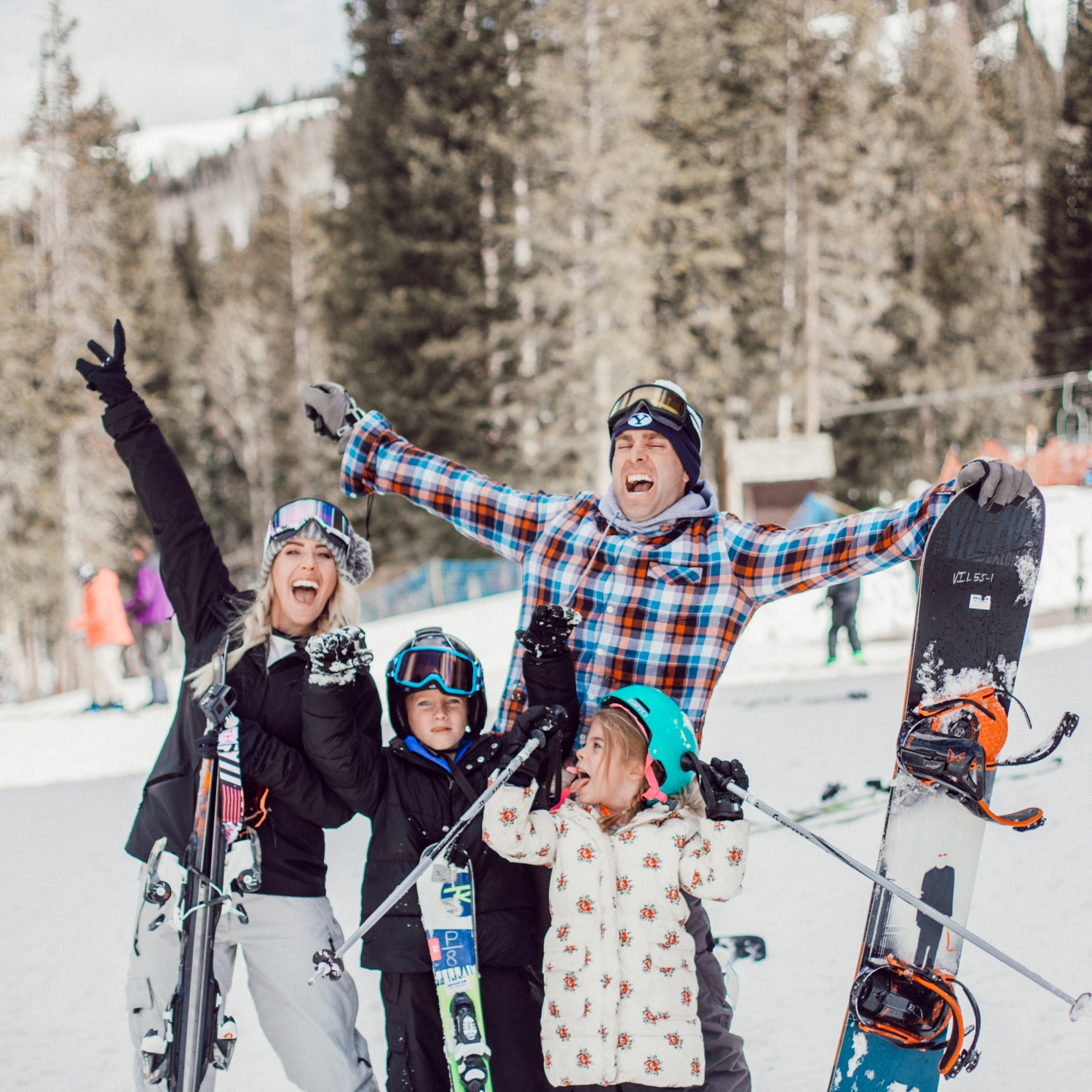 Back in March we took the kids to Brighton Ski Resort for some Spring Skiing!!! The weather was PERECT! I was born and raised in the beautiful state of Utah. I started skiing with my family when I was 5 and it became a huge part of my life growing up. I had season passes to all the best resorts and would go every weekend in the Winter with my friends in high school. It was the life! Then I moved away to college, I got married, had kids, moved away from Utah and hadn't been back since. Brian didn't grow up skiing so it hasn't been something he's really cared to do but now that I'm back near these gorgeous mountains, I've just been so homesick to get back on the slopes! And when you live in Northern Utah… you ski! It's like growing up on the beach in California and never learning how to surf. I knew for sure it was time to take the kids and teach them one of my favorite past times!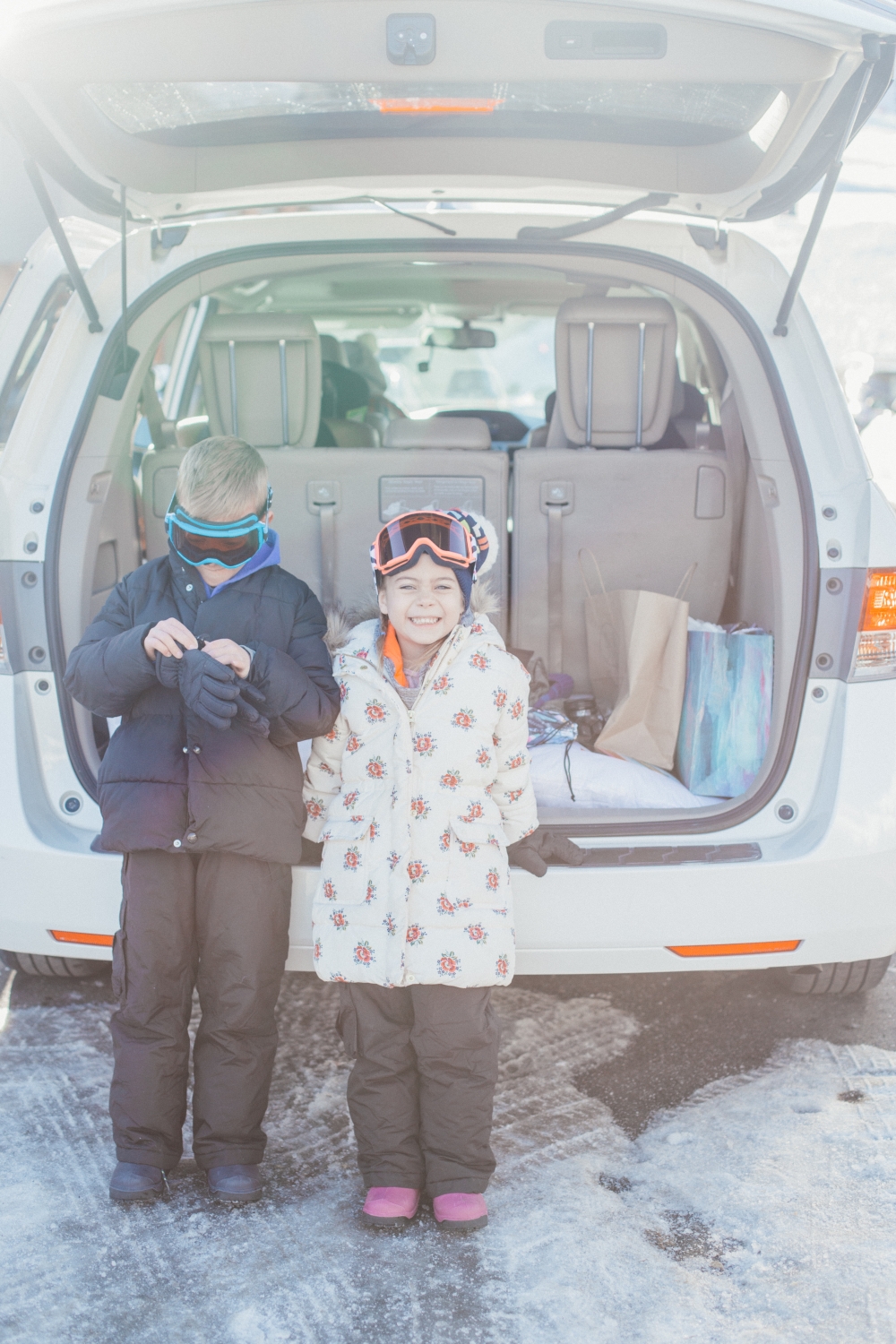 So when you get there, you'll open up the trunk and deck yourself out in your ski gear. You'll see everyone doing it so don't feel weird about putting on your layers outside of your car. One thing you'll for sure need that you might not already have is googles. The wind alone will make you want them, but the snow is so bright on sunny days that they just protect your eyes and make your experience much more enjoyable! You'll also want some sunscreen! Don't be fooled by the cold weather, the air is thinner up at higher elevations and if you don't wear sunscreen, I promise you'll get burnt.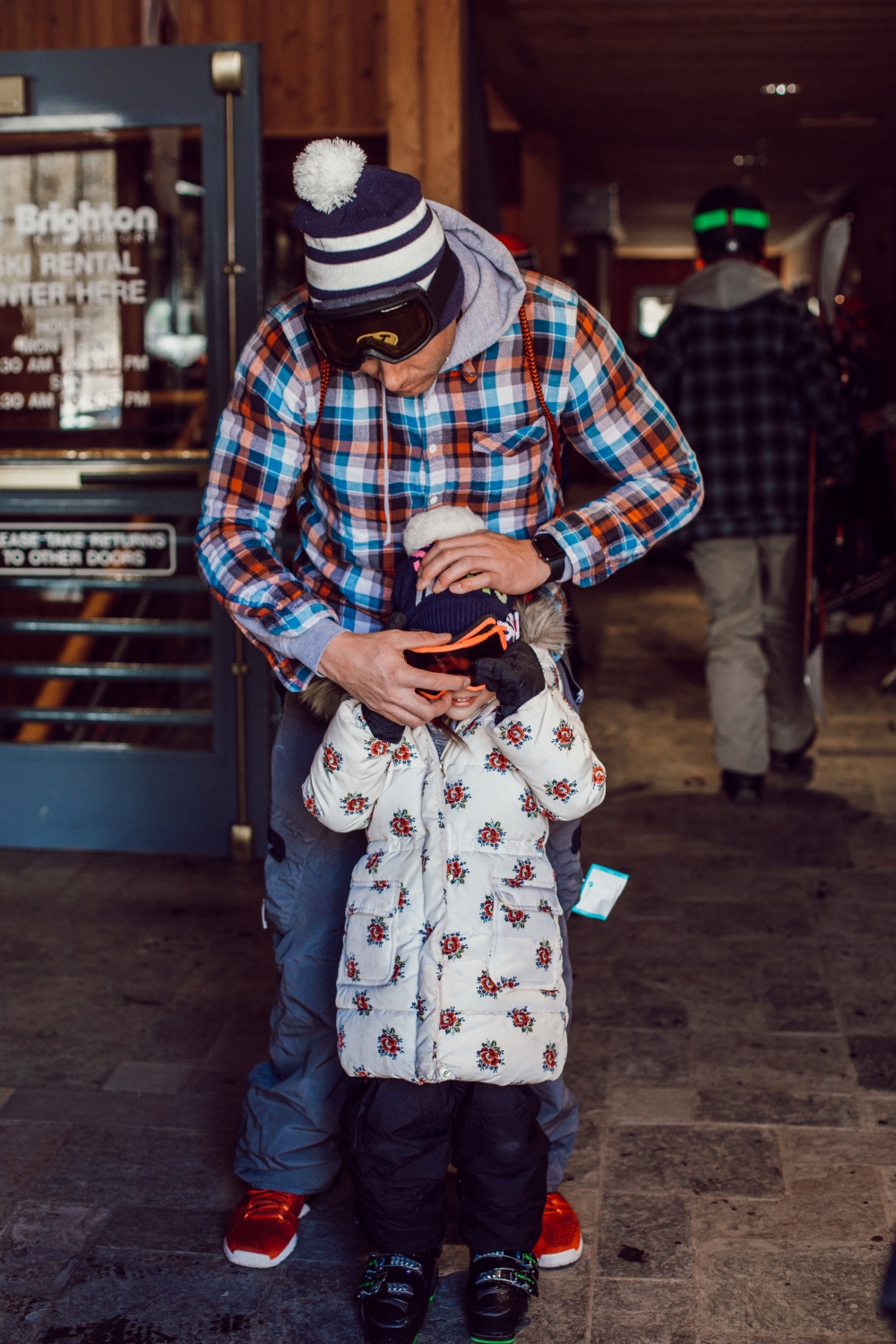 Then you'll get your tickets and head up stairs to rent your ski gear. If your kids have a lesson scheduled, one trick to bypass the lines is taking them to the Snow Sports School first. Then an instructor can help them get outfitted in front of everyone waiting! BAM. You can thank me later. Usually the lines aren't bad though, but if you go on a Saturday it's a good trick to have up your sleeves when you're running late.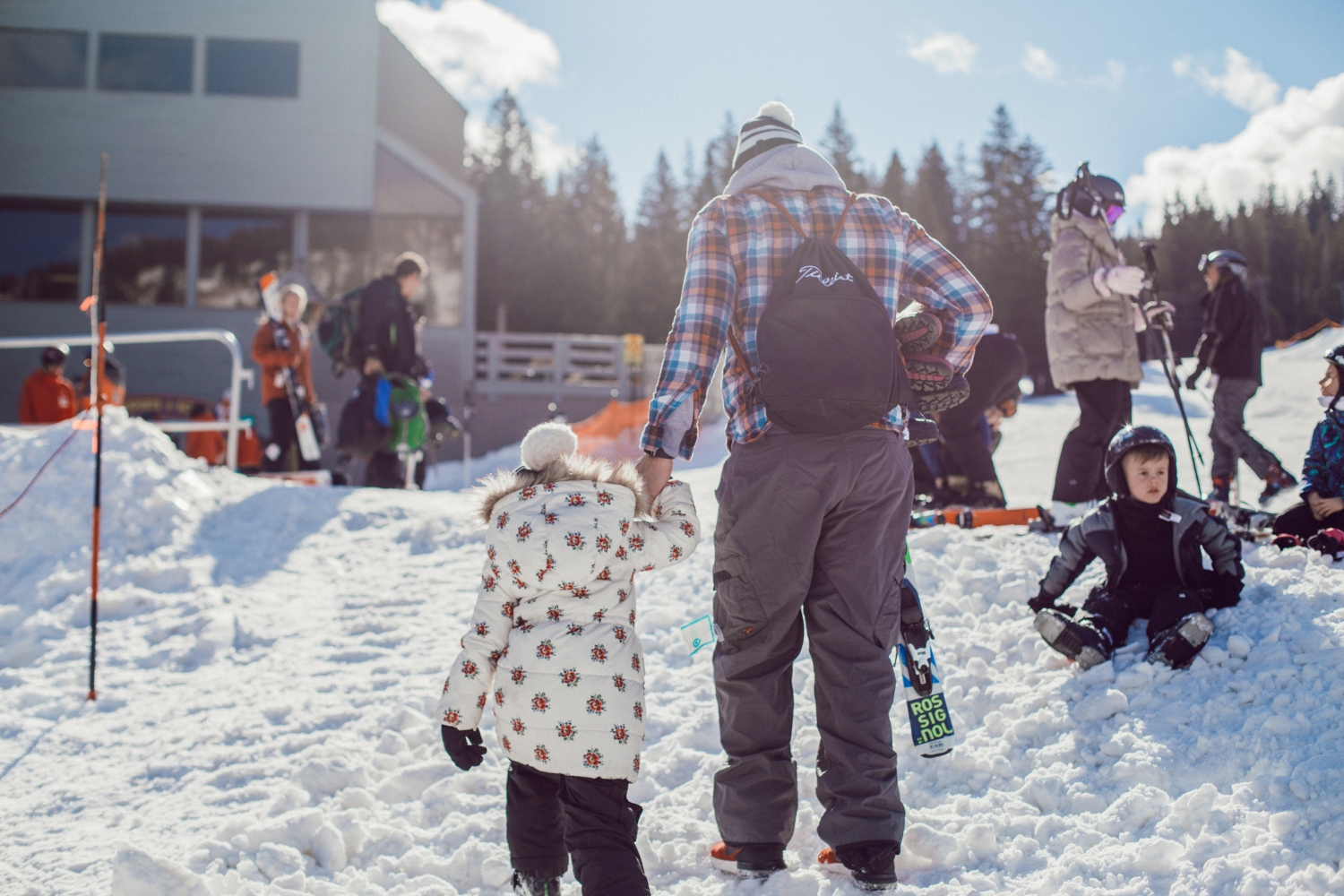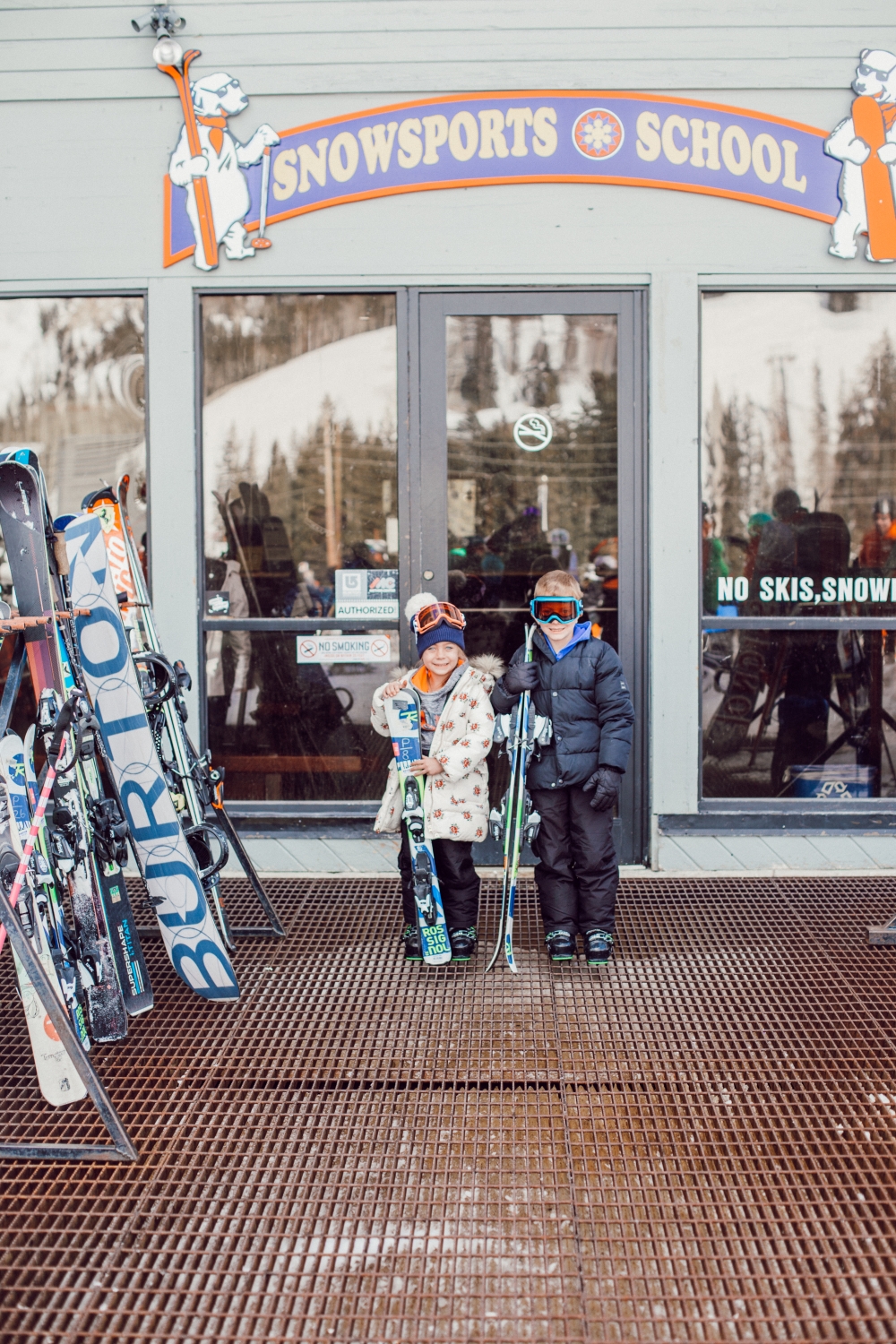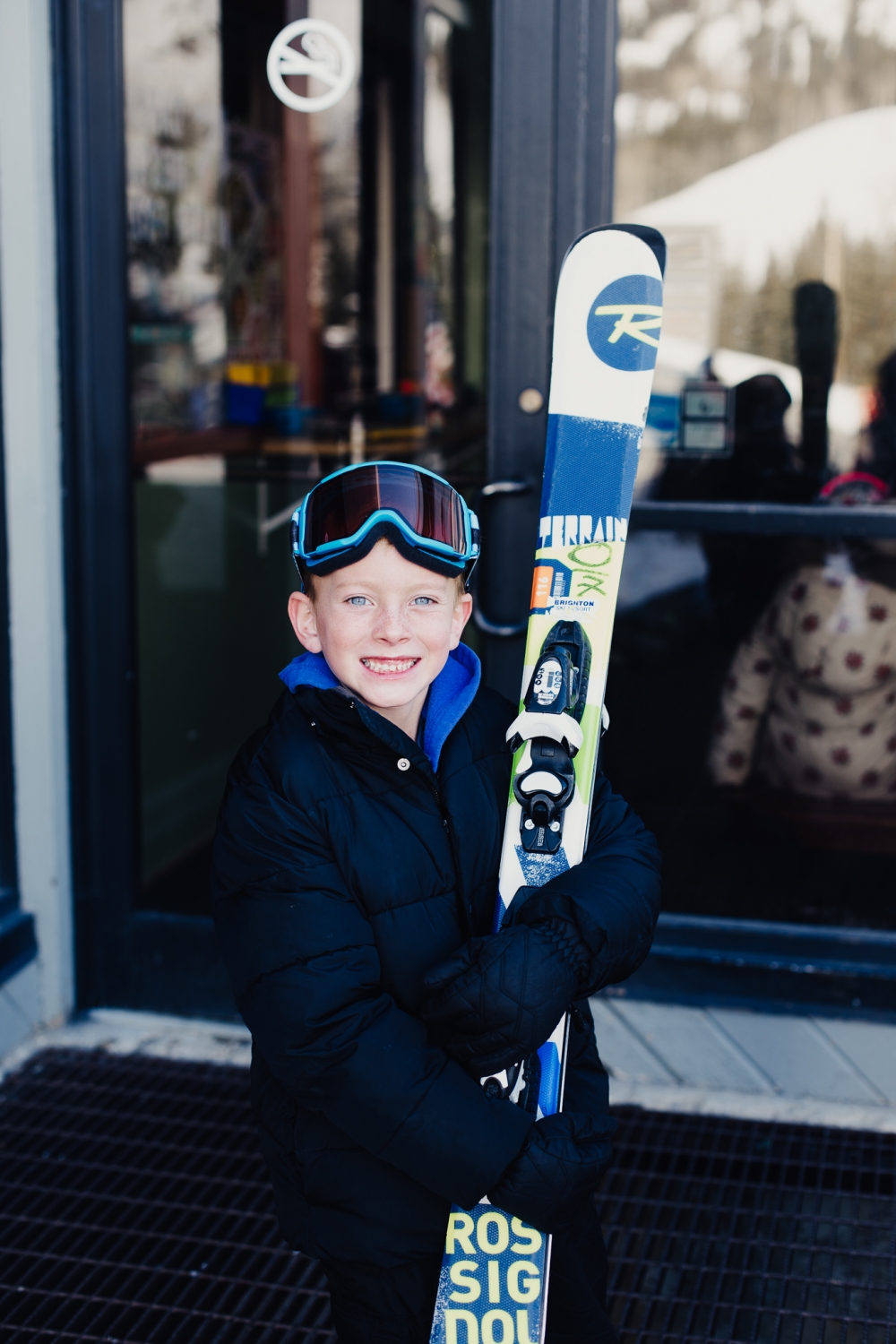 Brighton Ski Resort is known for their ski lessons and I cannot recommend them enough! First of all, the instructors are SO sweet with kids! I was a little worried Savy wouldn't want to go, but Avery made her feel so loved and excited that they couldn't wait for Brian and I to leave! We got them a two hour private lesson and that gave us a chance to go on a little mini-date together which was awesome!
During those two hours the kids passed off different skills and Boston could pretty much handle everything on his own. Savy on the other hand was still a work in progress haha!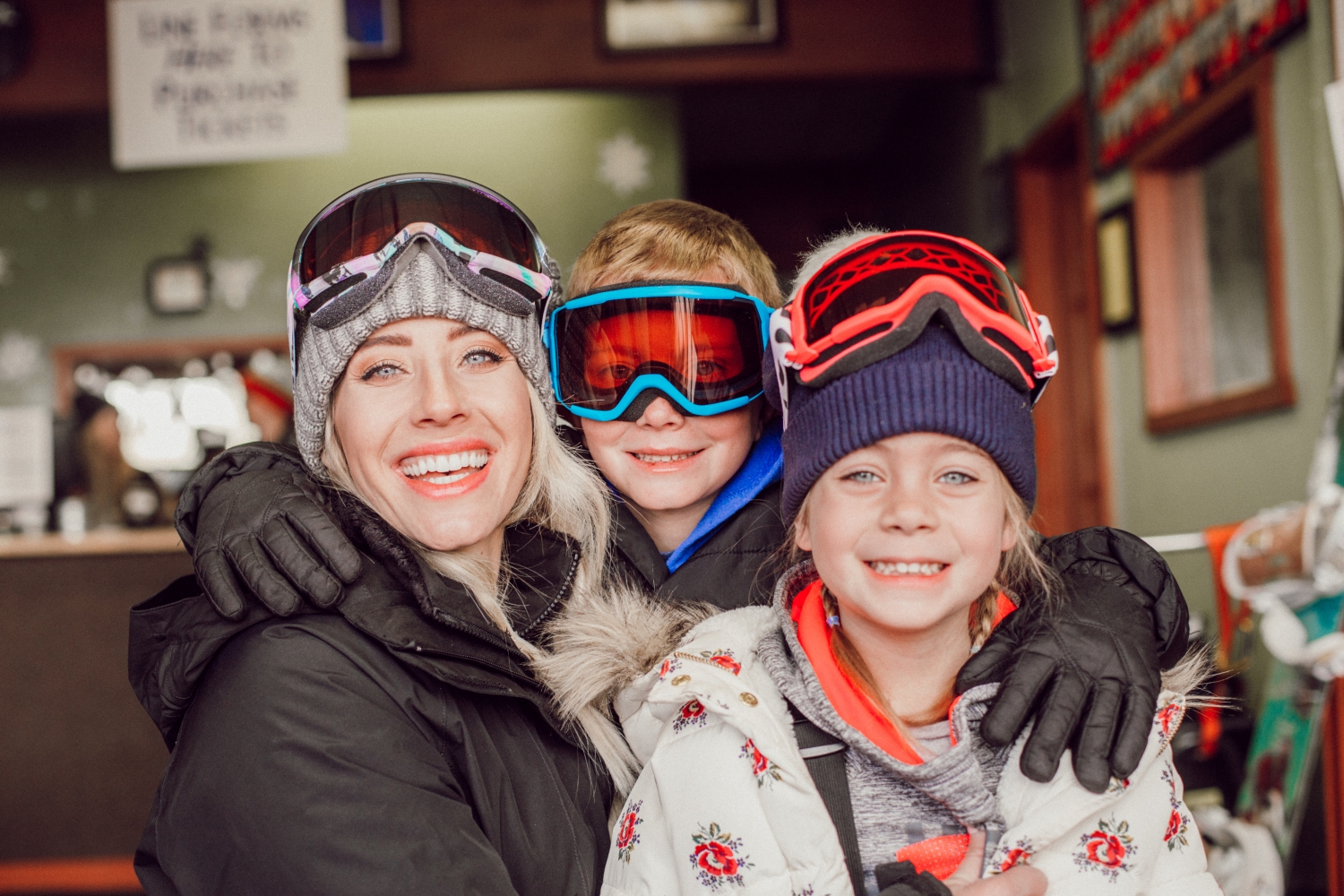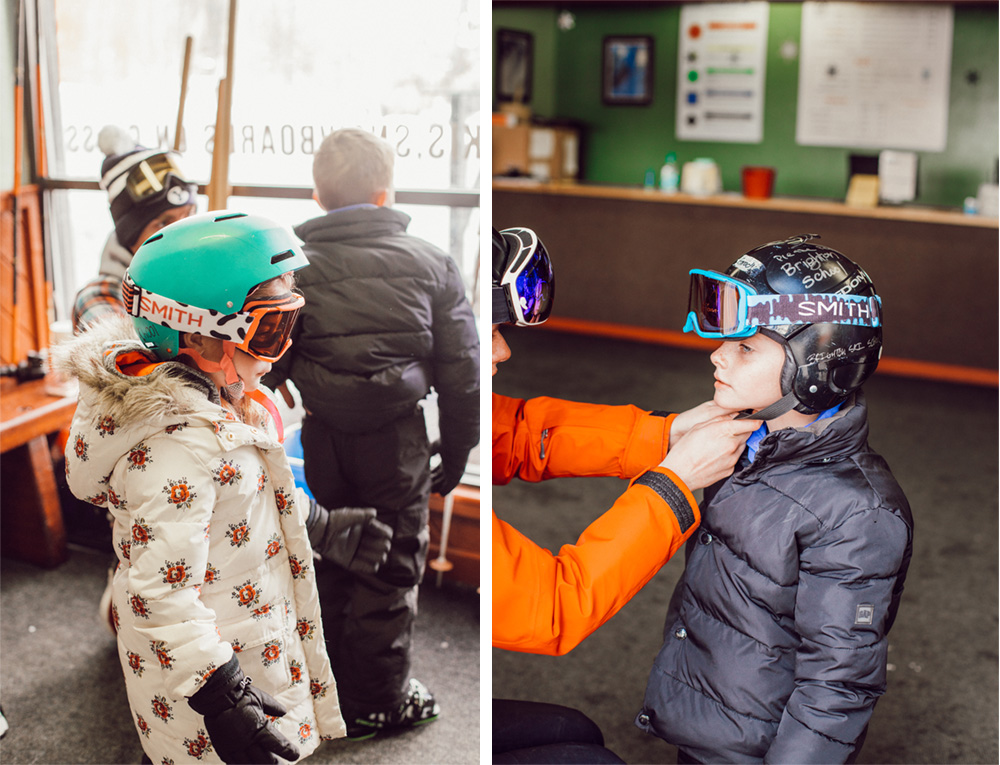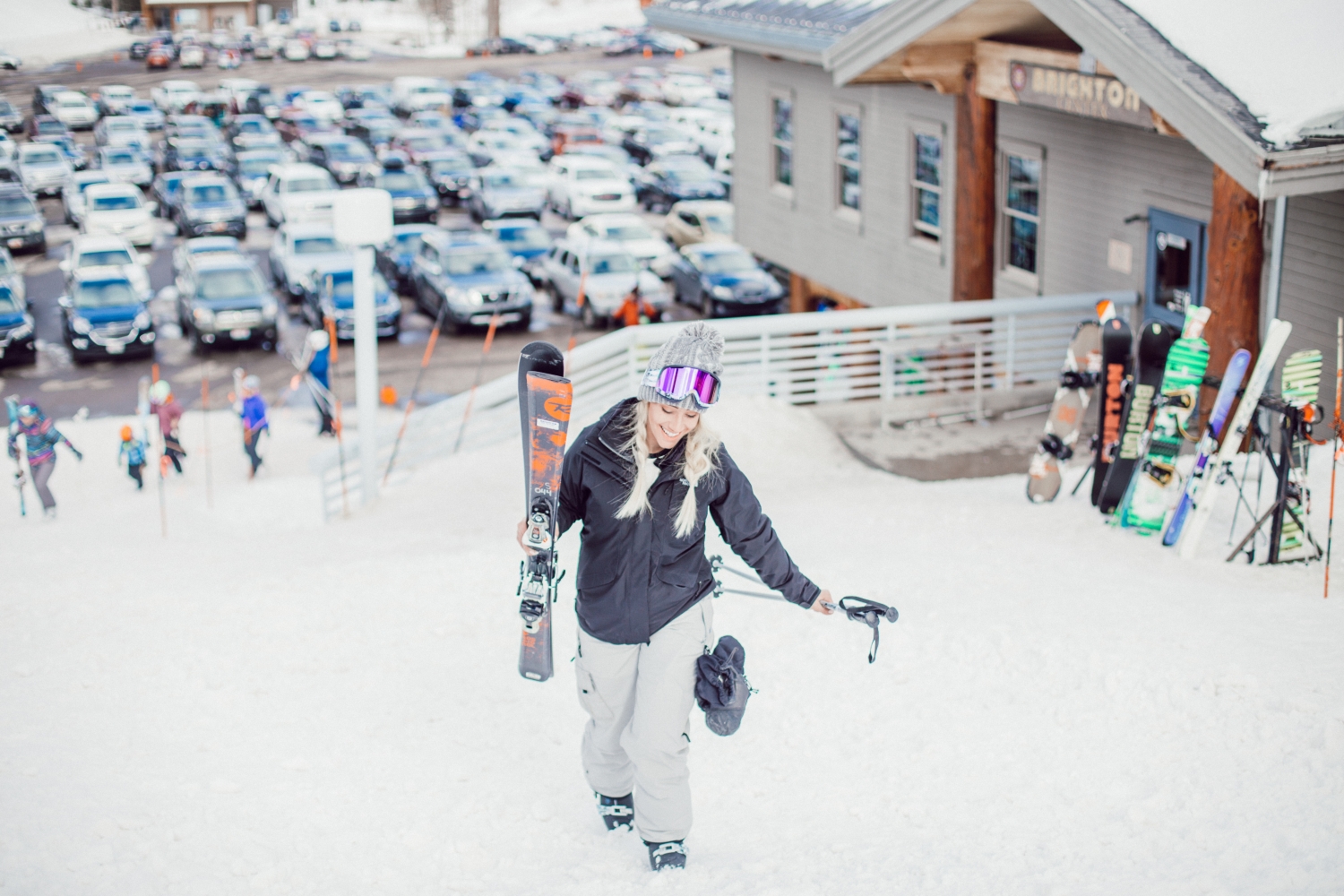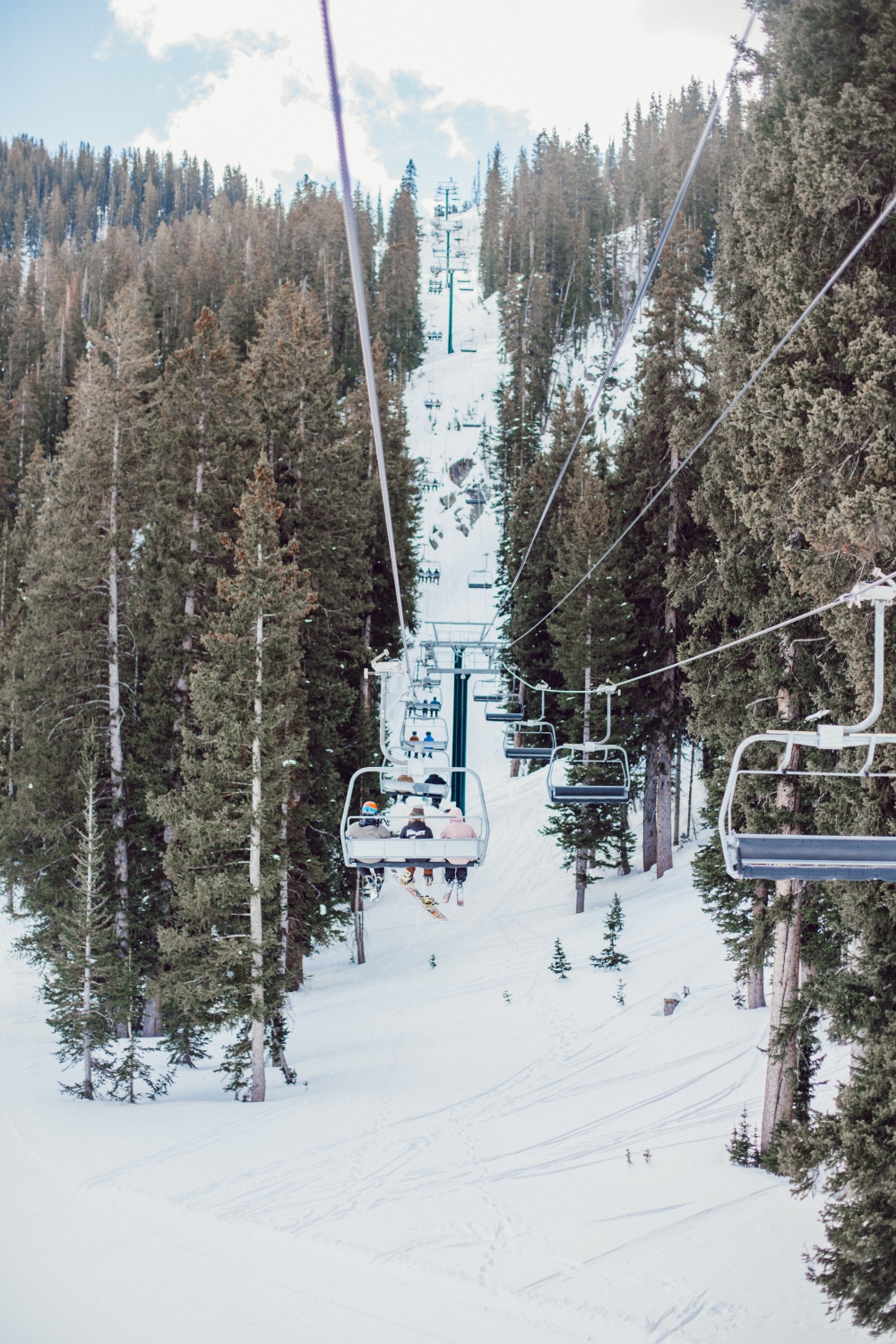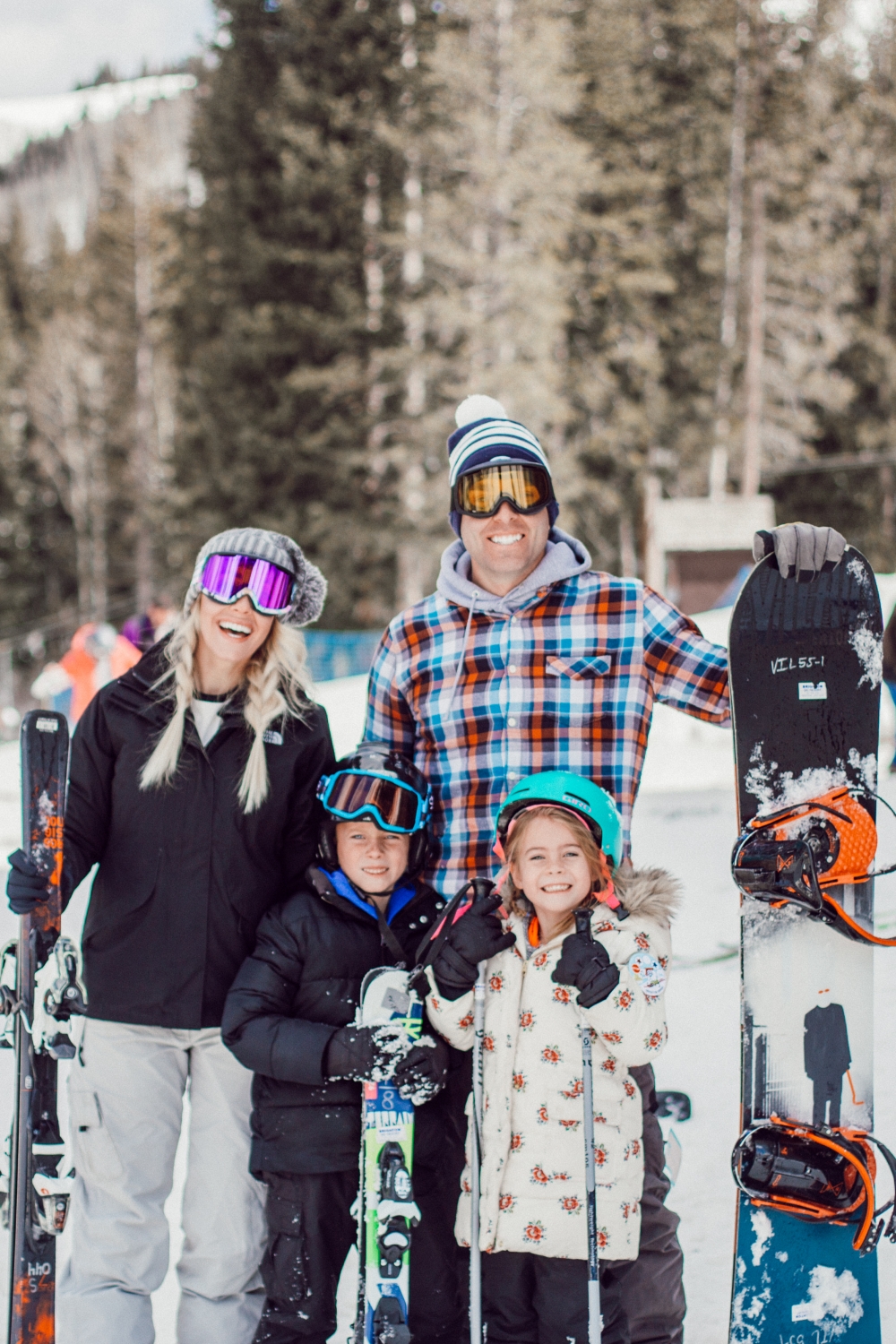 Brian enjoyed falling down the mountain and I enjoyed laughing at him. In his defense, he'd only been snowboarding a few times back in college. When we picked up the kids for lunch, we got him a snowboarding lesson that helped a ton! Next time we go, we're gonna have him take a couple ski lessons. The rest of us ski and it's hard for me to help both kids as the only skier. And just thinking a few years down the road when we have Kai and Coop with us, it'll be a lot better for Brian to be on skis!
Getting lunch at the lodge totally brought me back! I grew up in Layton and Brighton was always my parents resort of choice + it was the closest. It was so nostalgic to be back at that lodge. I remember eating the same burgers and fries and just like Savy, demanding a hot chocolate with extra whip cream!
Brian left for his lesson during lunch and I took both the kids straight to the bunny hill… having no idea what I was getting myself into haha!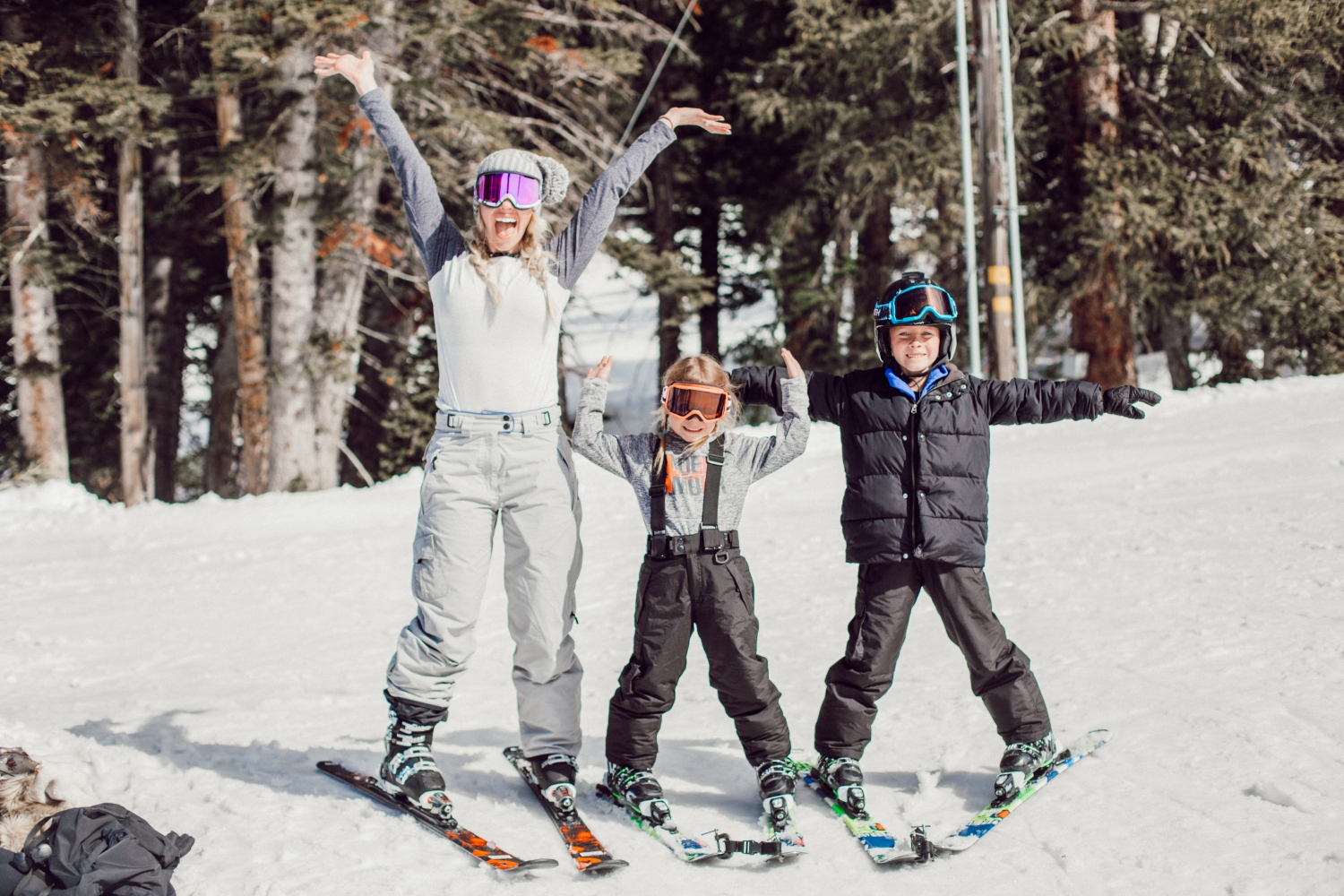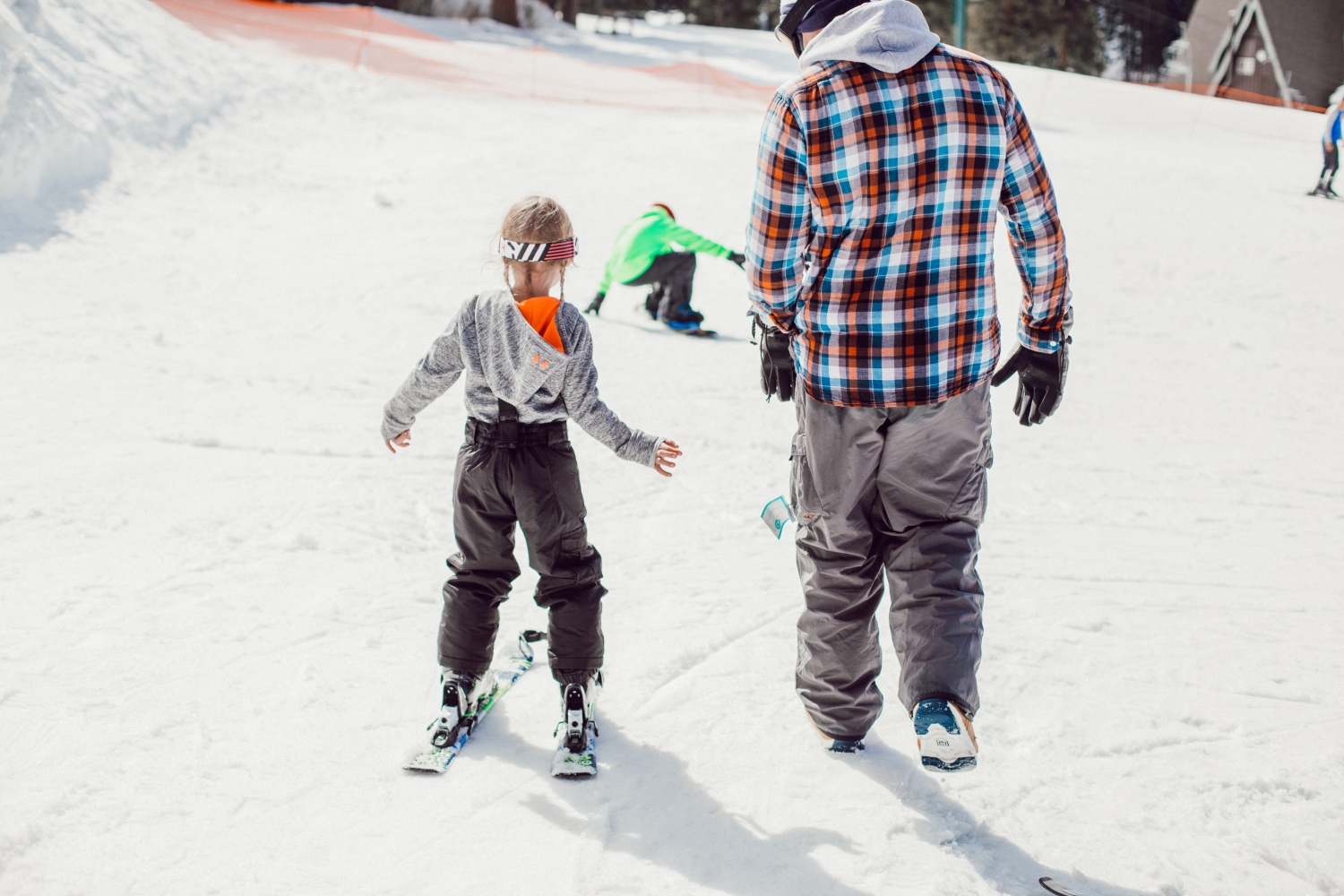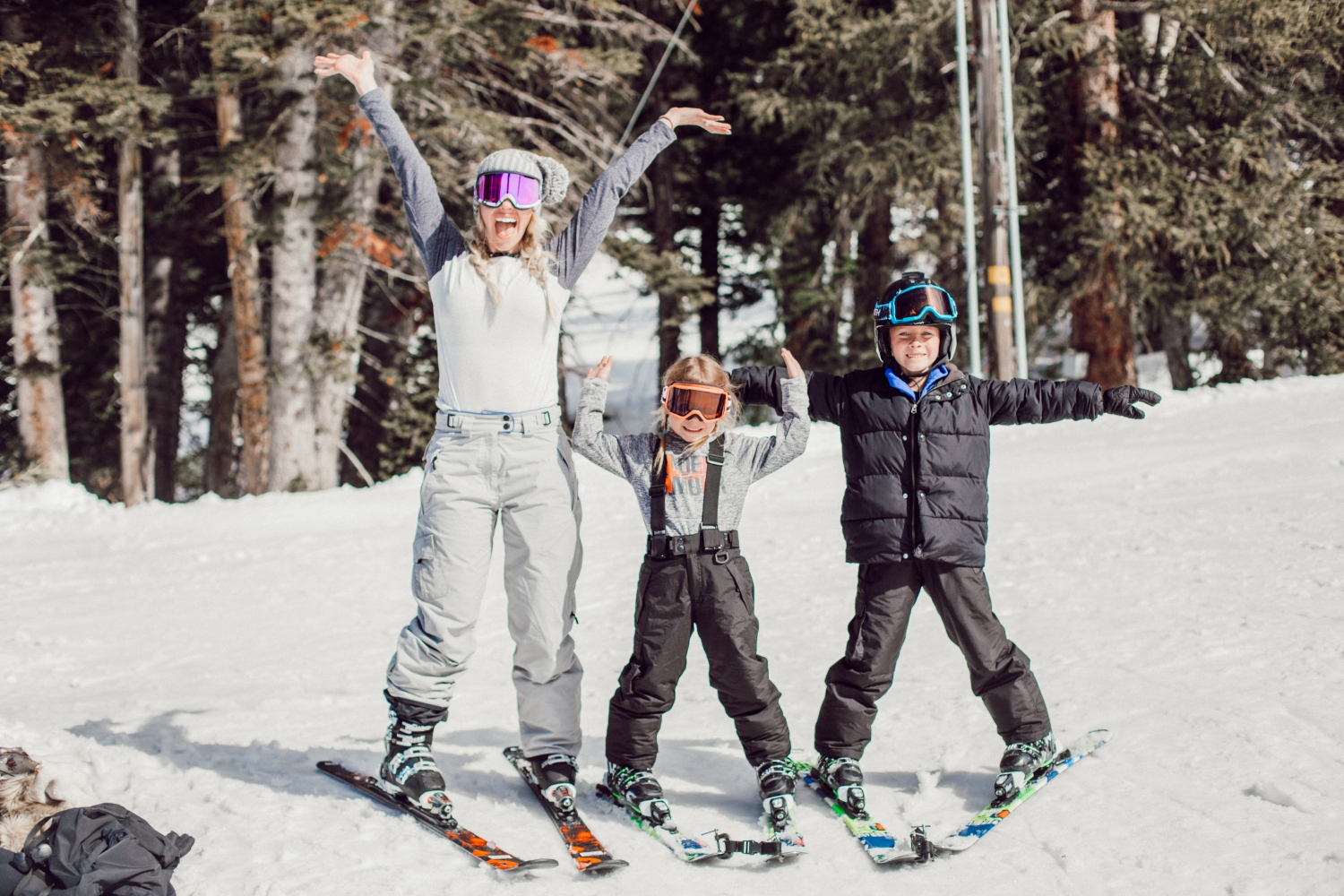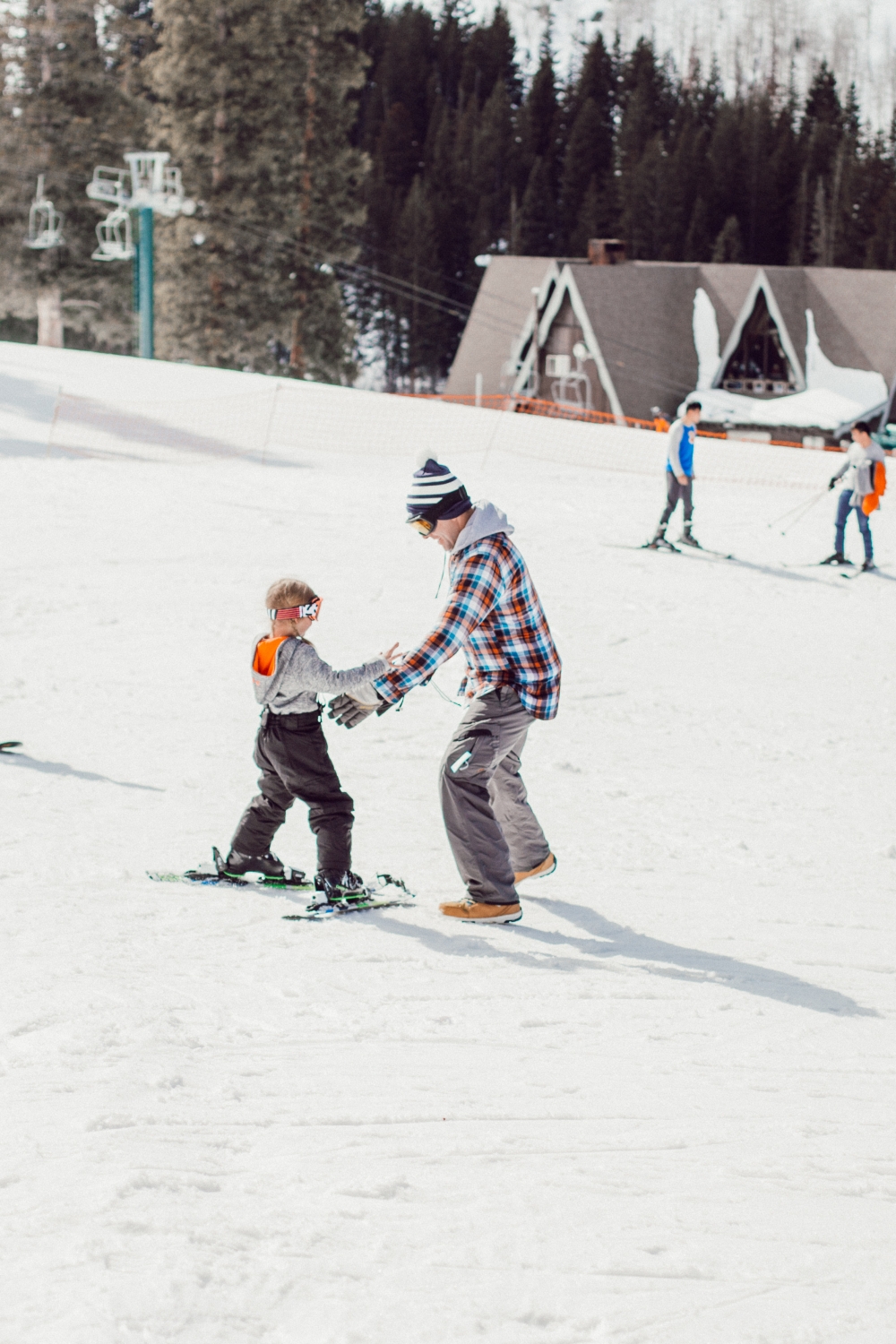 That long black track you see below is what they call the magic carpet. We spent most of the afternoon here helping Savy. It's this tiny little hill, smaller than the bunny hill that beginners learn on, and then you ride back up on the "magic carpet". Do you see that orange netting above? The first ride down I just let Savy go to see what she was capable of and she zoomed right into that fence. There's about a four foot drop off there and she was just hanging in the middle of it, tangled in that orange fence. People from the lunch tables outside came running and I was totally useless because I had to catch up to her and take off my skis! The next run, she almost ran into a tree. After that, she started getting a little bit better and when Brian got back from his lesson I made him walk down with her while I took Boston down the bunny hill!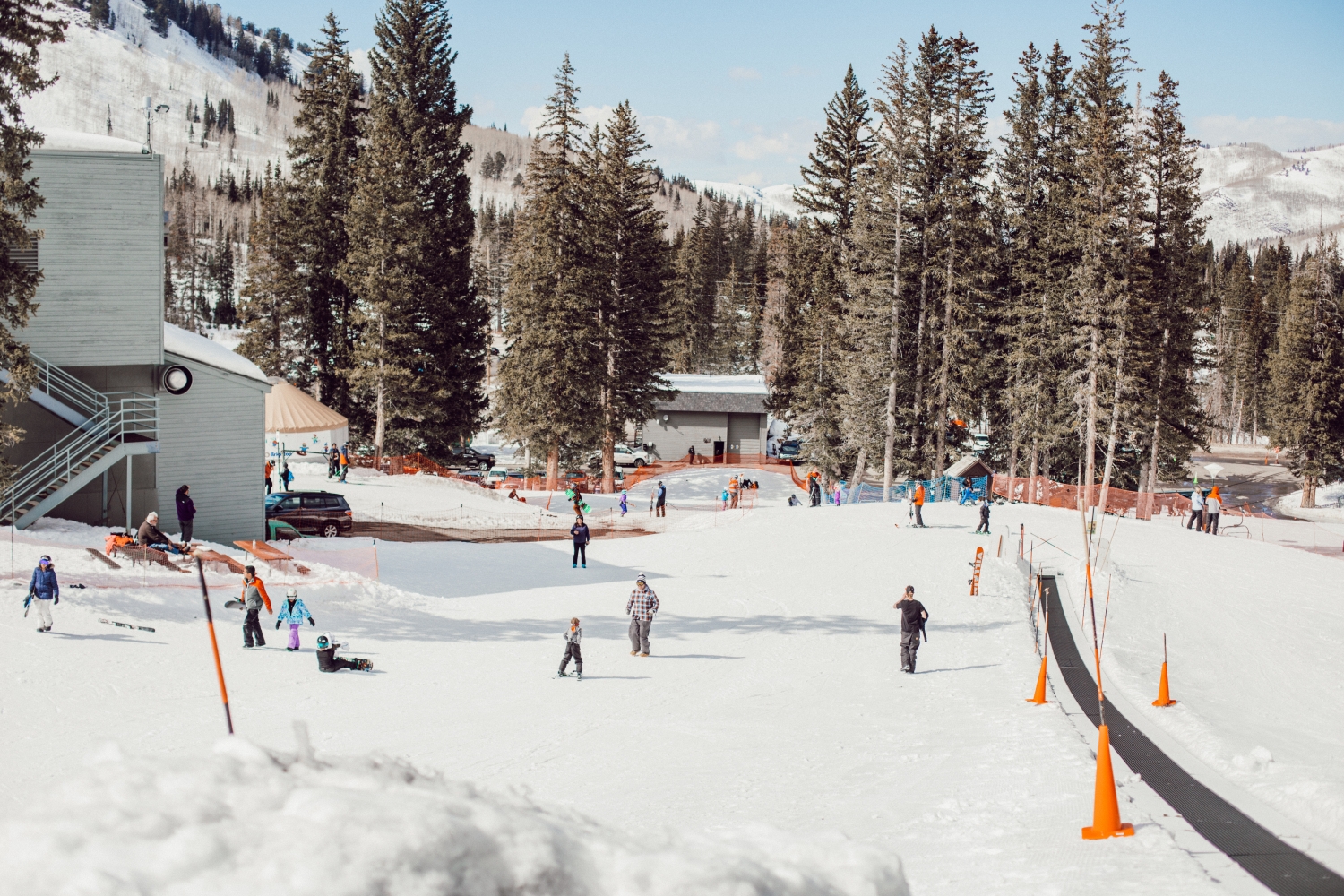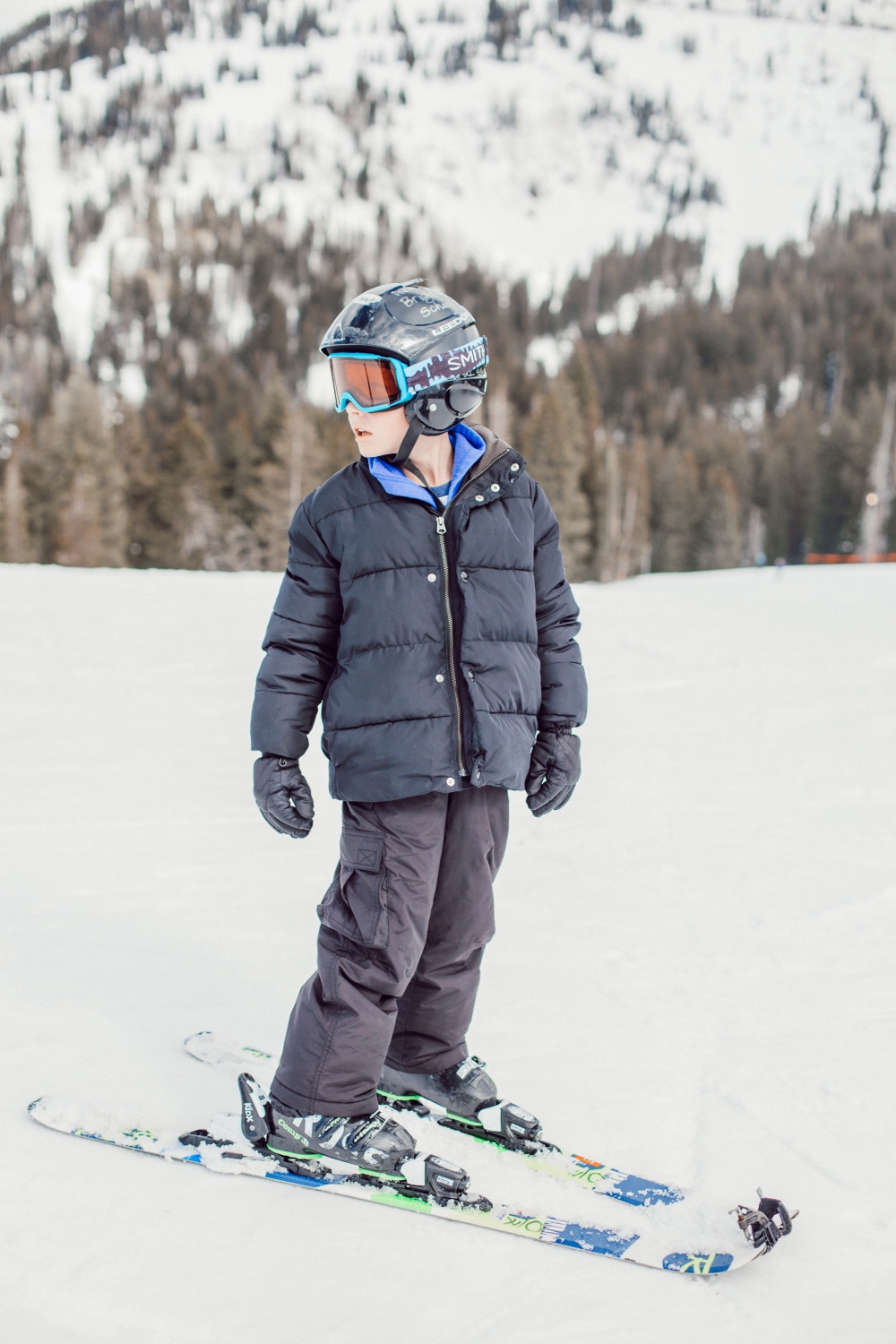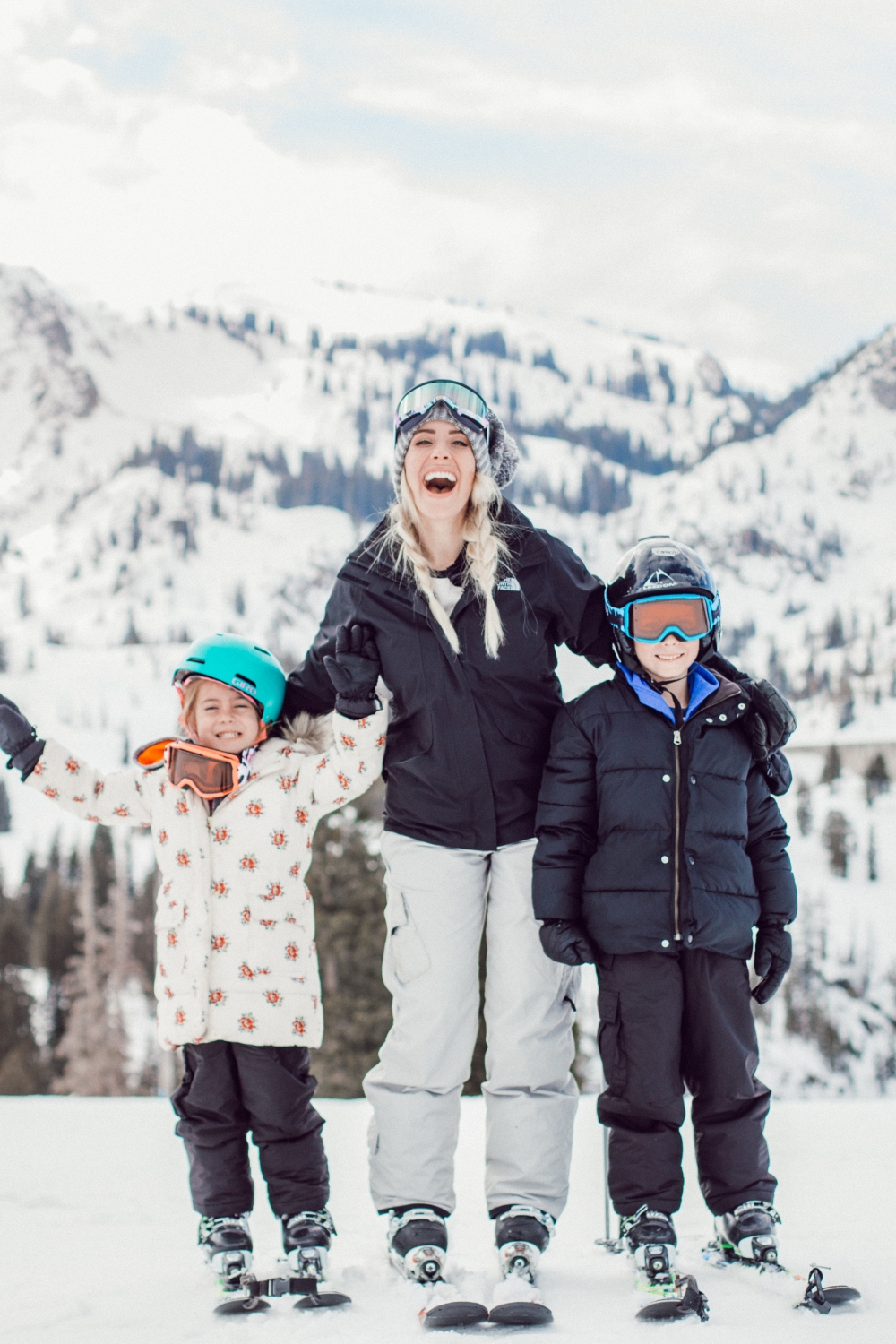 It was such a fun day! I think Boston and Savy's ages were perfect. They're 8 and 6. Any younger and I'm not sure we would have enjoyed it as much. They were both so happy and so excited to be there. Determined to learn as much as they could and they didn't complain hardly at all. We had such a great day hanging out together! Day in and day out, the majority of our time and energy is spent on keeping our little two year old twins alive and happy! These little day trips with the big kids is such a great opportunity for us to spend quality time together. One day we'll all go down double black diamonds and it'll be awesome, but for now I am so happy spending extra time eating lunch in the lodge and going up and down that magic carpet!
If you're ever in Utah during ski season, you need to check out Brighton Ski Resort. They're the most family friendly resort in Utah and they're known for their ski and snowboard school. They've got private lessons and daily group classes so you can give your kids or even yourself a better experience up on the mountain!
Have you ever been skiing? Have you ever taken your family? I'd love to hear how you guys do it in the comments!