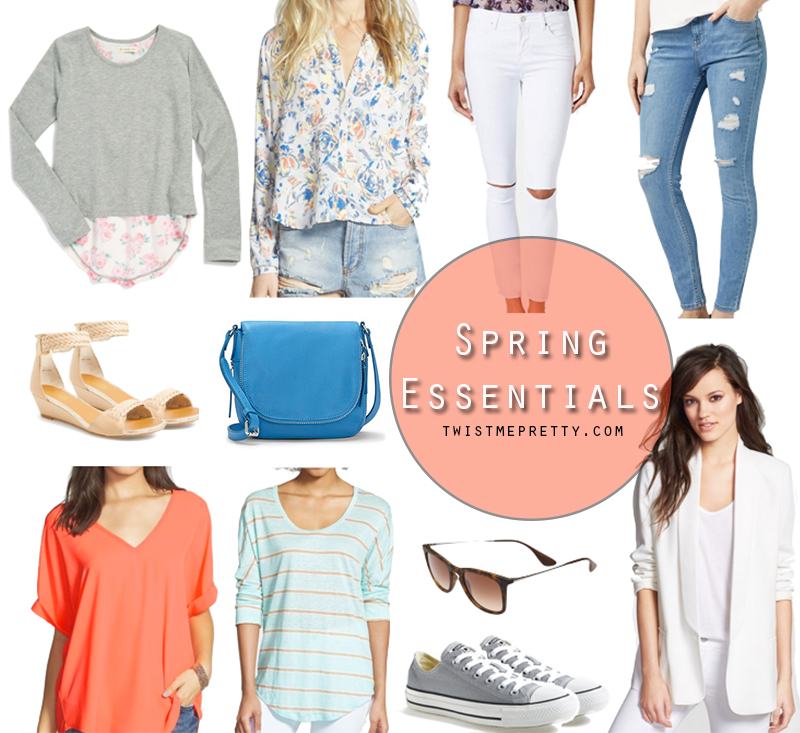 Boyfriend Blazer | White Jeans | Distressed Jeans | High Low Top | Floral Tee | Coral Slouchy Tee | Striped Linen Tee | Colored Crossbody Bag | Grey Converse | Ankle Cuff Wedge | Sunglasses
Because spring is here for most of you and hopefully, fingers crossed, right around the corner for me – I thought I'd put together a little mood board of my favorite items at Nordstrom right now. Pretty much the only places I shop these days are Nordstrom, Amazon and Asos because they offer free return shipping. There's nothing worse than buying things online, (because what human has time to actually shop in stores, let alone a human with two tiny humans who cause serious stress and two humans currently growing in her belly) finding they don't fit and having to either pay for return shipping or drive to the store to return them. Ugh. Nothing worse. Okay, I can think of like 100 things that are worse, but it's still annoying. All these items are from Nordstrom, decently priced, and essential for Spring.
Two jeans, one blazer, one light sweatshirt, two slouchy tees, some converse (because those are a must and I've been eyeing the grey color) some sunnies, a bright bag and some wedge sandals. Now you are set for ever with like… 25 different outfit possibilities! Who is good at math? I'm sure it's not 25 but there are a ton of variations here people!
Alright, now I'm going to go feel bad for myself because I can't wear any of these items and pound the mini chocolate eggs! Naturally 🙂