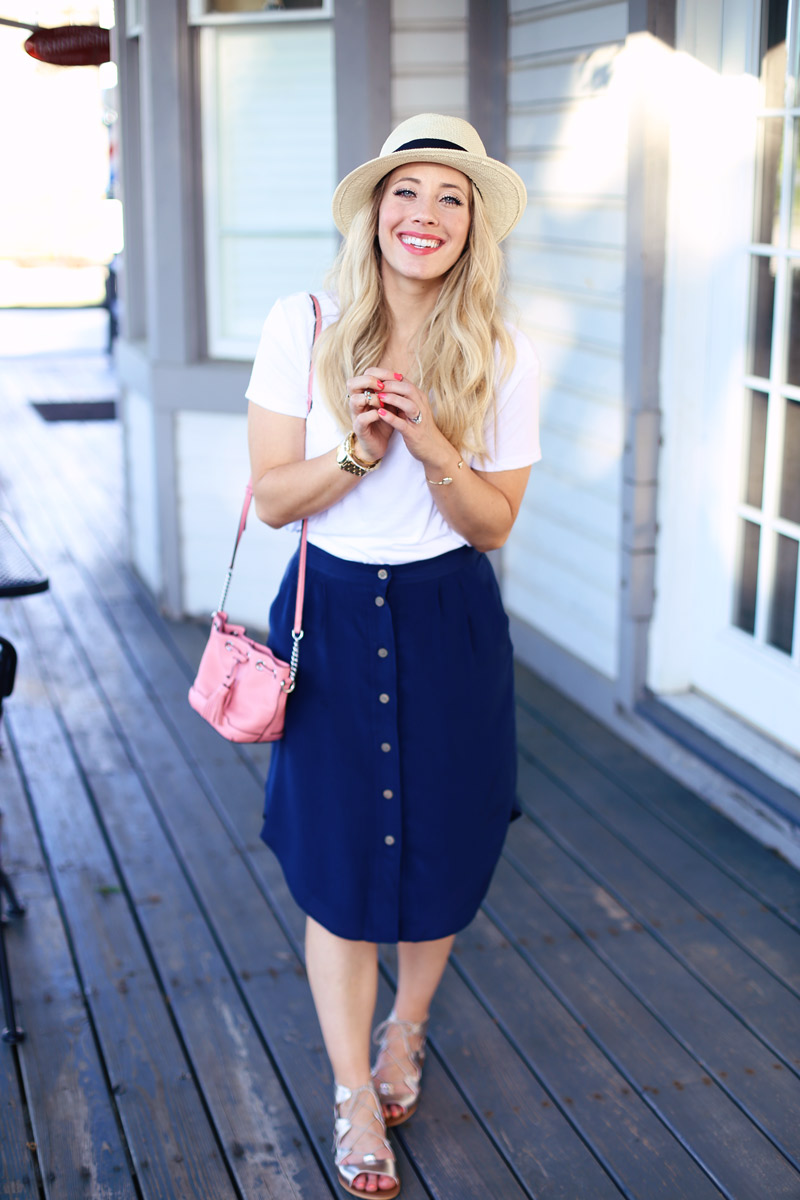 Oh summer. How I love thee. Have you guys had a great few weeks or what? I feel like all I wanna do is play outside, eat watermelon, and watch the kids run around out back. Ha, speaking of out back, I have a silly little story for you. Boston and Savy were out back playing on our new swing set and when they go out there I try to keep the gate locked. In the end, it doesn't do much because they just escape through the garage. Anyway, I thought the kids were outside playing when I get a knock on my door from a neighbor clear down the way I didn't even know.
These conversations always start off like this: "Do you have a daughter?" Then insert naughty thing here ____. Yesterday it was, "Do you have a daughter? She was outside naked the other morning running around in the street, I just thought you should know." Today it was, "Do you have a daughter? She was lost in the neighborhood and we notified the police."
Of course you did.
I'm actually very thankful — VERY VERY thankful — for neighbors who watch out for things like this, because, I hate to say it, but I can't be around all the time for the bigger kids while I'm inside watching the babies. Especially when I think they're safe and sound in our backyard. So I'm very grateful they were aware of her and were trying to help her find home. So we had a little talk, the same talk we have every day about not escaping, and then a few minutes later the police came by. This would be the second time in a week the police have stopped by. Hahaha!!! Gees.
They were really nice, gave the kids some stickers, and checked out the home, making sure I was a good, fit parent. I hadn't showered. The house was a mess. The babies woke up from their naps while they were here and started crying. I'm sure I looked like a really good and fit parent haha!!
I don't know how we're going to survive Savy. I don't know if it's a girl thing, but she consumes 95% of my patience and love. Do you guys have any great parent/kid stories you wanna share?!
Outfit details:
Navy Skirt | Similar Cross Body Bag | Similar Lace Up Sandals here and here | White tee (favorite EVER! If you're on the shorter size I'd recommend getting a petite cause it runs a little long) | Rings + Bracelets | Lipstick: Mac Lustering
Favorite totes that would've been sooo cute with this outfit. I need to get myself one, apparently: Striped Straw Beach Tote, Red Straw Tote, Remy Straw Tote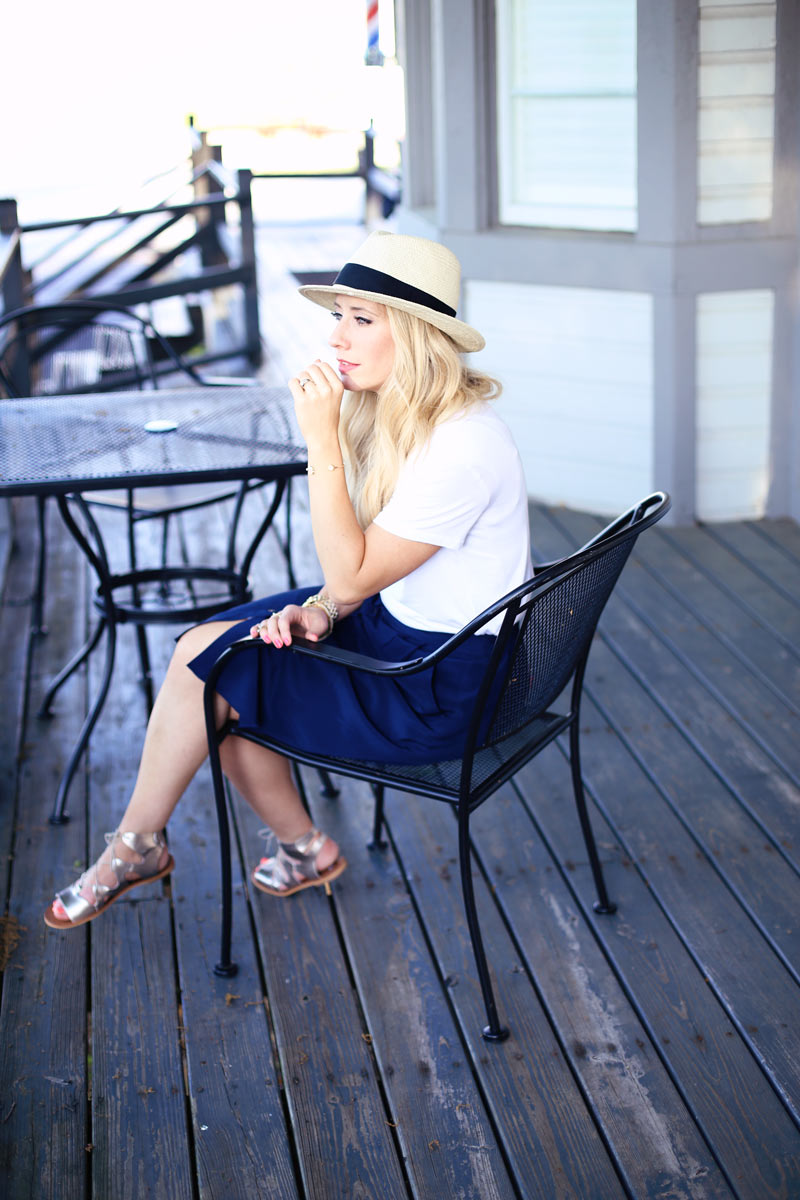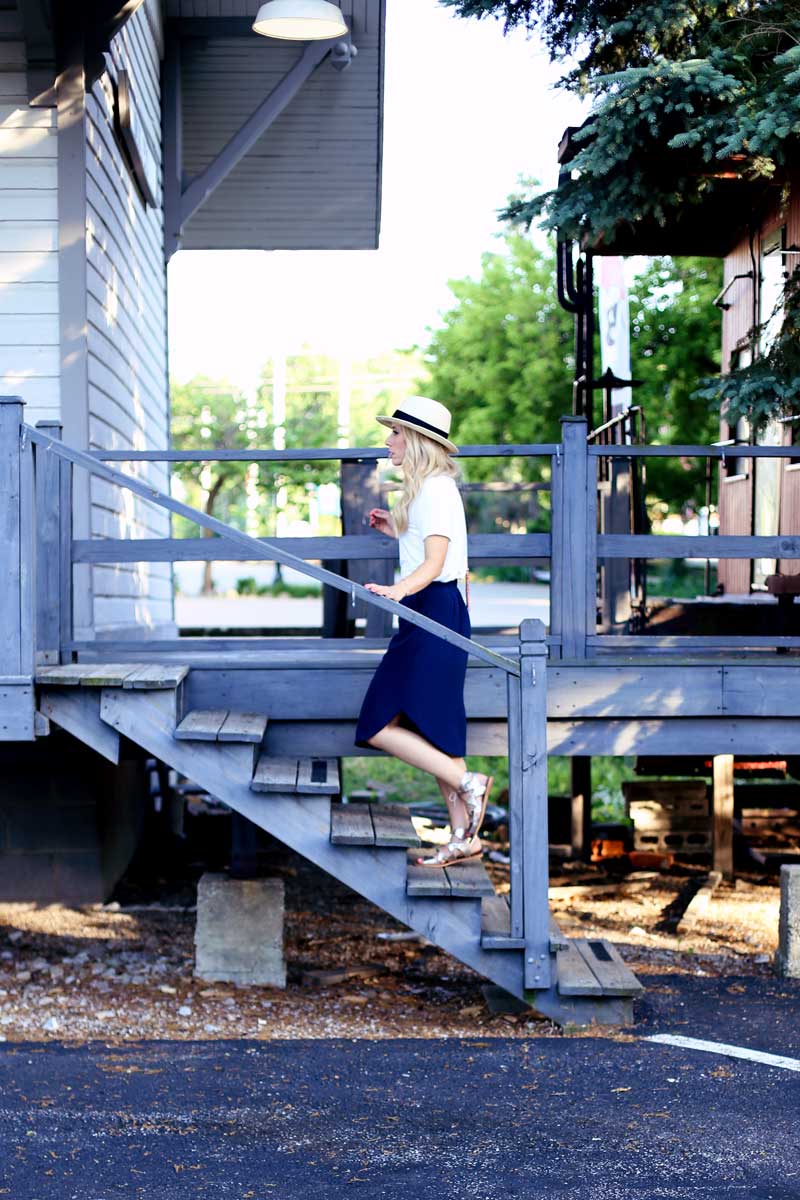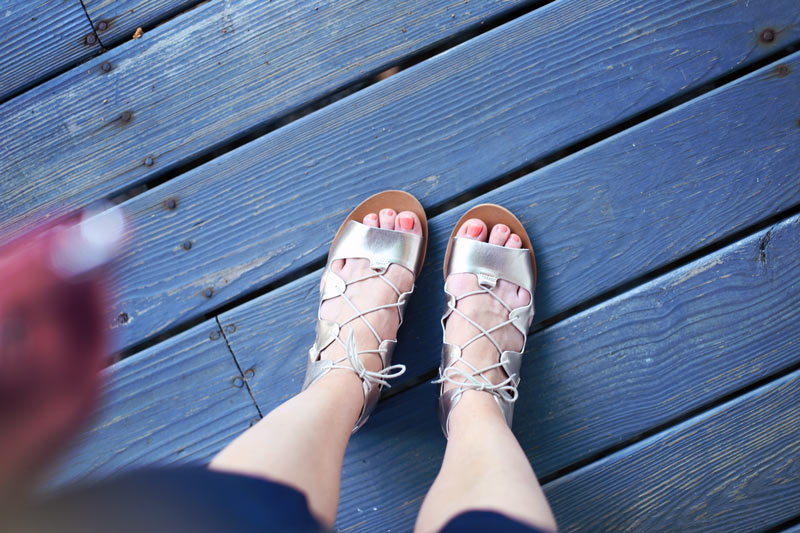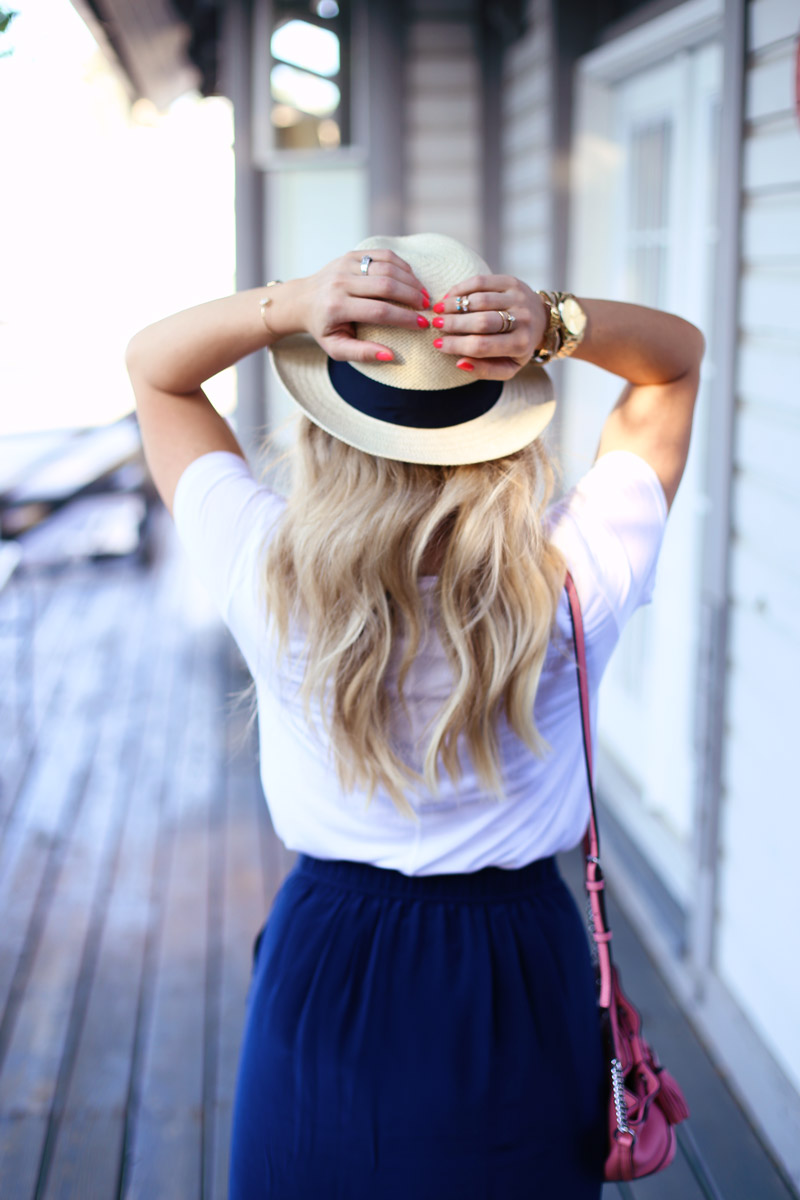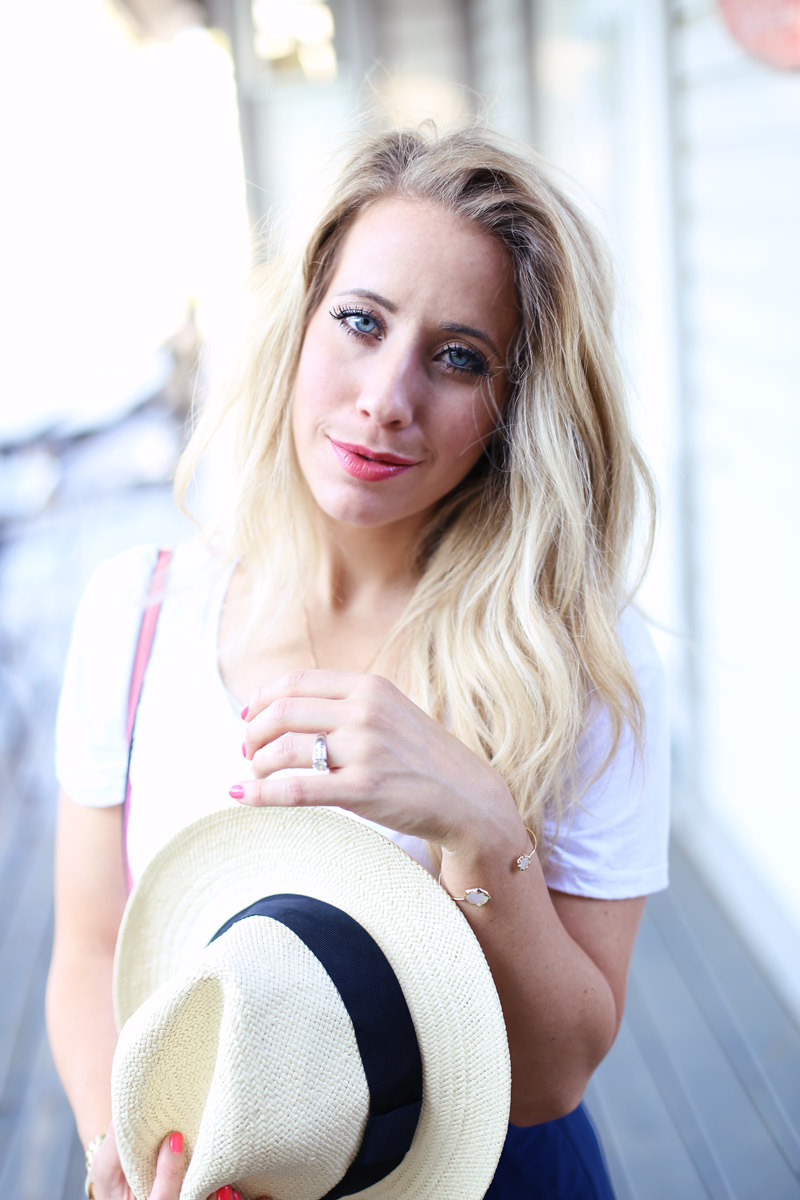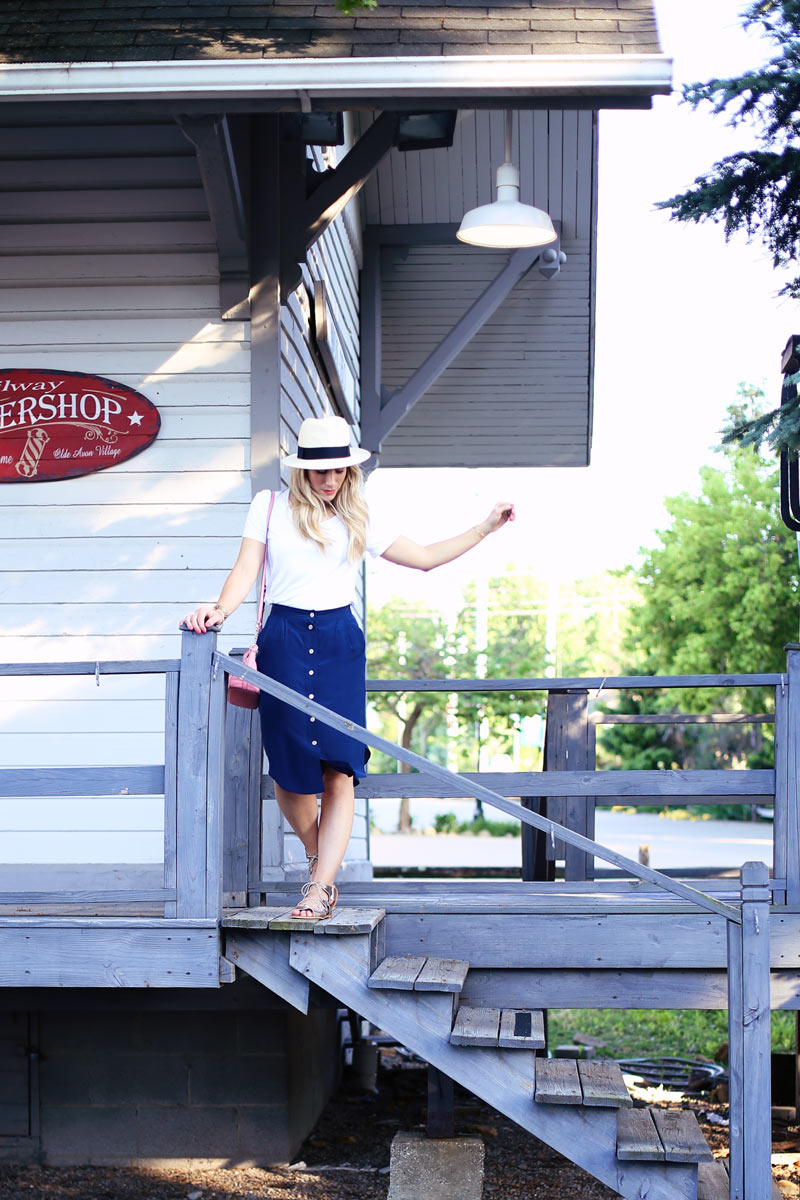 Outfit details
So this white tee is one of my favorites. I've been asked a bunch on Snapchat (twistmepretty2) if I have to wear a tee-shirt under it? Yes, I do. But I'll share a little secret. I have a few tees from layers clothing (cause they're the best) and I just chop it right around the bra line. That gives me a higher neckline minus the annoyance of layering. I know there are half-tees you can just buy but the layers tee's are so much thinner and I prefer their hems on the neck and sleeves.