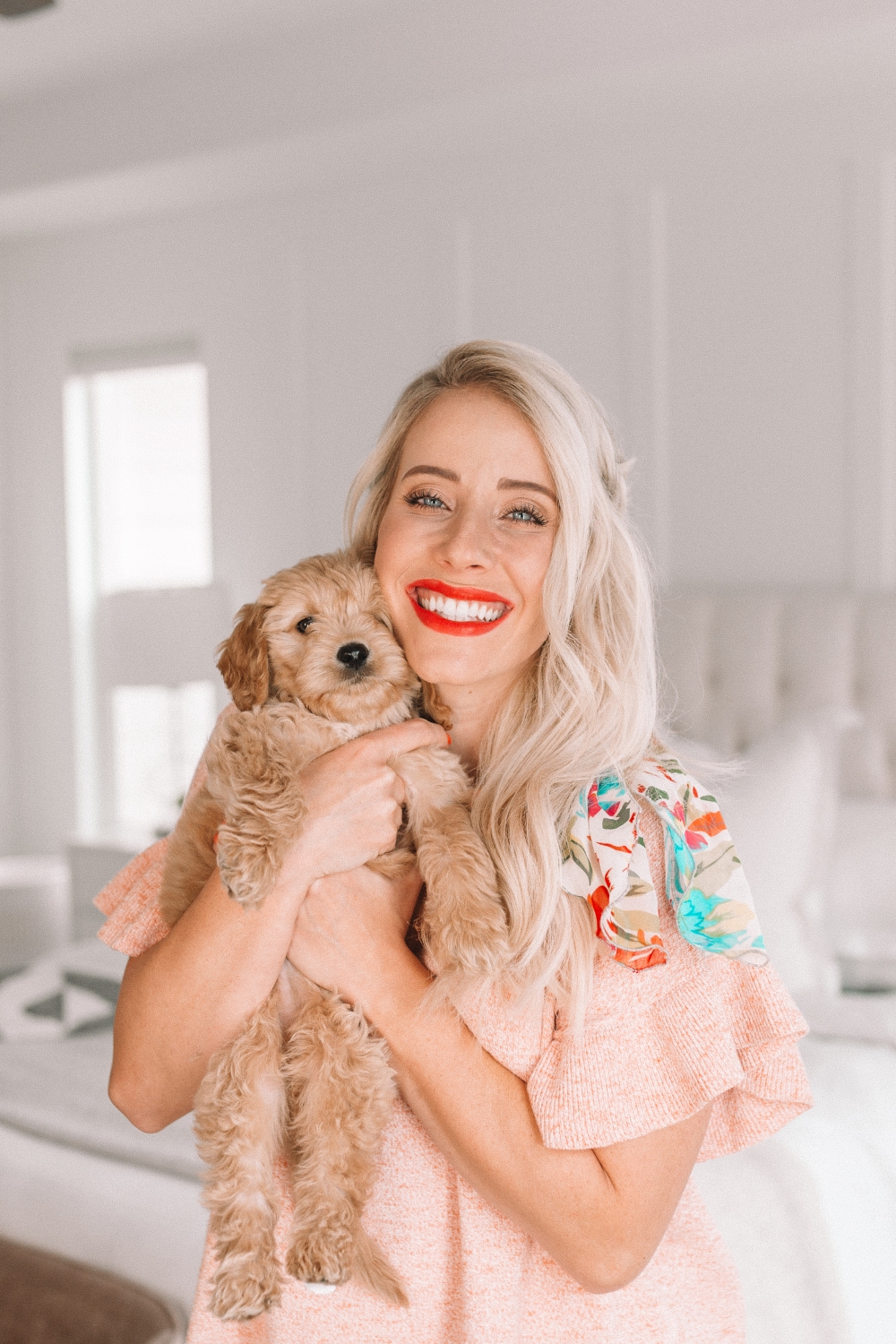 Hiiiii everybody!!! I'm back with a new hair tutorial — HORAHH haha! I feel like it's been ages since I've filmed anything so hopefully you guys have actually missed me and enjoy these back to school styles. I've got a bobby pin video coming up next and hopefully I'll have time to edit it before I head to CHINA!! Say what?!
If you missed it, I got super emotional on the gram and shared a big fat secret I've been keeping about starting my own brand. It's been a dream of mine since Savy was little and it's been a LOT of hard work to get where we are now and the time has finally come to approve our samples and hopefully move forward with sharing more. Anyway, check out my "dream" highlight on instagram @twistmepretty if you wanna hear more about that. We're of course extending our trip in China so that we can experience everything and I'll make sure to share where we go and what was worth our time! We are SUPER excited.
The next thing you're probably noticing is — PUPPY!!!!! OH MY GOSH HE'S SOOOO CUTE!!!!! I've been begging for another baby literally since the twins were born haha and Brian's just trying to silence me so he surprised us all with a mini golden doodle! While I love our little Wrigley and he's totally my little filming + editing buddy, I'm not sure he can replace a baby so we shall see if Brian's master plan works! Because of our last minute trip to China, we've put him in a little four week puppy bootcamp where they'll train him and love him and take really really good care of him. So right now we're missing our pup – a lot – but really excited for the future and what it holds.
Now that you're all briefly caught up on my liiiiiife – let's dive into these styles shall we?! Hairstyle #1 is super simple but realllllly pretty. I've just done combined two fishtail braids in the center and added a really cute head scarf!
Gahhhh oh my gosh. It's fine, these pictures are mostly puppies but are you complaining?!
Hairstyle #2 is a really simple pull-through braid! It's been AGES since I've done one of these! Let me know if you'd like a mashup of my favorite pull-through braid styles!
Are you dead yet? He's literally the cutest thing ON THE PLANET!!!
And Hairstyle #3 is a really pretty dutch braid with the side sections wrapped around the center. I love styles like this because they get your hair out of your face but they're still really pretty and elegant if you're wanting to look fancy for work or school.
Here are some of the products I used:
Gliss Shampoo + Conditioner + Leave in Conditioner
Alterna Caviar Cream
Klorane Protective Oil — it was fun to see my vide on Sephora's site this week!
Oribe Dry Texturizing Spray — super spendy but amazing and worth every penny
Living Proof Dry Shampoo
Kenra 25
If you're blonde, you should be regularly washing with a purple shampoo and this one is my favorite!

Annnnd of course the video. Love you guys, thanks so much for watching and always being so supportive of the content I put out!