So… I have a slight problem. I wanna wear normal clothes cause they're cute and make me feel girly buuuut… all I really wear is athleisure wear. I'm serious. If you ever see me in real life 9/10 I'm wearing yoga pants and a workout tee with sneaks and a top knot. Because lets get real for a second. I HAVE NO WHERE TO GO WEARING JEANS. Seriously. I live in my house or at the gym or at the grocery store or running kids to and from school and NONE of those situations/locations are fancy enough for me to put on pants. I actually have some reeaaal comfy jeans that I'd wear if I had to but they're NEVER as comfortable as actual leggings. #amiright? What I wanna know is when do you guys wear jeans? If it's date night, then it's acceptable. If it's work, a work meeting, a play date with other moms, acceptable. If it's to your kids school program, acceptable. If it's to the park, if it's to run errands, if it's to shuttle kids to and from anything, it is unacceptable. Go throw on some freaking leggings already!
Haha!! Okay WOW. So that was a slightly aggressive/dramatic/exaggerated rant but I'm just in a mood right now so I'm rolling with it. If you want to live in your athleisure wear (why is that not a word in the dictionary? IT'S SPELLED RIGHT AUTOCORRECT!) there are a few tricks to doing it right:
1. Just because you wanna be comfy and wear workout clothes all day, does not mean you need to let people know you're a hot mess. Find stylish outfits that make you feel put together even WHEN you're a hot mess! Illusions people. It's all about illusions. ?
2. Do not wear leggings as pants. But Abby, you just said you live in your yoga pants!!!! I know, I know. When I wear my yoga pants, I always have a high/low shirt on that covers my booty or I've tied a button up around my waist. The truth is, leggings are not pants. And I'm talking the cotton leggings that show ALL of the things if you know what I mean ?. If they aren't thick, if they aren't compression, if they look more like tights than pants, cover up that booty!
3. Invest in quality sports bras. When you find a sports bra that fits you right, that gives you just enough padding and push up, you will never want to take it off. And when you put on your regular bra you'll be like ewwwww nooo!!!! Unless you've been fitted by Bra Fittings By Court, at least so I've heard. One of these days I'll get in to her because I cannot find a good bra to save my life!
4. Invest in some really cute sneaks! I've been obsessed with sneakers lately — I am so happy they're trendy right now!! A cute pair of sneakers will totally transform your basic black workout pants and tee. Throw on a cute baseball cap + zip up hoody and I swear you'll look put together.
Anyway, I guess all I'm trying to say is that when your athleisure wear is cute and feminine, when you feel confident in knowing you can pull it off for any occasion, then there's really no reason to be bogged down by jeans and underwire because people are gonna think you're just as beautiful and amazing no matter what. ??
And because we're on the subject… (haha how convenient ?) I'm sharing a few of the things I'm eyeing. They're literally all in my cart right now and I HAVE to narrow it down. Ugh. Why can't I just have all of the things?! haha! I don't have many track pants so I think I'm gonna get the black nike track pants and the free people leggings. Yikes they're pricey but I love the way Free People fits on me and I know I'd wear them so much!
What are your favorites?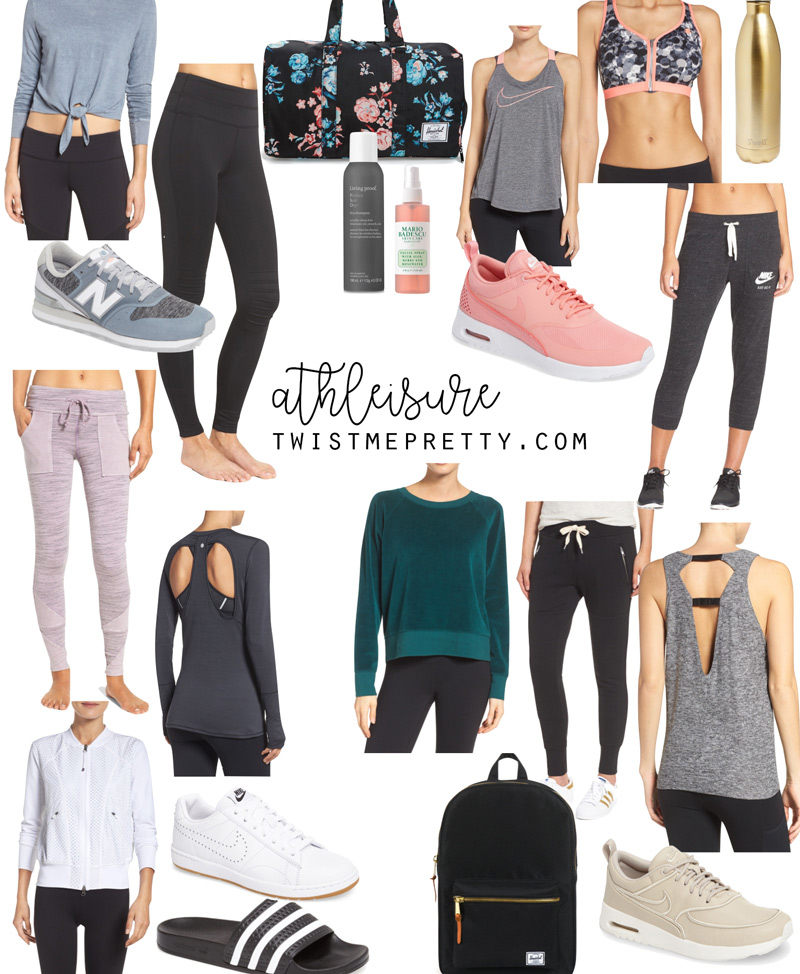 Shop everything here!