Hey everybody!!!! I'm really excited to finally share our trip to Soldier Hollow with you guys. There are so many amazing things to do in Utah and my plan is to document our adventures and share some of our favorite spots with you guys. Then you can know where to spend your time and money if you ever find yourself visiting!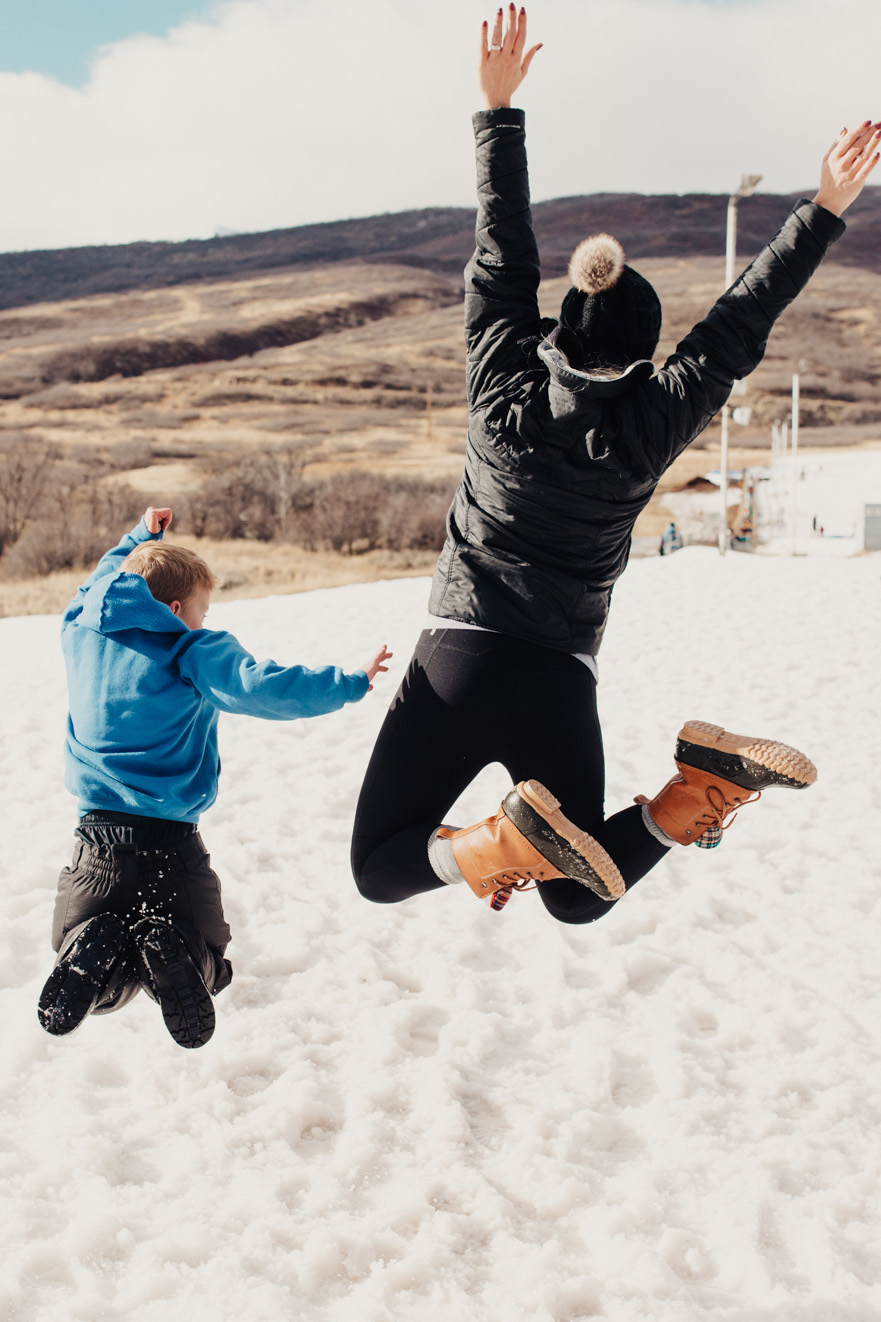 What and where is Soldier Hollow?! Soldier Hollow is in Midway, Utah and boasts the longest tubing lanes in Utah. The lanes are over 1,200 feet long and there's a lift system that pulls you to the top of the mountain. It's honestly a perfect way to take advantage of Utah's beautiful winters!!
What's the cost? It's a little bit pricey, $24 for adults on the weekends and $20 on the weekdays. Rest of the pricing can be found here. You have to reserve a spot on the mountain since there is limited space, the times available are listed on their website and they're available in two hour sessions.
Was it worth it? It was REALLY FUN and I think it was well worth the money, but the slopes weren't as steep as I thought they'd be. I was expecting an experience similar to the hill you tube down at the Olympic Training Center (watch our vlog here) which is crazy fast and definitely not appropriate for kids. The weather here in Utah right now is pretty ridiculous. It's in the 50's, we've had hardly any snow and so everything up on the hill was man made. I think it made for slower speeds and at times Boston got a little frustrated cause he'd have to keep jumping off his tube mid ride to get himself going again. If finances are an issue, my suggestion would be to wait for the good Utah snow and maybe you'll see faster rides? But it was still fun, and such a great experience for us!
Can you take toddlers? Technically no. The issue is that riders cannot double up. My twins would have for sure jumped out of their tube, or not gone fast enough to make it down the hill. The employees weren't paying any attention to us though and we rode several times with Savy on our laps. So you could maybe get away with it? We thought of taking the twins and letting them play in the snow at the bottom of the hill while Brian and I took turns tubing down with the big kids, but we just weren't sure what the space looked like and if there was room. There was definitely room at the bottom of the hill to hang out, build snow men, eat lunch haha, so taking the boys (2.5) and letting them play in the snow while we took turns definitely would have worked and that's what we'll do next time.
Best time to go? During the week, middle of the day. Most kids are still in school and you pretty much have the place to yourself so it's low stress and more riding time. I hear weekends get crazy crowded and they limit spots so if you don't reserve one in time there's a good chance you won't even get a ticket.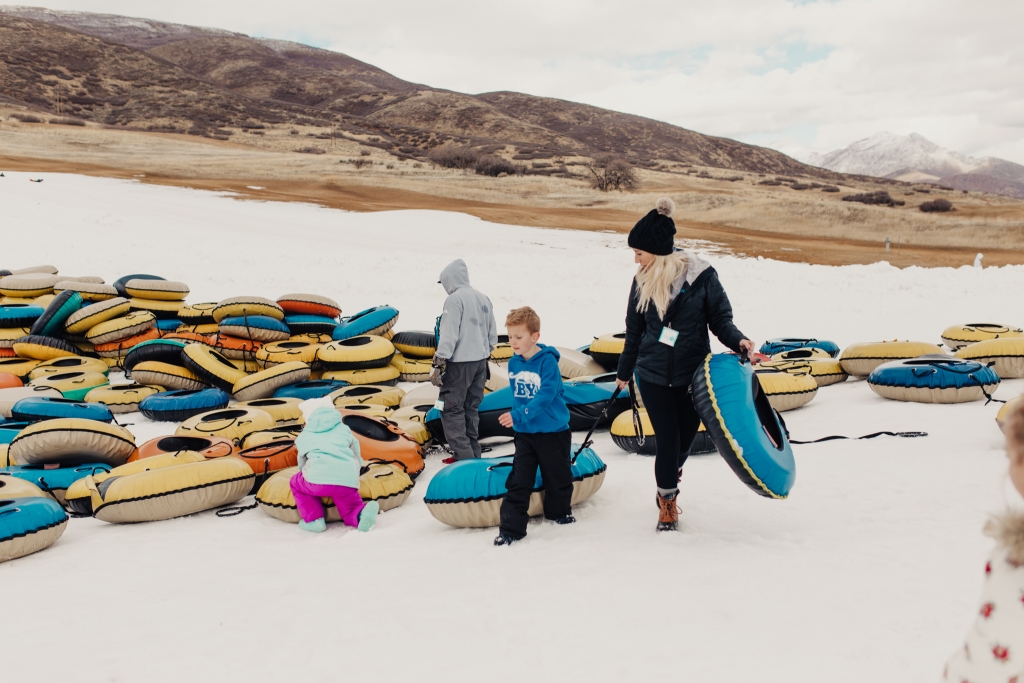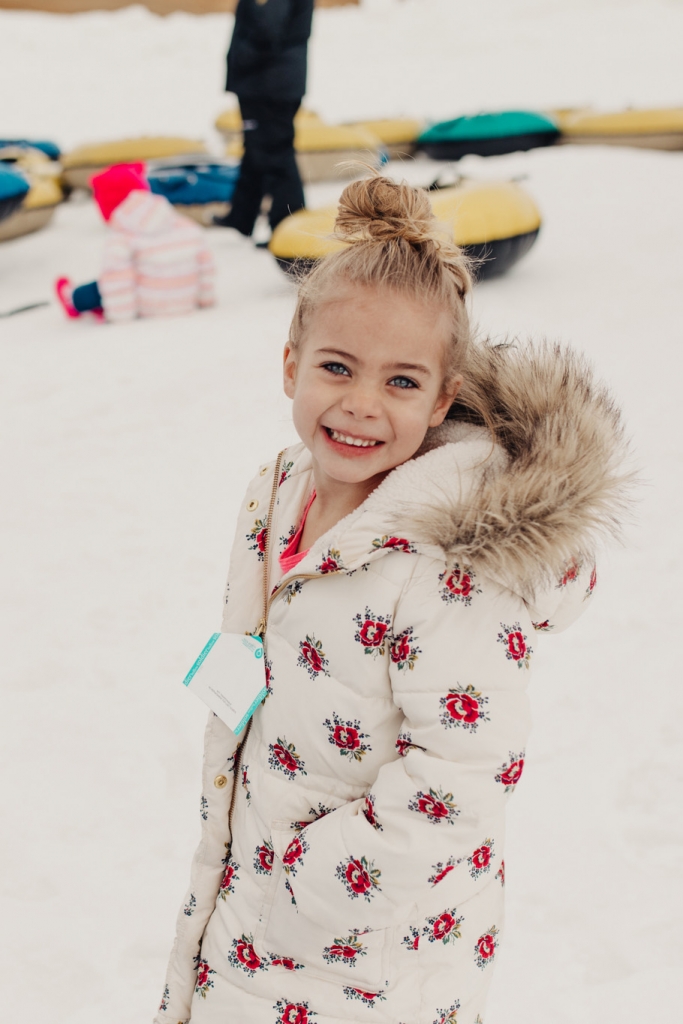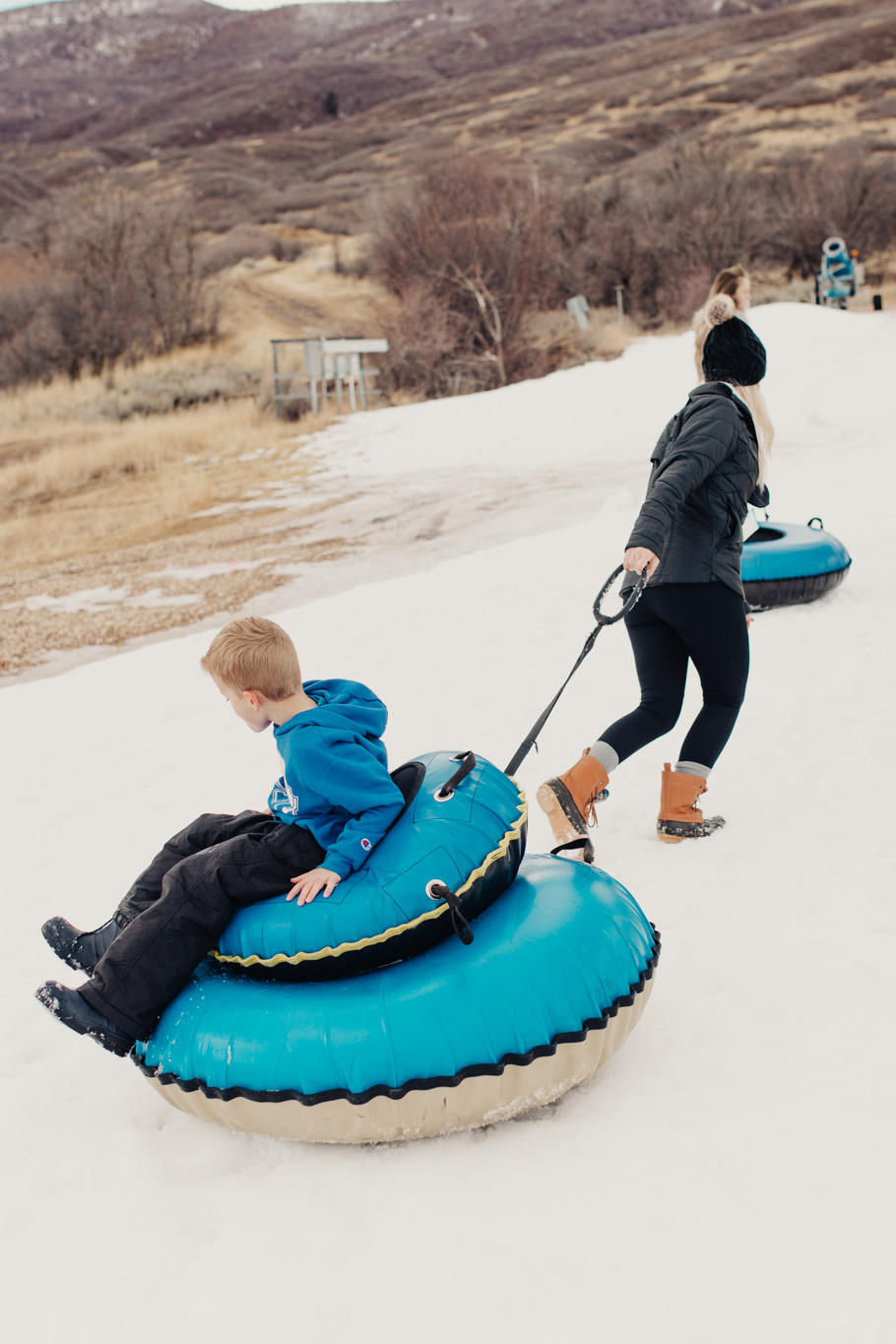 They have smaller tubes for the kids!! Make sure they ride them. If they ride the smaller tubes, it'll help them go down the hill faster and not get stuck as easy.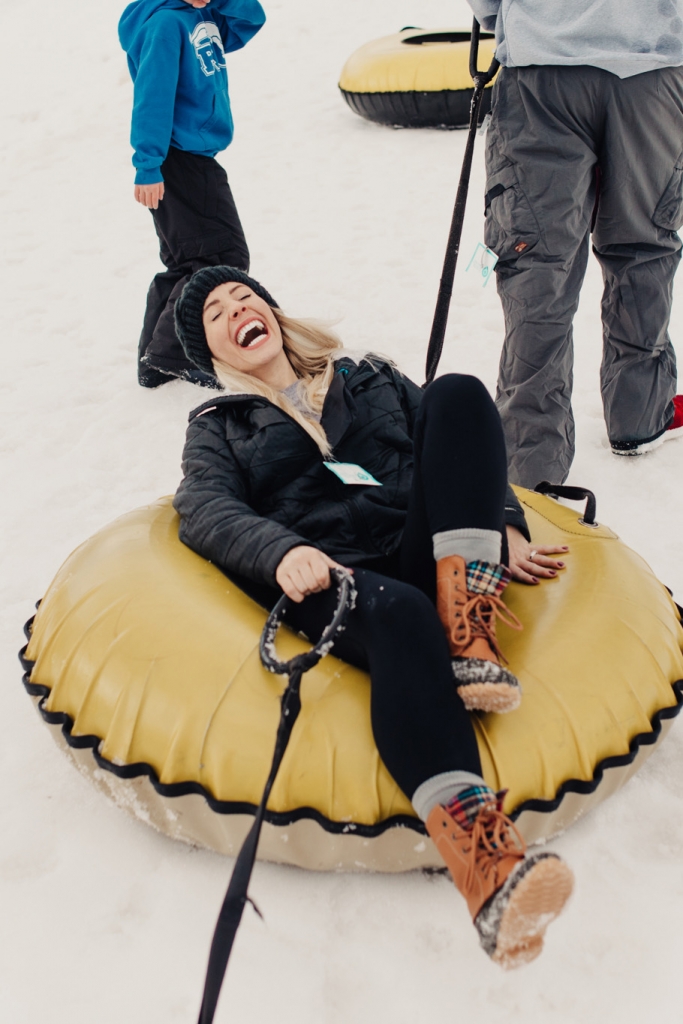 The lift stopped just long enough for us to take a picture!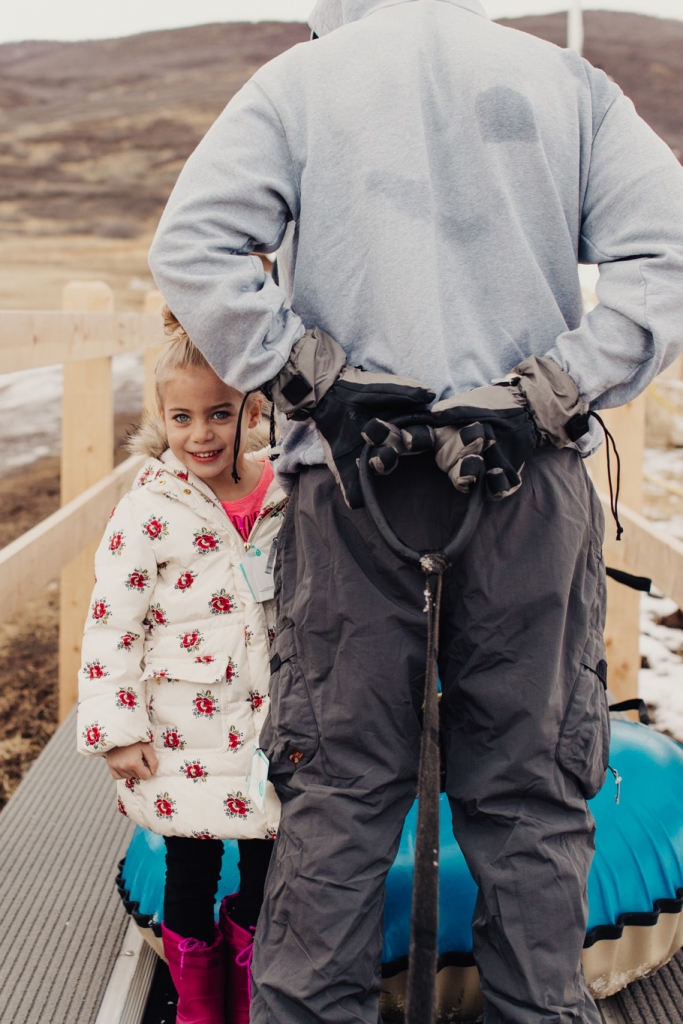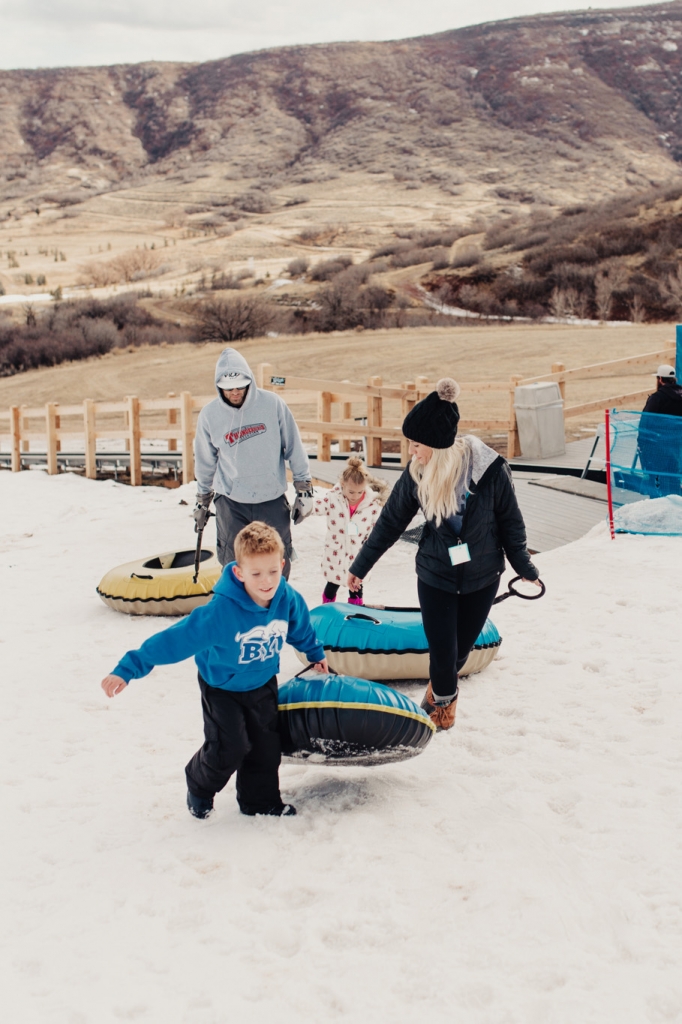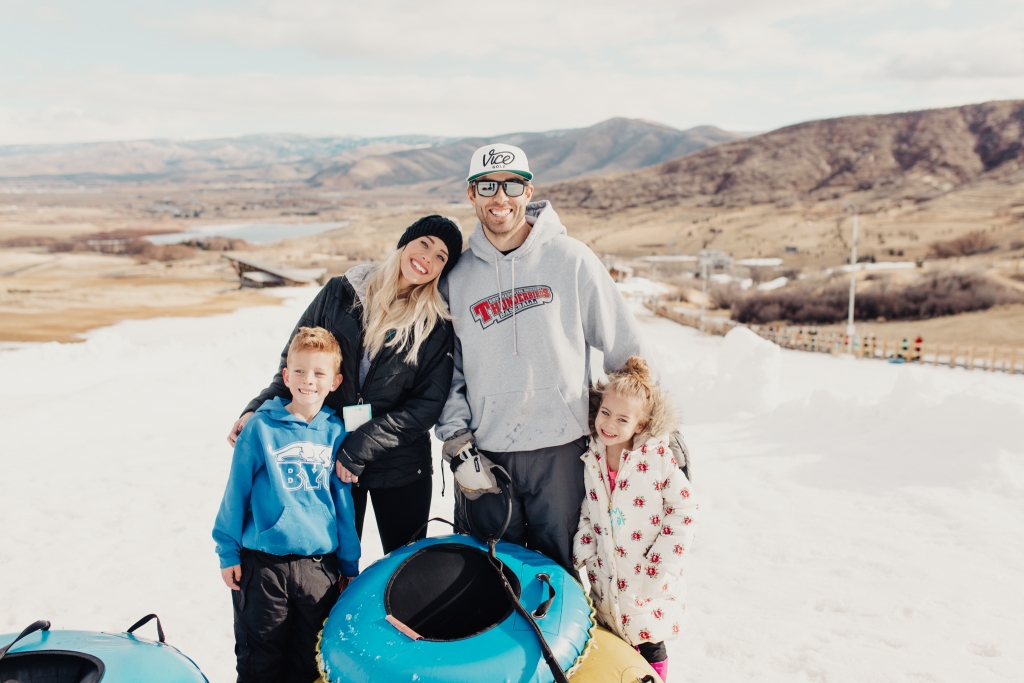 As you can see, there's no snow anywhere except this one hill and it was all man made.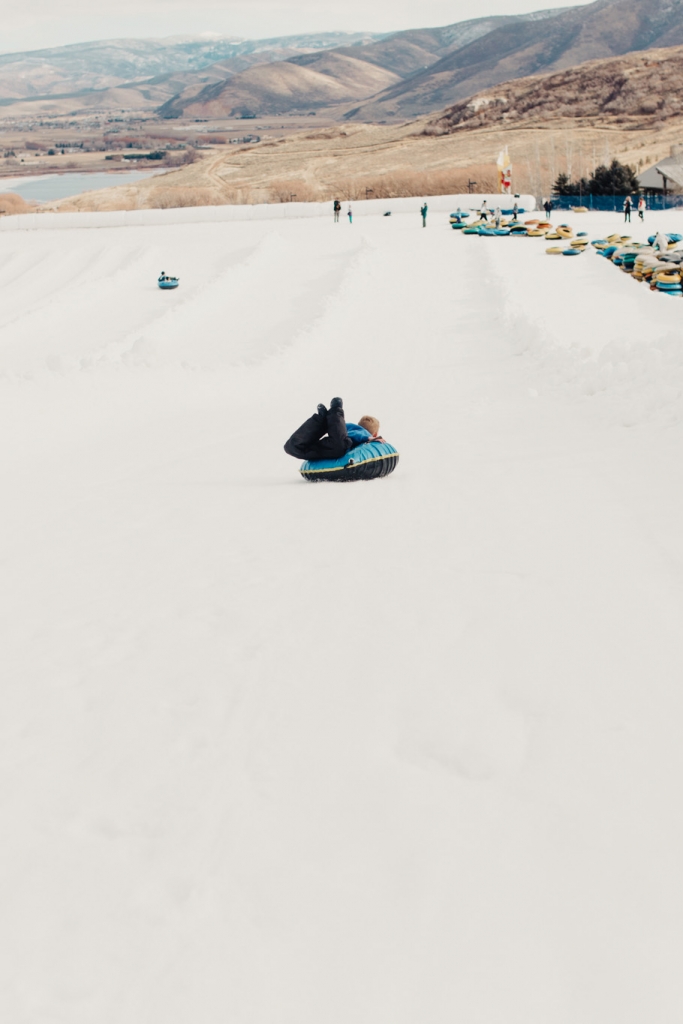 There's a bank at the bottom of the hill with plenty of space to play. Maybe 15 feet or so between the tubes and the bank and then as long as all the lanes where people can watch and stay without being asked to move.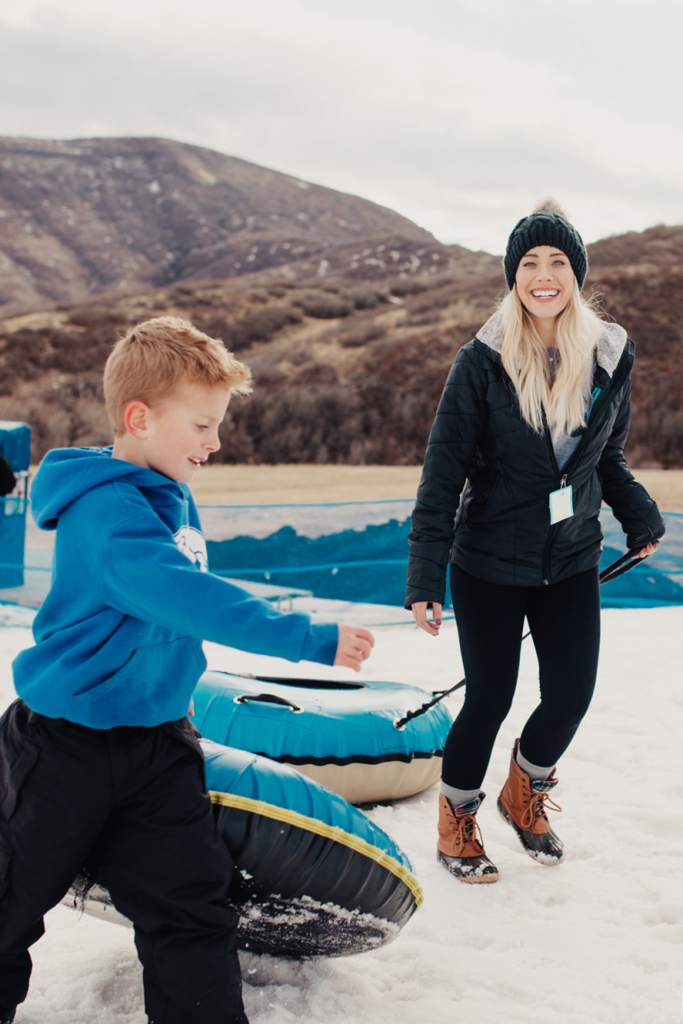 You can see the length of the lift behind us, it takes about five minutes to get all the way to the top!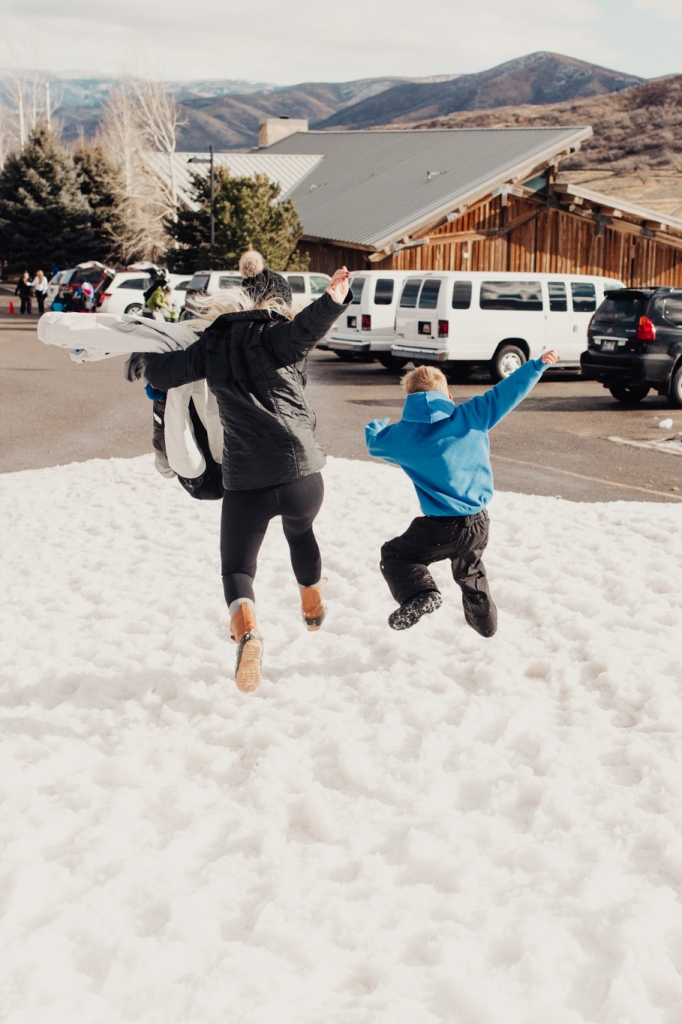 You can watch our vlog here to get more of an idea of what it looked like. You'll notice towards the end we were just shedding layers! It was such a warm day and all the movement getting up the hill was making us crazy hot. Hopefully this post gives you a better idea of what to expect if you go tubing at Soldier Hollow. I'd for sure take my little 2.5 year old twin boys and just take turns watching them at the bottom. They would have loved playing in the snow. I thought this was a great activity because there was literally no skill level required, so the kids had a blast and there was zero pressure. We'd go again in a heart beat!
Let me know if I missed anything, I'd love to answer any of your questions! Oh! And if you're in Midway, make sure to check out the Ice Castles. That's next on our bucket list!
xo
Pictures: @AliceShootsPeople | Alice Shoots People