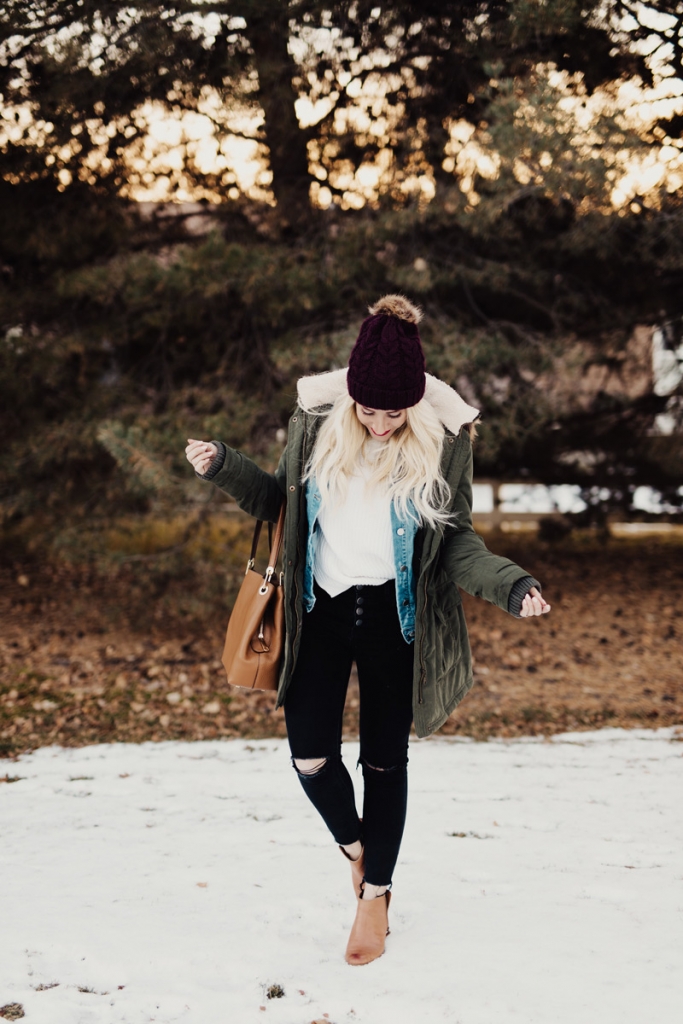 Hello, everyone! I hope you're surviving the cold because the temperature sure has dropped here in Utah! With the freezing temperatures outside, I've been layering like crazy and I wanted to share some of my winter favorites and how to layer! Before we jump into the post I wanted to quickly give you guys an update. I don't know if you've noticed but I've been a little bit silent everywhere… we have some BIG news!!!!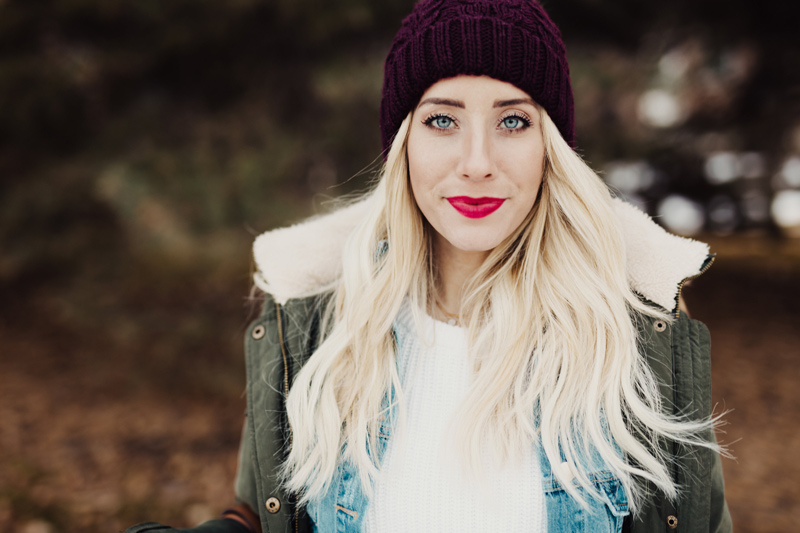 No, we're not pregnant hahaah! I'm still working on convincing Brian for that one ?. We're starting to VLOG!!!!! We'll be vlogging Mondays and Fridays and then I'll keep my Wednesdays open for beauty and hair tutorials! I'm really excited to share more of our life with you guys, hopefully it'll give you a chance to get to know us better. So if you haven't subscribed to my YouTube channel, you can click here! I won't be calling out all the videos here on the blog, so just subscribe and hopefully you'll catch a few of our crazy shenanigans! I'd also love for you to comment below things you want me to film. Any routines we do with the kids, favorite meals, honestly anything and everything you've wondered about us! BUT WAIT! That's not all. We have finally decided to give Savy her own channel too. She loves filming so much, you guys I'm sure have seen that joy in her eyes when she films with me. Her channel is called "Fun With Savy" and she'll be doing crafts, opening toys, sharing favorite recipes in the kitchen and making slime! Basically anything she's excited about and half the time she's filming I'll be doing her hair for school so it'll be super casual and fun. Hopefully you find it's a safe space to let your kids be entertained and inspired!
Okay, now that that's out of the way, let's get onto the those layering favorites!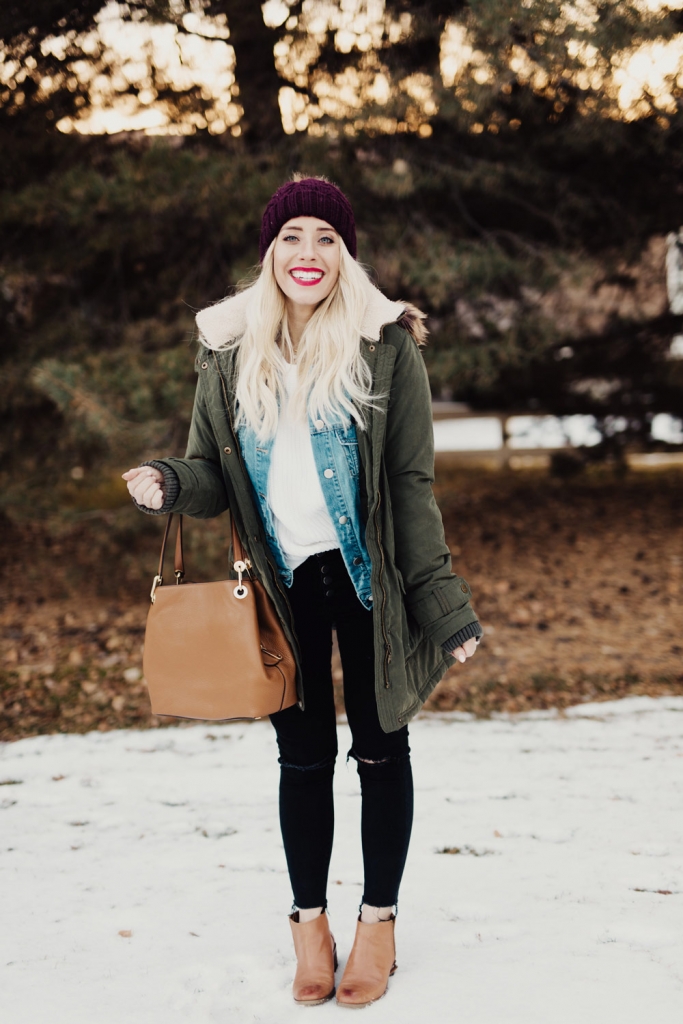 First, every girl needs a cute and practical winter coat. This coat I'm wearing is from Nordstrom, it's 60% off right now so go snag one!!! I chose olive green as opposed to black because I wear black pants a lot in the winter, and so I knew a black coat wouldn't elevate any of my outfits. Olive green is such a great neutral color and this one is a little longer in length, has big pockets and a warm fleece collar. If you invest in a nice coat, you'll be able to wear it over and over, season after season!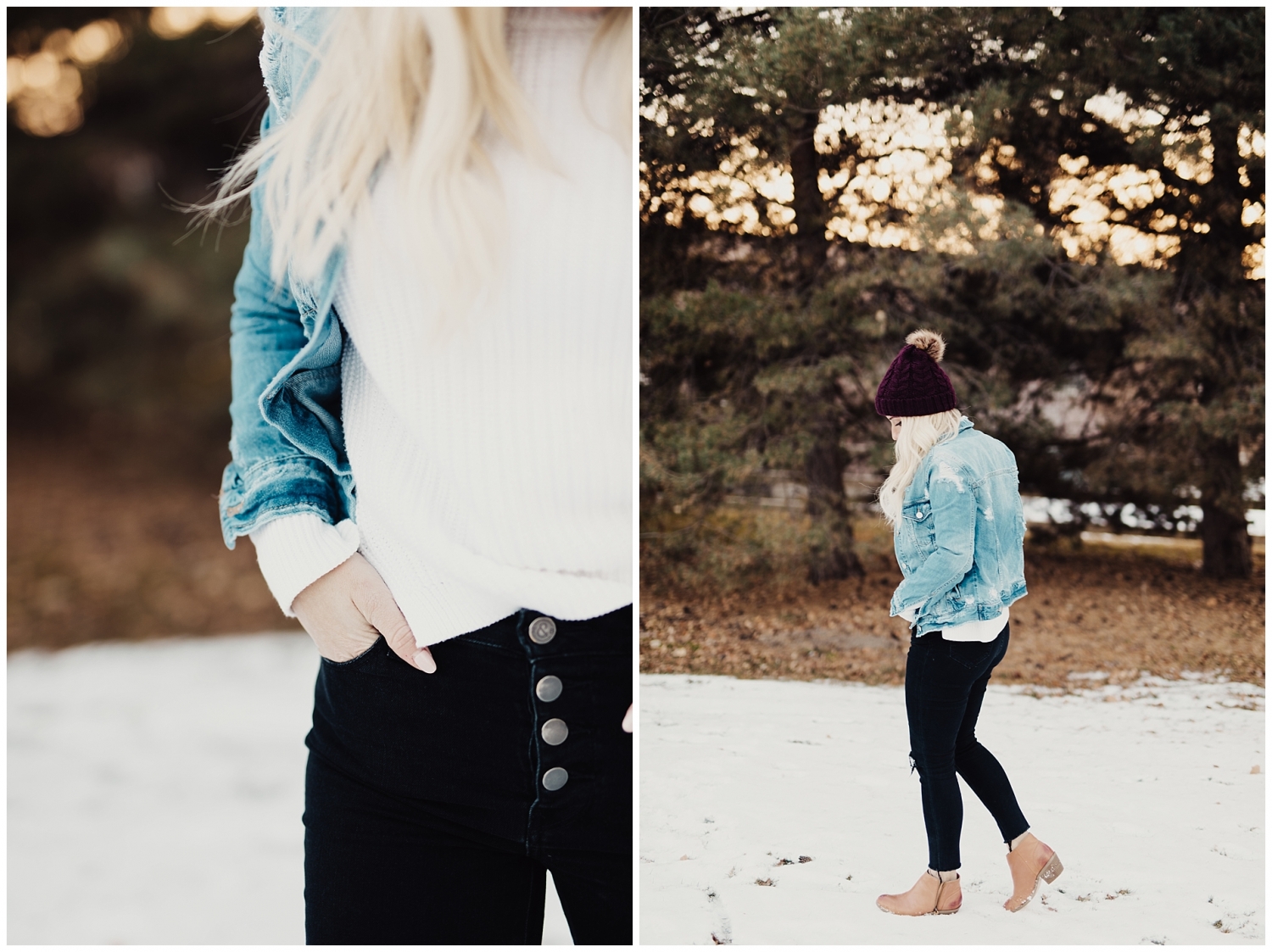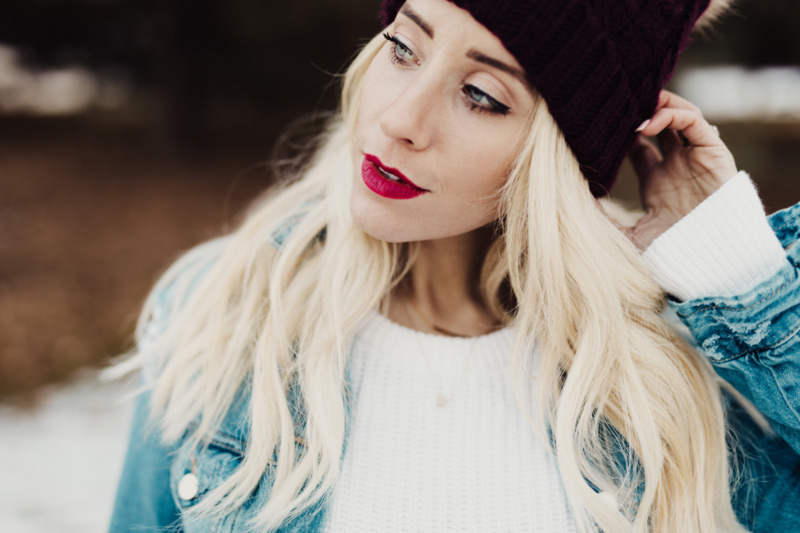 Second, I love layering a jean jacket underneath my coat. I usually just leave it inside my coat when I come in for the day! It adds a pretty pop of color while keeping you warm and then, if you get too hot with the coat on, you can take off your big winter coat and still have a light jacket to wear.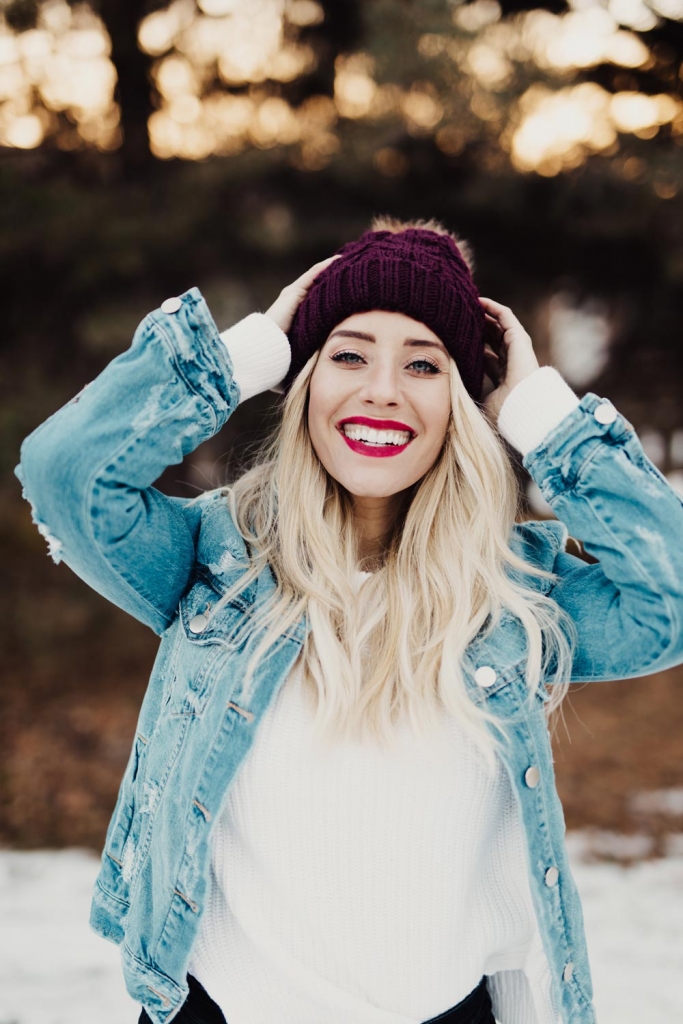 Third, sweaters. Just give me all the sweaters! Some of my favorite sweaters come from H+M, I like to shop trendier pieces at a more affordable price range, and then those staple sweaters like this white cable knit I'm wearing is one I'll splurge on. I like to go pretty neutral with my sweaters too, that way I can wear them for years. I'd personally invest in a white, gray, black and burgundy sweater. Those seem the be the colors I'm grabbing all winter long + they look great with black jeans and booties. Then the sweaters with embroidery or pearls or more noticeable features, I'll get from H+M because I know the styles will change after each season.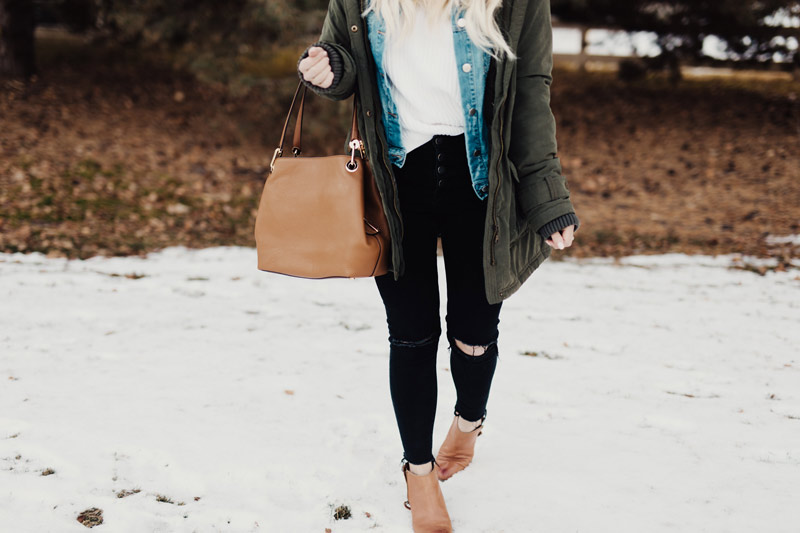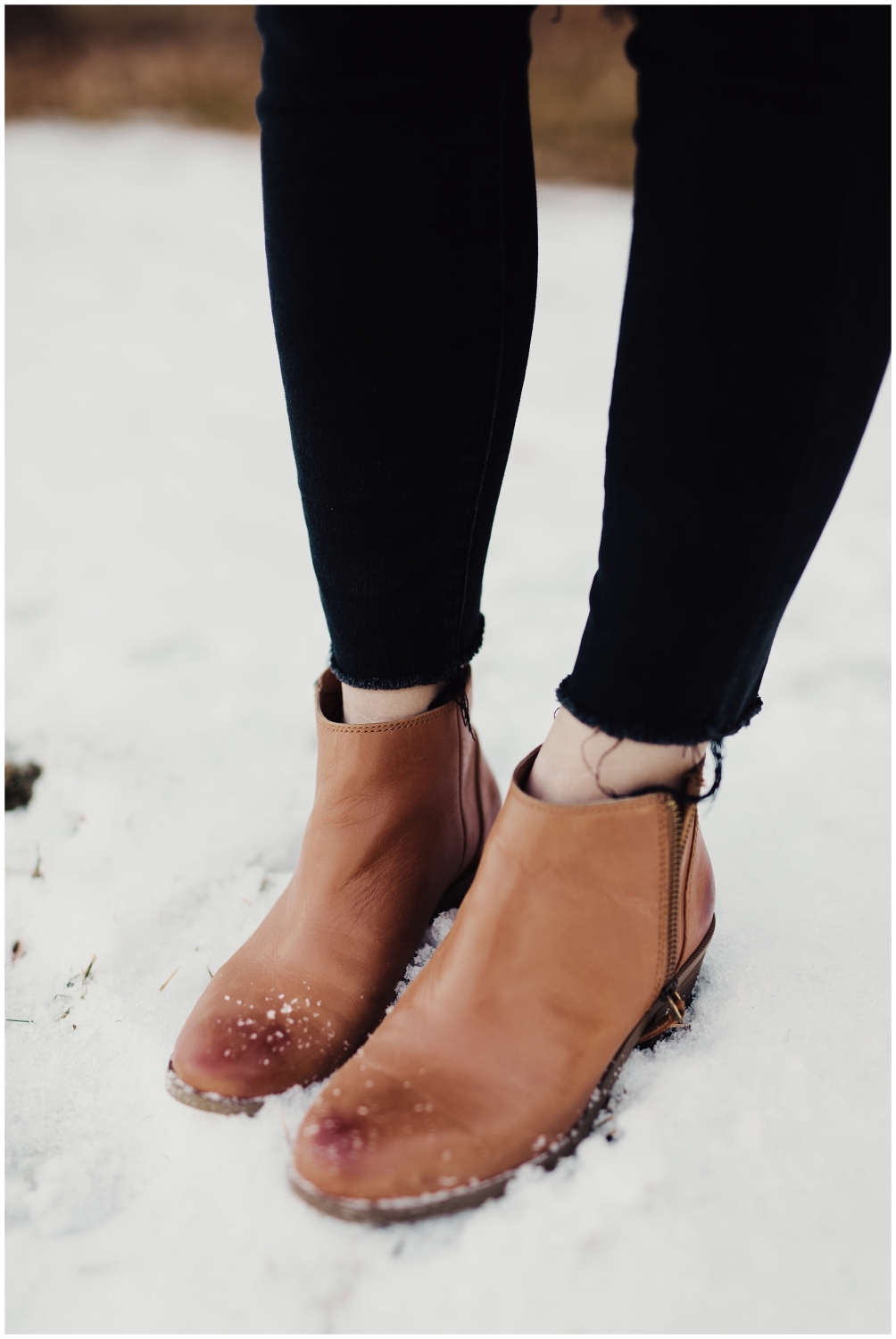 Then everyone needs a pair of high waisted black jeans. I have worn these nearly every day since I got them, they're super cute and comfy. And then booties are obviously a must. I like to go with a caramel leather color + a grey suede pair. I have a black pair but I don't wear them as often because like I said, I'm always wearing black pants! You can wear black booties with black pants, but it doesn't look as cute!
To top it off, you'll eventually want to fill your wardrobe with different beanies and scarves. Beanies and scarves are a fun way to add pops of color and personality into your neutral outfit and they're usually a lot cheaper, so going with trendier pieces is easier to justify!
And that's it!! Thanks so much for reading, hopefully this post helps you get the biggest bang for your buck on winter clothes. Will you let me know in the comments below what else you'd love to see here?! I want to make sure I'm sharing things you guys are interested in!!! Thanks babes, love you lots!!!
Photography from Alice Shoots People!! She can be found on instagram @aliceshootspeople too!