5 Ways to Totally Rock a Scrunchie
Have you jumped on the scrunchie trend yet? If you've bought some thinking you'll use them, but haven't yet, this post is for you! Or, if you just want more ideas for cute hairstyles, this is for you too! There are SO many positives to using a scrunchie for your hairstyles. Here are 5 ways to totally rock a scrunchie.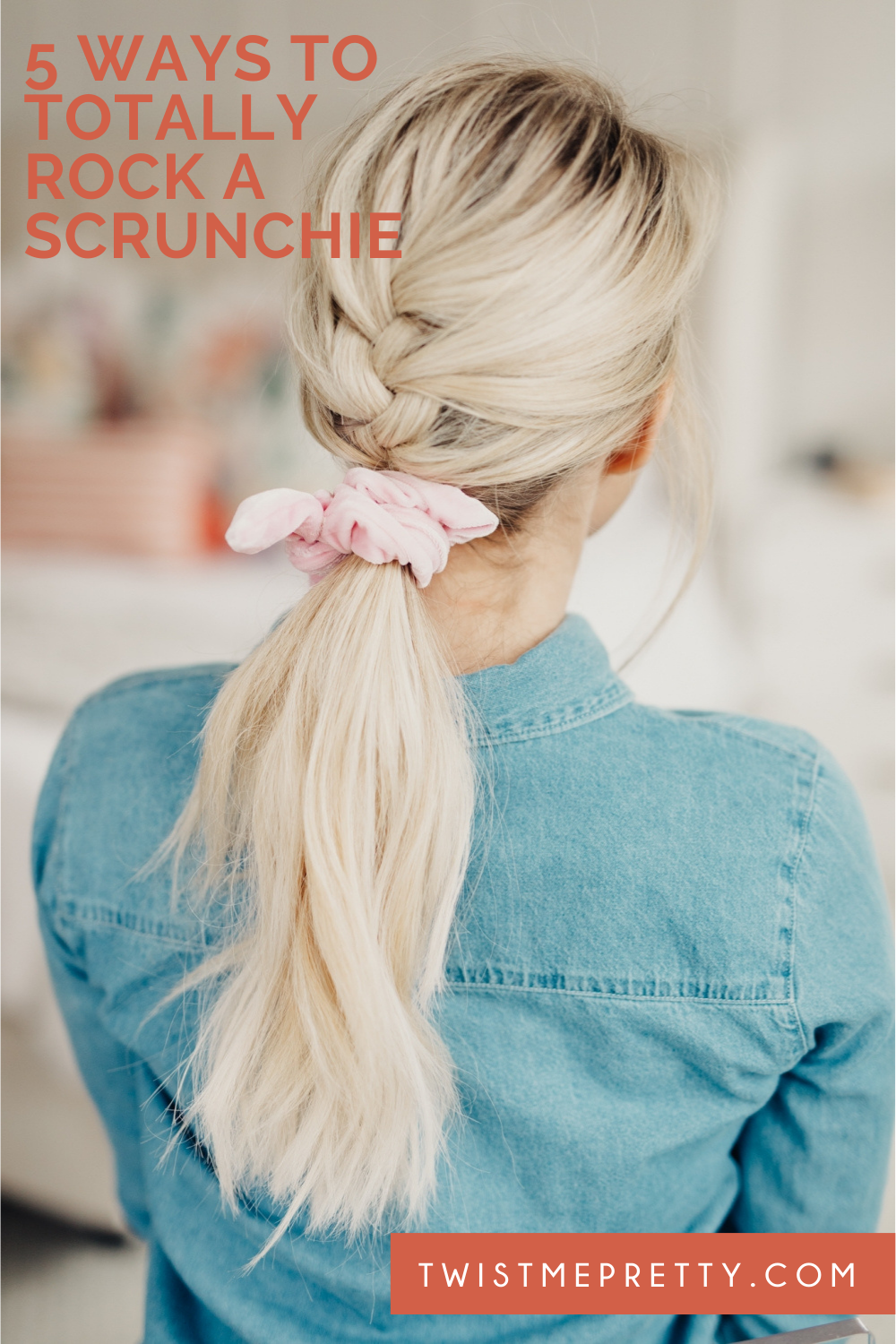 Scrunchies are so magical!! I swear I could wear a scrunchie top knot all day and not feel a thing. If you want to learn more about how scrunchies are so useful and helpful for your hair, check out my post here. (Plus, there's more hairstyle ideas on there!) I hope you find some scrunchie hairstyles that become your favorite!
Scrunchie Hairstyle #1: French Braid Ponytail
This french braid ponytail hairstyle is super easy to do. It's a perfect one if you want the hair out of your face, but still want to spice up a regular ponytail. Only a small section of your hair is french braided, but it adds just enough to be seen and keep your ponytail in place.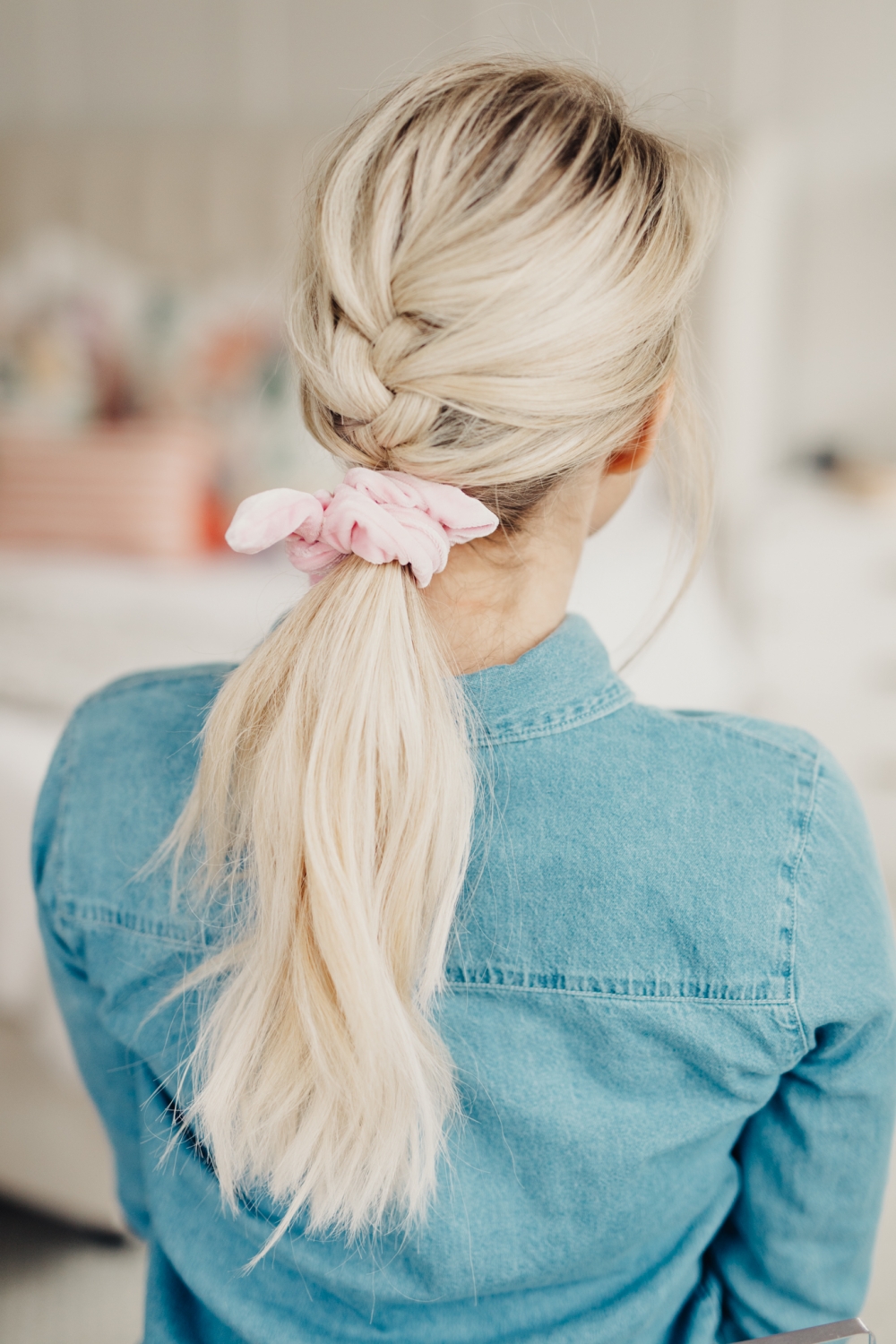 Scrunchie Hairstyle #2: Ballerina Bun
This is a great hairstyle if you want to save your curls. If for some reason you have to hold your back for a bit, but don't want to ruin your curls that are still in your hair from the day or so before, the ballerina bun is what you want to do. Just twist your hair the direction of your curls and they should stay in there ok!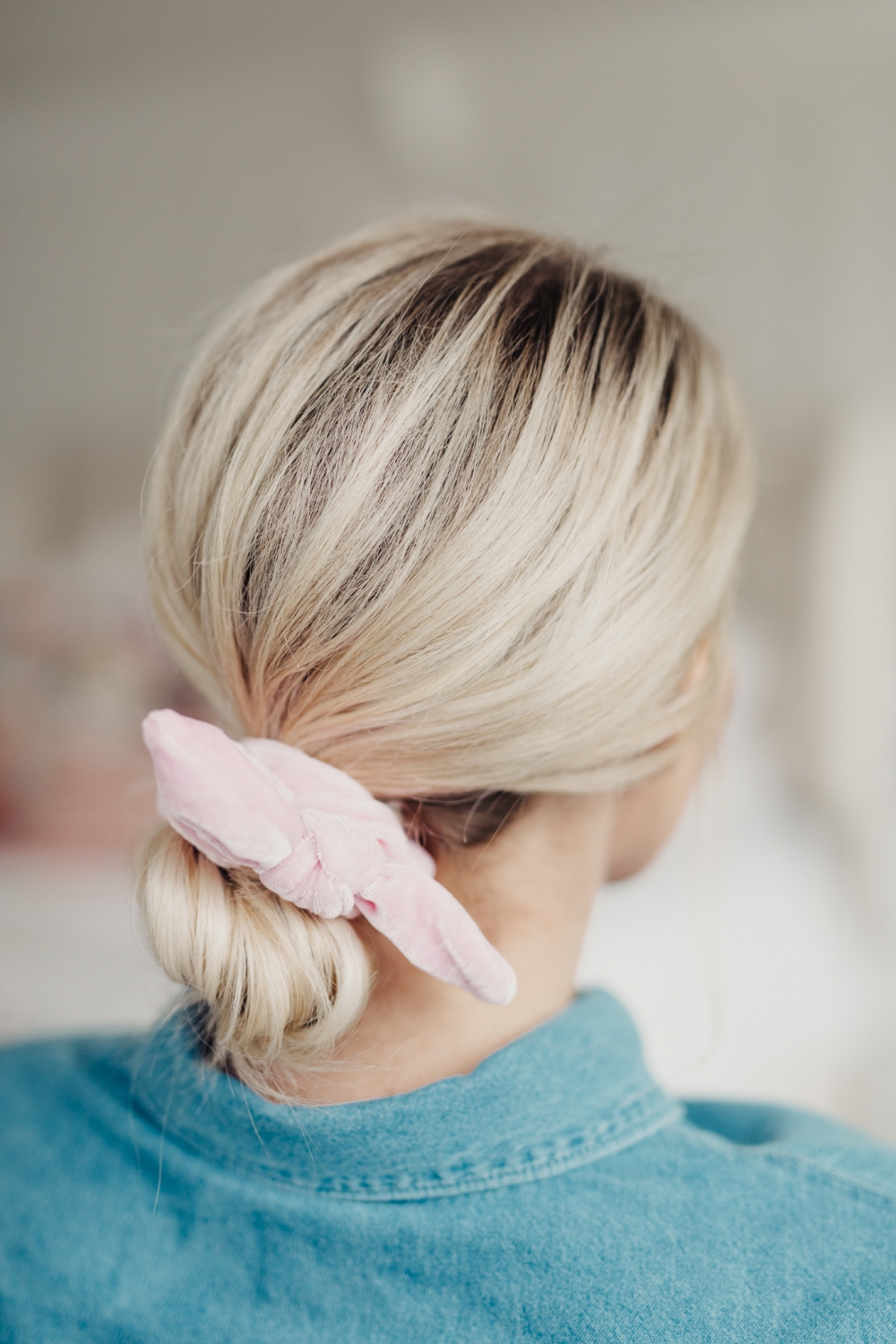 Scrunchie Hairstyle #3: Half Up Top Knot
The half up top knot is such a cute hairstyle! I love this one. This hairstyle has become really popular. Using a scrunchie to pull your hair up adds more of a statement to your overall look and it also protects your hair from breakage. A lot of women like to use the small rubberbands, but this causes a lot more damage to hair. Another reason why I love scrunchies!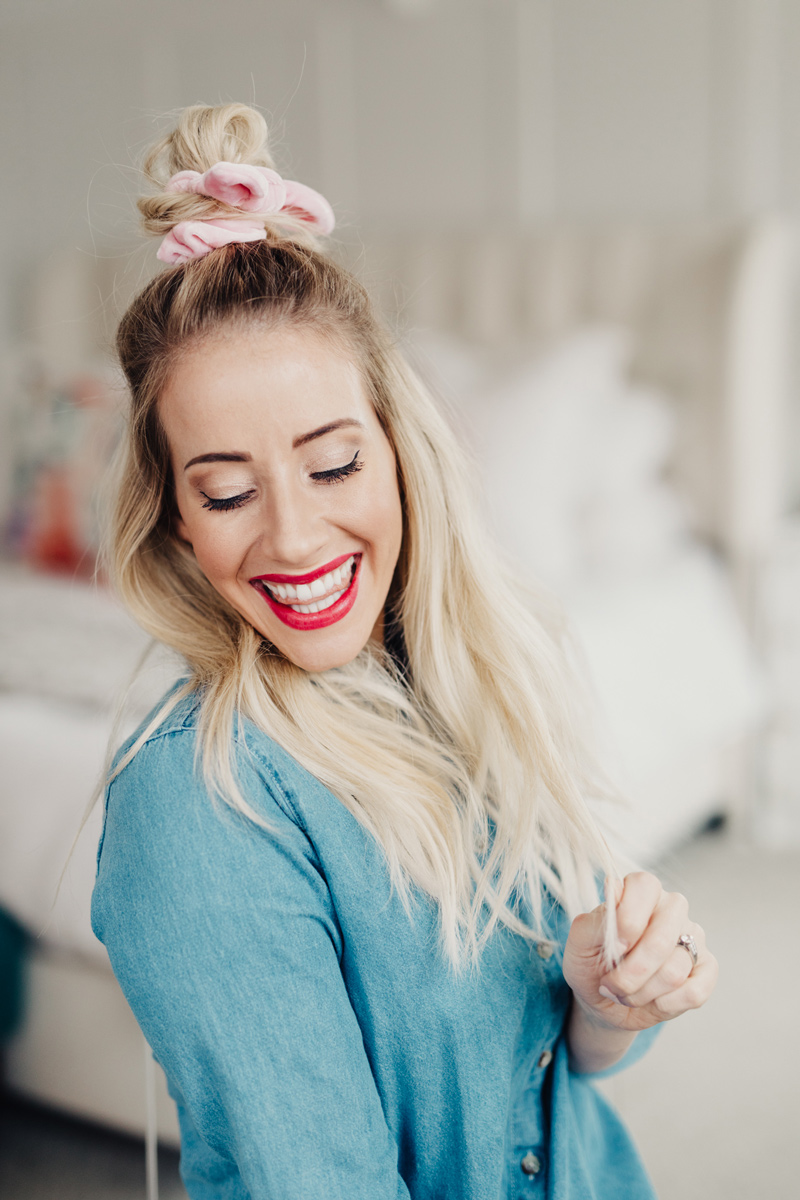 Scrunchie Hairstyle #4: Top Knot
This top knot hairstyle is similar to #3, but you are pulling up all of your hair instead of just half of it. If you're in a rush, throwing your hair up in a top knot is usually the first choice. Using a cute scrunchie to hold it up elevates your hairstyle just a touch, so you can feel confident in your up-do!
Scrunchie Hairstyle #5: Double Buns
The double buns are so fun!! For the picture, just imagine the scrunchies being in the same color. (I couldn't find my other set of scrunchies or else mine would be matching!) I love the look of this one. It's a creative way to pull your hair back and still have it look nicer than just a normal bun or ponytail. The double buns would also be perfect for little girl hairstyles!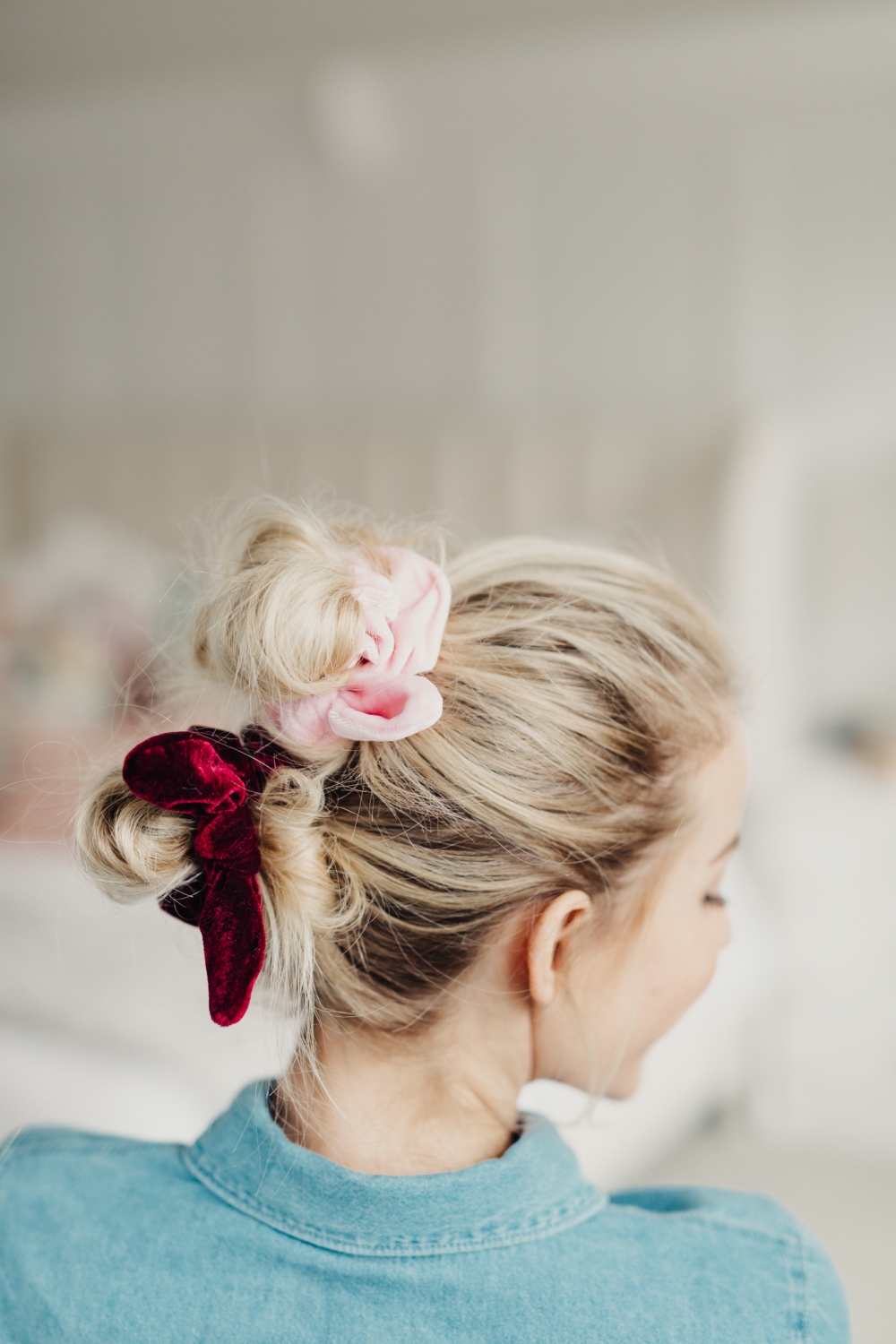 I hope you enjoyed these 5 ways to totally rock a scrunchie. Follow me on Instagram @twistmepretty and send me a picture of your scrunchie hairstyles! I can't wait to see them. Let's keep this scrunchie trend as long as we can!! It's such a cute one and really protects your hair too. How could you say no to that?