HAYYYY girl, hayyy!!!!! Okay but let's get serious for a minute and talk about these air dried waves. I'm LEGIT excited to share this post with you guys today because it's gonna end up saving you so much time. And in the mornings when things are crazy and you don't have to worry about your hair, you'll stop and think about me and we'll share a little moment together. I'll be like, "girl, I gotchu". ?
I've literally survived this summer because I've been showering at night after the kids are asleep and then letting my hair air dry. Not only has air drying my hair at night sped up my routine in the morning, but I haven't been using as much heat so my hair is super happy with me right now. It feels really hydrated and healthy which is a BIG deal when you're a blonde in the middle of summer!
Now the only reason these waves aren't a crazy mess of tangles and frizz is because of the new In-Shower Styler from Living Proof. Have you guys heard of it yet? This product enhances your hair's natural texture and gives body, softness and shine for your air-dried styles, and I was so excited about it that I'm taking on a one-week challenge ditching my hot tools and just using this product to help me air dry! Lemme show you how it works.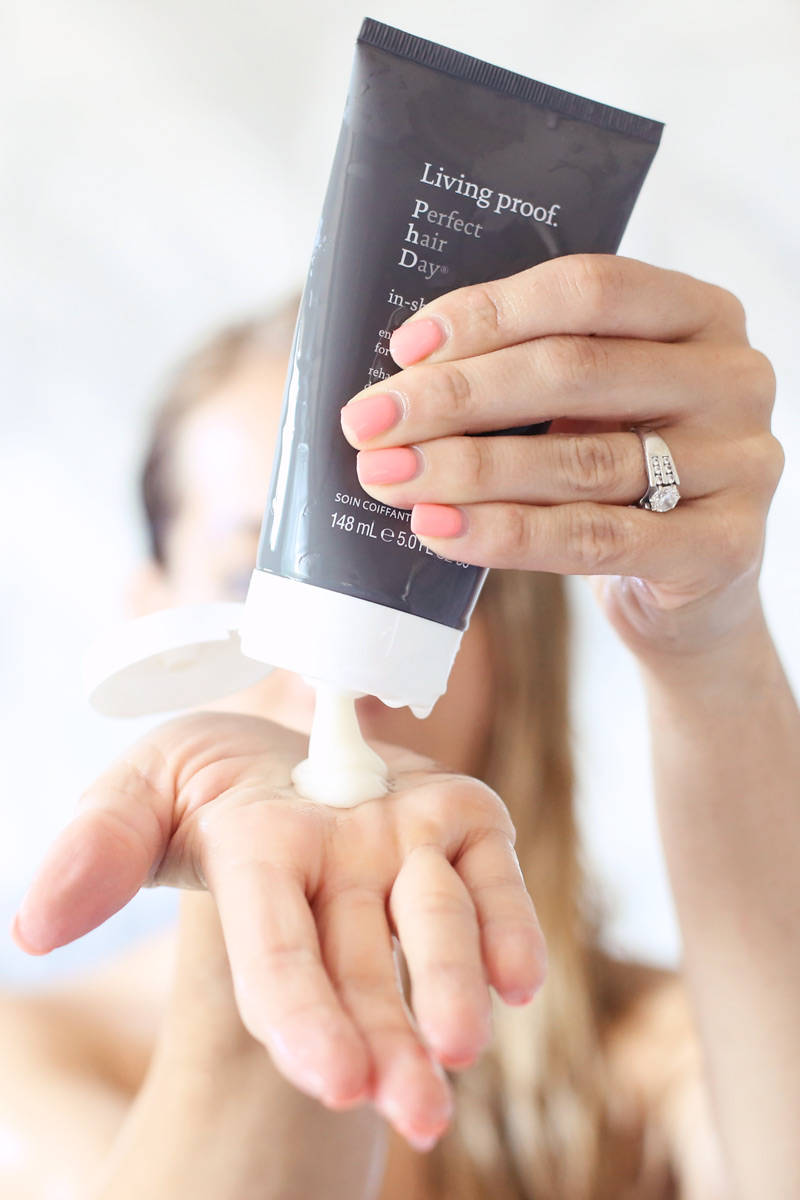 You shampoo and condition your hair like normal and then you apply the In-Shower Styler. I use about a quarter sized amount but my hair is ridiculously long and thick right now thanks to my tape-ins. More details about those super soon! You put the product all over your hair from root to tip, let it sit for a minute or two, and then lightly rinse it out. I like to leave a little bit of the product in my hair because it acts as a great leave in conditioner. Just diffuses any frizz and really hydrates and softens the hair.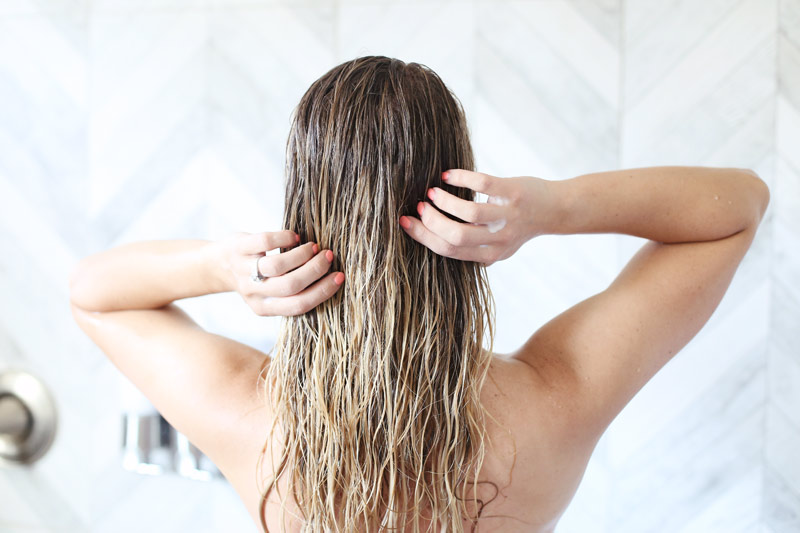 THEN, you guys, we're almost there so stay with me. Then I hop out of the shower and towel dry my hair with this towel, it's smaller in size and made out of microfiber so it's incredibly soft. The coarse texture and dryness of a cotton or terry cloth towel can cause damage to your hair if you're not careful. Just make sure you're pressing the water out of your hair and blotting it dry instead of roughening it up and rubbing it up and down the hair shaft with a towel. You're hair is most vulnerable when it's wet so just be kind and gentle to it! Also if you don't have a microfiber towel, a t-shirt should work just fine!
Then I let my hair air dry about 90% of the way before I throw it into a three strand braid. You want it mostly dry before braiding it back because if your hair is thick it'll still be damp in the morning. If you want the waves to start a little higher, I love doing the dutch side braid. Just make sure to pull out the strands a little bit before you tie it off because the tighter the braid the tighter the wave.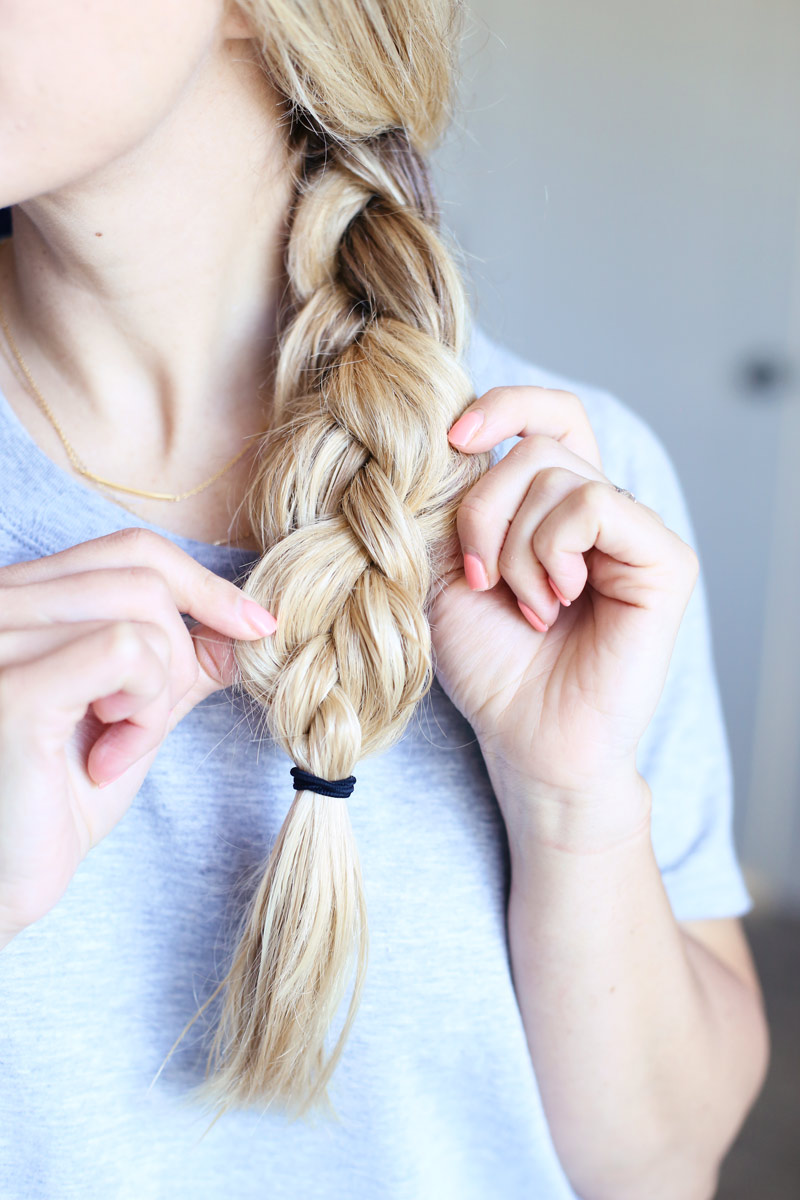 Then I literally just take the braid out in the morning, run my fingers through my hair and it's seriously done. I change up what products I use to style it, depending on what I'm going to do with it, but it honestly doesn't even need anything. If you wanted, you could use a little bit of Living Proof's Dry Shampoo, some Humidity Shield spray, or you could throw some Nourishing Oil in there and use their Flex Hairspray to give it a nice finish.
Now that we've chatted about the waves, I wanted to share a few of my favorite hat hairstyles. This summer I've been ALL about hats. Hats and SPF! I'm really working on my skin right now so I'm trying to keep it out of the sun as much as possible. Plus I feel like if I'm wearing a hat, I can keep my hair down and it's always out of my face and I can get ready in a pinch and still look put together. Plus they are adorable. Plus you need one. haha! Okay okay, so let me just convince you by sharing 7 of my favorite hairstyles to wear with a hat.

Hairstyle #1: how could I resist including basic waves + hat? I could not! This is honestly one of my favorite styles. Even though I LOVE braids and all the fancy things, sometimes some pretty waves is all you need.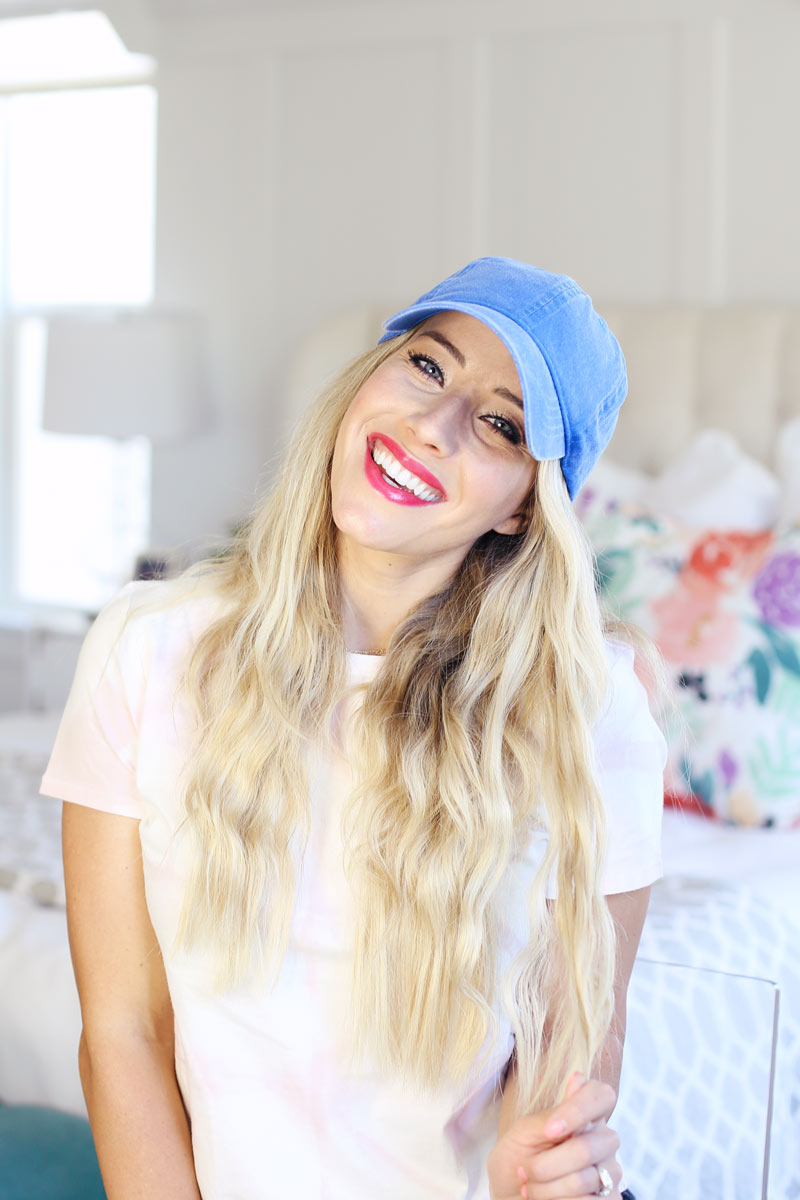 Hairstyle #2: Fishtail Pigtails. This one is an obvious favorite of mine as evidence in this post here and a few others I can't seem to find on instagram ? ha! They're so flirty and fun! Don't know how to fishtail braid? Check out this tutorial here.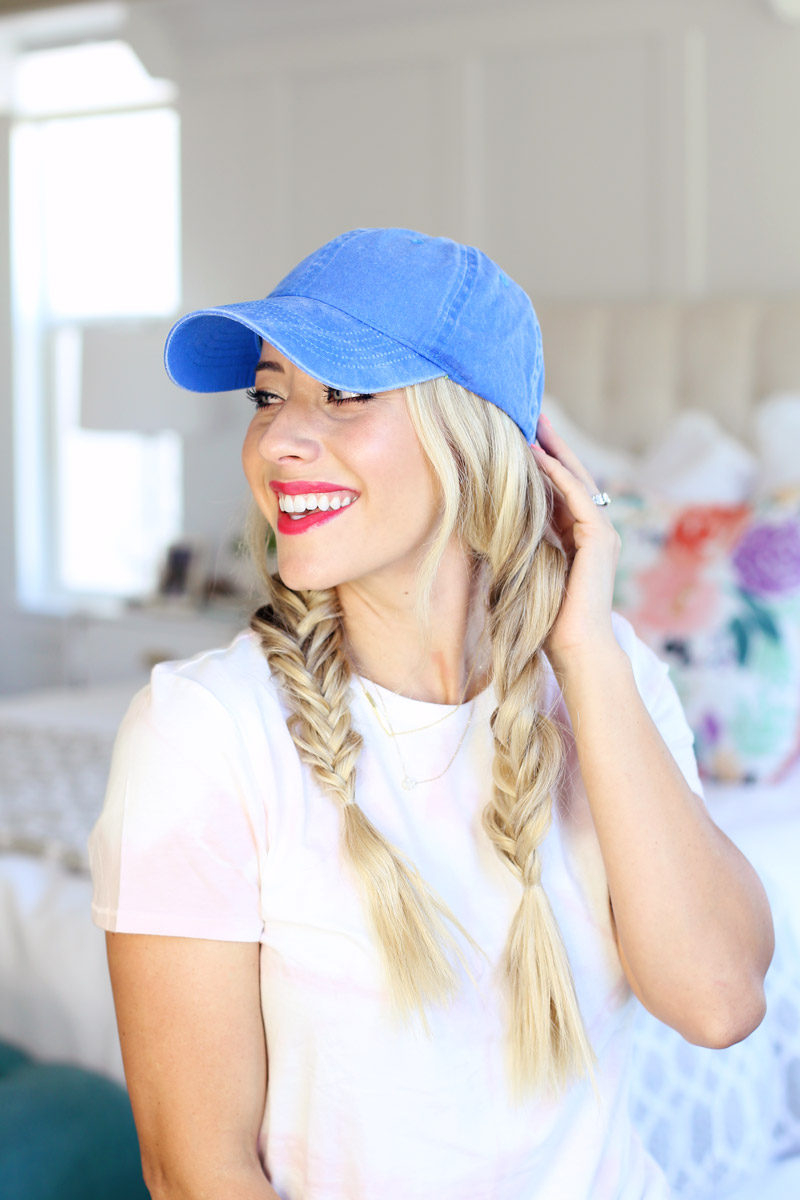 Hairstyle #3: This one is so fun and I feel it's a bit unexpected. It leaves your hair down and on your neck so you feel all feminine and flirty but it's still pulled back. BAM.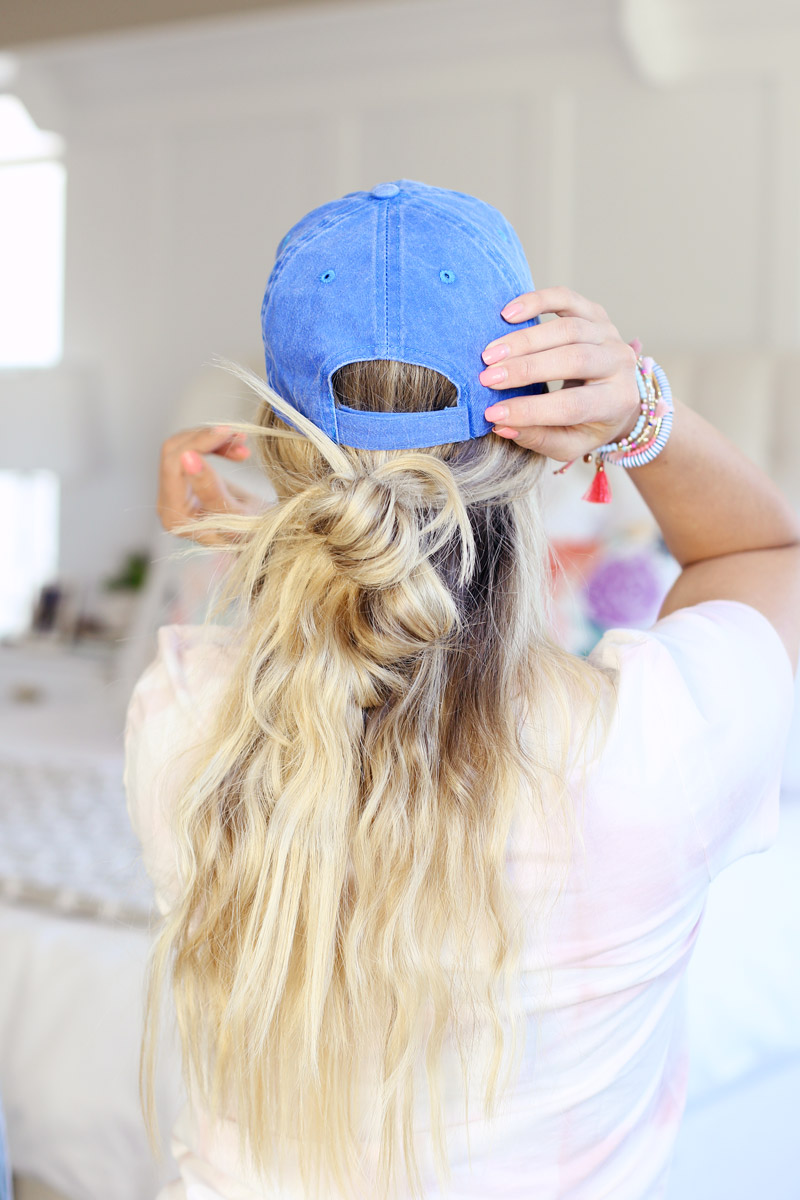 Hairstyle #4: What I like to call the perky ponytail. Wanna know the trick? Watch the video ?!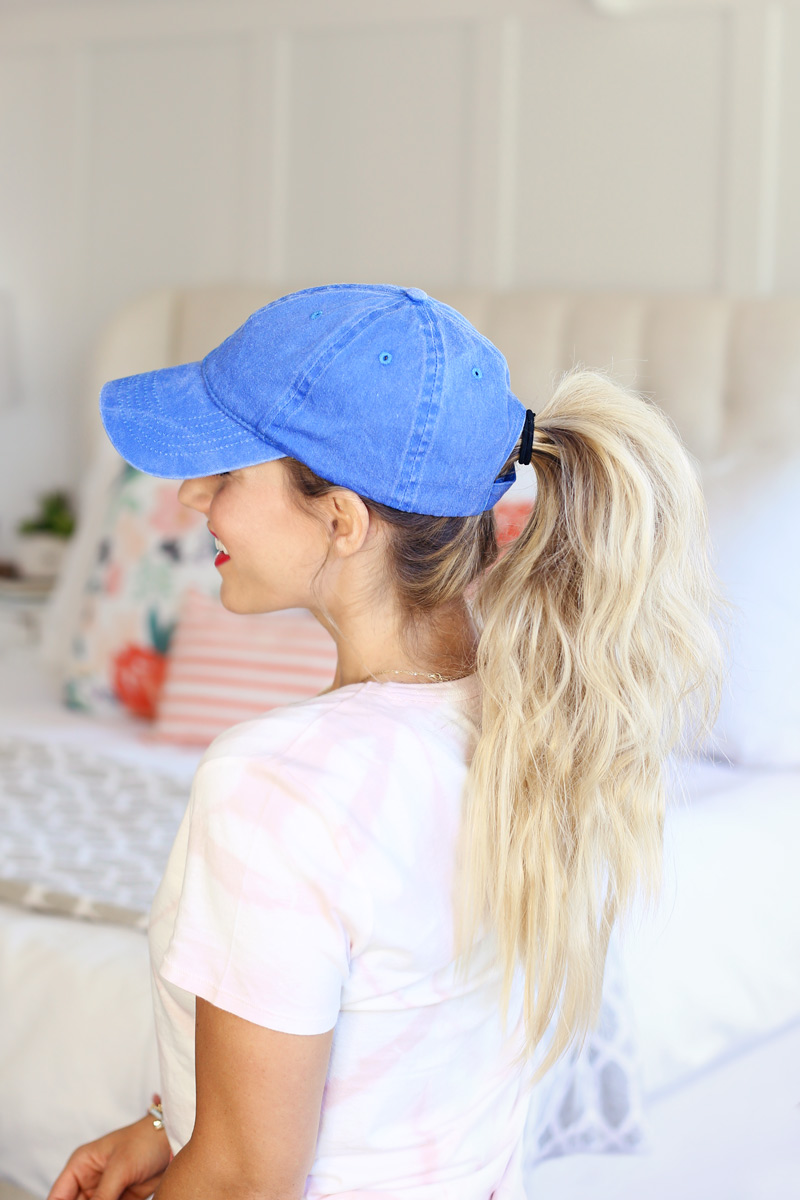 Hairstyle #5: Your basic accent braid. Instead of a fishtail braid, you could choose to do a regular braid, or a twist, or several micro braids… just choose the one that fits your mood ya know?!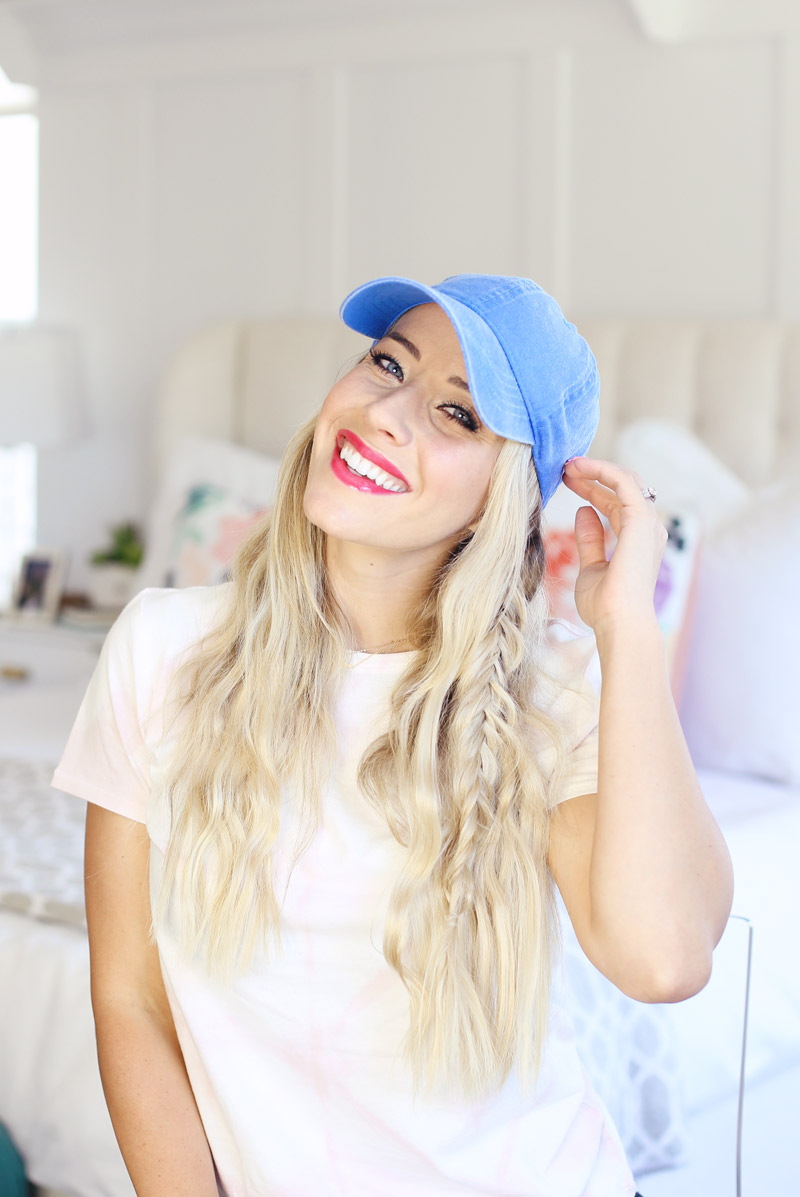 Hairstyle #6: Your basic side bun. This is the definitely the easiest and fastest style, especially if you just really need to wash your hair and can't salvage any waves. I've styled this messy bun a little bit different so make sure to watch the tutorial, it definitely caters to you girls with really long and thick hair.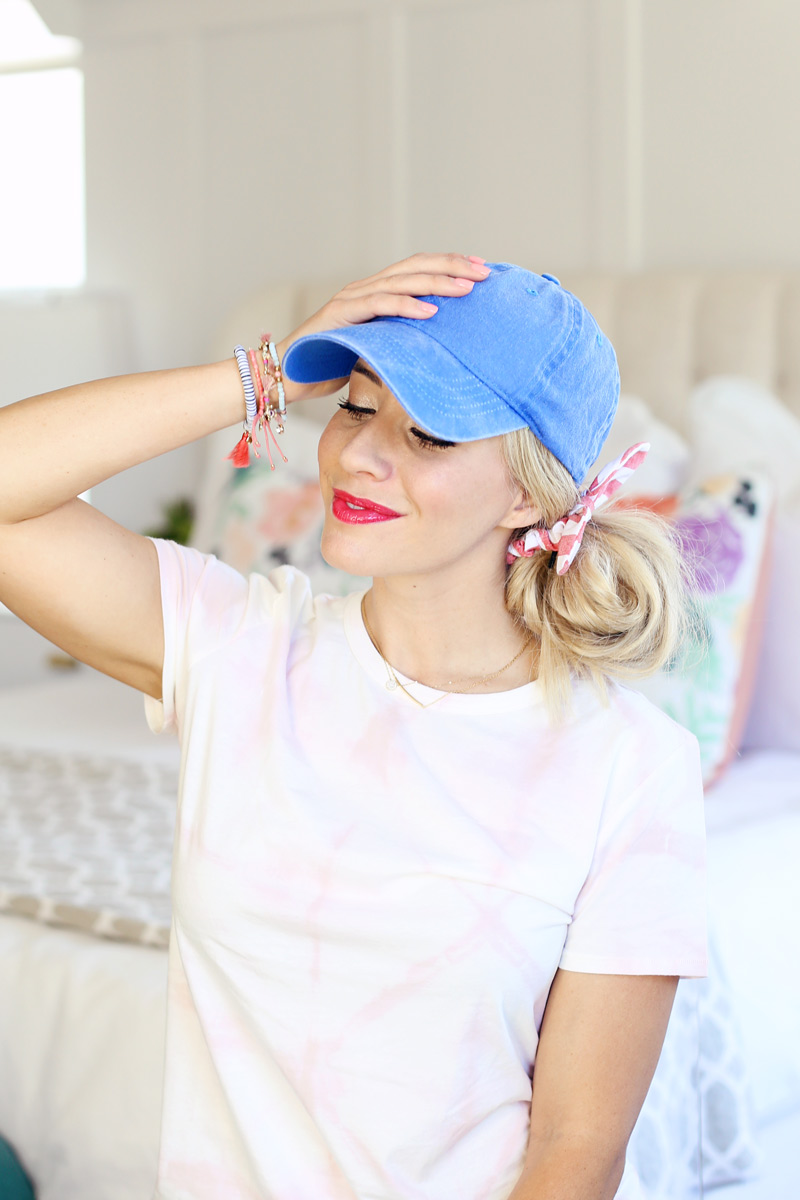 Hairstyle #7: My personal favorite, the rope twist. If you don't know how to do a rope twist, you need to learn ASAP. I wear it all the time and especially love pulling to back like in this tutorial here.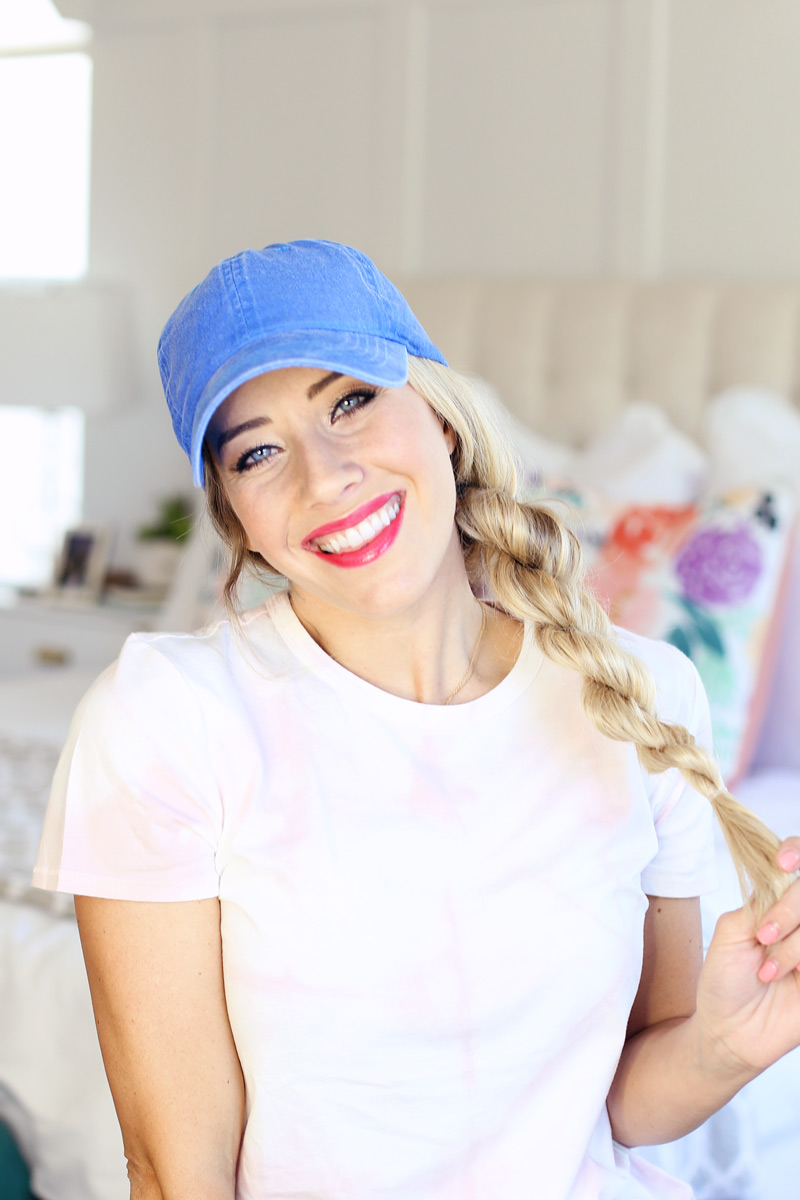 And that's it! 7 hairstyles to wear with a hat + the prettiest air dried waves you'll ever try. And honestly my waves would be a hot mess without the In-Shower Styler from Living Proof. So if you're interested to ditch the heat tools, give your hair a break in this summer heat and try out some air dried styles, snag some so you're not a frizz ball when you wake up in the morning!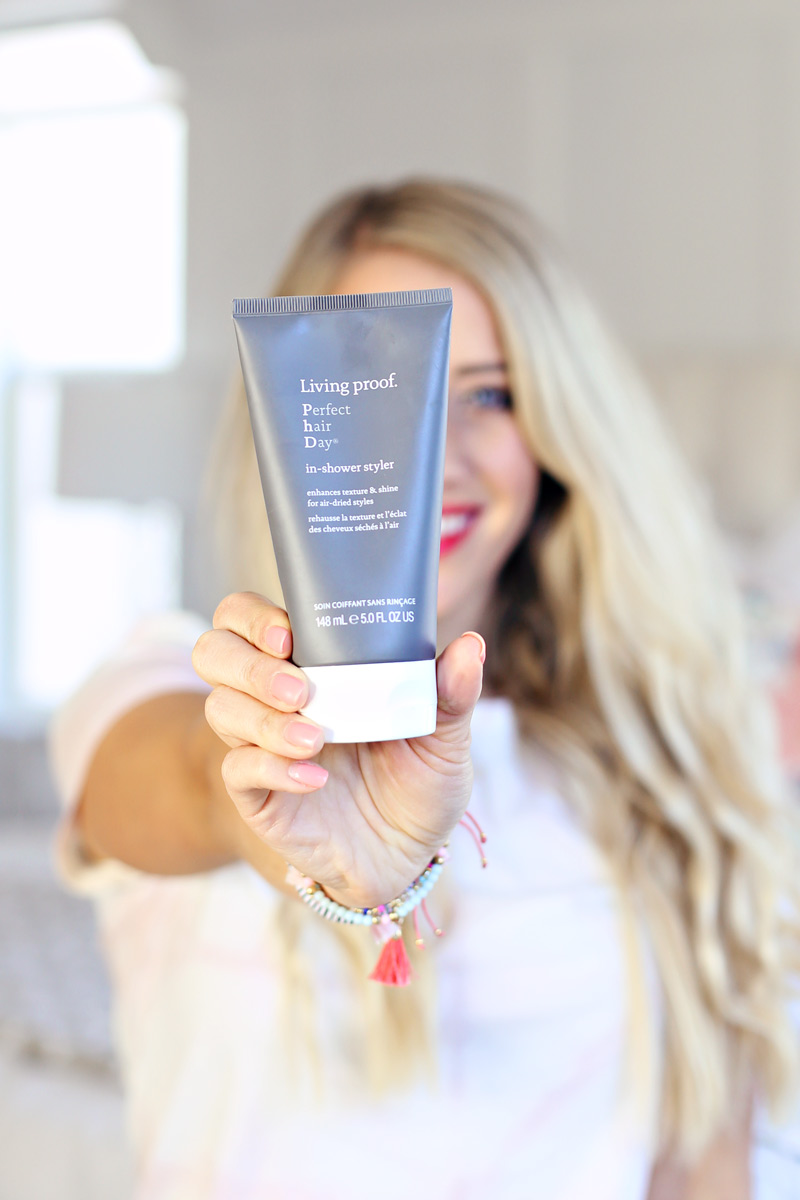 And I'd love you forever if you pinned this little graphic to one of your boards. Because sharing is caring… that's what they say right?!

Thanks Living Proof for collaborating with me on this post! As always, it was a pleasure.