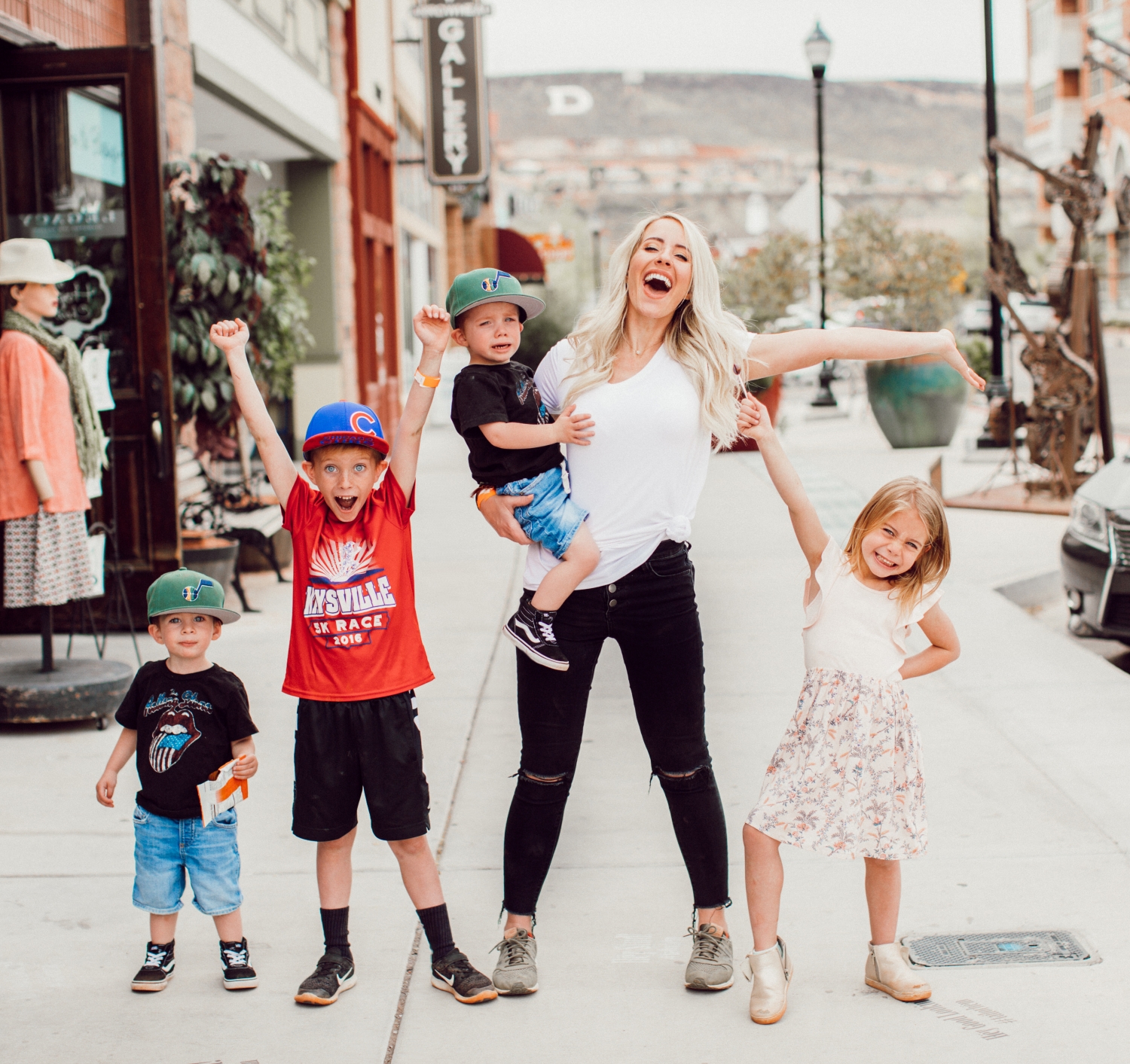 Over Spring Break my little family went on a last minute trip to good ole' St. George, Utah! St. George is in Southern Utah and it's known around the world for it's gorgeous red rock and it's close proximity to FIVE National Parks!! People travel all over the world to St. George because there's just so much to do and enjoy there!
We didn't have time to plan an itinerary so I went to where I always go first — Instagram. I asked my girls to give me THE BEST of the best in activities, restaurants, hikes and shops and came out with literally hundreds of awesome suggestions! It felt wrong to not publish all the ideas so I'll share a comprehensive list of everything that was suggested at the end of this post. Hopefully it can help you when your planning your itinerary or if you ever find yourself passing through with a couple hours to spare.
Our Day 1 consisted of the Children's Museum, the Splash pad right next door and then Judd's across the street for lunch. It was colder in the morning so we saved the Thunder Junction Park for the afternoon and it was AMAZING!!! Easily the best park you'll ever go to in your entire life. You absolutely must spend the extra $1 per kid and ride the train! My boys wanted to ride that thing all day! After that we went to Texas Roadhouse because I was trying to eat healthier and we already knew our kids loved it.
As for Day 2, we thought we'd try and be little adventurers! We drove up to Zion's National Park and were going to go on the Riverside Walk because it's one you can take strollers on and we still haven't invested in two carriers for the boys. The park was so busy with it being Spring Break that we opted to go on the Lower Emerald Pool hike. It was fun, but we wouldn't do that particular hike again with the kids. It was a little anti-climactic. Still so beautiful but I'd recommend Riverside Walk first!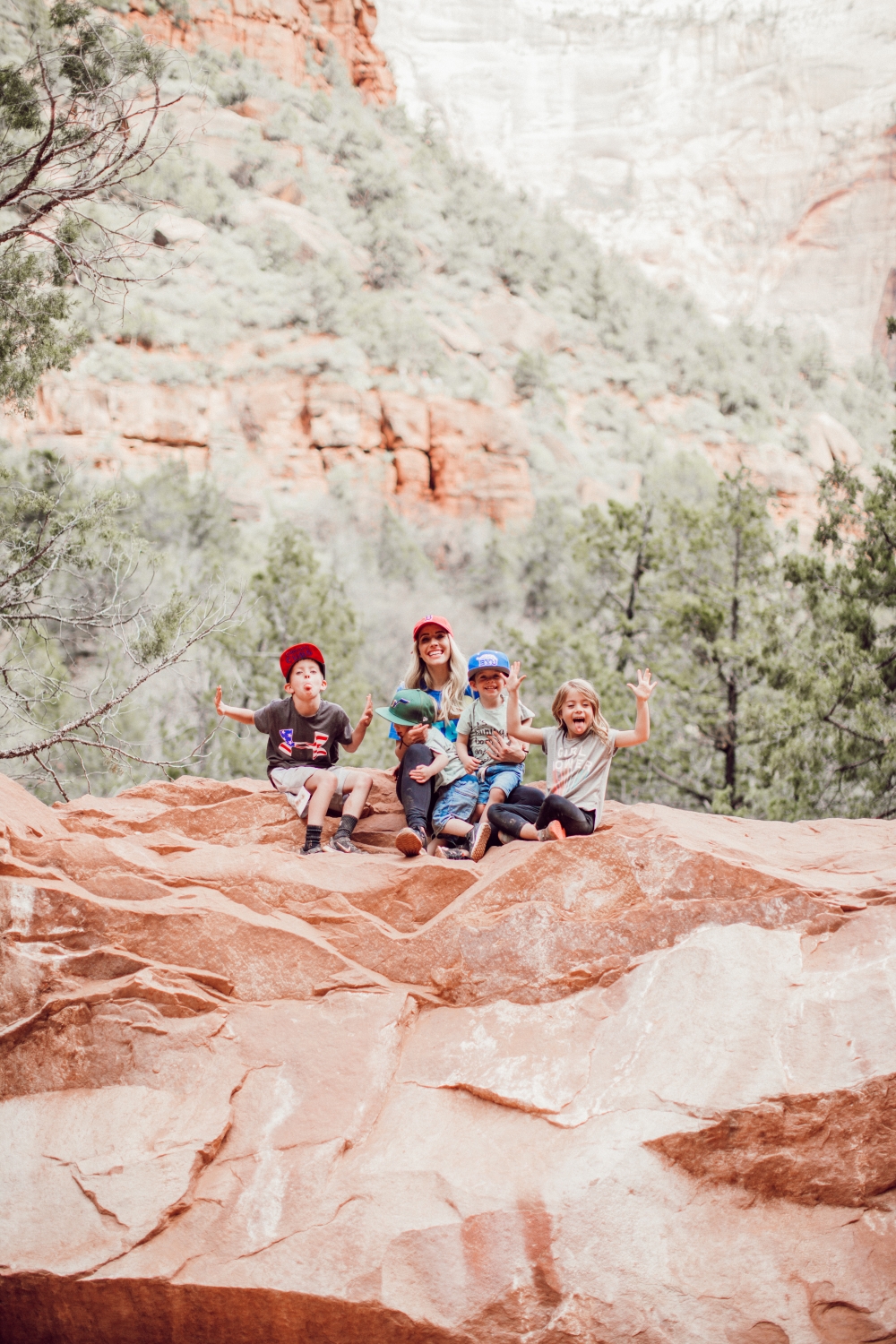 We had a great time and it gave our kids some experience doing hard things and that's all I wanted! They were little troopers the entire time and totally ready for their naps on the way down haha!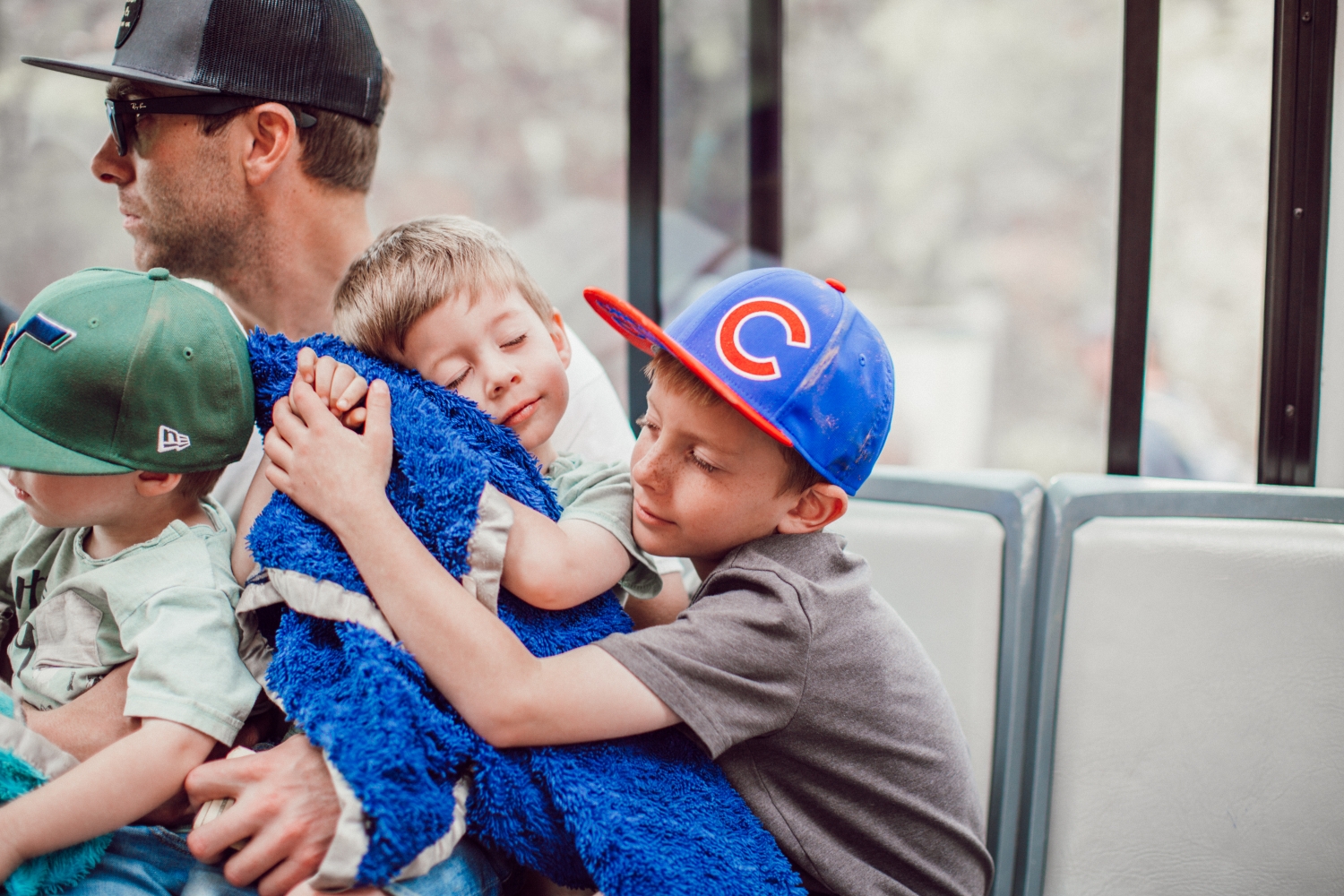 On our way back into the city we stopped off at a cute little souvenir shop. I told the kids that if they were good and helpful throughout the day that they could earn themselves a souvenir to help them remember the trip and it worked like a charm! We spent maybe 30 minutes looking at all the rocks and fun things inside the store!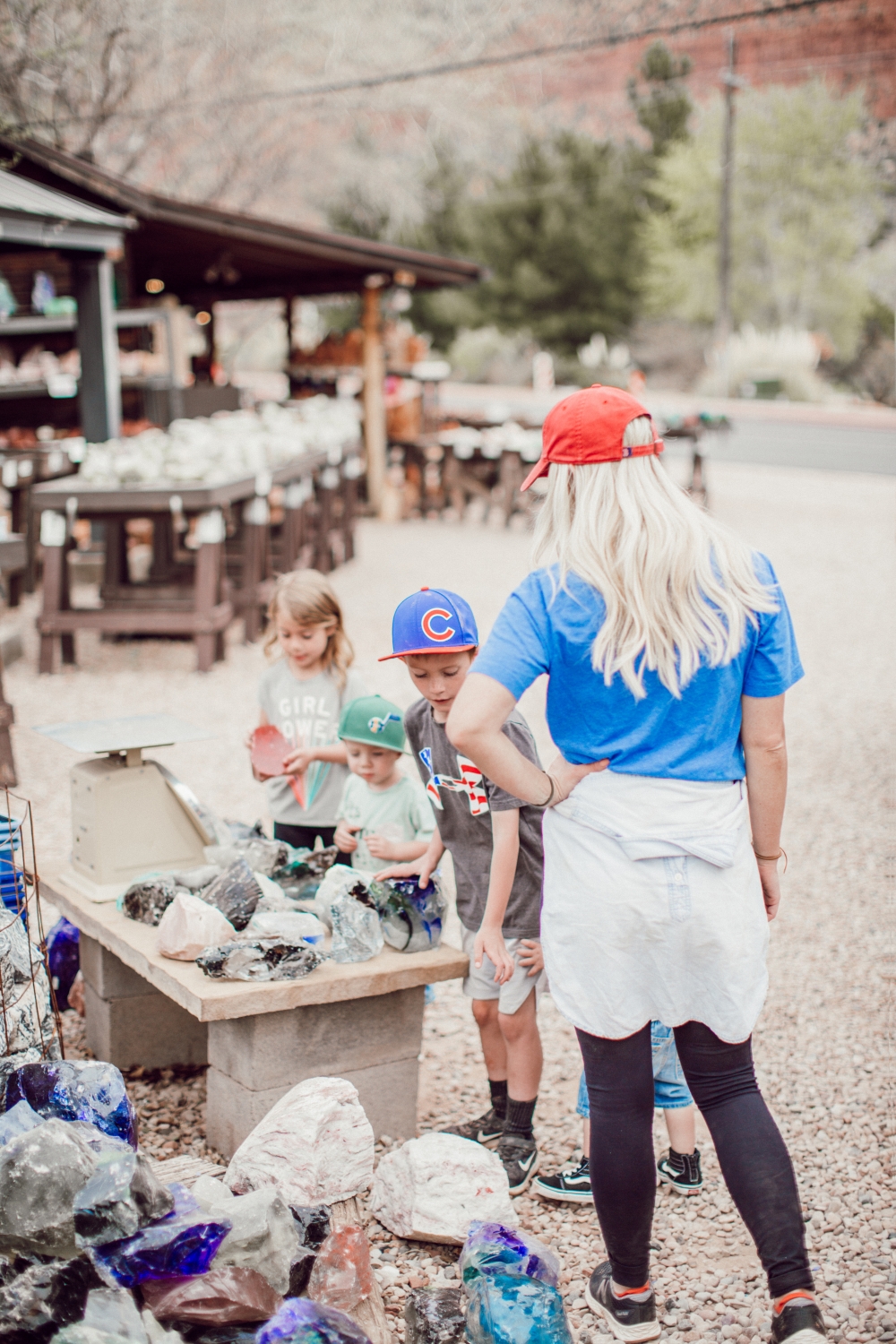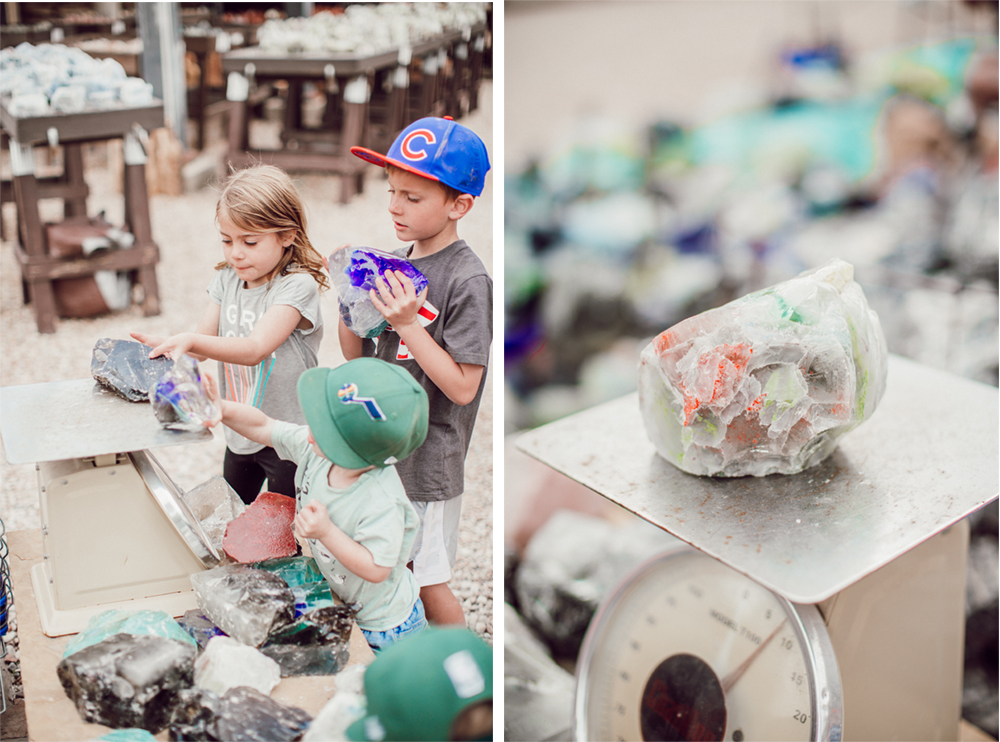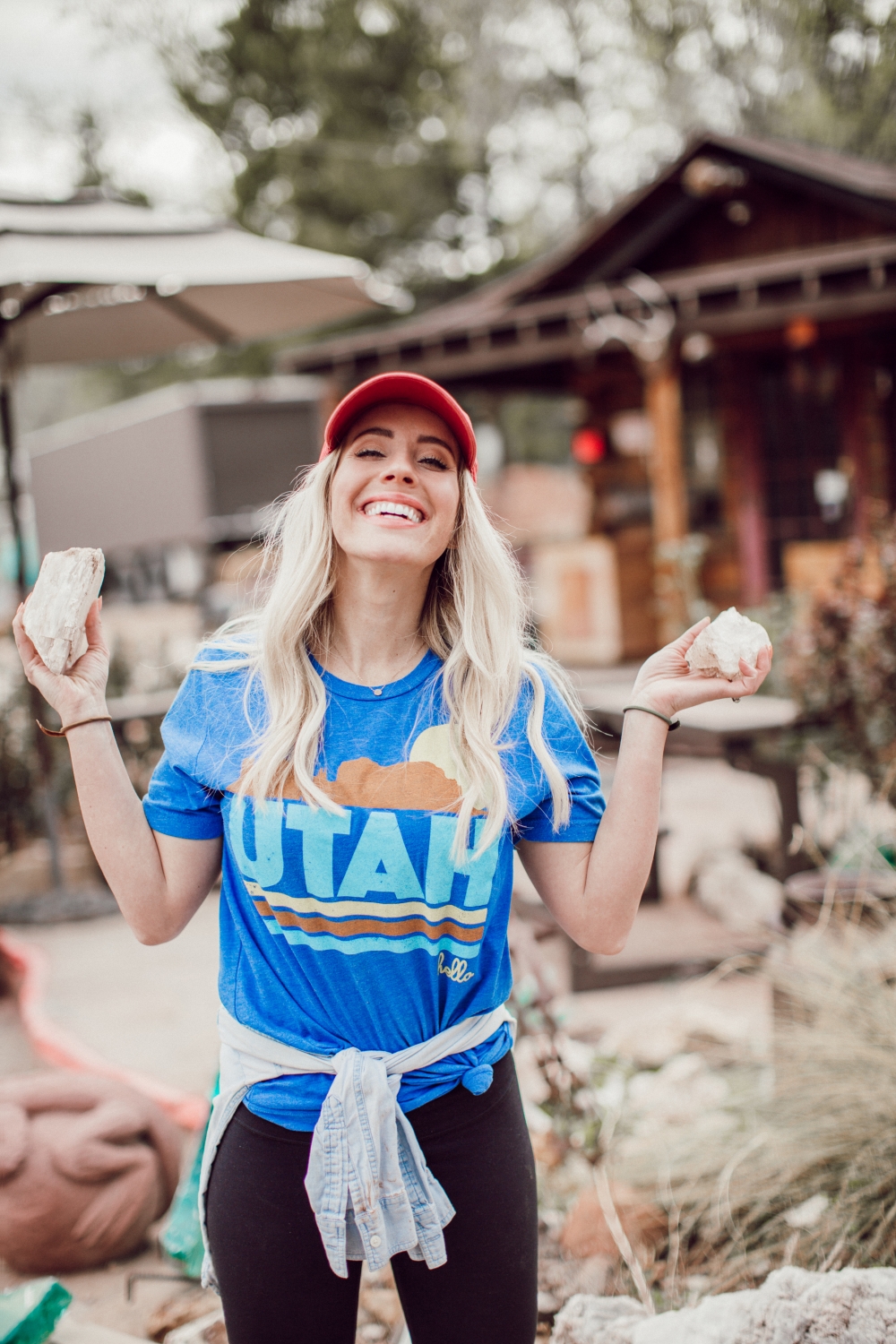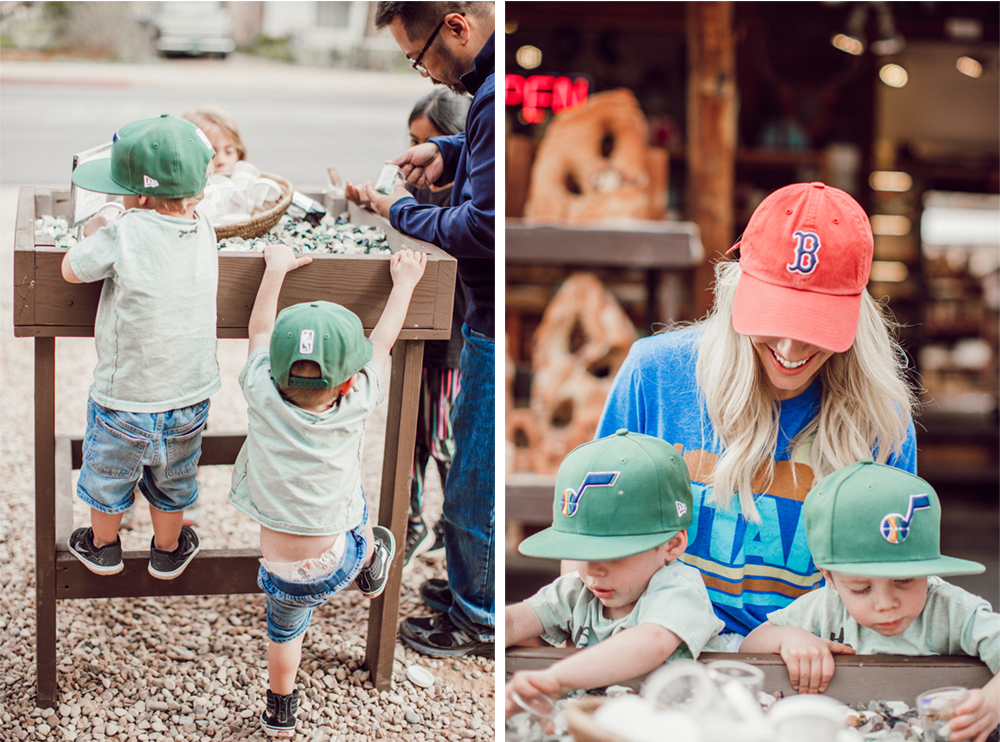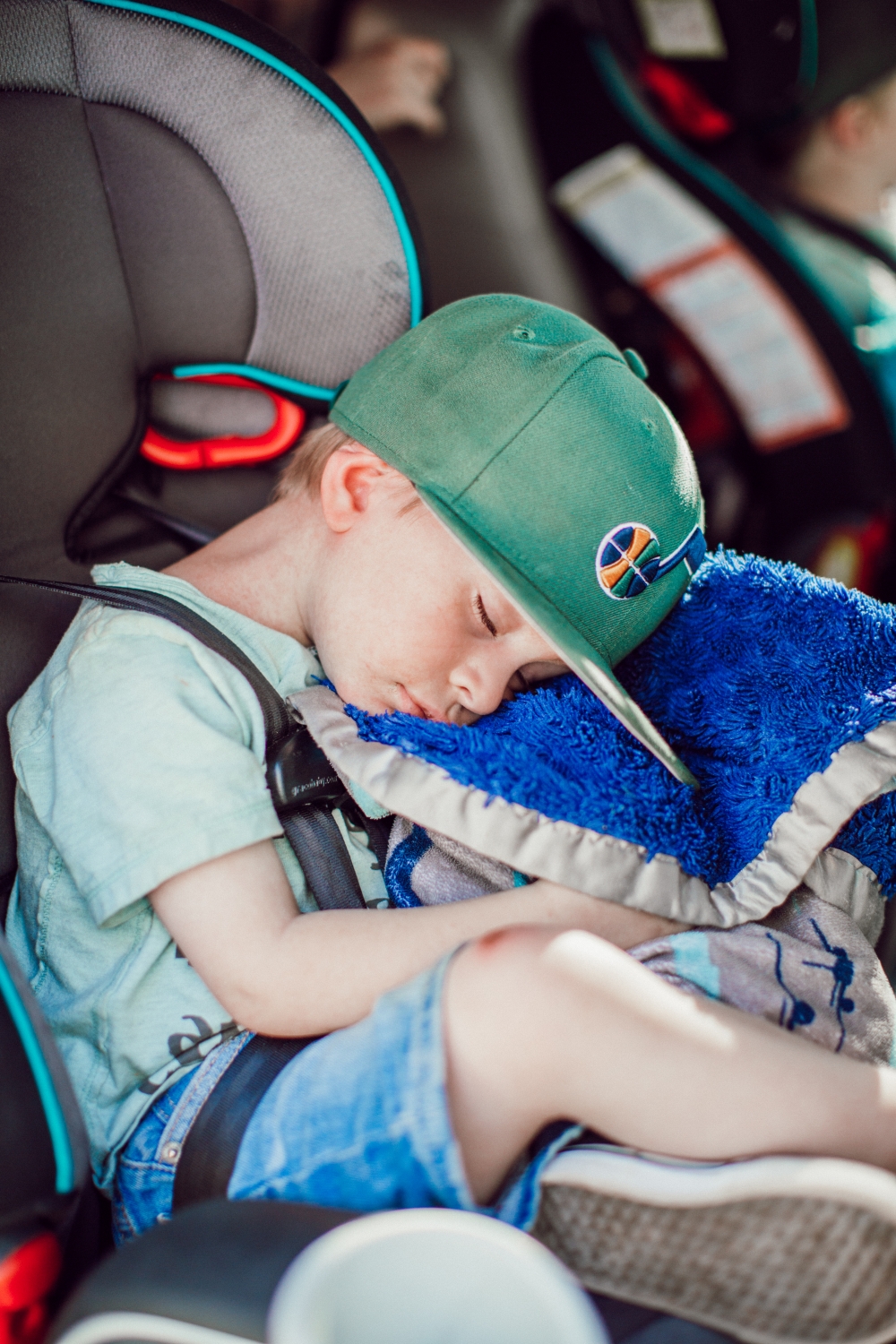 Day 3 was our day to drive back home. Savy said she was going to miss the Palm Trees most!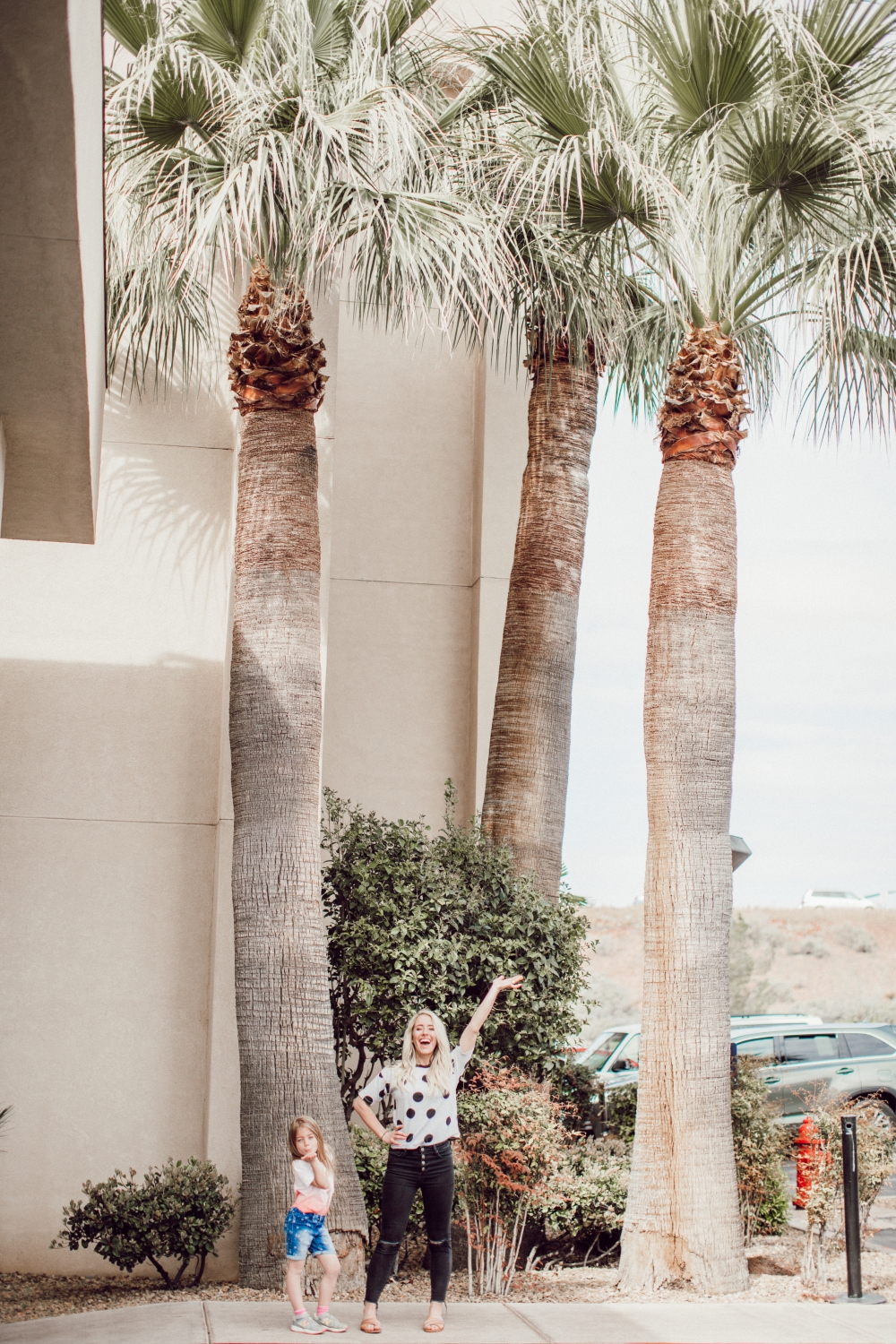 Brian and I met going to Southern Utah University. We quickly got married, graduated a couple years later and haven't been back since. We thought we'd stop off at the old Alma Mater and get everyone a little something at the bookstore.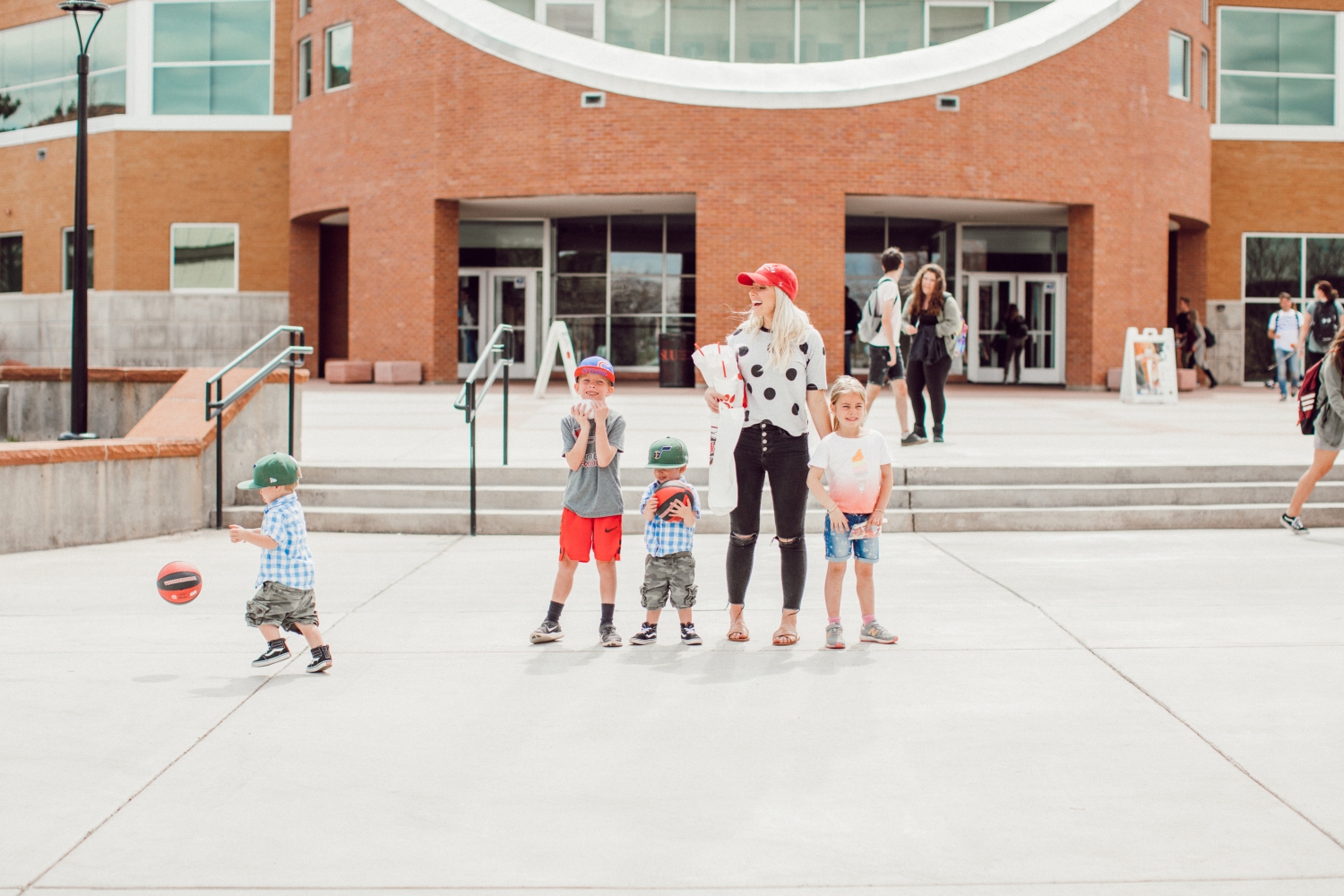 So much has changed yet so much is still the same. It brought back so many amazing memories and I can't believe we are here eleven years later, with four kids and a lifetimes worth of crazy love.
Now that you've endured what we did for the three days we were there, here is the comprehensive list I complied from everyone's comments on Instagram. If you're trying to plan your itinerary for your trip, or if you find yourself driving through and have a few extra hours to spare, hopefully this list helps you figure out how to best spend your time in St. George, Utah!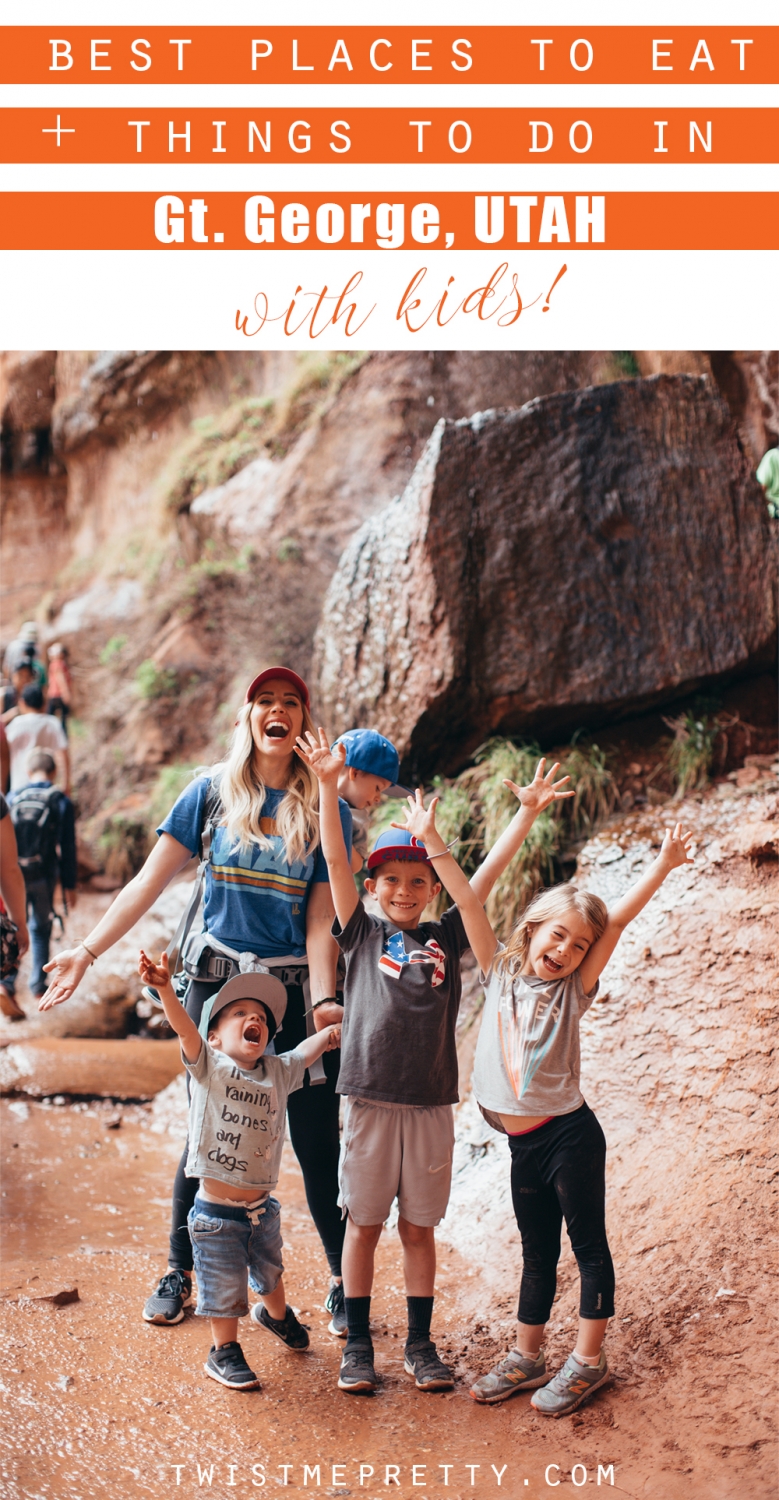 Restaurants:
I'm gonna break these up into categories, I think that'll be easiest!
Italian:
Pizza Factory and get the giant bread twists
Rigatti's for the best pizza and calzones
Pizza Limmone
Pasta Factory
Mexican:
La Cocina for awesome street Mexican.
Irmitas for the best Mexican food of your life, their super nachos rock my world
Cafe Sabor
Don Pedro's
Ninfa's Mexican grill – carne asada fries
Thai:
Benja's
America:
Bishop's Diner for breakfast
Cappriotti's from a bomb pastrami sandwich
25 Main
Judd's
Viva Chicken
Waffle Luv
Frost Stop — best hamburgers ever and eat all the pickadillies you can
Treats:
Swig – soda drinks and sugar cookies!
Nelson's Frozen Custard
Hikes:
Elephant Arch is a super kid friendly hike
Dixie Rock
Snow Canyon
Zion's National Park
Bryce Canyon
Kanarraville Falls, my brother has done this one several times and we wanted to do it but we needed another carrier for the twins!
Ivins by Entrada, beautiful scenery
Chuckwalla Trail
Water Canyon (lots of sand and water, easy for the kids + you get to drive through a polygamist town)
Checkout @hikestgeorge for all the best hiking spots!
Activities:
Glitter mountain is soooo fun for kids — I wish we would have done this!
Family Fun Center
Sand Hollow Reservoir, make sure to bring sand toys
The Children's Museum
Town square for the splash pad, then get lunch and ice cream at Judd's across the street
Thunder Junction Park — make sure to bring an extra $1 per kid so you can ride the train!
Vernon Worthen Park
Carousel Downtown – rent some bikes!
Retro Candy Shop, it's down town
Skate Park — bring scooters
Shops:
Scout & Cloth
Blue Linen
Urban renewal has awesome vintage finds
Heritage home and garden for really cute home decor
Places to stay:
Zion Ponderosa Resort
Italian Villa Air BNB
And that's it! If you guys have ever been to St. George and have anything else to add, please leave a comment below! Or if you can second any of those suggestions above that'd be so awesome!