Do you know how to do a french braid in your hair? I love this braid style on women of all ages. It's great for younger girls to keep their hair out of their faces in the hot summer months, and it can also be beautiful on older women who need an easy hairstyle for those days you don't have time to wash and dry your hair! French braids are a basic braid style that is great for beginners before you progress to harder styles. Learning how to french braid will teach your fingers muscle memory so you can more easily learn harder braiding styles later.
Today I'm going to walk you through how to do an easy french braid for short hair. We will be doing two braids, one on each side of our center part. This is a great way to deal with short hair. By doing two braids instead of one, you won't have to worry about the shorter side pieces falling out of your braids as much. For the full video tutorial, click below!
View this post on Instagram

How to French Braid short hair:
1.To begin the braids, part your hair down the center. Gather a section of hair in the front of your head on one side of your center part. Separate the hair into 3 smaller sections. This will form the start of your french braid.
**Finger placement: Using the hand that corresponds to the side of your head that you are starting on, place your pinky finger around the top section, your middle finger around the middle section, and then use your index finger and thumb to hold the bottom section. It's important to get your finger placement correct, so you can get a good, tight braid. **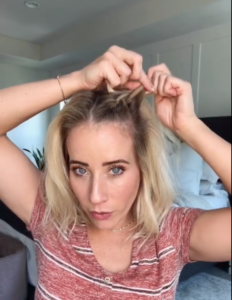 2. Take the bottom section and braid it over the middle section. Switch your hands and the fingers which are holding the 3 hair sections.
3. Take the top strand and braid it over the middle section, switching hands and fingers as you go.
4. Working on the bottom section again, hold the hair by your thumb and index finger. This will allow you to add more hair to your braid. Use your free hand to grab a new section of hair and add it to the bottom strand of your braid. Braid it over the middle section.
5. Switch your hands again and pull a new section of hair from the top of your head by your center part. Add it into the top section of your braid. Braid the top over the middle section again.
6. Repeat this process of adding a new section of hair to the bottom strand, and then the top strand. Switch hands as you go, continually braiding your hair towards the crown of your head. Keep your braid sections high against your center part as you braid.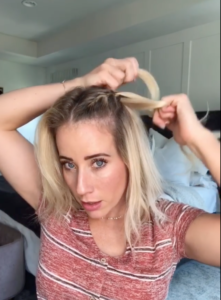 Remember the more you practice your hand positions, the easier it will get to do this french braid!
7. Once you get to the crown of your head, simply braid off your ends and use a bobby pin to hold the finished braid against your head so it doesn't unravel.
8. Repeat the braiding process on the other side of your head until you get to the crown of you head and meet the first braid you created.

9. Take the bobby pin out of the first braid and combine both braids using a bow elastic. Create a messy bun at the crown of your head by not completely pulling your hair through the elastic and fluffing the hair.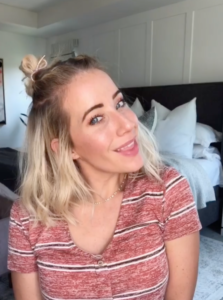 10. Admire your cute hair!
Want more hair tutorials?
How to curl short hair with a curling wand.