Holy cow! Is Christmas sneaking right on up on anybody else? I swear yesterday was Halloween and now I am supposed to have all of my kids' Christmas gifts bought, wrapped and put under the tree. 2020 is weird and everybody for sure skipped right past Thanksgiving this year. Like why are we still calling it Black Friday if it has been going since November 1st? In all reality, I think that we are all just trying to hang onto the fact that we actually have something joyful to look forward to and I'm here for it. If you are like me and have 100 little humans to buy for then you really appreciate holiday gift guides to help make your life easier. Since I love you and want nothing more than to make your life easier, I have put together a holiday gift guide for all of the kids in your life. Everything in these gift guides are things that my kids actually have and love, want or are getting for Christmas this year. I hope that you love and appreciate this holiday gift guide as much as we do!
Little Boys Gift Guide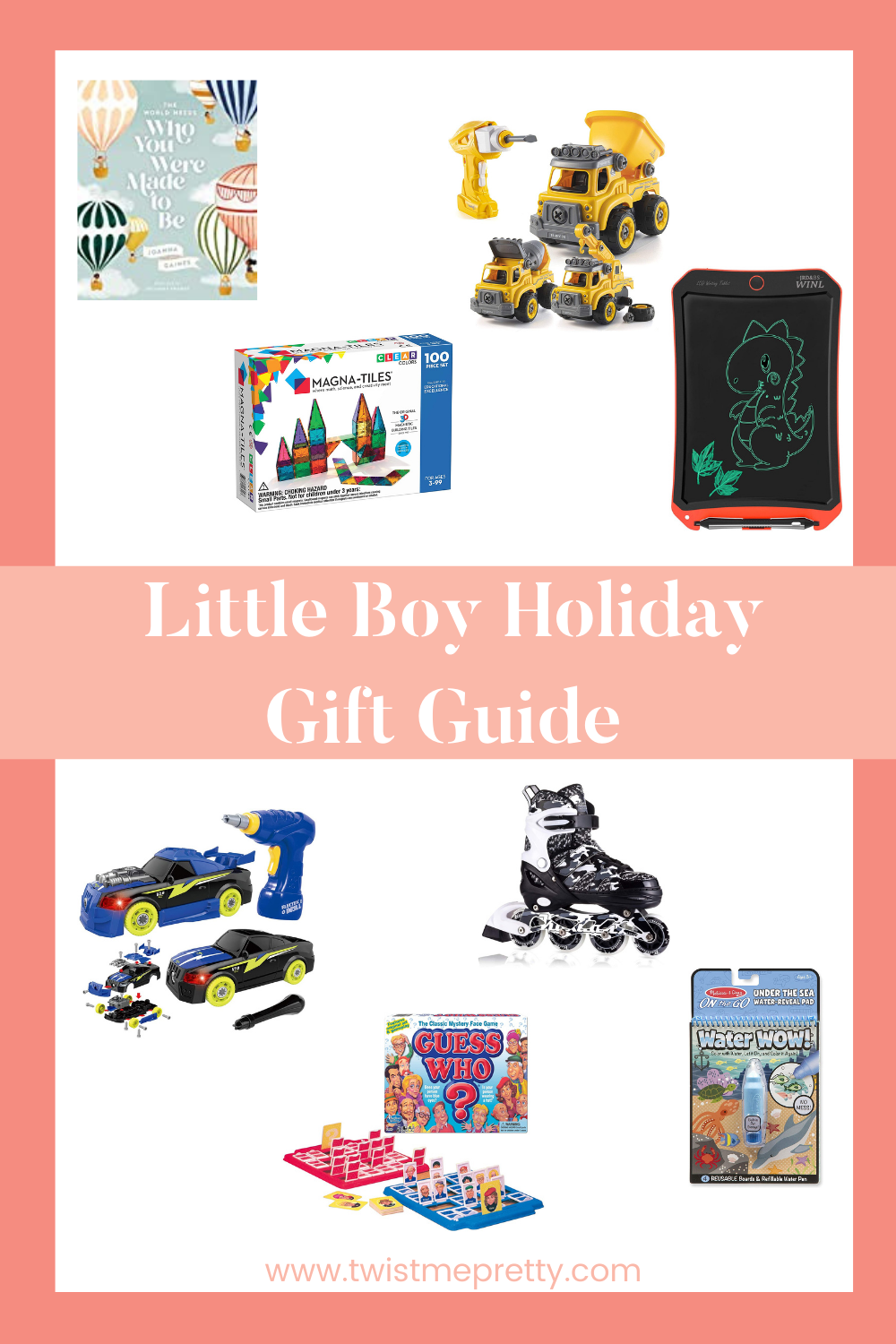 Roller blades are making a total comeback and I'm not one bit mad about it. Your kids will be ecstatic over these! Did I mention that they have light up wheels? Yes, please.
Magnatiles are pretty much the gift that keeps on giving. Kids love them. Moms love them. Dads love them. And they foster hours and hours of imaginative play. These Magnatiles are a hit for kids of all ages in our house.
If you like letting your kids paint with zero mess than these are for you momma! I mean they are for your child. They will love seeing the pictures appear as they paint with water (yep, that's right WATER). These would also make great stocking stuffers.
Another option for the artist in your family that requires zero effort on the parents part. My kids love taking these in the car, to church, etc… They are awesome for all ages and are less than $20.
We always love to stock up on games during the holidays. My kids love playing games together and I love that games help create connection and a fun atmosphere for their relationships to be strengthened. Guess Who is a classic game that is easy for a wide variety of ages to play together.
Is there really a better gift than a book? Books are the gift that keep on giving, so I always make sure to have one or two under the Christmas tree. You can find a few of our families very favorite books right HERE.
Who doesn't love a good remote control car? These take apart racing cars are so fun! Your kids will love assembling their own cars and racing them around. These cars will also help them to improve their STEM skills. Win/win.
These are just a different version of the above RC car. They come in a pack of three, so your kids can have fun building different versions and sizes of construction trucks.
Girls Gift Guide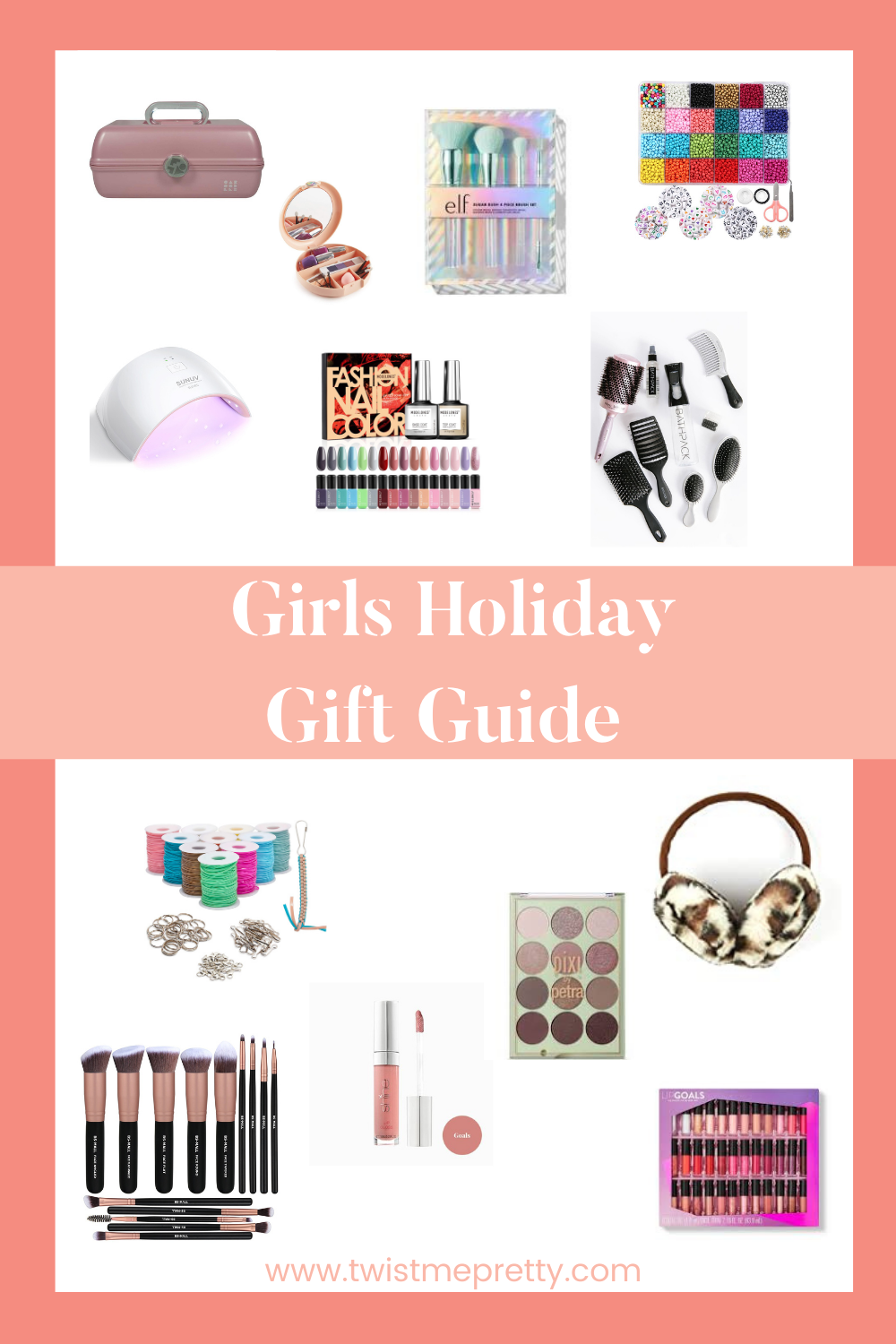 My girls love to bead and this kit is their literal Heaven on Earth. They can make bracelets and crafts for days with this kit! I love the cute alphabet beads that it comes with.
This is another awesome option for the bead lovers in your life. Whether they like weaving, beading, embroidery, or sewing, they can use their imagination to create a variety of personalized crafts!
Does this boondoggle take anyone back to their yesteryears like it does me? Your kids will be in Heaven making all of the creations with this plastic lacing cord. And you will be in Heaven, because they will be occupied for HOURS.
How cute are these funky ear muffs? I love all of the fun pattern options and I know that my girls will love having a stylish way to keep their ears warm this winter.
Since we can't go to the salon right now, we will bring the salon to us. This gel light has over 7,000 almost perfect 5 star reviews! It's amazing and right now you can save $5 when you clip the coupon available on Amazon.
I love all of the cute colors in this set. It will be the perfect gift to pair with the gel nail light!
Another blast from the past that is making it's way back and I couldn't possibly be more excited about it! Your daughters will go absolutely crazy over this darling caboodle to store all of their beauty goods in.
A smaller, more compact version of the caboodle. I don't think that this caboodle could actually be any more darling. The color and the size are just too much to handle. Perfect for your gal to take on the go!
Do you have a makeup lover that you need to buy a gift for? They will be obsessed with this set or this set of makeup brushes. Both are awesome and incredibly affordable!
You can never go wrong when giving the gift of lip gloss. This set has so many good color options and these glosses from Shine Cosmetics are pretty much like the Mercedes of lip glosses.
Can you tell that we like makeup around here? This eyeshadow set from Target is so beautiful and extremely inexpensive.
It wouldn't be a true Twist Me Pretty gift guide if I didn't include some of my favorite hair must haves! You know that my love for the Bathpack set runs real deep. I can't think of a single person who wouldn't love to be gifted this set for Christmas. The best part is that you can use the code TWISTMEPRETTY to get 15% off of your purchase.
Pre-Teen Gift Guide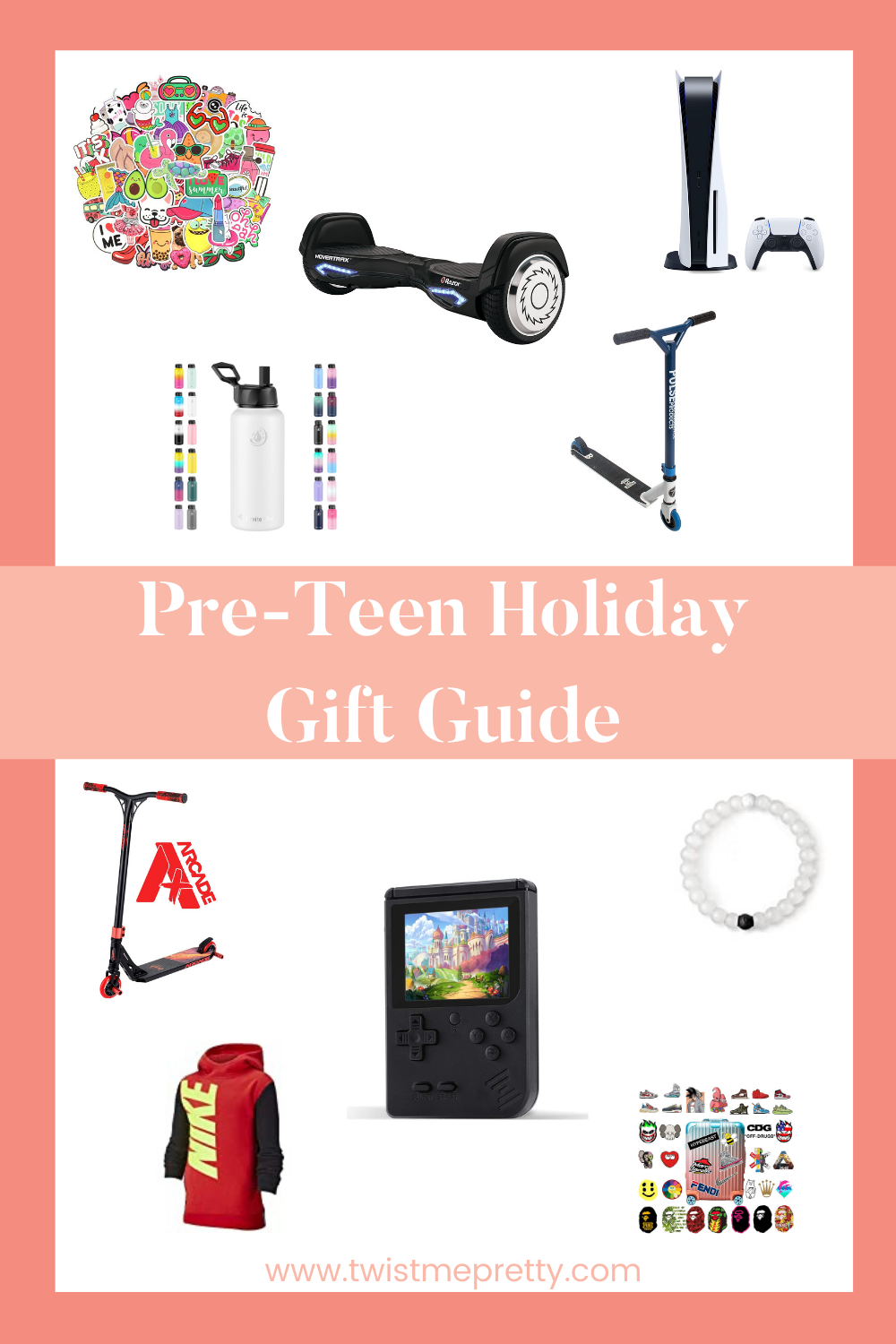 This Razor hoverboard is truly all the rage this Christmas! I don't know one pre-teen (or child in general) who wouldn't absolutely freak out to come out Christmas morning and see this baby under the tree.
If you are wanting to get your pre-teen an awesome insulated water bottle then you will want to get them this one! It has a great handle for convenience and comes in a very wide variety of darling colors.
And because every water bottle needs to be accessorized with stickers, you will want to grab this set of stickers or this set to go along with the perfect water bottle! I think that you will be surprised how excited your child is over such an essential present.
I was never mad when I got cute clothes for Christmas. Clothes are a win for parents and kids. Kids, because they like wearing cool clothes. And parents, because they like to give practical gifts that will actually be used.
If you're a cool parent then your child may be receiving this bad boy under the Christmas tree. Be prepared, they might cry tears of excitement (which should also be counted as tears of pure gratitude, right?).
Another great option for your gamers. I love that this retro gaming system has over 400 classic old school games. You might want to grab one for yourself too, just to take a trip down memory lane.
All of the kids think that these Lokai bracelets are the bees knees. What's the point you wonder? Let me enlighten you… Each clear Lokai is infused with elements from the highest and lowest points on earth as a reminder to find balance. Who knew right? You're welcome.
These pro scooters are next level fun for all of the scooter lovers who want to try out their BMX moves. They are claimed to be the safest intermediate level scooter on the market. There are two versions to choose from. The Arcade version or the Pulse version. Both are highly rated!
I hope that this fun kids gift guide helps you to get everyone on your list checked off! Remember to keep it simple. They will truly love whatever you get them. Happy shopping my friends!
Looking for more gift inspiration? Check out my Holiday Gift Guide for Moms right HERE.