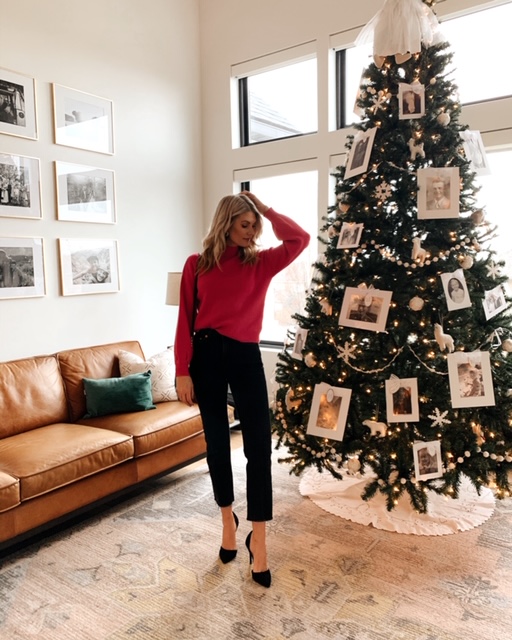 Holiday style tips from a pro!
The holidays are the most wonderful time of year. But they can also be the most stressful time of the year. There are just SO many things. So many people to buy for, so many places to be at, so many things to get done. There's the neighborhood gifts and the teacher gifts and charity drives. The work events and kids events, the girlfriend parties, the family parties, and the church events, the list goes on.
And for me, there's also so little time and so little budget. For all the things to be at and people to see I want to look and feel good AND be able to enjoy the festivities. But it's tough! I don't want to (and can't) spend hundreds of dollars on multiple holiday dresses and sweaters and jewelry and shoes to wear for every event. Especially ones that I won't want to wear again come January 2nd.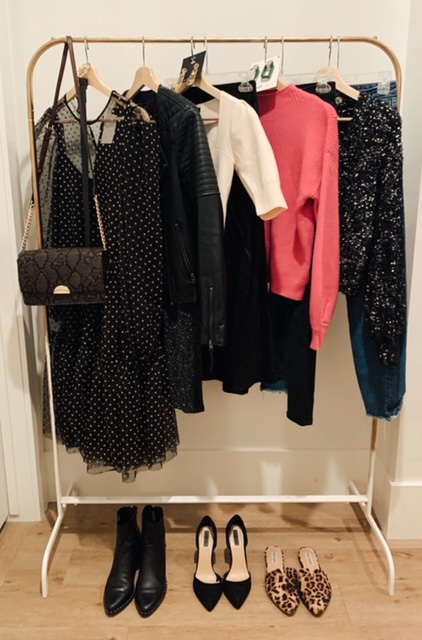 So how do you do it? Look good and feel good for all the holiday things without breaking the bank?
Be strategic. Be strategic. Be strategic. Be strategic (okay if you haven't seen the 'be suspicious clip' from parks and rec google it and thank me later).
Styling is KEY. Using things versatilely and utilizing classic pieces intermixed with inexpensive accessories will help you WIN without spending all the money for the kid's Christmas gifts.
I styled 15 different outfits for 5 potential Holiday events we all have every year with 2 dresses, a skirt, a couple of sweaters, and a few accessories without spending over $35 dollars on ANYTHING.
In fact, my total spent was about $200. I came up with 3 different options for each event to give you options and show you ways to style differently utilizing the same few things… so here they are.
Holiday Style for t

he Girlfriend Party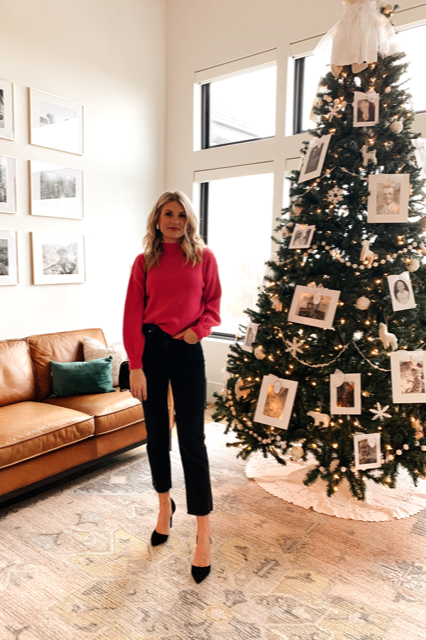 Adding a fun pop of color that isn't necessarily a "holiday color" is a great idea. Found this pink mock neck for $17 @tjmaxx (find it here).
Now I'll wear this sweater all winter long. To add to the holiday vibes I found the prettiest green earrings with a little bling from @h&m to compliment the pink.
I chose a classic pump to dress the look up and topped it off with snakeskin printed bag from @target to add a touch of print. This might be my fav new outfit (find it here).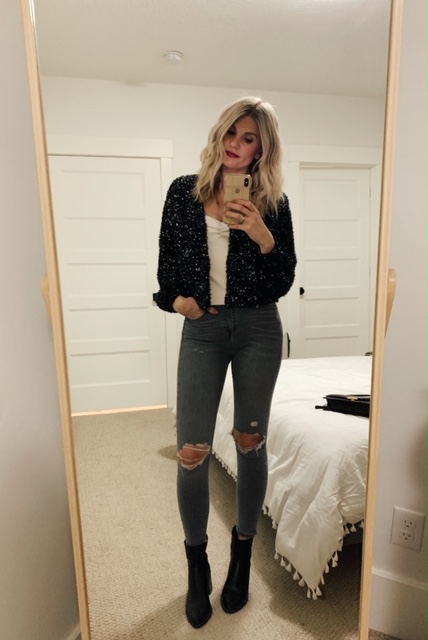 Here I have my new favorite cropped cardi from @nordstromrack (find it here). This top looks great by itself (buttoned up) or as a cardigan like this. It's super soft and woven with little bits of white and grey. The texture is amazing and makes it feel more "holiday". I layered it with a cream square neck cinched top I found @forever21 Ruched Puff Sleeve Sweater.
It is darling and such a flattering and classic silhouette. Added my fav distressed grey Jamie's from @topshop and number #1 fav boot from @nordstrom (find it here).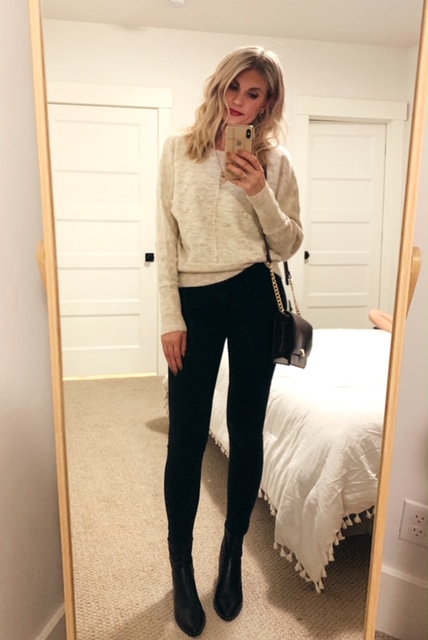 Ok. I found this sweater @tjmaxx for $25 bucks (find it here).
I'm wearing it backwards here! It's a v/neck in the back and crew neck in the front with a cute seam and a great heathered texture with polka dots. I wore it both ways and turned it into 2 different sweaters. Paired with my favorite cropped Zara jeans and again my fav boots. I added a classic gold hoop earring and again that snakeskin bag for some added print. Love this look.
Holiday Style for t
he Work Party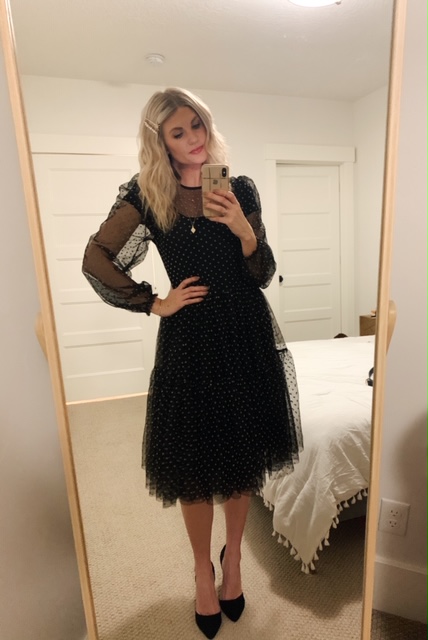 Can't get enough of this polka dotted tulle dress I found @h&m for $35. It's fun and festive but not so holiday that I couldn't wear it again. I added a waist belt to add more shape and draw the waistline in, some booties to add a little edge to this super girly ensemble and those amazing green earrings I talked about for a splash of color. This is going to be my fav this season for sure.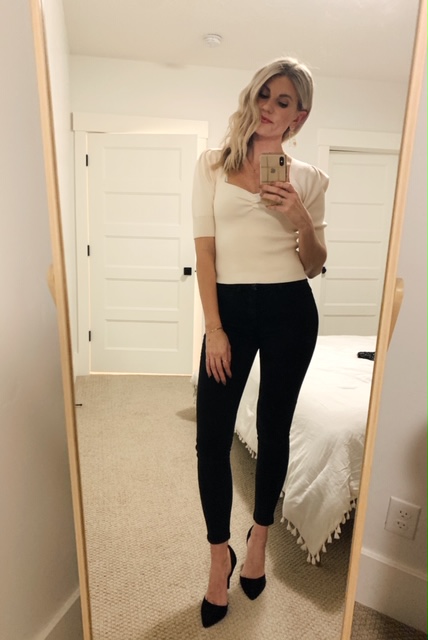 Now I've got that darling classic cream top I found @forever21 for under $15 bucks, paired with a classic black skinny and super flattering pumps. These earrings I found @nordstrom rack for $14. I love the clear plastic with the splashes of gold. It's one of those that works great for holiday but can be worn anytime!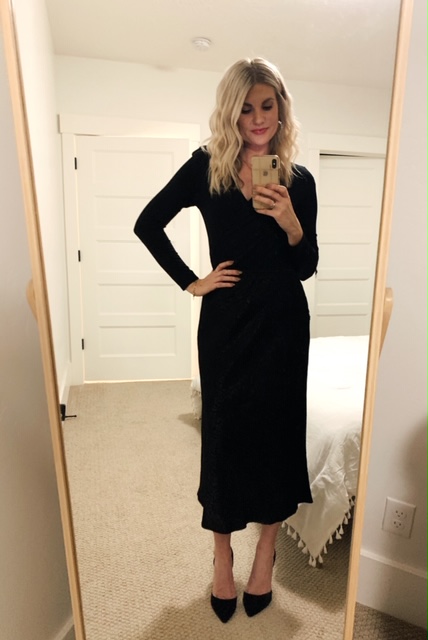 This satin skirt I found on sale @target for $20 bucks (find it here). It has a leopard print texture and is such a flattering and comfy fit. Paired with those classic pumps and wrap top I also snagged from @forever21 for under $10 last month. Pleated Surplice Top
This top is great for everything. I threw on some metallic earrings I found last season to make it feel more holiday and I'm good to go.
Holiday Style for Church Event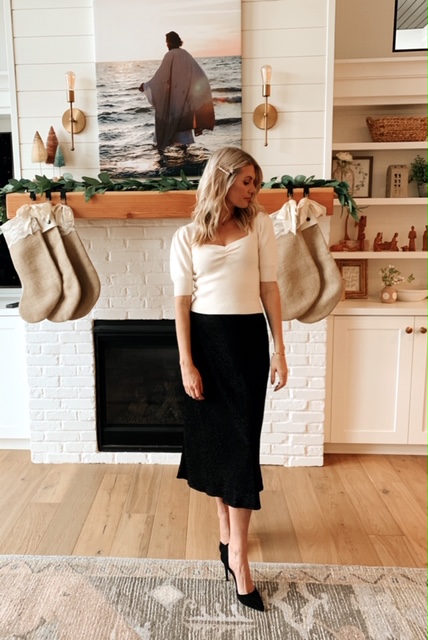 Now I paired that same cream top with the black satin skirt and pumps, but I've added a pearl and rhinestone star clip to bring the look up to that holiday level. Check out this item at Target (find it here).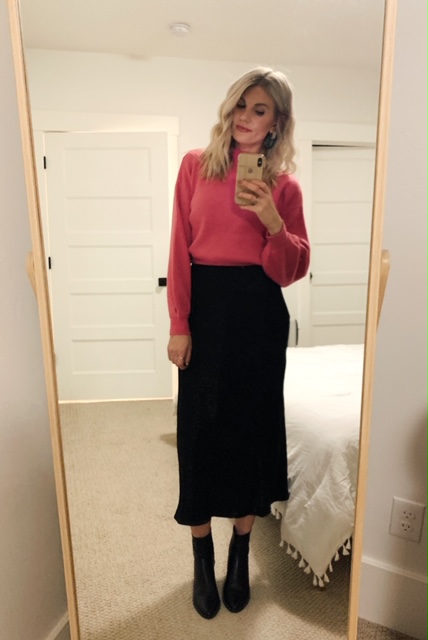 Back to the same classic skirt and adding a pop of color with the pink mock-neck sweater. I added booties for this look to make it a little edgier and again my favorite new green earrings.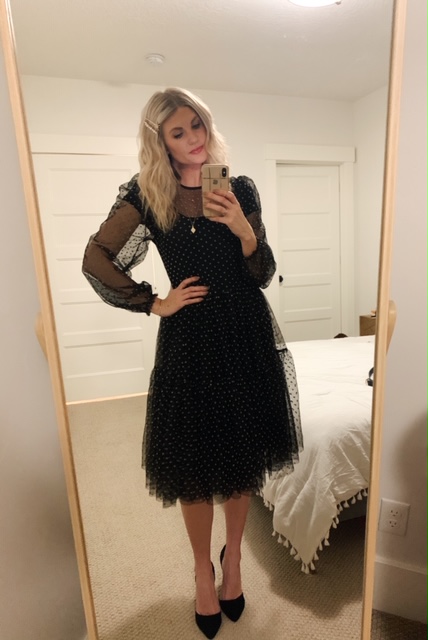 Same dress. Different look. I added those classic pumps and some festive hair pins to turn up the vibes. I also added a longer gold necklace from @honeycat here. HONEYCAT Rose Flower Pendant Necklace in Gold, Rose Gold, or Silver | Minimalist, Delicate Jewelry (Rose-Gold-Plated-Brass) (find it here).
This longer necklace is a great way to create the look of a more flattering neckline, especially with a crew neck, drawing the eye in and down.
Holiday Style for Family Festivities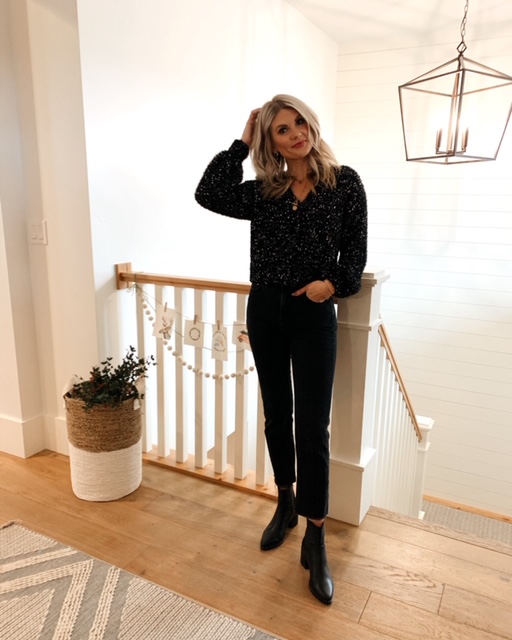 That same cropped cardi worn as a sweater with my favorite high rise cropped straight leg jeans and the booties that always win, are perfect for that family get together.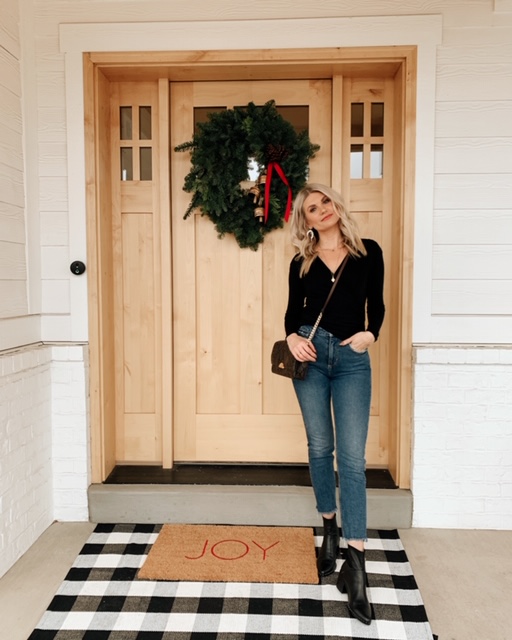 Here I paired that perfect black wrap top with some jeans, dressing it down but added some fun blingy earrings and snakeskin bag to spice it up a bit.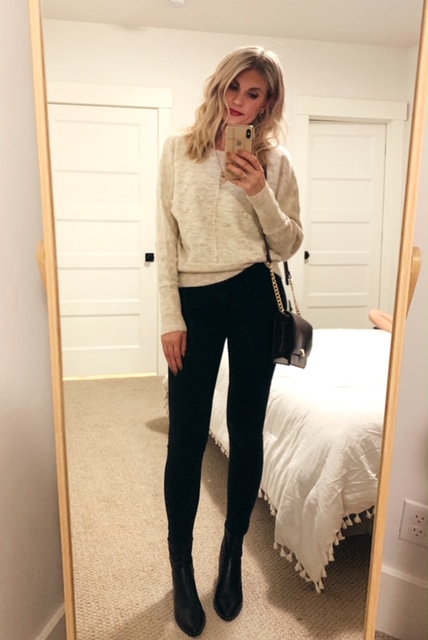 This cream textured sweater is the one I wore backwards in another look. It has a V in the back but it's not too low. I love it paired with a black skinny and booties. Such a classic look. Again I added the bag and some classic gold jewelry. Sometimes even just adding a fun red lipstick helps to take your look up to that HOLIDAY level.
New Year's Eve Fashion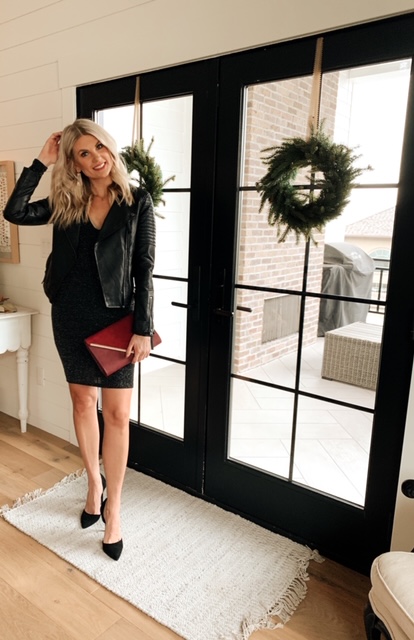 Found this dress for $10 dollars, yes $10 @forever21. Metallic Knit Dress
It's a v-neck bodycon that hits just above the knee. I paired my favorite leather jacket to feel more comfortable with the tighter fit but you could always also go up a size to get more length and wiggle room. Super flattering with the classic pumps and those fun metallic earrings!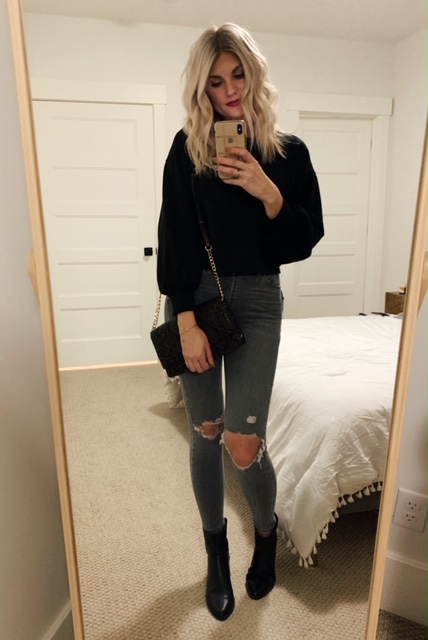 For a more relaxed NYE look I found this cropped black top with a blousy sleeve also @forever21 on sale for under $15. You could even throw it over the fitted dress to give it a whole new look! I love it paired with the distressed high rise skinny and booties. Added the bag again for some print and it would be super fun to go BIG on the jewelry with this neutral outfit.
I LOVE putting something masculine with super feminine pieces! I added some Doc Martin knockoffs and a biker jacket with the tulle dress to add a little 90's edge! Love this look.
That's it! Soo many options with just a few pieces and all of it coming under $200. So much of the time, especially around the holidays, we, as women put everyone else before ourselves.
Treat yourself to something that makes you feel good especially this time of year! Even if it's just a new lipstick or a cute pair of earrings, you deserve it!! I hope we can all slow down just a little bit and enjoy this wonderful holiday season amongst the chaos. And hey, maybe just ask Santa for a vacation come January.
XO- Britt
@slate-style