Do you ever feel like getting kid gifts is both fun and tricky sometimes? You know there are things that they will love, but maybe you also know how fast the novelty will wear off and then you've got another toy to organize/clean/step-on (I'm looking at you LEGO).
It's basically a mathematical equation to find the right thing… at the right price… Experience gifts, books, clothing are all great gift ideas but if you love a few wrapped presents then learning gifts or gifts the whole family will love are a great option.
Here are some of my favorite kid gifts!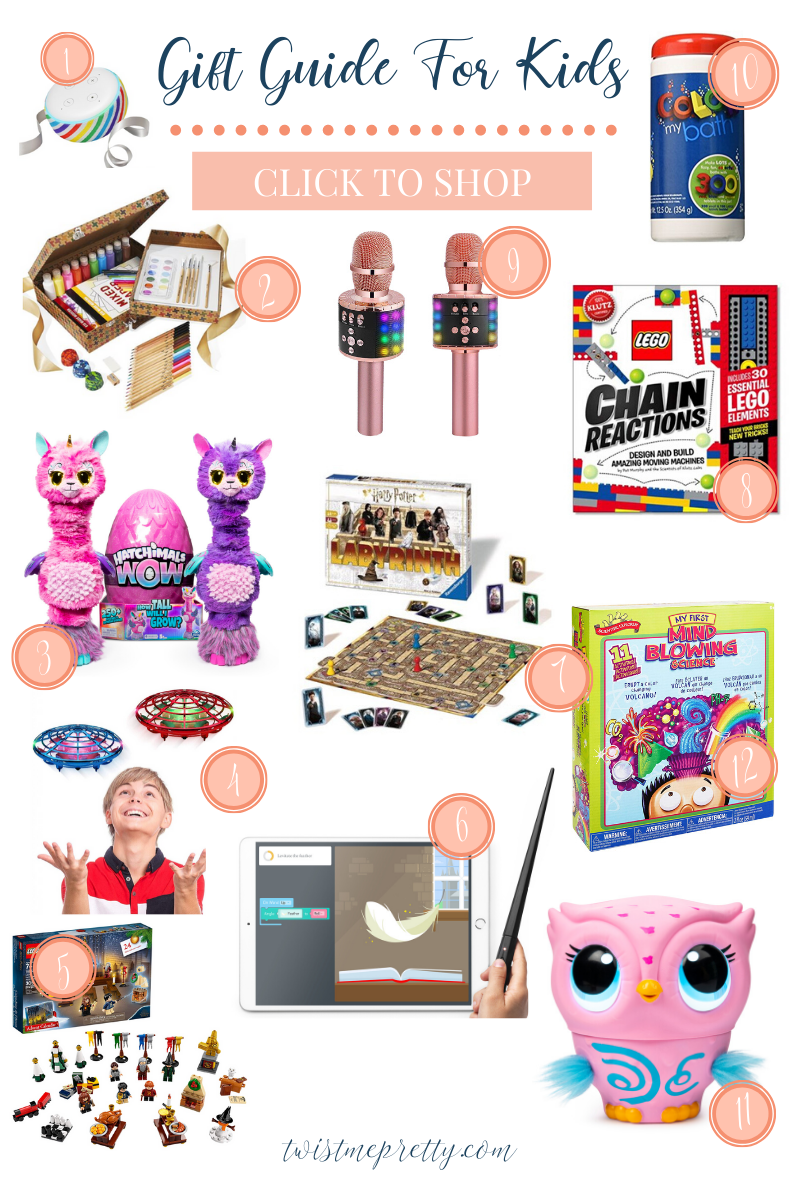 1. Echo Dot: Music, time, audiobooks, story time podcasts, fun games, etc. Echo Dots are a great gift and addition to your home. Setup alarms for your kids to wake, end story time, reminders to brush teeth, etc. This can also be a great gift for parents too!
2. Art Set: An art set for your budding Picasso. Plus it's all organized!
3. Hatchimals Wow: If you have kids that love Hatchimals you probably already know about the Hatchimal Wow version. These are the biggest Hatchimals yet and there neck grows and shrinks. Pretty cute with its little emotions.
4. Spinning Drones: I love toys that will take my kids outside and/or are screen time free. These little guys are a fun gift that is lightweight and easy to use.
5. LEGOS: Always a great classic choice. While they might not be fun to step on, they are a great option for those budding engineers. If you are beginning to drown in Legos, this organizer cart is a great way to organize them!
6. Harry Potter Coding: Build your own wand while learning coding. How cool is that? Is this a kids gift or for grown-ups?
7. Harry Potter Labyrinth: There are a lot of great Harry Potter board games these days!
8. LEGO Chain Reactions: Another great learning tool in disguise as a toy is this LEGO chain reactions. In a chain reaction, one thing leads to another, which leads to another, which leads to another. With the stuff in this kit and a pile of your own ordinary LEGO bricks, you can build Ten awesome machines that can be combined to make dozens of different chain reactions like throwing away garbage or ringing a bell.
9. Microphone: This microphone is it's own little karaoke machine, including a built in speaker. You can link it to your phone to access hundreds of songs. Move over family movie night, karaoke night is here.
10. Color My Bath tablets: These are the best for making bath time fun! They make a great kids gifts or stocking stuffers. Plus with 300 of them you really can't beat the price.
11. Mind Blowing Science Experiments: If you have budding chemists in your family they are going to love this! With this kids gift science fairs better watch out because your kiddos are going to be pros.
12. Owleez Interactive Pet: With the Owleez kids gift, you take care of your own baby owl and teach it to fly. So cute!
Kids Gift Ideas for Christmas
What kids gifts do you have on your list this year? Any that they are absolutely obsessed with? Hop on over to Instagram, I'd love to hear the kids gifts you have on your list.
Abby