Oh babes! It is full scale Christmas season! If you are like me, you have some people on your list that are SO hard to buy for. Maybe they have EVERYTHING (cough, cough mom and dad) or they are just incredibly practical- which is such a great trait but SO hard with gifts! Or maybe they are both….
Here are a few ideas to get you started on your Practical Gifts.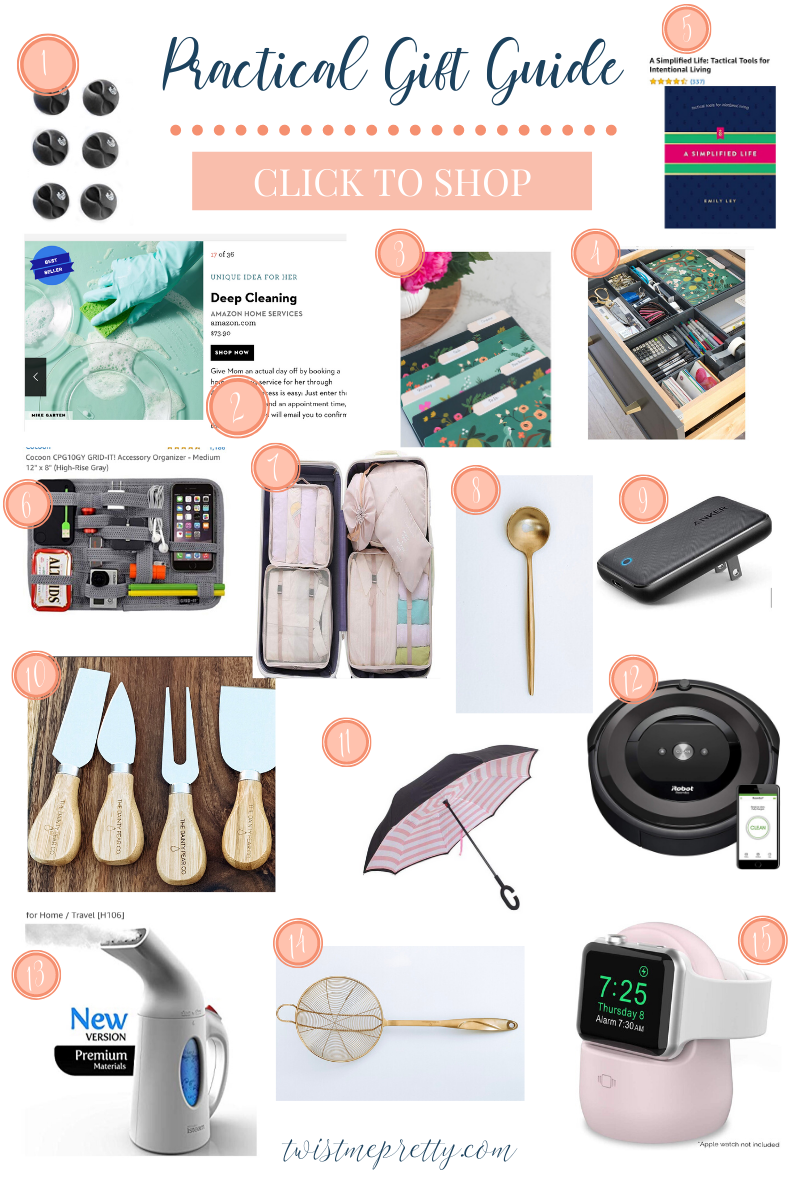 Practical gift ideas for the person who has everything!
Cable Clips/ Cord Organizer: these little bad boys will save you from lost cords between your bed and nightstand….you know what I am talking about. Streamline it ALL. So organized, so ZEN.
Deep Cleaning or "Spring Cleaning": get yourself and the ones you love the gift of a deep cleaned home. You know the feeling- walking in and everything is perfection except you don't need a Hazmat suit. You have been at the park with your kiddos. Now that is a gift everyone can enjoy!
File Folders: Yep, so, so, so boring…. or is it? Pretty sure Marie Kondo is on to something and there is NOTHING boring about beautiful organization. Plus when you get those pretty folders rolling? Yasss!
Organized Drawer Dividers: You may be thinking drawer organizers are borking. Well I am here to say "stop it right now". Ha! This is the list for the practical person. No there are no sequin coin bags and Flourish wands… these peeps have them already right? 😉 Customizable drawer dividers are so amazing!
A Simplified Life (or any great book)!: The person who has everything will probably love a great book and/or a book that will help them live their best life. This book is a good one for anyone looking to simplify their life a little bit to allow space for the important things!
Electronic Organizer: This little beauty is so perfect for your car, or purse, or diaper bag or….. all of the places you need those little everyday necessities to go.
Packing Cubes: have you traveled with these? Then you know what I am talking about. Especially if you have kids my friends- imagine all the outfits in ONE cube each, the dirty laundry in a spare. Everything stays separate. No more digging through your suitcase looking for one pj top and another pj bottom. All. In. One. Place. These might have been how Mary Poppins fit so much magic in her bag.
Beautiful Serving Ware: This is beautiful, useful, you can get it ENGRAVED and it's literally one of the most perfect gifts to give someone who has everything… do they have a gorgeous serving spoon with their kids/grandkids/state coordinates/etc. engraved to entertain next year? I bet they don't. 😉
Laptop Charger: This is an

Ultra-thin laptop charger! Perfect for hard-to-reach outlets tucked away behind your bed or sofa.

High-speed charging: Anker power 3. 0 technology charges phones and tablets at their fastest possible speed, and can fully charge a MacBook 12" in only 2 hours.

Universal compatibility: Supports Apple and Samsung fast charging, Qualcomm Quick Charge and USB-C power delivery for high-speed charging to virtually any USB-C device. Basically it charges everything, maybe your car next!

Garden Tool Set: This set is so perfect to give to any green thumb (or black thumb). Give a few seed packets and some sticks to help that new garden grow come Spring. Great reviews and fast shipping! Gift giving done!
Umbrella: This umbrella is fabulous to keep in your car, purse, diaper bag or stroller. It's high quality, beautiful and compact. If you have kiddos in strollers this is a great addition as well!
Roomba: This little gift is going to make your life a million times easier. Imagine just setting it on go when you have to run errands… it's like your own little house elf!
Hand Steamer: If you hate ironing then this little gem is going to be your new best friend! You will thank me later.
Gold Strainer Set of 3: again with the beautiful kitchen tools. Can we do a little shout-out? Give it with some Muffin Mix and mixing bowls? So pretty, practical, inexpensive and will actually be used.
Apple Watch Charger: Yes, this little guy sits on your nightstand so you still get the "sleep monitoring" benefits. Anyone else ever worn theirs to bed to get their data and ran out of battery by their shower? If this is you babes, this is for you. There is also this awesome Apple Watch Charger keychain!
Any other gift ideas you would add?
Alright babes, what other practical gifts do you have for people on your list? It is down to crunch time (though Amazon Prime has changed that). Let me know your very best ideas for the person who has everything. Let's add the best to this list!
Abby