When Matt and I got married and moved, Matt moved into a new office building with his partners. His previous office was in an older building that had hand me down furniture and while that worked for a long time, he and his partners agreed it was time to upgrade their space. Matt, in particular, was excited to have a blank slate to work with for his modern and masculine office space.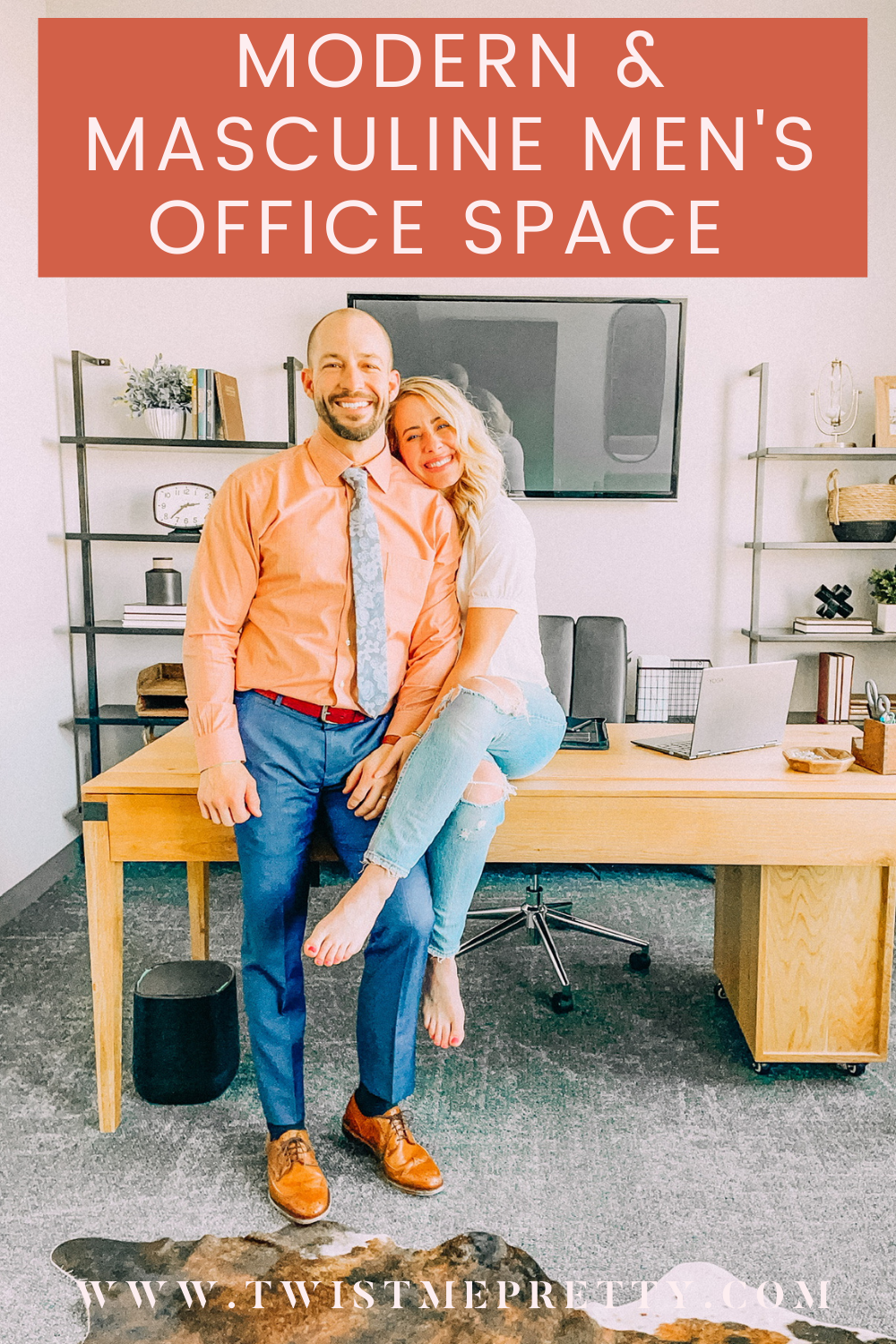 Matt is a certified financial planner who owns Connect Financial Planning with his partners. He specializes in serving high end, affluent clients. He's been helping people invest in their futures for a long time. Since he's meeting with successful clients daily, it was important to me and to him that his new office space reflected his success as a businessman. I wanted him to be able to have a space that would allow him to put his best foot forward and feel confident in what he is offering to his clients.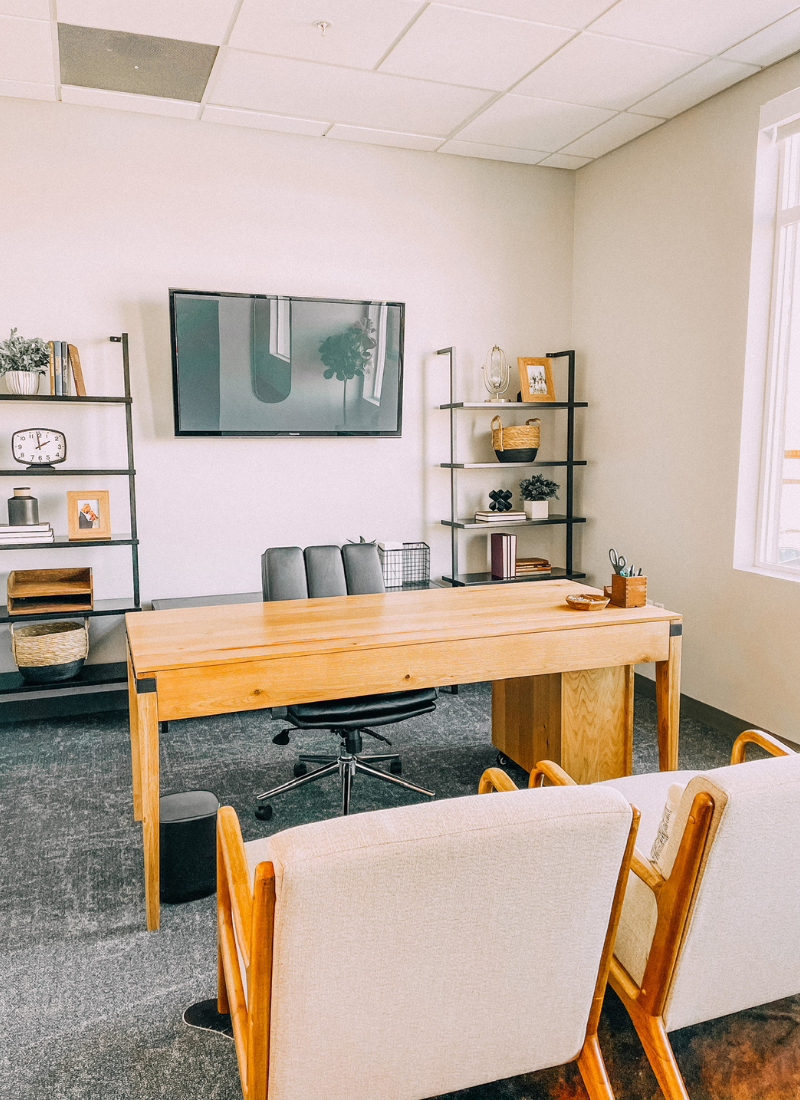 To accomplish this modern and masculine office space, I turned to my favorite designer, Kelsey from @alika.design. I adore her work so much! She did the girls room a few months ago (see that here) and she's done a few other rooms in our home. For Matt's office, I told her that I wanted to invest in a really nice desk, a few pieces that would stand the test of time, and a really good chair.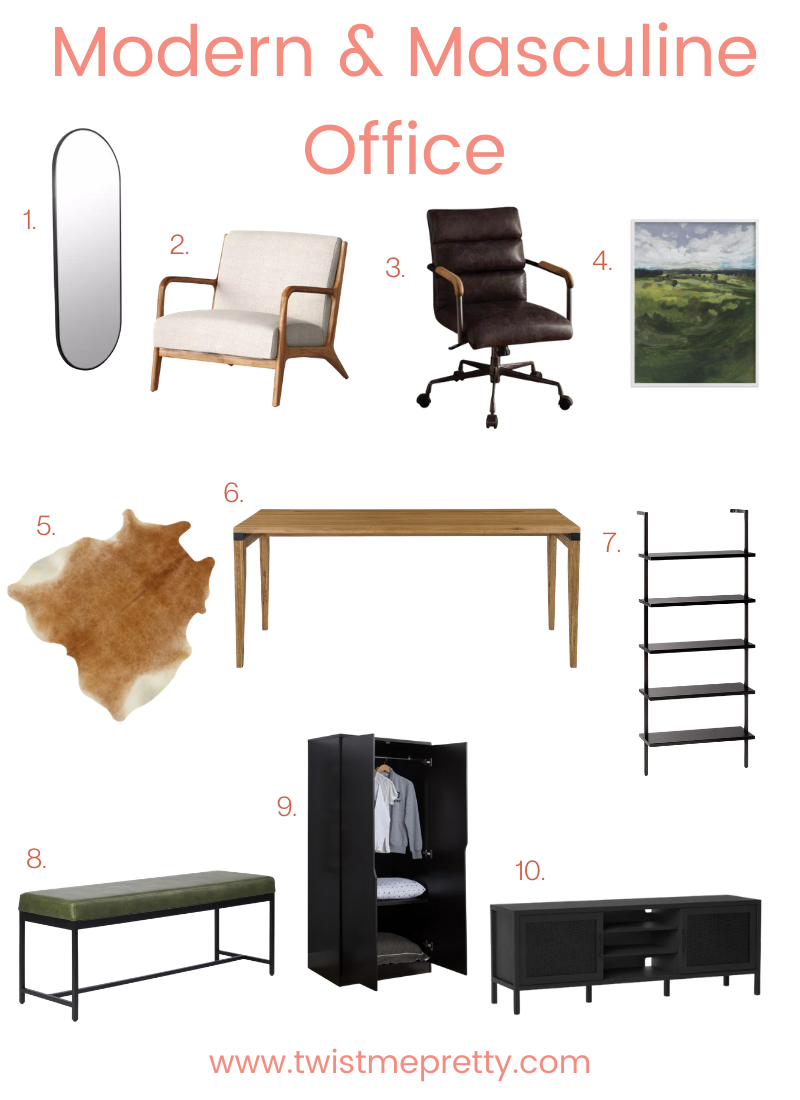 Modern and Masculine Office Space
1 Mirror
I love how this mirror looks in Matt's office! It's the perfect size and shape for this area.

2 Chairs
The pillows and chairs were found at Target. We needed comfortable chairs that also had clean lines. These fit the bill perfectly.

3 Desk Chair
Matt's desk chair feels as great as it looks! The black leather really ties into the wrought iron on the desk and the dark wardrobe armoire.
4 Art
This piece from Minted took me a while to find. I hunted around for it for a while because I wanted something neutral but that he loved, too. He loves landscapes so we picked out this piece together.

5 Rug
With all of the black, heavy furniture in this modern and masculine office, we needed a rug that wouldn't add any more weight to the room. The cowhide rug definitely fits the bill. It's thin enough that it doesn't cause issues with the chairs, and it has the modern look we were going for.

6 Desk
We were gifted the Madera Desk from Article. It's pure oak. Online it looked a little skinny and small, but we were pleasantly surprised to find out that it is a lot bigger in person. We trust Article as a brand, and have several of their pieces in our home. We love how Article makes it easy to get the modern office space we wanted. This desk is stunning! It has such a pretty grain to it that is unique to each Madera desk. Because it is finished with a wire brush, the surface is so pretty and textured! And the angle iron and exposed bolts are beautiful on it, too. Article is amazing at offering high quality furniture at a great price that is designed to last. Lastly, we both love how the Madera Desk has a hidden cable management cabinet to store Matt's cables so he doesn't have to worry about tripping over cords.
We also received the Madera Filing Cabinet in Oak that matches the desk. Storage is always an issue when you're designing an office, and for Matt's modern and masculine office space, we knew we would need storage that was both useful and beautiful. This filing cabinet allows Matt to have his desk clear of clutter while giving him the perfect place to store everything from his files to love notes from me. With so many companies struggling to fulfill orders, we love how Article is shipping in-stock items fast, and is providing estimated delivery times on each product page so you always know when your item will get to you. Plus, Article offers contactless delivery to ensure everyone stays safe!

7 Shelves
These modern shelves are perfect for storage while not taking up too much visual space in the office.
8 Bench
Kelsey found the perfect solution for the pop out area underneath his window. The bench and tree help the area look grounded and also provide extra seating.

9 Wardrobe Armoire
Matt loves to go to the gym before going to his office, so we knew he needed a freestanding wardrobe armoire to hold his clothes and shoes. We had a lot of fun putting it together and he loves the functionality of it. (The exact one I purchased is out of stock, but here is a similar one.)

10 Console
We put this console under the tv for added storage. It's perfect for this space!
TV
The tv is one of our old ones that we put up on the wall. Matt likes to cast client documents and information onto the tv for his clients to view.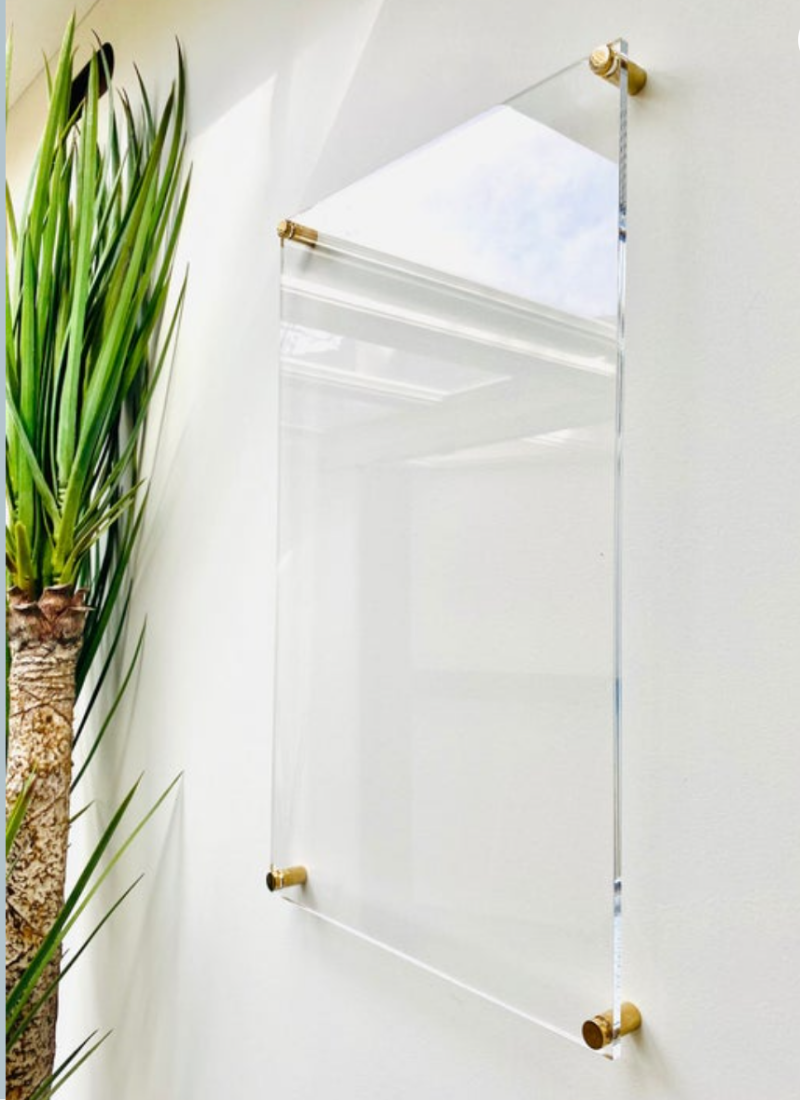 Acrylic Board
This acrylic board was a must have for Matt. He uses it often to draw out the options for his clients. He loves to educate his clients on their options and this board allows him to do that easily. Plus, we both love the modern look of it.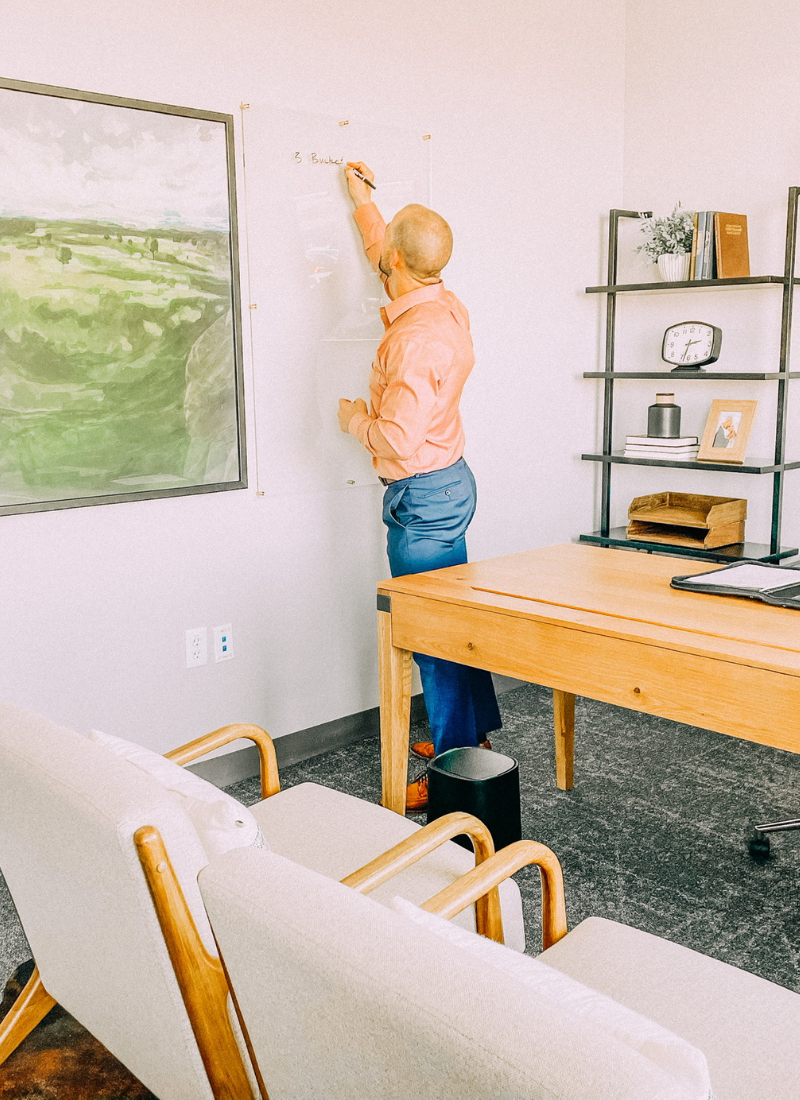 It's been so great for Matt to have a quiet, well organized space to work in. With all of the chaos that comes with having 6 kids between the two of us, our home isn't usually very quiet! You can find Matt on Instagram @financialmacros, where he occasionally shares financial tips and information. He's been really busy with clients lately so he hasn't posted as much as he would like to. You can contact him at
And you can see the full video reveal of Matt's Modern and Masculine Office space here!
View this post on Instagram