Hi babes!! Let's chat about skin, shall we?! Have you ever struggled with acne, age spots, hyper-pigmentation, or melasma? I feel like the older I get the more and more problems I have with my skin. Because of this, I was determined to find a solution that would work for me. I finally found a method for treating my melasma- the Light and Bright Laser.
Skincare in My Thirties
No one told me acne would be a problem into my thirties and that I'd struggle with sun spots and hyper-pigmentation so badly before my skin really started aging! But here we are. Somewhat happy to have the lines and sunspots because it means a life well lived but also trying to find that balance on aging gracefully while preventing further damage from the sun and maintaining that fresh, youthful glow as long as possible!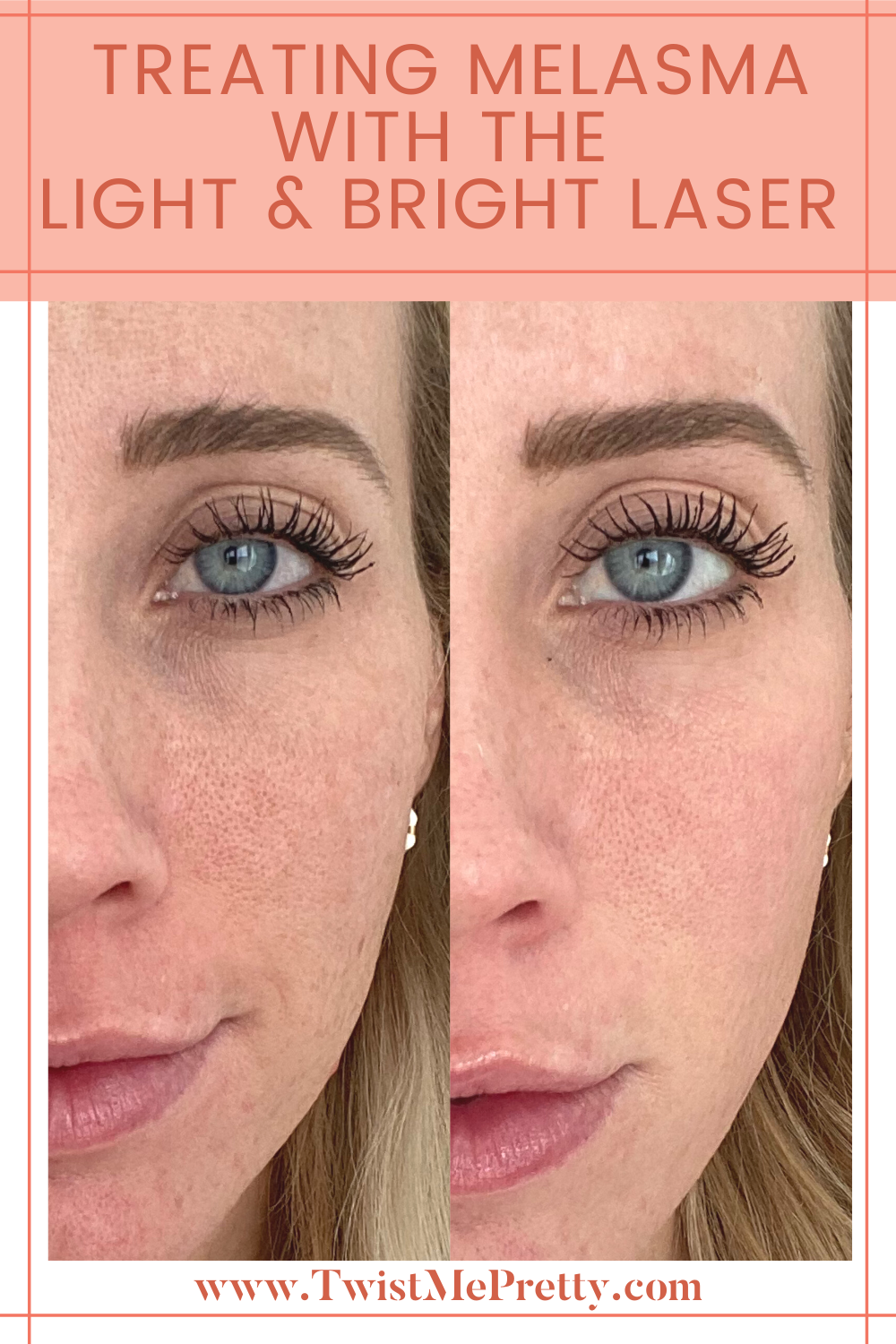 I've been in the beauty industry for over eleven years and I've pretty much tried everything out there when it comes to skincare. Lasers, chemical peels, different products, facials, you name it I've tried it or looked into it. I've learned a lot about skincare and it's something that I'm really passionate about! You can read up on my skin care routine here and I'll leave a link for you here about why Botox is one of my favorite beauty secrets ever!
Gateway Laser Center
Today I want to chat with you about a treatment I recently tried called Light and Bright from the Gateway Laser Center in Salt Lake City, Utah. I have been going there for years. They are the largest cosmetic laser center in the world. I was so grateful for their expertise a few years ago when they removed my botched microblading, you can read more about that here.
Have you ever heard of melasma? Well today's your lucky day! Melasma is a condition in which brown patches appear on the face. Melasma can be due to hormonal changes during pregnancy, stress, sun exposure and even heat.
My melasma has been super stubborn and hard to get rid of. There's a line I've been battling on my forehead, if you look at the pictures you can see it fairly well. It covers up nicely but I'd rather not wear a ton of makeup so I've been pretty aggressively trying to get it to go away.
The truth about melasma is there is no cure. But there are several treatment options that may improve the appearance. Hydroquinone, a topical cream, is usually the first line of treatment as it lightens the skin. But it hasn't really made my melasma budge at all.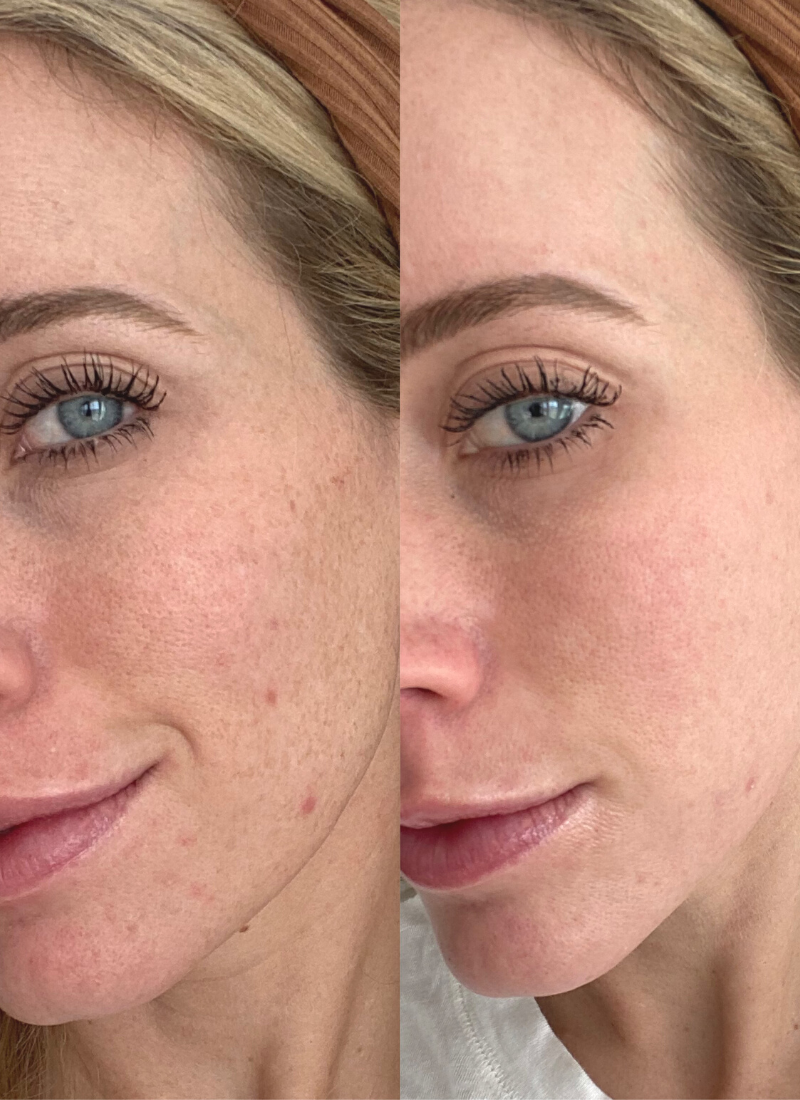 I Found a Solution for treating my Melasma
I met up with Dr. McClean at the Gateway Laser Center in Salt Lake City, UT and I asked her for her opinion. I trust the staff and Dr. McClean to take care of me. She's a board certified dermatologist so she really knows the skin and how to take care of it. We came up with a treatment plan that I was hopeful would finally make a difference in the appearance of my melasma. Dr. McClean recommended we treat my melasma with the Light and Bright Laser.
*Note- Melasma is a medical condition and cannot be cured, but certain treatments can help reduce the appearance of melasma on the skin. You should always seek advice from a board certified dermatologist when treating melasma or any other skin condition.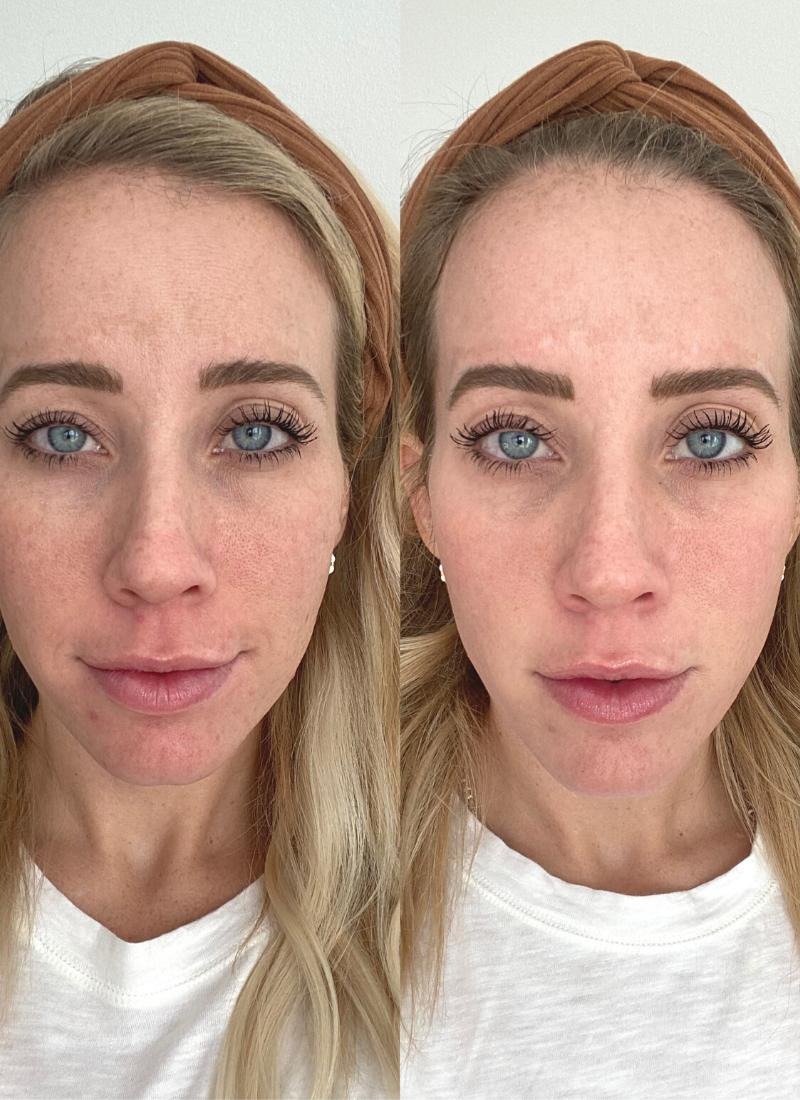 The cost isn't cheap, it's an investment for sure. The before and after images I saw convinced me to try it, though. Dr. McClean recommended it for me and my skin because it delivers excellent results in one procedure. It's great as a corrective treatment for anyone dealing with hyper-pigmentation on your skin but Dr. McClean also recommends this treatment as a yearly maintenance treatment to keep your skin looking fresh and glowy.
How the Light and Bright Laser works:
The Light and Bright Laser combines two different lasers. One for pigment and one for skin texture, luminosity, and tone. The first laser is called the Fotona Starwalker laser and it's a pico/nanosecond 532 nm laser that specifically targets brown spots (melasma) in your skin. Because this laser fires so quickly, it is highly absorbed by the pigment in your skin.
The second laser is the fractional erbium peel. This laser creates a very superficial ablation of the top layer of the skin. This means that the laser basically heats up the surface of your skin and makes it peel the top layer of skin which stimulates collagen and leads to some tightening of the skin. The skin undergoes a very fine flaky peel in 5-7 days and then leaves your skin looking super bright and fresh. After a laser treatment, there's about a week of redness and snowflake-like skin peeling on your face, so be sure to plan for that if you choose to do this treatment.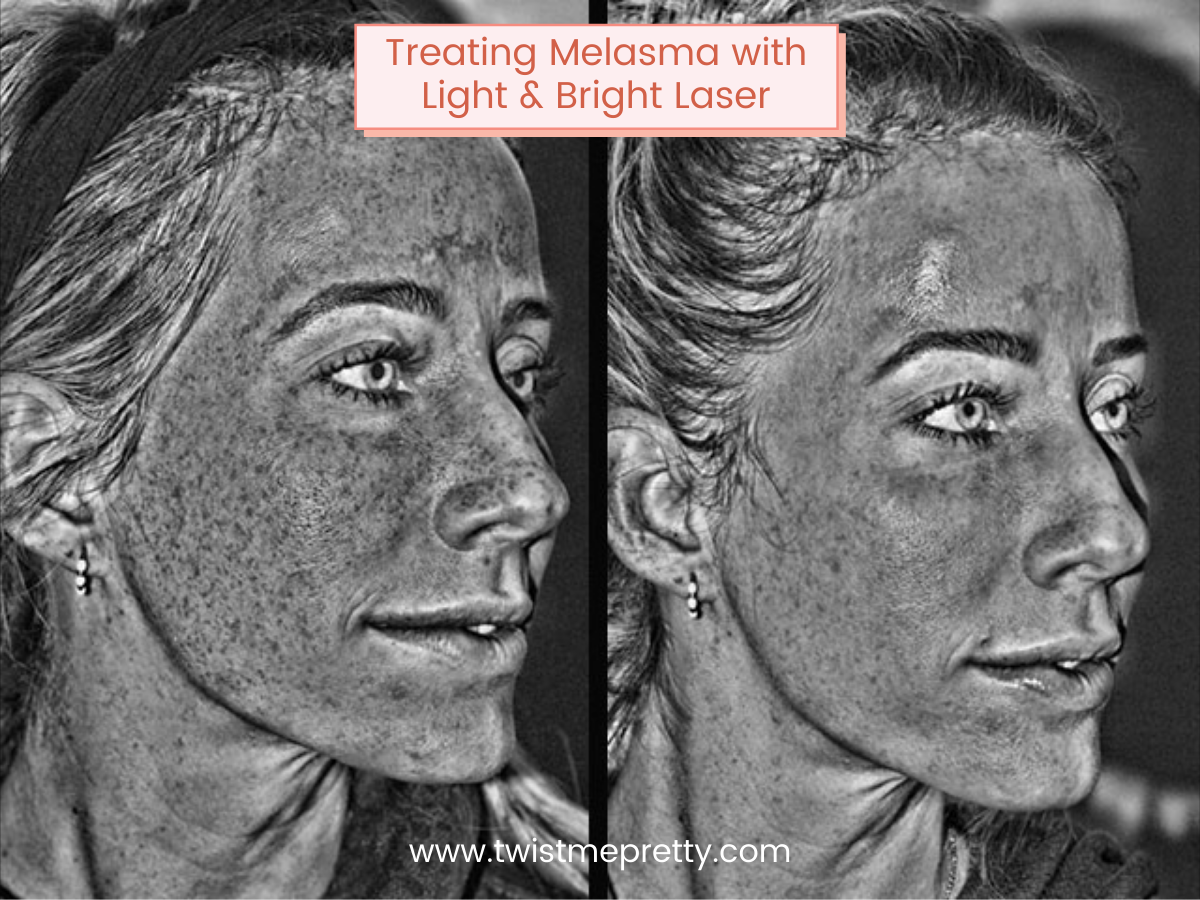 The process of using the Light and Bright Laser
The process starts with a numbing cream that needs to sit on your skin for an hour, and then the doctor wiped my skin with some alcohol to make sure my face was totally clean. After that, they start the laser treatments.
The first laser is for bringing the melasma on my skin to the surface so it can be treated. To me, it felt like a little elastic was being slapped against my skin. It made my skin really red, like I had been outside at the beach without sunscreen!
In between each laser treatment, there was cold air available to blow on my face to help cool my skin. It felt really good after the laser treatment!
After the first laser, came the 2nd laser treatment. This laser was more painful than the first. I could definitely feel the stinging of it. Dr. McClean told me the second laser was performing microdermabrasion and coagulation on my skin. She was not lying when she warned me about how hot my skin would get after the 2nd treatment! Wow.
After the treatments were done, they applied some cold saline solution and 3 different creams on my skin to help me heal and to calm the heat I was feeling from the treatments. The creams were an anti inflammatory cream, a recovery and cooling balm, and then some sunscreen to protect my skin. After about an hour or two, I could feel the heat on my skin beginning to go down and I was more comfortable.
After my Laser Treatment
The day after my treatment, my face was swollen and my skin was tight. It looked and felt like I had gotten a sunburn. You could definitely see my melasma and sun spots more clearly because they had been brought to the surface by the Light and Bright Laser treatment. The nice thing about this laser treatment is that I was able to wear makeup again the next day.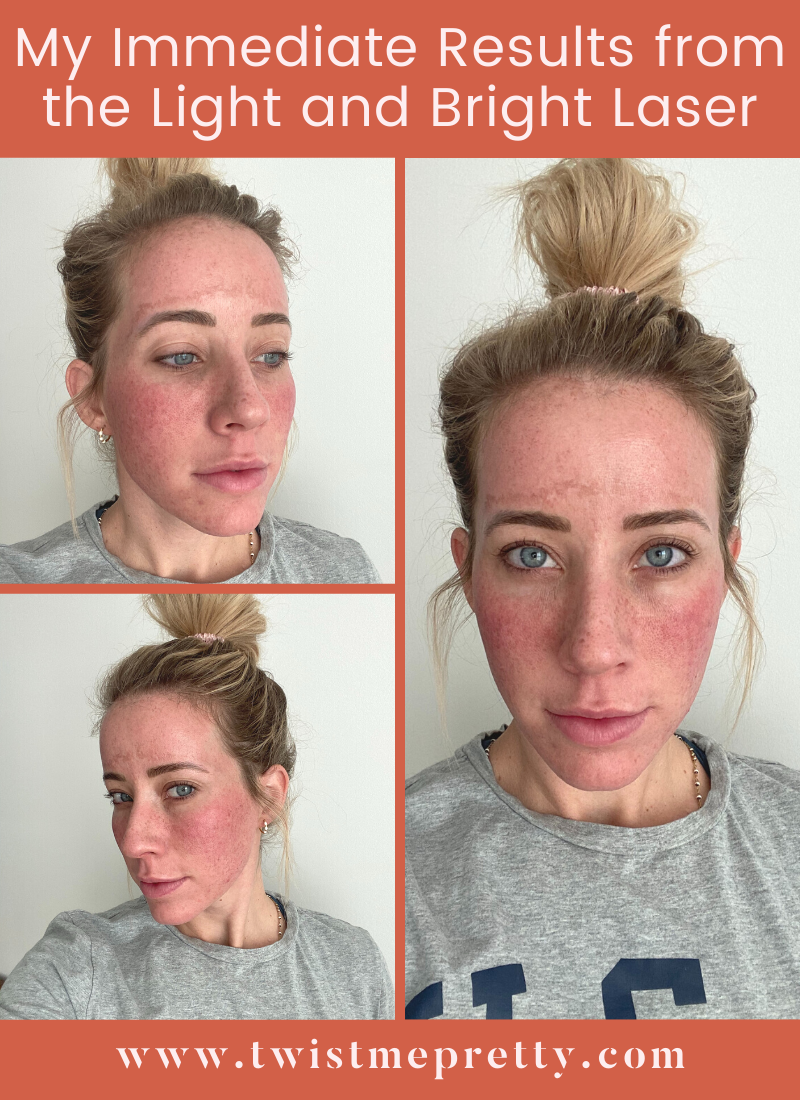 I plan to do a second treatment because I'm really pleased with the results. You can still see a little bit of melasma on my forehead, which was expected. I can't believe how much brighter my whole face looks, though! All over my cheeks, sun damage was lifted that I wasn't aware I had. My skin's texture is a lot smoother and the laser treatment actually lifted a couple of minor scars I had on my cheeks. My skin looks so fresh and it feels so smooth.
I'm excited to see what a second treatment will do. I plan on getting that done in the Spring and will definitely keep you posted! I'm also currently using hydroquinone as directed by my dermatologist. I will always and forever will be passionate about my skin. Lots of sunscreen, hats at the beach and care every night with quality products!
I'd highly recommend Dr. McClean and the whole staff at Gateway Laser Institute. They are highly professional and really know their stuff. Do you struggle with melasma? Have you ever tried a laser treatment like this?
For more on my experience, check out my Instagram highlight bubble here, and Dr. McClean's IGTV on my procedure, here.