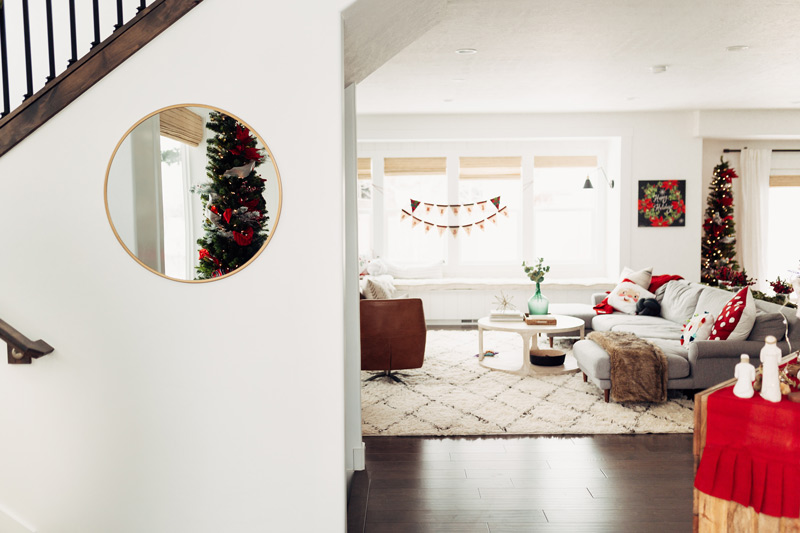 Ready to turn your home into a Christmas wonderland?! I know exactly where to look to find gorgeous Christmas decorations for your home! My main go-to's are Target, Tai Pan and Pier 1. Collecting holiday pieces though is my jam and over the years all these little decorations have helped our home feel so magical. Anyway, scroll down to find out exactly where I found all of my Christmas decorations to create a cozy and festive home!
Where To Find Beautiful Christmas Decorations For Your Home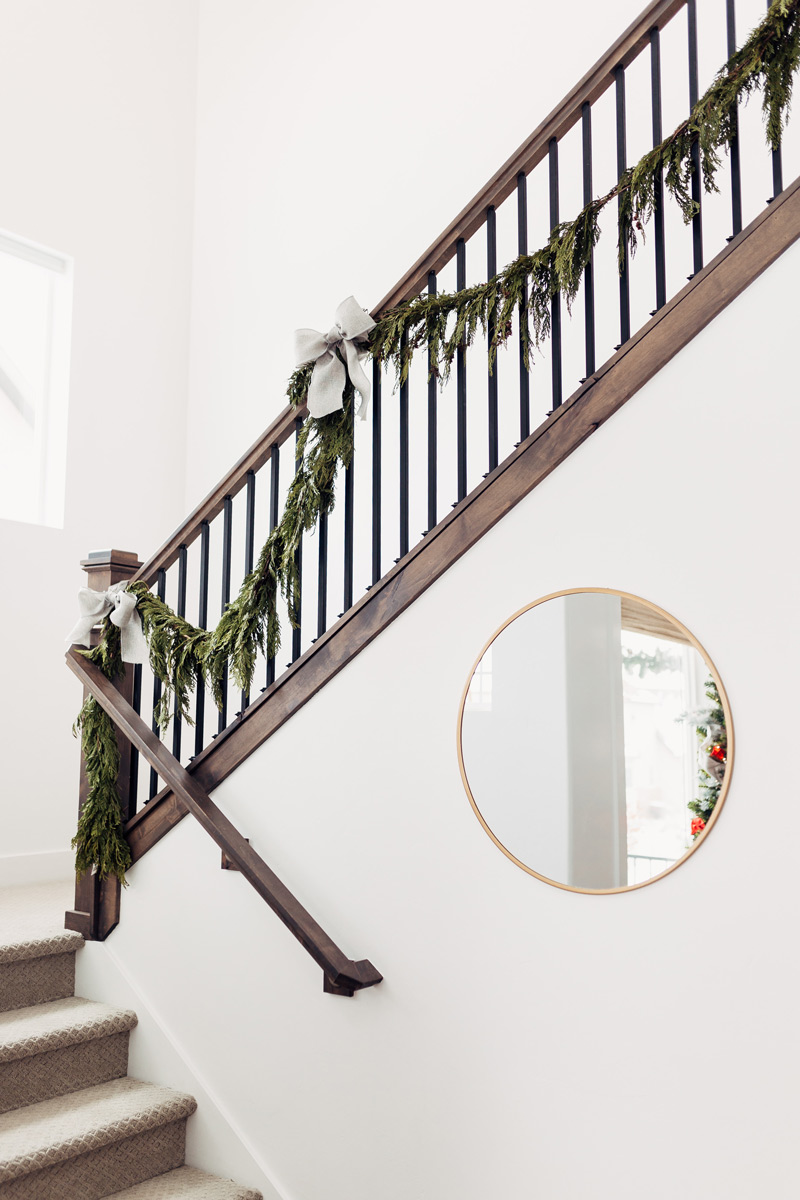 Garland
Make your own Christmas garland from Trader Joe's.
Trader Joe's Garland – not sure I'll do the real garland again. IT IS SO MESSY!!!!!! I just wrestled it up there on the bannister, tied it where I wanted with wire and then attached some little bows I made from ribbon at Tai Pan. The mirror is from Target and it's only $25! I have a beautiful little shelf coming – finally – for underneath the mirror and I can't wait to hang it.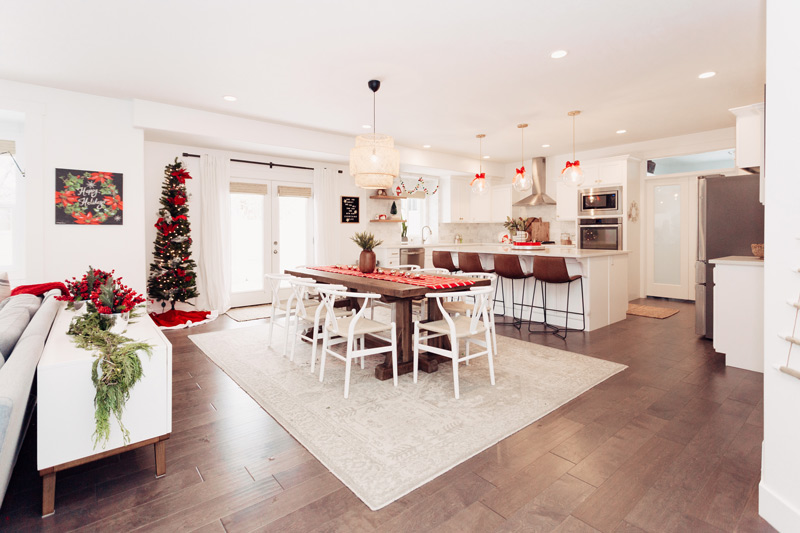 table runner | bell garland | pot | greenery
Kitchen & Dining Room
Get all of the essentials to my kitchen Christmas decorations.
If you need any links on any furniture in the kitchen, head over to my kitchen and dining room reveal! As far as the decor goes, it's all from Target and the Trees are from Tai Pan. I don't often splurge on expensive Christmas decorations because you can find the cutest pieces on sale either before Christmas or on clearance afterwards!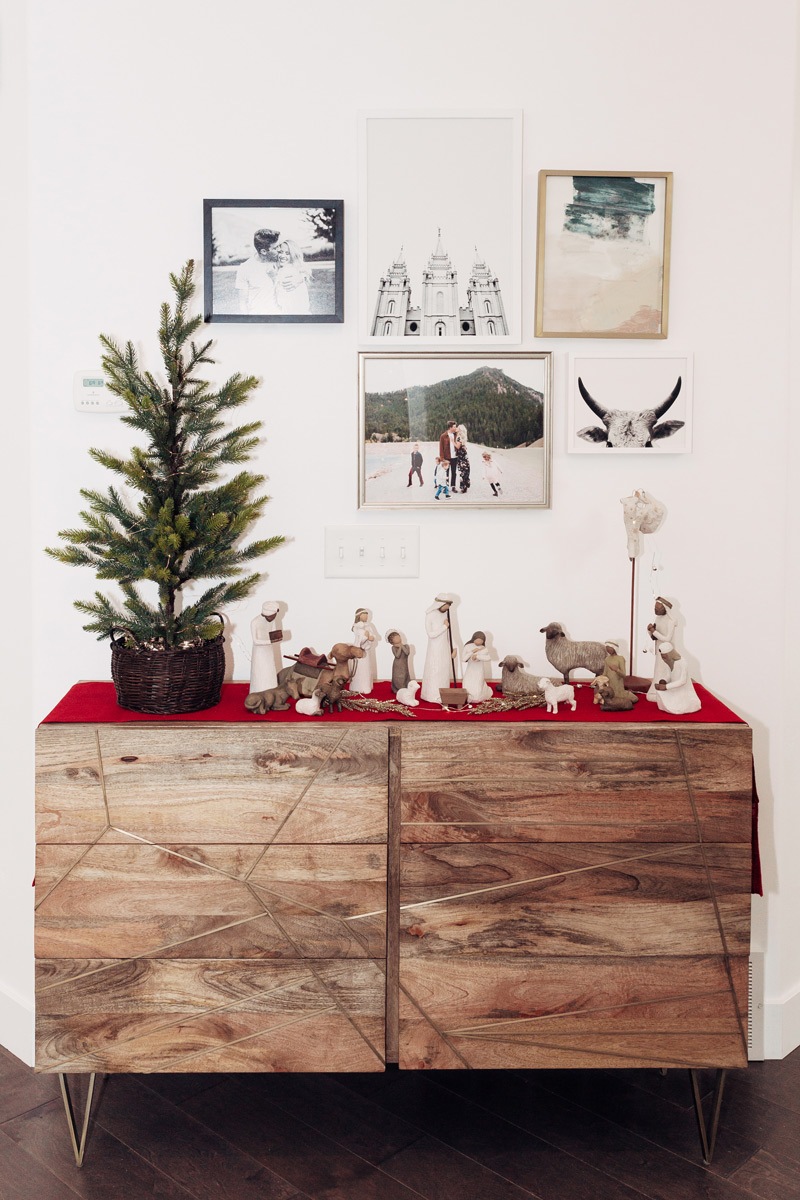 Family Room
Collect pieces for your nativity scene.
This piece and everything in my family room can be found at my family room reveal blog post! That cute little tree is from Target. I can't find it online but I wish I had purchased one for each of the kids' rooms. It's small but amazing and it's potted in that cute basket so with or without ornaments it's beautiful!
The manger scene is from Willow tree — it is my FAVORITE nativity EVER!! I first purchased this set here, it comes with all the essentials and then over the years I've just been collecting a piece or two. I was so excited to finally have the full set and was hoping to find a stable for it on Etsy. However, my dog pulled that red runner and broke several of the pieces. I have them in a basket and I'm going to try and fix them – saddest day ever. If you look closely you'll see that gorgeous angel is missing her head haha!!!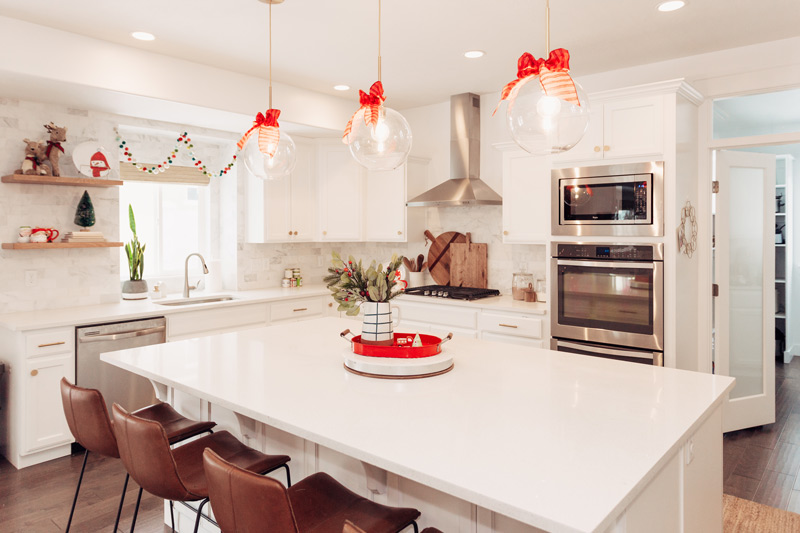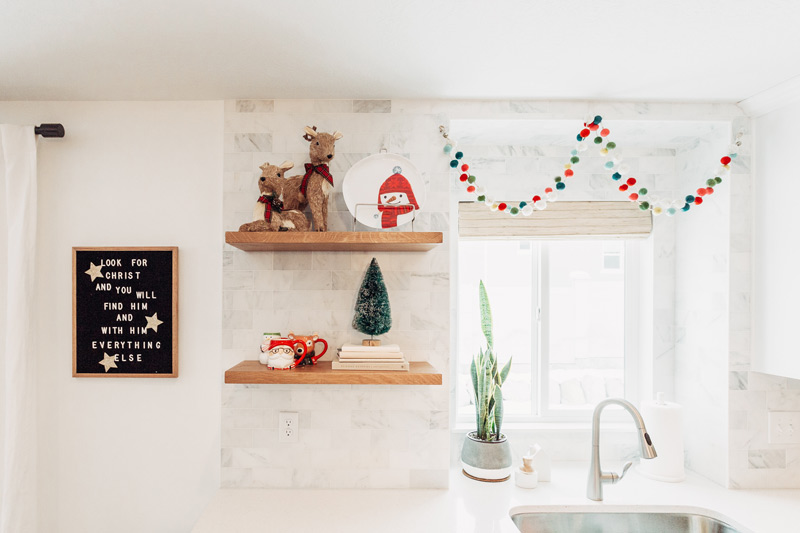 Similar Reindeer | Felt Ball Garland here and here | Brush Trees | Mugs
Kitchen Decor
Install floating shelves for a beautiful display.
Over the summer, we ripped out backsplash and the cabinet that went to the left of the sink. We replaced it with a marble rectangle tile and then these oak shelves. I LOVE THEM!!! It's such a cute little space. The letter board is from Letterfolk, the reindeer are from Pier 1 last year (although I've seen them every year) and the rest is from Target. I was planning on putting a little picture frame behind those mugs but never found one I liked. Also, what is going on with my snake plant ? Do you see that one leaf that's twice as high as the rest? Little weirdo plant, I love it!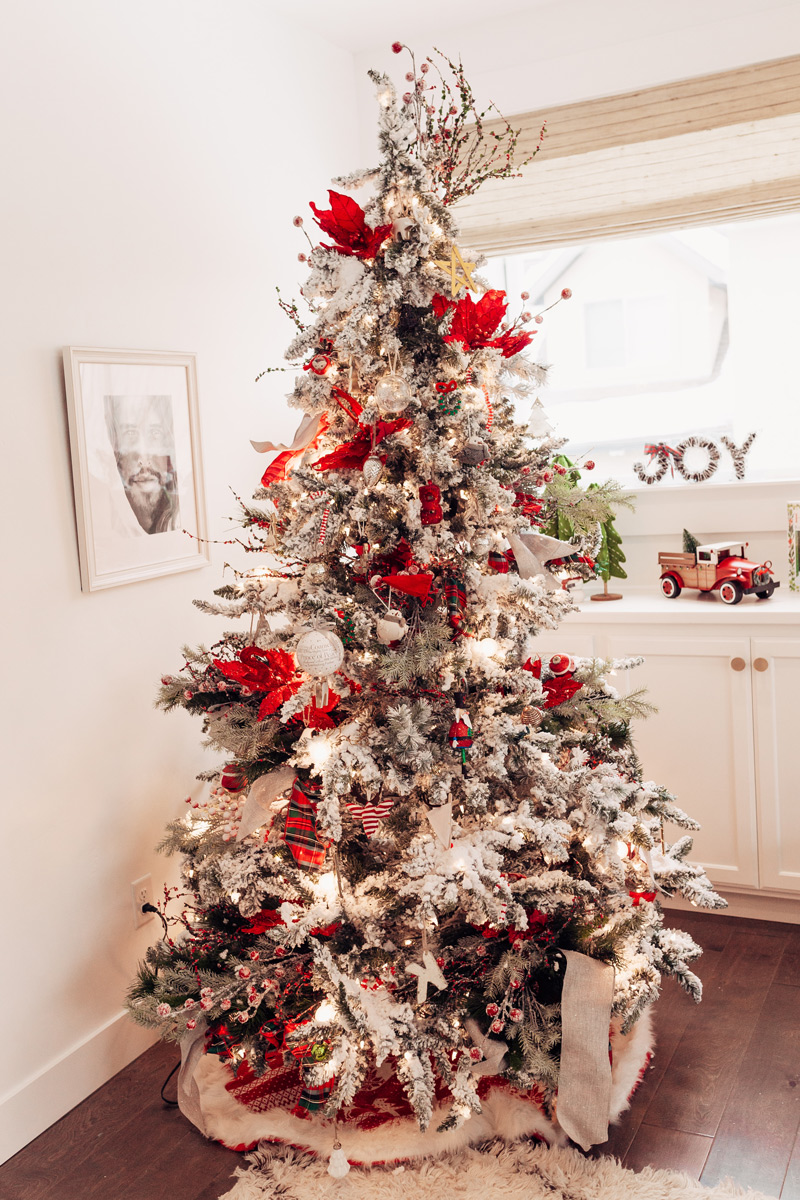 Christmas Tree
Use picks to decorate your tree.
It's so hard to get a good picture of this tree– the lighting on it is always so weird but it is BEAUTIFUL!!!! I'm realizing I hadn't fixed the ornaments and picks before we took these pictures from when the twins got to them, but next year I'll update you on this tree and how I put it together. I basically bought a bunch of picks from Tai Pan Trading (where the flocked tree is from), layered them up and tied them together with ribbon. Then all you do is place the picks throughout the tree. The picks aren't super cheap, each individual pick is fine but adding them all up becomes expensive. They add so much fullness though to the tree! We have a few ornaments from Target and my favorite home made ornaments, like the star, hand prints and reindeer. I'll chat more next year when there is time for any of this to actually be helpful!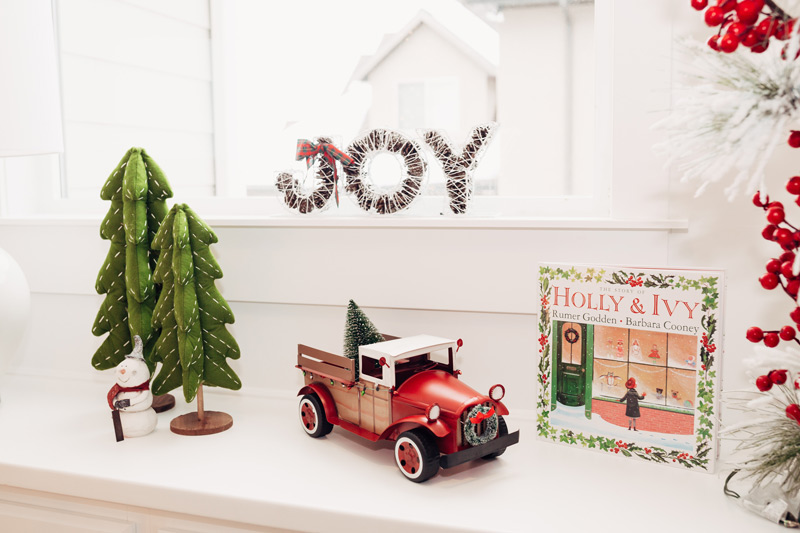 Window Sill
Don't forget to decorate your window sill.
Behind the tree are some classic decorations from Target + a displayed Christmas book. The JOY piece is from Pier 1. Don't forget to show some love to your cozy little nooks & cranny's!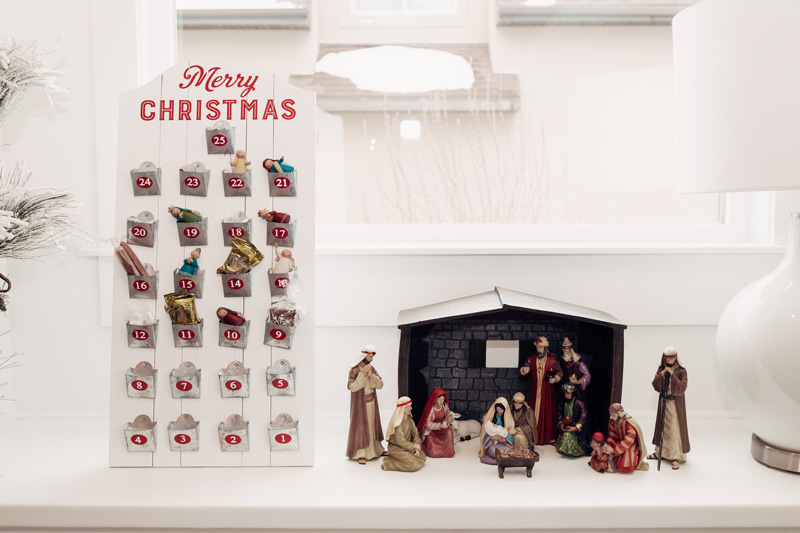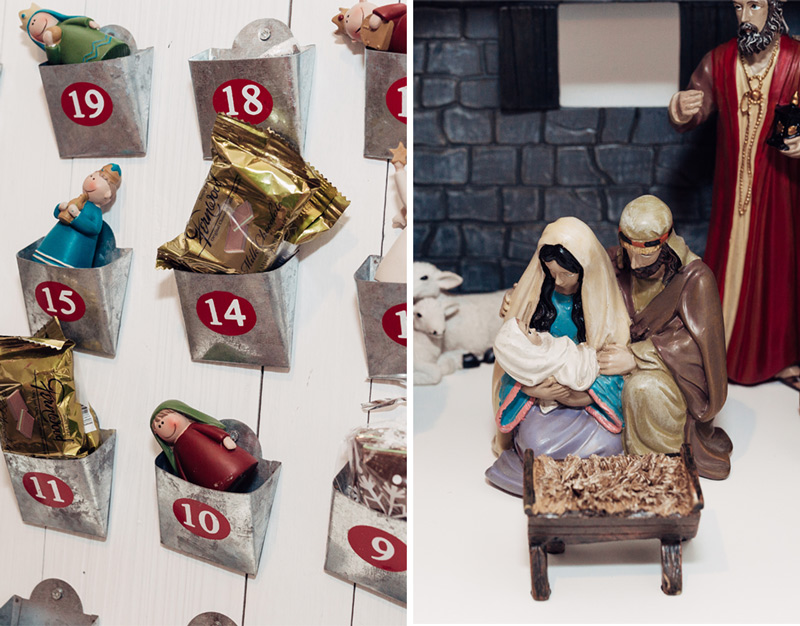 Calendars & Manger Scenes
Use candy to fill-in your Christmas calendar.
To the right of the fire place, we have our Christmas calendar and new manger scene my Mother-In-Law gave me. Actually, she gave me both of these pieces — she's the best. She had the candy and child manger scene already put in the calendar and when she saw the dog had broken my manger scene, she brought me this one. I literally do not deserve her. It's the Greg Olsen Manger Scene and it's beautiful. How cute of an idea is it to fill the count down calendar though with treats AND a manger scene the kids can put together? I love it!
Fireplace
Use Polyurethane to get beautiful flocked garland.
Our stockings and the Merry Christmas banner are from Pier 1 and the garland is from Tai Pan. TRICK TO FLOCKED GARLAND!!! Ready for it? Before you bring it in, spray it real good in the street or your garage with Polyurethane. It'll bond the flocking to the garland and it won't shed!!! Well, it'll shed a little but it's been AWESOME!! You're welcome. Tell all your friends haha!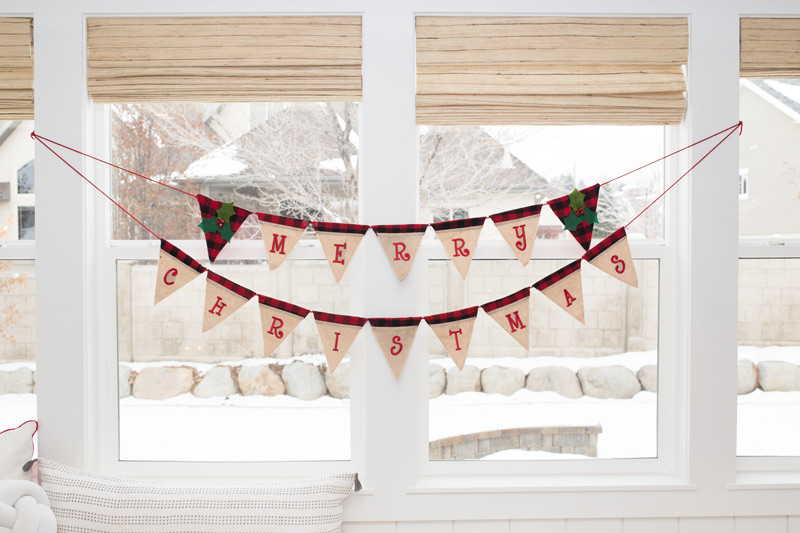 Pillows
Add Christmas pillows to make any couch more festive.
All our Christmas pillows are from Target. Every year I buy a new one haha I can't even help myself, why does Target do this to me?!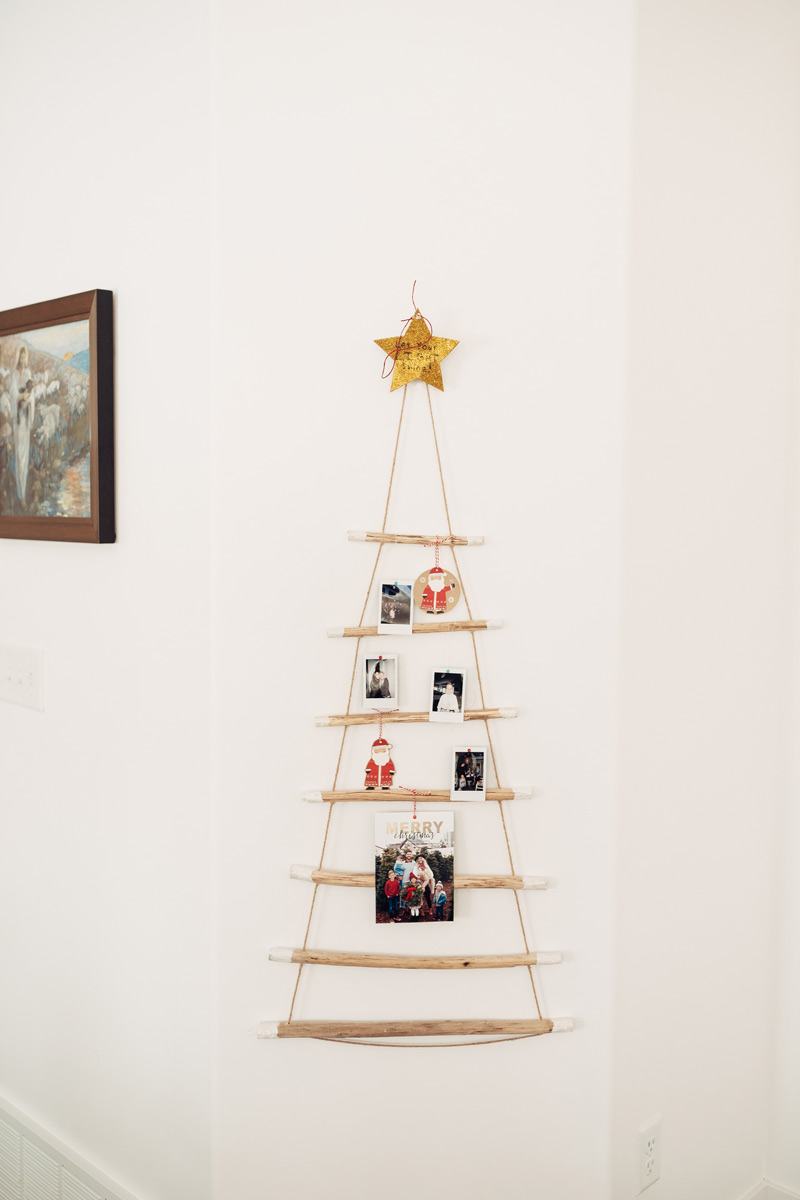 Service Tree
Create a family tradition to teach your kids about service.
Our service tree!!! This has become one of our very favorite traditions. I've written a post all about it, you can check it out HERE. Hopefully next year it'll inspire your family to make one too! These pictures were taken a couple weeks ago and now it's full of pictures and little things my kids have picked up over the last couple weeks. This tree from Target has helped teach them about Christ and service.
I've searched everywhere online for this guy! I'll find something similar and link it up but here is a cute one, it's smaller but would still work!
And that's it!! Our little Christmas decorations tour. Do you have any fun Christmas decoration ideas to tell me? Leave me a comment in the box below and don't forget to follow me on Instagram, @TwistMePretty. Merry Christmas from my family to yours!!