MERRY CHRISTMAS!! Can you even believe Christmas is in SIX DAYS?! I am so so excited!!! I wanted to share this super easy holiday hair and makeup tutorial with you guys and when I say easy, I mean it. Assuming your hair is washed and dry, it'll take maybe 15-20 minutes to finish up. Do you have any holiday parties coming up?! Cause this look would be PERFECT for them!
Holiday Hair and Makeup:
Skin:
I wanted a very natural and dewy look on the skin! Here are the products I used:
I started off with the Urban Decay Complexion Primer and then buffed the Anti-Aging Foundation (color Creme Beige) into the skin. Next I put a little bit of the Image Lip Complex on my lips to make them nice and soft before applying a matt lipstick. Then I dipped my Sigma Angled Kabuki Brush into my little mixture of shadow sense I made for my brows (listed below) and contoured under the cheeks, nose and hairline. Then I took the | Hello Fab Concealer in fair and blended in the cream underneath my eyes with a Small Contour Brush. Next up I dusted the Celebration Foundation Powder all over including my finished brows with a Powder Brush. Added some Nars Blush (orgasm) with an Angled Blush Brush to the cheeks and then used the Urban Decay Sin After Glow Palette to dust the highlighter above my cheekbones with a tapered highlight brush!
I know it seems like a lot but it moves fast!!!
Brows:
I do the brows after I put on my concealer and right before I do my contour. I like to blend the garnet + moca java Shadow Sense together with an angled brow brush. I'll contour and finish my skin and then I use the Flow Fushi Mote Liner (brown) to add strokes!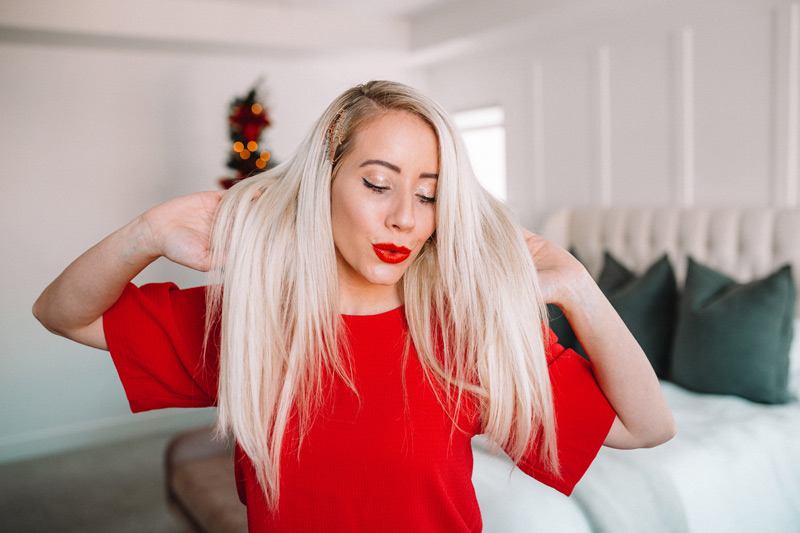 Sparkly Eyes:
For the eyes I've used the Stila Glitter and Glow all over the lid, a quick wing with the Maybelline Liquid Eyeliner and some Superhero Mascara. The eyes are super easy!
Lips:
There is nothing that screams glam like a beautiful red and this beauty is Mac's Lady Danger
Hair:
The hair is freshly washed and then I just straightened it. What do you think? I literally NEVER straighten my hair so I thought this would feel very different and glam. I added a couple sparkly bobby pins to the side and called it good!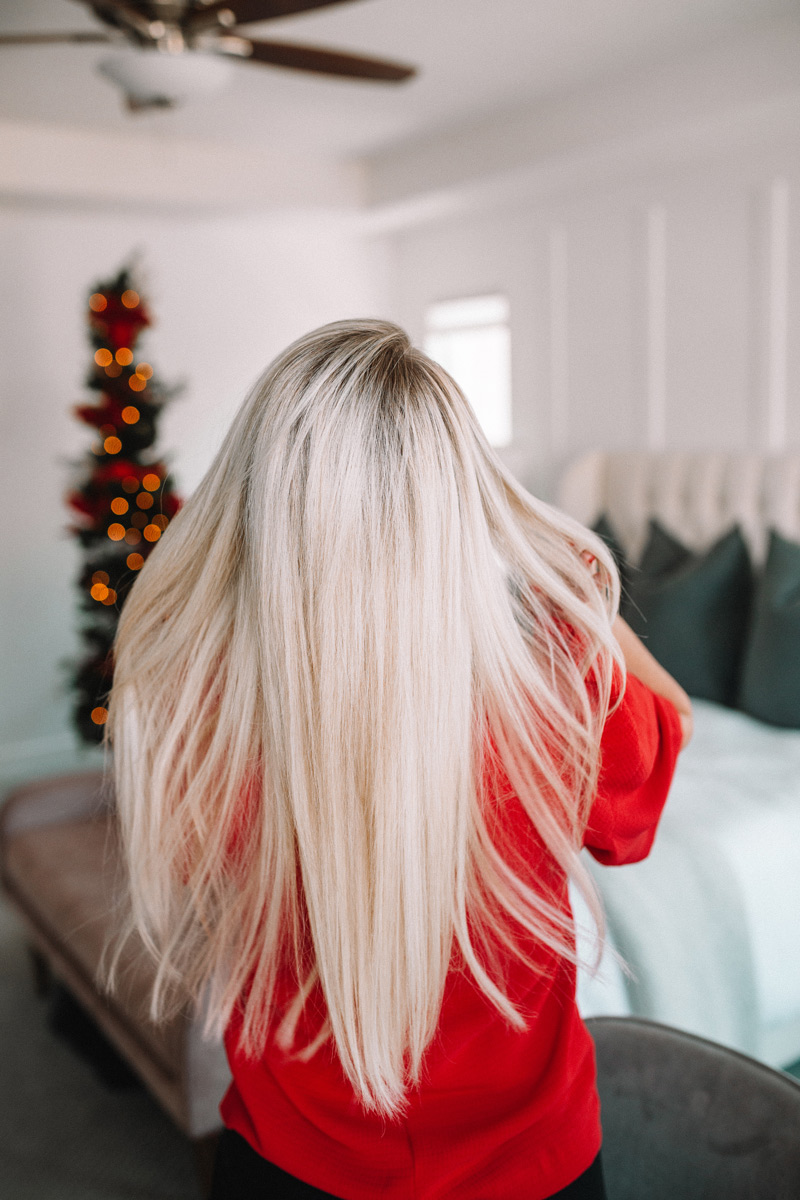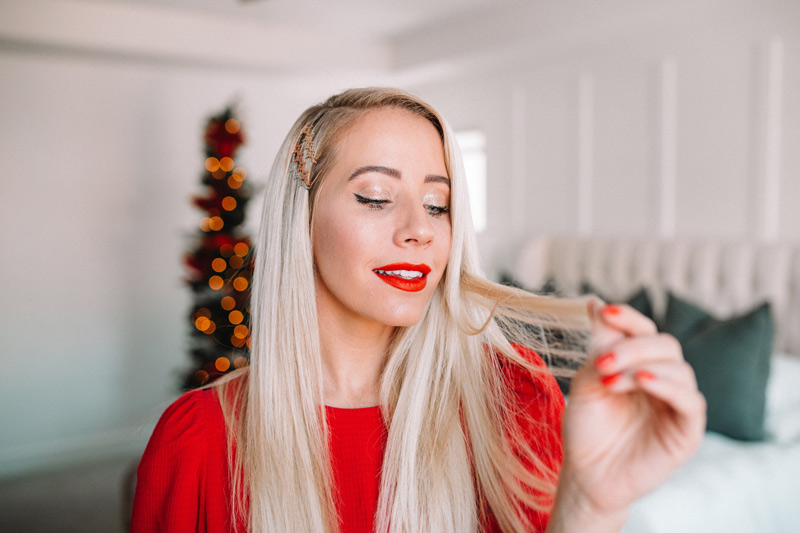 What do you think about this super easy holiday hair and makeup tutorial? Did you like the straight hair? Digging the glitter?!
Checkout the video below!
Products:
Urban Decay Complexion Primer | Anti-Aging Foundation (color Creme Beige) | Comparable Foundation | Image Lip Complex | Shadow Sense (garnet + moca java) | Angled Brow Brush | Sigma Angled Kabuki Brush | Flow Fushi Mote Liner (brown) | Hello Fab Concealer (fair – get one shade lighter than your natural color) | Small Contour Brush | Celebration Foundation Powder | Powder Brush | Nars Blush (orgasm) | Angled Blush Brush | Urban Decay Sin After Glow Palette | tapered highlight brush | Blending Brush | Stila Glitter and Glow | Maybelline Liquid Eyeliner | Superhero Mascara | Other favorite | Mac Lippie