Easy Double Braid for Short Hair Tutorial
Today's braids are inspired by a french braided hairstyle that I modified from a longer hair tutorial. Since I now have shorter hair, I've been playing with adapting my favorite braids to work with my new hairstyle. I love how this easy double braid for short hair turned out, and I hope you love it just as much!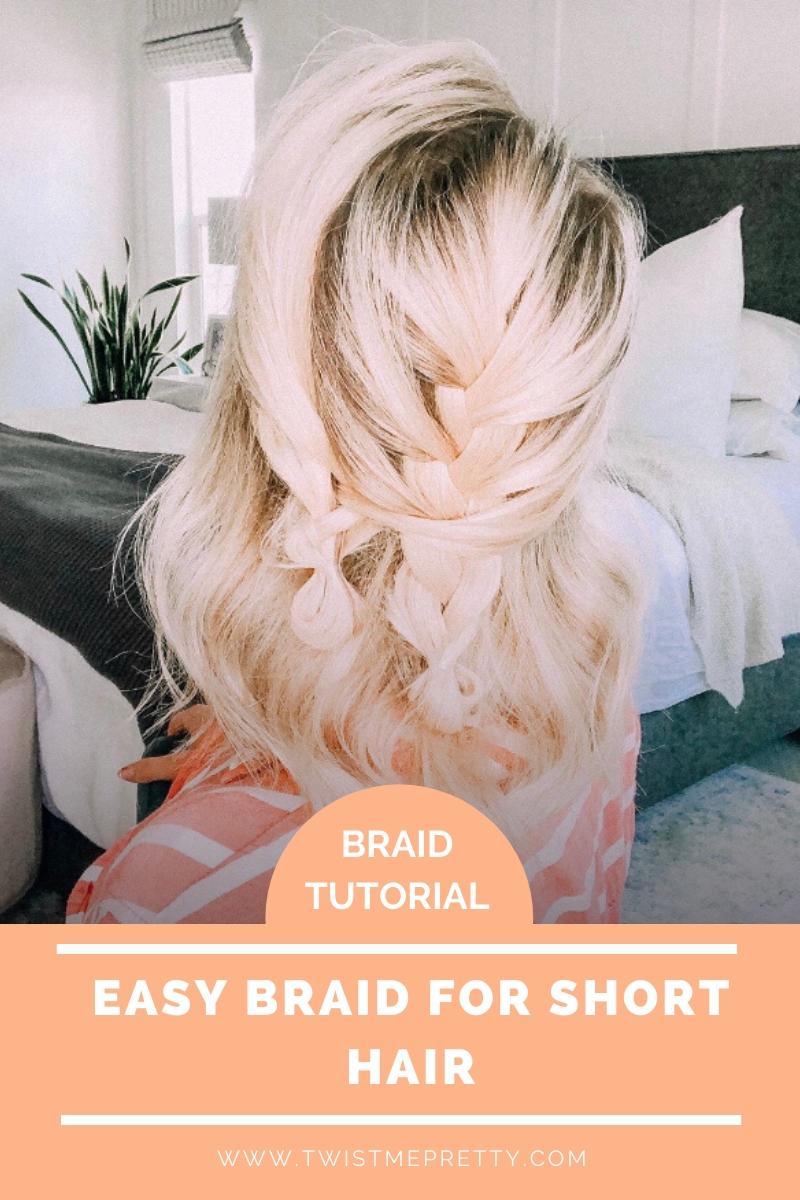 View this post on Instagram
To begin:
Part hair on the side of your center part.

Take a 3 inch square section of hair from the back crown of your head, leaving the rest of your hair loose. Split into 3 sections. Begin a regular french braid. Take the left section over the middle section, then repeat with the right section.

How I hold my hair for this easy double braid for short hair
With your right hand, hold right section with pinky, middle with middle, left with index and thumb.
Add in new section of hair on left section and grab with index and thumb of right hand.
I like to do it this way so I can easily add in a new section of hair and grab it with my index and thumb.
Braid the new section over the middle. Switch hands and holds. Hold the left section with your left pinky, middle section with your middle finger, and the right section with your index finger and thumb. Pick up a new section of hair from the right side near your crown and add it into the braid, grabbing with your left hand's index finger and thumb.

Be sure to keep the braid in the back of your head as you add sections. Switch your hands again. Add a new section from the left side, braiding over the middle. Keep your fingering correct to make it easier to complete the braid. Add one more new section from the right side of your braid, then braid the hair down to the end. Leave your front and lower hair free from the braid.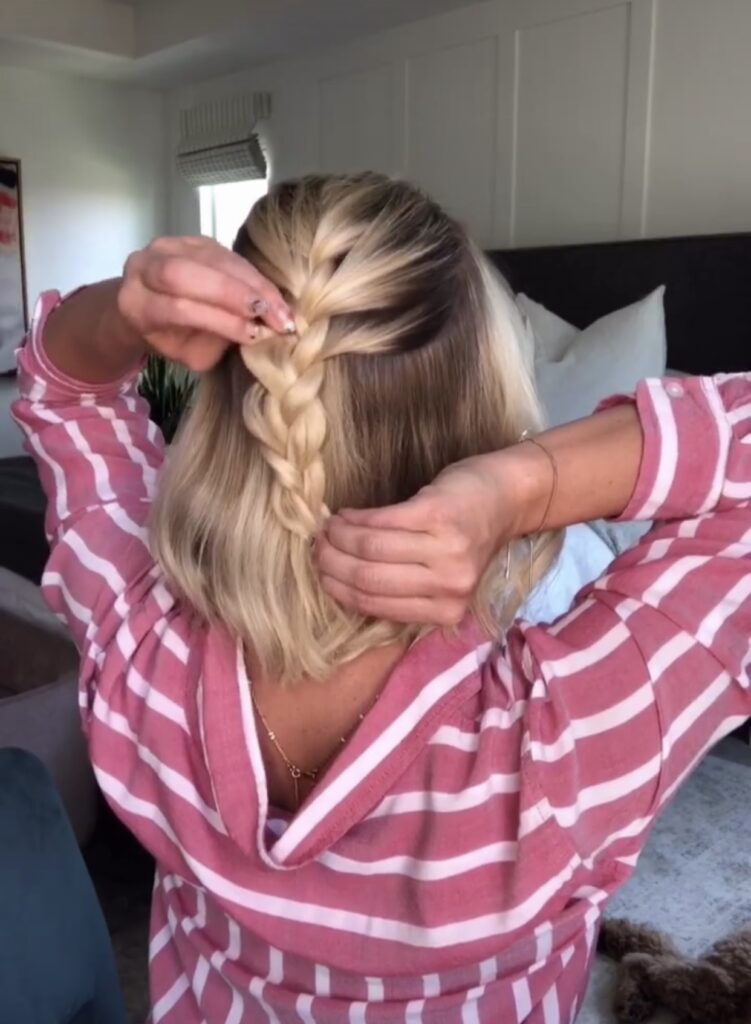 Finishing Your Easy Braid:
Take the braid and hold the ends taut with one hand.

With your other hand, gently tug on the braid stitches to open up the braid and fluff it out.

Switch hands as needed.

When fluffed to your liking, take a clear elastic band and use it to hold the end of your braid.

Instead of tying braid all the way off, do a little bun loop with the ends of the braid.

Fluff and stretch braid stitches as desired.
Adding a Second Braid: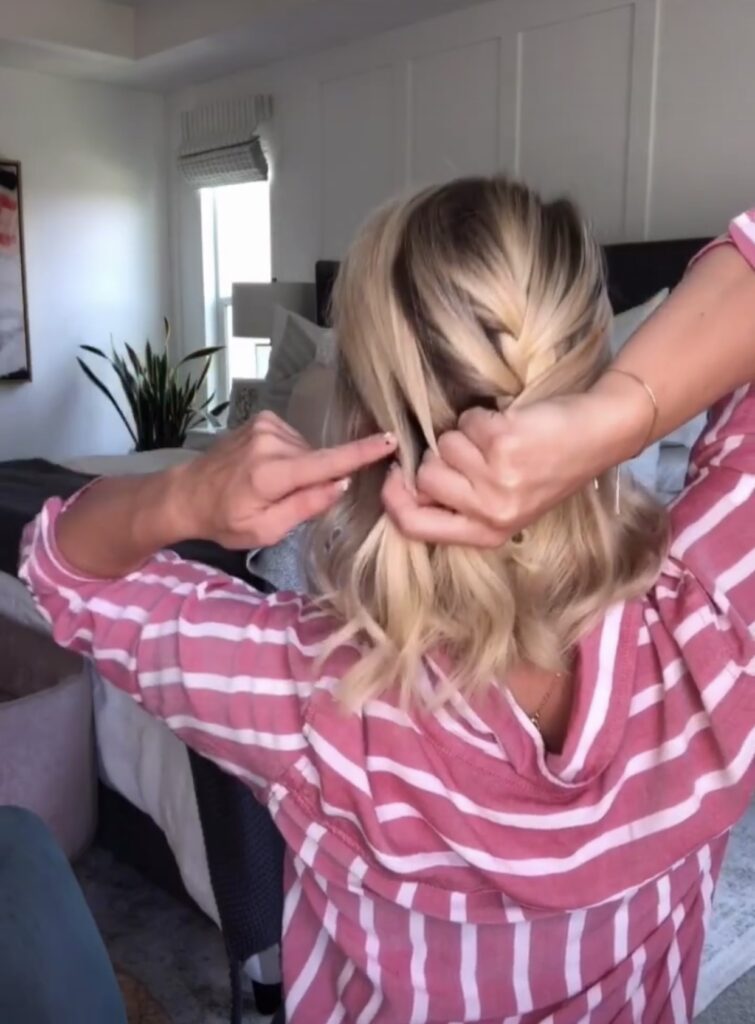 To add the second braid to this braid look,
grab a new section of loose hair from the front right side of your head, and a mirrored, larger section from left side.

Pull both towards the back of your head, over the braid you've completed.

Split the left section into 2 sections of hair. This gives you 3 sections for braiding.

Braid these 3 sections: left over middle, right over middle, etc.

Braid down until you run out of hair in your shortest section.

Grab a clear elastic and tie off the braid, looping the ends into a bun. Mirror what you did with the first braid.
To finish this easy double braid for short hair, pull out some fringe from the front of your head around your face. Don't forget to spray the front of your hair in place.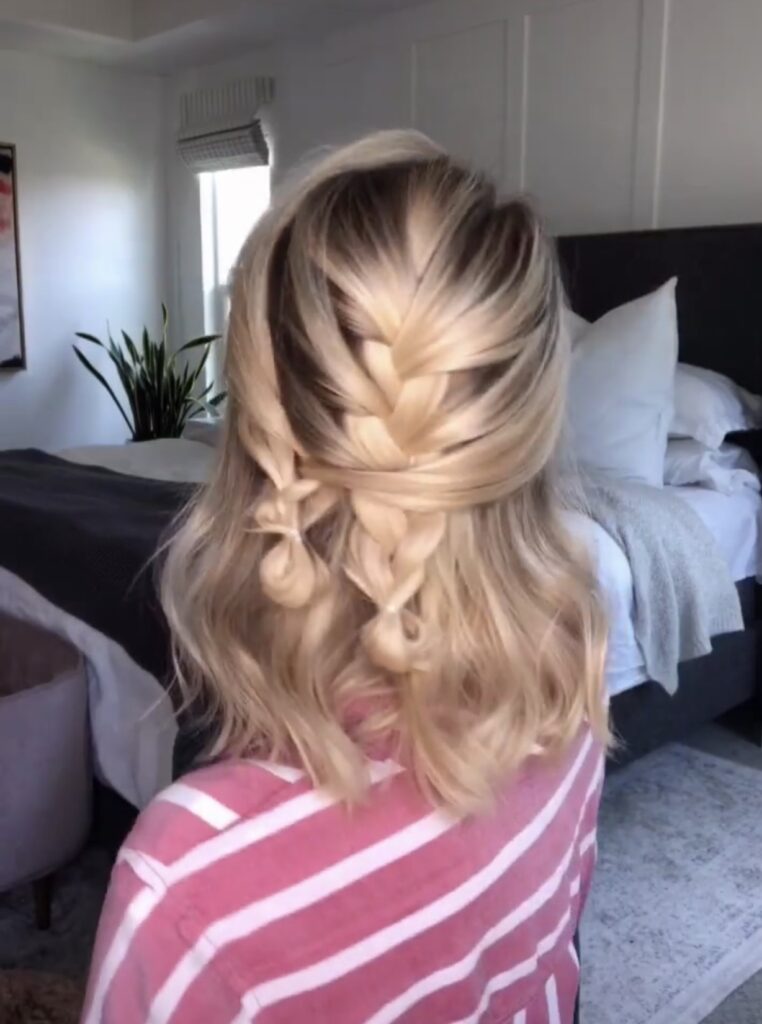 All that is left to do now, is to step back and admire your cute hairstyle! Let me know if you try out this look!
Want more cute hairstyle tutorials?