The Best Beauty Products for Getting Ready
Alright, I promised all of you a getting-ready tutorial so here it is! I'm in love with just about all of these products, so I'm excited I finally put something together for you to see what they are! This post will cover all of my favorite beauty products along with some tips on how to apply them to give you the best results. I've tested out a lot of different products, so this list is really the best! OK, let's get started. Here are the best beauty products for getting ready.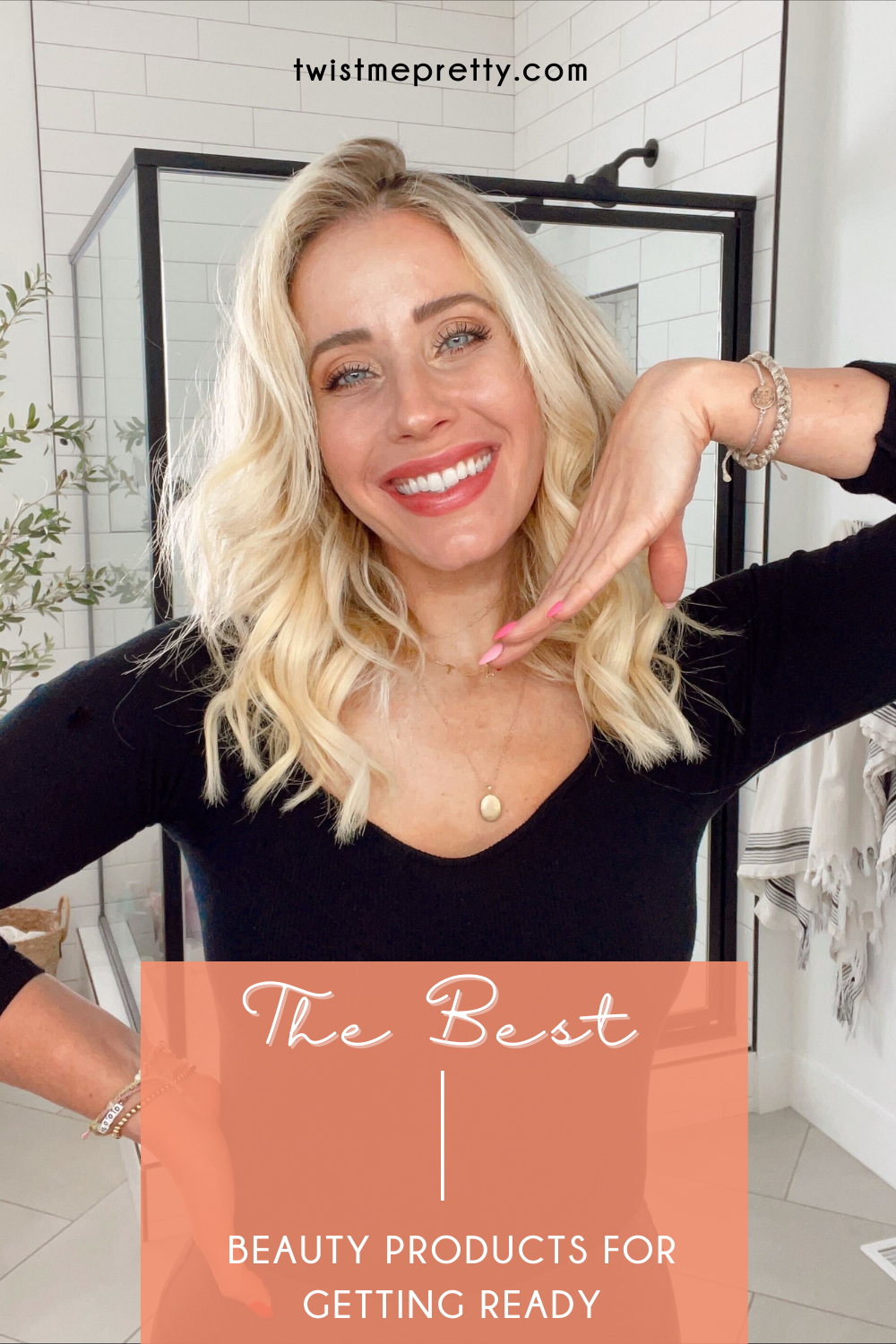 Depending on the day or my mood, I'll do a quick version of applying these products where it'll only take 2 minutes. On other days when I have a bit more time or want to look a bit nicer, I'll apply all of these products to create a beautiful look. So, don't feel like you have to spend a significant amount of time applying beauty products! Just do what works for you and focus on what makes you feel the best. For me, I always make sure to use my Ilia serum, fill in my brows, and apply mascara. What would be your priority?
Getting ready and feeling put together is good for my mental health so I never miss my skincare. I'm prone to breakouts, so I'm more sensitive to how my skin looks and what kind of products make my skin look and feel good. I'm really happy with the products I've found and use daily, so I hope you find some favorites from this list of the best beauty products for getting ready too!
The Best Beauty Products for Getting Ready
Best Beauty Product #1: Ilia Primer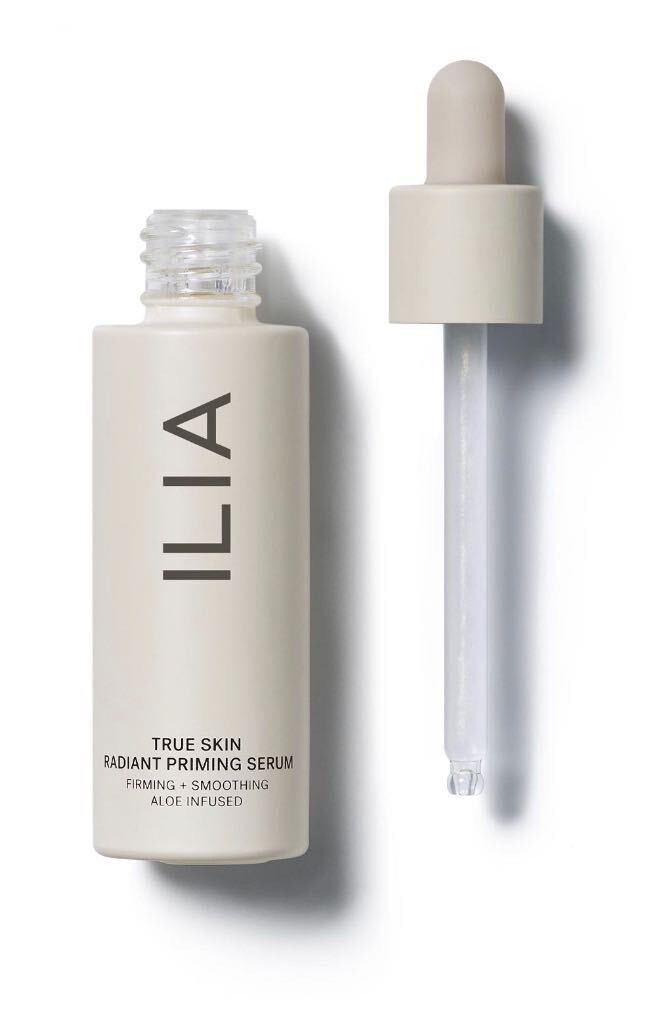 This Ilia primer is the perfect base for makeup. Not only does it act as a base, but it helps moisturize and soothe too. I've been trying to add in clean ingredients where I can, and this product fits right in with that goal! It has hibiscus extract + aloe and it's silicone-free. I think using clean ingredients is so important! I've personally seen it helping my skin and hair, so I'm all about it.
To apply this Ilia primer, I squirt a small amount from the syringe into my hand and rub it together just enough for both hands to have some and then I rub it all over my face. I also rub a tiny bit on the top part of my neck. I love this stuff!
Best Beauty Product #2: Ilia Skin Tint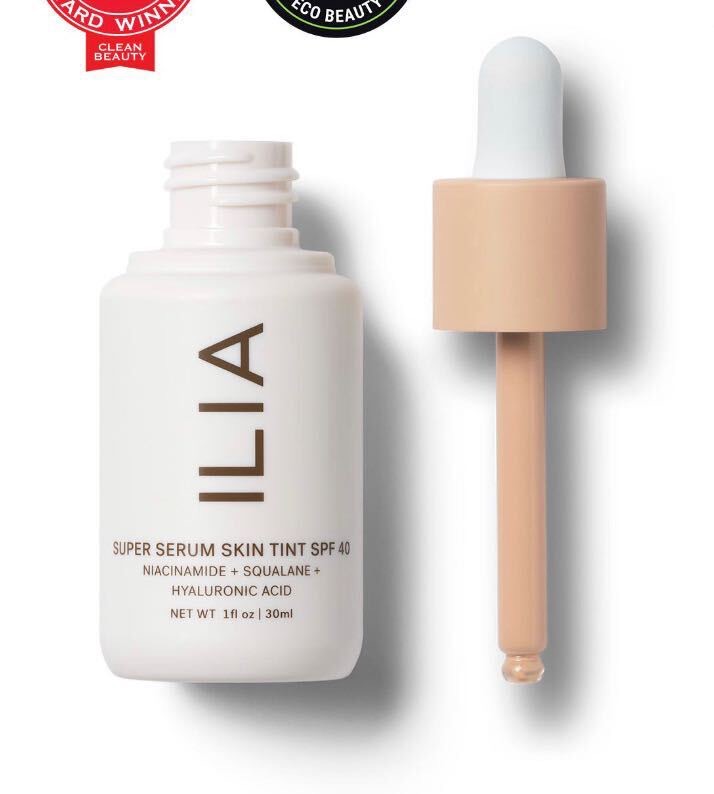 This Ilia Skin Tint is SPF 40 and has hyaluronic acid + squalane. This makes it super hydrating which my skin loves! This skin tint feels and looks like skin and doesn't settle in wrinkles. You can apply it with your fingers or a brush.
If you apply with your fingers you get a more sheer finish, but if you apply it with a brush then you get more coverage. I like to use a dense buffer brush because it covers everything so well with the least amount of product. I love how this skin tint blends so well! It's so light yet covers everything you want.
Best Beauty Product #3: Anastasia Beverly Hills Eyebrow Powder
I first discovered this eyebrow powder when my makeup artist used it on me for my wedding. I fell in love with it and have used it ever since! I have microbladed eyebrows, so I just use this eyebrow powder to fill them out. I also recommend using this brush kit for your eyebrows. It is amazing how much better your eyebrows can look when you find a good brush!
Best Beauty Product #4: Ilia Blush Stick
OK, if you just get one beauty product from this list, this Ilia blush stick should be it!! It is AMAZING. It is super hydrating and insanely blendable. You can use your fingers or a brush to blend it in once you apply it to your cheekbones. I use a Sigma brush I've had for ages. I can't even find the link to it because I've had it for so long! But any dense angles brush will work for blending it in.
Best Beauty Product #5: Nars Concealer
This Nars concealer is my favorite concealer of all time! This stuff is insane. It's like a powder and a liquid. The consistency is wild. It's hands down the best under-eye brightener I've ever used. It does not settle into creases and it is super light.
To apply, lightly dip your brush into the concealer and then blend it in all around your eye. I close my eye and just do a nice circular motion covering my eyelid and slightly above and below it. I use a really soft brush that doesn't pick up too much product which I like!
Best Beauty Product #6: Ilumify Eye Drops
I mainly use these Ilumify eye drops if I'm not planning on wearing eye makeup. I can tell a HUGE difference in my eyes right away when I use the eye drops. It relieves redness which helps reveal your eyes' natural radiance. My eyes just pop and look so bright after using these! It's unreal.
Some people who have used these eye drops say their eyes dry out, but I've never had any issues with them! To apply, I pull down the bottom part of my eyelid and put one to two drops in. That's it! Super easy and brings amazing results.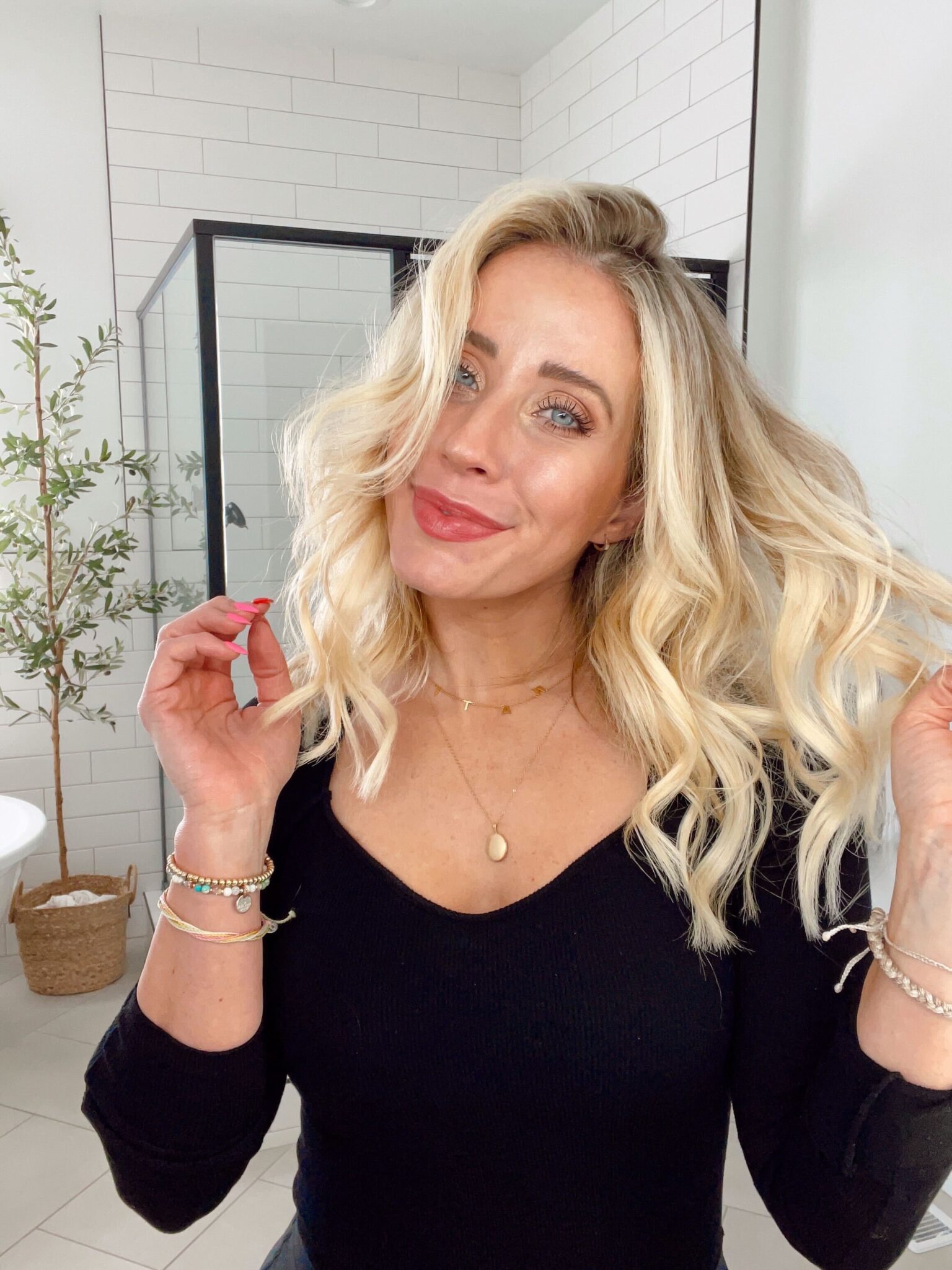 Best Beauty Product #7: IT Cosmetics Perfecting Powder
I love this perfecting powder because I can use it for shine control and to set my makeup. Or, if I don't have time to do my entire makeup routine, this powder is my go-to for coverage. I just apply it a little heavier if it's the only thing I'm using. This powder has SPF in it so it makes a good product to throw in a beach bag or keep in the car.
To apply this perfecting powder, I brush it onto my forehead, and sometimes I'll touch up my eyebrows while I'm there if they are not dark enough. And lastly, I will lightly brush it onto my jawline.
Best Beauty Product #8: IT Cosmetics Concealer
OK, this is another concealer that I absolutely love. This one is a bit different than the one I just mentioned because it helps more with spot treatment. If you don't know, I'm prone to breakouts, so having this product included in my skincare routine is super important! I just touch up any blemishes or spots that I can still see. If you end up getting this beauty product, make sure to go a shade or two lighter for under-eye and concealing acne! This will help you match the color of your skin.
Best Beauty Product #9: Ilia Bronzing Powder
This Ilia bronzing powder is amazing. I use it to control and for contouring. Using a small brush, I blend it into the hole of my cheeks, top of my forehead, down my nose, and underneath it. And then I take a bigger brush and blend some of it into my neck and chest, making all of my skin look nicely blended and even.
Best Beauty Product #10: Anastasia Beverly Hills Brow Gel
I have to talk about this brow gel because it is SUCH good quality. I've had this brow gel for years now, so it lasts a really long time! You can buy the cheaper stuff but I swear it won't last as long. To apply this brow gel, I brush it onto my eyebrows in an upward motion. This will help your brows look more full and the brow gel helps the hairs stay in place. I even use the gel to touch up any flyaways on my hairline too!
Best Beauty Product #11: Benefit Cosmetics Cookie Powder Highlighter
This has been my favorite highlighter for a while now! I just can't find anything that works as well. The color is beautiful and it blends in so well! I put the highlighter across my cheekbones and on the tip of my nose. It gives the perfect amount of shine!
Side note: Don't be afraid to use the same brush for different things! It's really OK. There's no reason why you can't double up a bit. You will still get the amazing results you're looking for!
Best Beauty Product #12: Ilia Eyeshadow Palette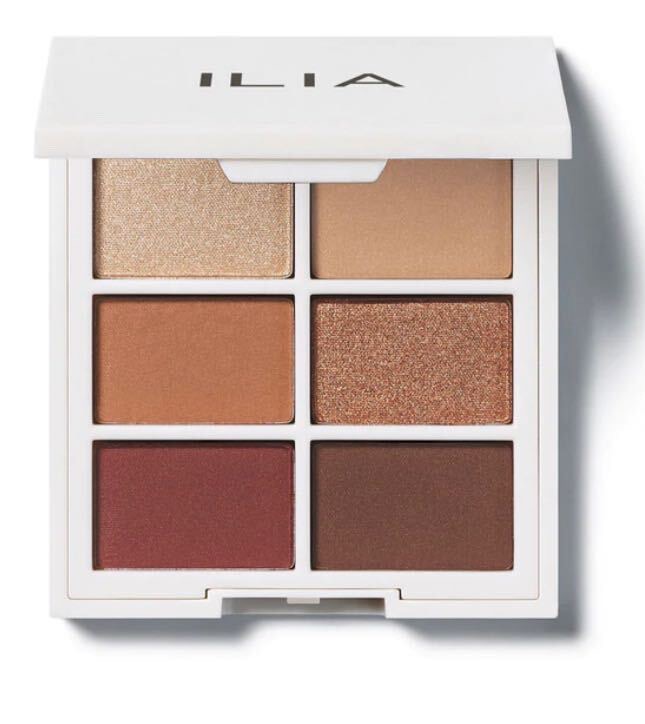 You need to buy this eyeshadow palette RIGHT NOW! It has every color you need for a neutral look and it's super pigmented. I apply the gold color to the inside corner of my eye. Then, I put the orange color on starting with the outside corner of my eye and then sweeping across the top of my eyelid to the other corner. I mix the darker two colors onto my brush and then squeeze the tip of my brush while I apply the eyeshadow under my eye (treating it almost like eyeliner).
If I do a cat eye, I just use the brown powder and I stamp the shape from my angled brow brush and then bring it forward. Just follow the trajectory of the angle under your eye, and you'll be set!
Best Beauty Product #13: Maybelline Lash Sensational Mascara
The mascara is my favorite part! It's so satisfying. I have really light features naturally, so I look like a different person when you can actually see my lashes! I apply one coat of mascara and then I use a tool that separates any clumps of mascara to help my lashes look full. (Keep a lookout for us selling that tool soon!) Then, instead of using an eyelash curler the normal way, I keep it shut and then use the top of it to push my eyelashes up while the mascara is drying. This is seriously the best trick ever! After that trick, I apply a second coat of mascara, and then I'm done!
Best Beauty Product #14: Bloom Lash Growth Serum
Have you heard of my Bloom Lash Growth Serum? My lashes used to suck and because I was so sensitive to growth serums I decided to make my own! I've been using it since 2017 and at the end of 2019 we decided to sell it and now have it professionally bottled by a local aromatherapist!
This lash growth serum is magical! Seriously–6 weeks of using it and your lashes will look amazing. AND it contains all-natural ingredients. It can't get any better than that, am I right?
The Best Beauty Products for Getting Ready
Alright, ladies what did you think of my list of the best beauty products for getting ready?! I hope you have fun trying out these products and finding some favorites! I'd love to know your thoughts on any of them! Send me a dm and follow me over on Instagram @twistmepretty. You can also find tips and tricks for all things hair and beauty there!